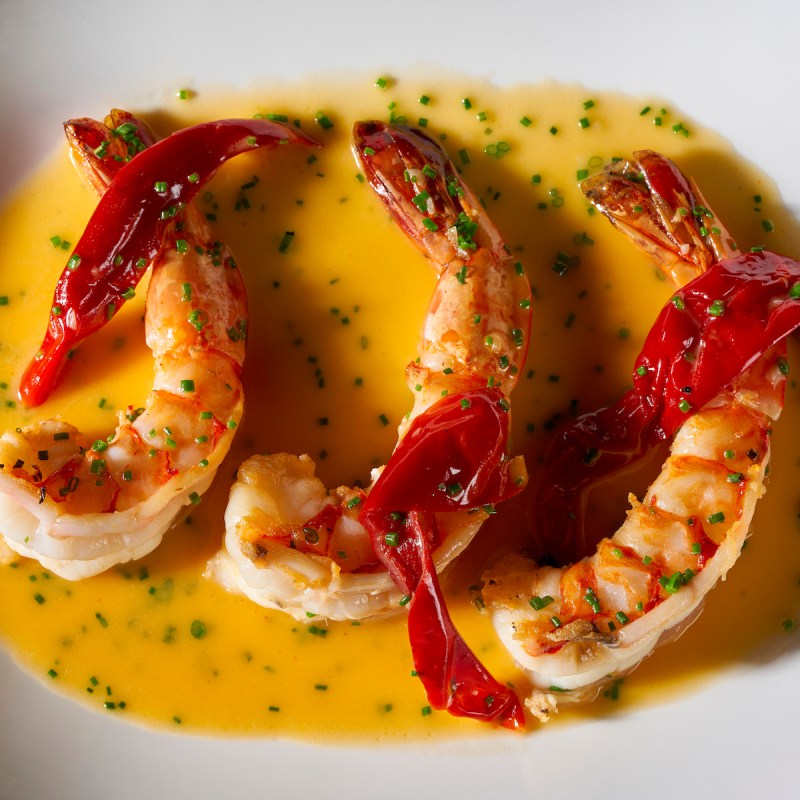 Chef Tim Love wears a giant hat in Fort Worth, Texas. The award-winning chef owns an impressive list of restaurants in Fort Worth, and he is also an author, boutique hotelier, and co-host of CNBC's Restaurant Startup. You'll see Chef Love on national television shows like Iron Chef America, Top Shelf Masters, Good Morning America, and The Today Show. His philanthropic pursuits include Burgers 4 Babies, founded in 2010, which benefits the NICU Helping Hands organization.
In no particular order, let's explore Chef Love's empire of restaurants in Fort Worth, his new Tannahill's Tavern & Music Hall in the Stockyards, and his boutique hotel on the Trinity River.
Note: Hotel Otto and several Love restaurants hosted me, but all opinions are my own.
1. Lonesome Dove Western Bistro
Chef Love opened his award-winning flagship restaurant, Lonesome Dove Western Bistro, in 2000 on North Main Street in the Fort Worth Stockyards, and it quickly soared to become the city's premiere establishment. The restaurant has received awards and critical acclaim from Wine Spectator, Southern Living, Food & Wine, Esquire, and more.
Besides Fort Worth, enjoy Lonesome Dove in Austin, Texas, and Knoxville, Tennessee. Why Knoxville? The University of Tennessee at Knoxville is Chef Love's alma mater.
What To Order At Lonesome Dove
I ordered the smoked crab enchilada with ranchero sauce for the appetizer, and I sampled the rabbit-rattlesnake sausage. After a second-course salad, indulge in Rocky Mountain elk loin, premium chicken fried steak, or the wagyu tomahawk ribeye, served with sides of asparagus or creamy white truffle mac and cheese. Save room for the warm ancho chile chocolate cake served with vanilla ice cream on a bed of smoked almond brittle.
2. Gemelle
Italian for twins, referencing twin daughters, Gemelle is a "very fun Euro-American Pizza Pasta Place that emphasizes freshness in every way," says Chef Love. The breakfast menu is exclusive to Hotel Otto guests only. I indulged in the eggs Benedict served on house-made focaccia with prosciutto, jalapeno pesto hollandaise, and crispy potatoes. The avocado toast blends flavors of toasted focaccia, avocado, lemon yogurt, arugula, tomatoes, soft poached eggs, and crispy salami.
What To Order At Gemelle
For dinner, I started with the chopped antipasti salad with generous portions of mixed greens, salami, fried artichokes, tomatoes, and green onions. I savored the tender chile-rubbed lamb chops, served with gnocchi alla Romano and paired with a Robert Hall red blend Paso Robles wine. I could not pass up the Meyer lemon semifreddo with fresh summer berries for dessert.
3. Ristorante Caterina's
Caterina's, Chef Love's newest Italian restaurant in the Stockyard's Mule Alley across from Tannahill's, was recently named one of the top 15 new restaurants in the United States and Canada by OpenTable. As soon as I walked in, my cell phone was politely commandeered, dropped into a locking pouch, and handed back to me. Jackets for gentlemen are required, with extras provided from the hall tree.
What To Order At Caterina's
After sipping an Italian red from the streamlined wine list, my appetizer, a vitello tonatto, was a luscious blend of poached veal with a rich tuna sauce and capers. I missed not being able to photograph the presentation. Instead, I enjoyed lively conversations with the couples on either side of me, laughing, toasting, and describing our dishes and cuisine flavors.
Next, the Caesar salad was made with buttery baby gem lettuce, instead of the usual romaine, and served with parmesan slices and toasted focaccia croutons.
For the main course, the jumbo shrimp alla scampi, seasoned with Calabrian chile, was heavenly. It was served with crusty bread to dip every morsel of the buttery-rich sauce. Grazie!
The buttermilk gelato, served with an expresso, deserved applause as it topped off the evening. The creamy goodness reminded me of the homemade ice cream we ate as kids as we cranked the old wooden tub filled with ice and salt.
4. Paloma Suerte
Located in Mule Alley at the Stockyards, Chef Love's newest Tex-Mex-with-a-twist dining spot, Paloma Suerte, is close to his new Tannahill's Tavern.
What To Order At Paloma Suerte
Order breakfast at the bar on Saturdays and Sundays from 9 to 11 a.m. Savor chilaquiles rojo, migas, sopapilla French toast, or breakfast tacos with your favorite mimosa or cocktail.
For lunch, I tried a flight of margaritas — watermelon, prickly pear, mango with Tajín, and Paloma with grapefruit and sea salt. I chose the shrimp aguachiles, or shrimp ceviche with crispy chips, for an appetizer.
I recommend the beef short rib birria tacos — fried tacos served with a bowl of broth for dipping, cilantro, fresh onions, hot sauce, and rice and beans. The Texas Goat Birria Tacos won a celebrity chef's food cook-off, a Taste of the Super Bowl.
For dessert, don't pass up the light strawberry shortcake.
5. Woodshed Smokehouse
A laid-back and contemporary tree-covered patio overlooking the river, the Woodshed Smokehouse is not your typical barbecue joint. It features daily rotating choices of beef, lamb, pork, cabrito, wild game, fish, and vegetables, all grilled, roasted, and slow-cooked over various flame sources and exotic woods.
What To Order At Woodshed Smokehouse
I ordered the Bock beer cheese spicy fondu with camp bread and veggies, cauliflower, and zucchini for lunch. The day's sausage was wagyu beef, and I added a slice of tender lamb brisket with spicy BBQ sauce. The Dining With Friends special looked very tempting: a Texas Trinity (brisket, sausage, and ribs) with a sausage of the day, pork ribs, beef brisket, sweet and spicy pickles, potato salad, and borracho beans, served with camp bread. This fantastic feast feeds four to six people.
6. Atico Fort Worth
Sit rooftop at the Springhill Suites in the Fort Worth Stockyards, and you'll feel like you are in Barcelona with a Spanish cocktail and tasty tapas. Enjoy views of the historic Stockyards and the sparking lights of downtown Fort Worth at Ático, an inviting sixth-floor restaurant with an open patio.
What To Order At Atico
Start with a glass of tempranillo rioja from Spain, then order a ham or brisket croquette. From the Jars section of the menu, try the smoked hummus with roasted peppers. Elsewhere, you can choose from Spanish flatbreads, grilled and roasted oysters, clams, or marinated skirt steak. Don't pass up the smoked and cured Jose's Tacos — two with Iberico ham, one with caviar, and one with gold flakes — and add a select flight of tequilas.
7. Love Shack
There are two Love Shack locations: one on Exchange Avenue in the Stockyards, and another at DFW International Airport, Terminal E, gate 12.
What To Order At Love Shack
The menu's got sections for burgers, "Yard Birds" (chicken sandwiches and nuggets), "Dogs," and "Love on the Side," which includes nachos, fresh-cut fries, onion rings, or chile parmesan chips. All the burgers blend half-prime tenderloin and half-prime brisket ground fresh daily and cooked medium unless otherwise requested.
8. Tannahill's Tavern & Music Hall
At Fort Worth's Mule Alley in the Stockyards, visit Chef Love's newest live music destination, Tannahill's Tavern & Music Hall. It combines world-class musical performers with premium food and drink. This 1,000-person-capacity music hall features state-of-the-art sound and lighting, signature dishes by Chef Love and his team, premium seating, and five full-service bars with an extensive drink menu.
Bonus Love-Owned Attractions
Queenie's Steakhouse
Named in honor of Tim's mother, Queenie's Steakhouse is fine steakhouse dining with a contemporary twist, featuring Texas-raised beef. The restaurant is in Denton, north of Fort Worth.
What To Order At Queenie's Steakhouse
At Queenie's, I like to start with the red chili marinated shrimp and tender 6-ounce beef tenderloin with sides of grilled asparagus and yummy truffle mac and cheese for the main course. Or indulge in the crispy Colorado trout served with a microgreen salad and yuzu aioli. Go big with the 32-ounce wagyu tomahawk served with truffled mushroom orzo, grilled king prawn, and asparagus. Save room for ricotta doughnut holes and an after-dinner port.
Pro Tip: Visit Back Dough At Queenie's Steakhouse
At Back Dough behind Queenie's Steakhouse at the Austin Street door, get the freshest late-night doughnuts in Denton. Back Dough is open with fresh goodies when the neon sign shines.
White Elephant Saloon
Famous in Wild West tales as host to Fort Worth's last gunfight, which featured Sheriff "Longhair" Jim Courtright and White Elephant owner Luke Short in 1887, the White Elephant Saloon is one of Fort Worth's legendary taverns. It is owned by Chef Love and known as one of Esquire's 100 best bars in America. On East Exchange Avenue, enjoy live music every night, a wooden dance floor, a vintage brass rail bar, billiards, shuffleboard, beer, wine, and liquor.
Get a bowl of Texas Red Chili and a piece of homemade cornbread for $6 at the Chili Parlor inside the saloon, or order a burger and food service from Love Shack next door.
Hotel Otto
Immerse yourself in Chef Love's micro boutique, Hotel Otto, a group of bungalows constructed from shipping containers. They feature comfort and luxury amenities inspired by the Amalfi coast, including ingredients and a recipe for an aperol spritz.
My room included a comfy queen bed, a walk-in shower, Hermes bath accessories, a complete in-room bar, an Illy Caffe coffee bar, a rooftop deck, and breakfast in bed from Gemelle next door. The complex has a 10,000 square-foot vegetable garden, a full-service plunge pool with cabanas, chaise lounges, a bocce ball court, a complimentary daily cocktail hour, and rotating activities, like kayaking, horseback riding, or e-bikes along the convenient Trinity Trails System.