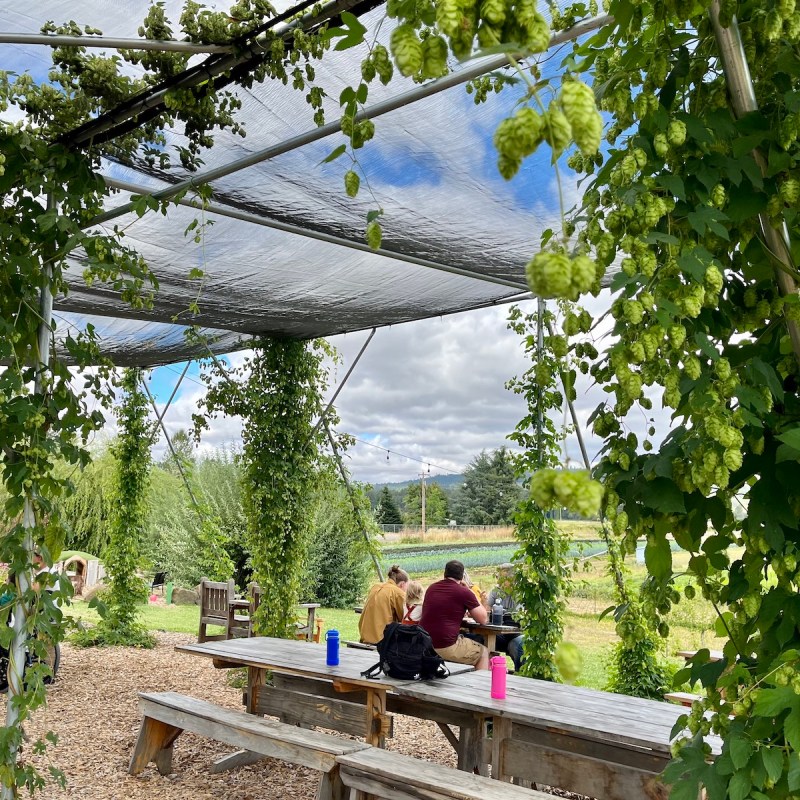 It should come as no surprise that Salem, Oregon, is home to a delicious dining scene. After all, the city in northwestern Oregon sits in the midst of the fertile Willamette Valley, is near the birthplace of the luscious marionberry, and is just an hour and a half drive from the seafood bounty of the Pacific Ocean.
Add to those assets the fact that Salem — Oregon's capital city — has a lively downtown and a cool food-truck atmosphere. The city is bursting with a remarkable variety of culinary treasures, offering everything from great tacos to barbecue to pizza.
On my recent visit to Salem, I was delighted to find trendy tapas spots and cideries located next to mainstay breakfast cafés and fine-dining establishments — all within a short drive of some fruit stands and garden bistros.
Although Salem has a growing population of about 172,000 and is less than an hour's drive from Portland — Oregon's largest city — it retains a small-town charm with plenty of local favorite dining spots.
Here are 11 delicious restaurants to try in Salem.
1. Cozy Taberna
For a taste of Spain in downtown Salem, head to the trendy Cozy Taberna where you will find a delectable selection of sharable tapas. With a bar on one side and an open kitchen on the other, Cozy Taberna lives up to its name, offering a warm and inviting setting.
What To Order At Cozy Taberna
For me, the standout dish was the squid ink pasta, a bowl of briny pasta served with garum (fermented fish sauce), caramelized onions, an egg yolk, and hazelnuts. The ingredients combined to create a wonderfully-savory dish. Other notable choices are the Moroccan brick chicken, the goat cheese dumplings, and the salt cod fritters.
2. Noble Wave
A fun and casual atmosphere awaits at Noble Wave, a busy downtown Salem spot specializing in Cajun, Creole, and southern food. With its quirky, blue-toned décor; its extensive draft beer, cider, and seltzer menu; and its authentic Louisiana cuisine, Noble Wave is a downtown hotspot for families and groups of young people. Orders are taken at a counter, and guests are seated in the large dining room or outdoor patio.
What To Order At Noble Wave
I loved the Hot Bird sandwich, billed as "the best fried chicken sandwich in town." The large sandwich (it could easily serve two) features a fried chicken breast doused in Hot Bird sauce and served on a sweet bun with coleslaw. Other popular items include the Louisiana chicken and sausage gumbo, the fried chicken beignet sliders, and the fried catfish po'boy sandwich.
Pro Tip: Along with its lunch and dinner menus, Noble Wave serves brunch all day on Sunday, featuring southern favorites like biscuits and gravy, breakfast poutine, and bread pudding waffles.
3. Word Of Mouth Neighborhood Bistro
Serving innovative comfort foods like crème brulé French toast and bruschetta omelets, the Word of Mouth Neighborhood Bistro has been a favorite breakfast and lunch spot for years.
Word of Mouth is billed as the famous and friendly Salem bistro, and although it changed ownership recently, it still carries on with the traditions and popular menu items.
What To Order At Word Of Mouth
Along with its decadent crème brulé French toast, Word of Mouth is also known for its wide variety of eggs benedict dishes — such as its pot roast benedict and spinach and tomato benedict — as well as hash dishes that feature veggies, corned beef, and pot roast.
4. Busick Court
For a traditional breakfast spot in downtown Salem, check out Busick Court, located in a historic brick building on Court Street. Busick's menu includes standard American breakfast favorites such as pancakes, eggs and bacon, and ham and eggs, as well as Mexican-style selections like a fajita omelet and huevos rancheros.
What To Order At Busick Court
I loved the apple Waldorf cakes — a stack of two large pancakes packed with fresh apples, cinnamon, raisins, and walnuts. Or for a taste of Oregon's famous seafood, try the dungeness crab cakes or the northwest smoked salmon omelet served with sauteed onions, bell peppers, salmon, potatoes, and Swiss cheese.
5. Minto Island Garden Farm Stand
If dining on rustic picnic tables surrounded by rows of colorful flowers and a lush organic vegetable garden sounds like a wonderful way to spend a morning, head to the pretty Minto Island Growers Farm Stand, located on a south Salem farm.
When I visited in September, I found it hard to take my eyes off the stunning red, yellow, and white flowers that grow in rows alongside the dining area, or the green vines of hops hanging from the shelter over the tables.
What To Order At Minto Island Garden
The wood-fired pizza, with its blistered crust and fresh veggie toppings, was the undisputed star at the Minto Garden Farm Stand. Classics like margherita and pepperoni were great, but my favorite was the Minto herb special, piled high with fresh herbs.
6. Lively Station
Not far from the Minto Island Garden and near the Willamette River, is a scenic little spot known as Lively Station. With its local cuisine, beverage offerings, and lovely outdoor patio, Lively Station makes a wonderful stop during a tour of the area.
What To Order At Lively Station
Lively Station's creative menu includes standouts like the fall panzanella with roasted butternut squash, the curry mac and cheese, and the seared flank steak served with garlicky fingerling potatoes and seasonal vegetables. My favorite was the key lime cheesecake dessert served with pretty flower garnishes.
7. The Yard Food Park
It's hard not to love a food truck park, and Salem has two great ones, including the Yard Food Park in east Salem. Surrounded by 13 food carts, serving everything from seafood to barbecue to sushi, is an enormous indoor space with a bar, a coffee counter, and indoor restrooms. There is comfortable seating available indoors, as well as a large outdoor patio with high-top picnic tables.
What To Order At The Yard
One of the great things about food parks is that everyone can find something they're craving. I loved AristaCrab Seafood's crab platter which came with a large crab cluster, sausage, corn, a boiled egg, and potatoes. There are so many other delicious choices as well, such as the spicy kimchi chicken and Korean-style grilled Bulgogi beef at Get Some Aloha, or ribs by the slab and barbecued chicken at Jojo's Soul Food.
Pro Tip: The Yard's indoor space also serves as a venue for regular comedy shows and concerts.
8. Beehive Station
Beehive Station, Salem's other food truck park on the southwest side of town, features a fun outdoor atmosphere with more than a dozen food trucks serving up delicious bites like quesadillas, pad thai, and fish tacos.
What To Order At Beehive Station
My favorite bite at Beehive Station was Little India's butter chicken naan tacos featuring grilled naan filled with chunks of tender chicken in a spicy sauce. Other things to try are the crispy fried tofu at Lottie's Pad Thai, the fish tacos at Baja Fish, and the local craft beers at Beehive Taphouse.
9. Boon's Treasury
For a chance to try one of Oregon's famous McMenamins pubs, stop by Boon's Treasury, a brewpub located in a historic building on the northern edge of central Salem. One of more than 50 unique McMenamins locations throughout Oregon and Washington, Boon's features pub fare and handcrafted ales, wines, and spirits — all served in the brick-and-wood interior or the shady outdoor beer garden.
What To Order At Boon's Treasury
A burger-and-beer combo is the go-to at Boon's Treasury, and the pub offers a number of choices, including the backyard burger with bacon, cheddar, grilled onions, and Hammerhead barbecue sauce, or the dungeon burger with Swiss cheese and grilled mushrooms.
10. La Familia Cider Company And Azuls Taco House
It stands to reason that Salem would have great ciders, given the numerous orchards in the region. For a chance to try one of the up-and-coming cideries, head to the downtown-Salem location of La Familia Cider Company, where cider varieties include the tart/tropical/citrus Guayaba, or the floral, fruity Jamaica.
What To Order At La Familia Cider Company
Along with a glass of one of La Familia's ciders, guests can check out the cidery's next-door partner, Azuls Taco House, for a huge variety of tacos. It features everything from an El Capitan taco with fried shrimp, bacon, melted griddled cheese, and cilantro slaw to a fajita taco with grilled steak or chicken, bell peppers, onions, mushrooms, and salsa verde.
11. Aspinwall's Fruit Stand And Produce
Salem's fruit and produce bounty is front and center at Aspinwall's Fruit Stand and Produce, a mainstay in west Salem for decades. There, you'll find the best of the season, from peaches and strawberries to tomatoes. Along with produce, the stand features soft-serve sundaes, shakes, and cones, as well as jams and jellies.
What To Order At Aspinwall's Fruit Stand
The marionberry, a variety of blackberry, was developed in Oregon in cooperation with the U.S. Department of Agriculture and Oregon State University. In Salem, the berries are everywhere during the late summer. For one of the best tastes of the succulent berry, check out Aspinwall's marionberry sundae, featuring a waffle cone filled with soft-serve ice cream topped with a sweet/tart marionberry sauce.
Pro Tip: The Fruit Stand is located next to the popular Café 22 West, where specialties include traditional breakfasts, along with lunch specialties like beer-battered onion rings, half-pound burgers, and grilled sandwiches.
For more on Oregon, check out these similar articles: