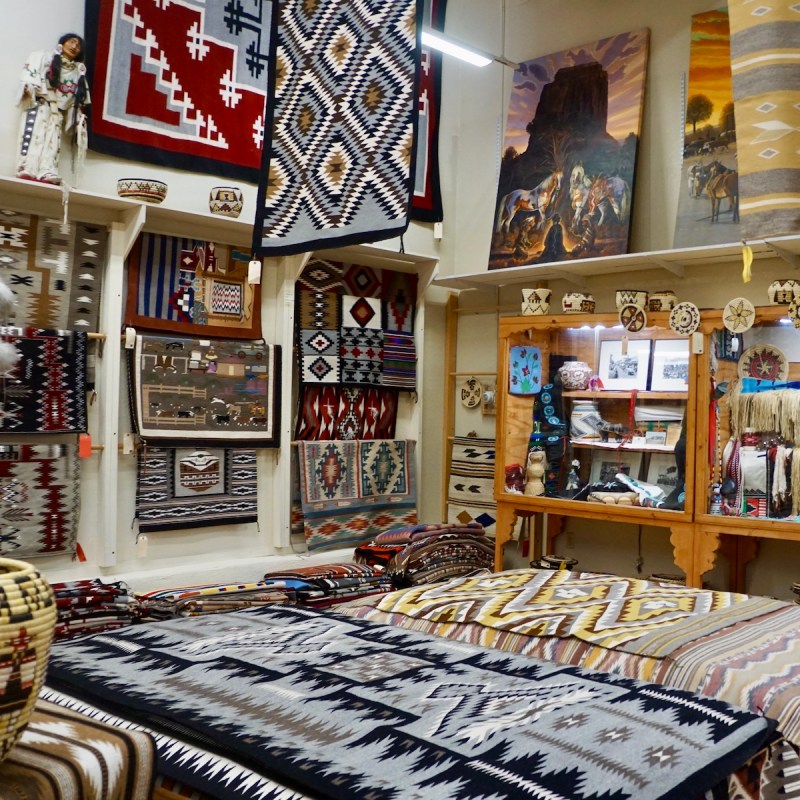 For more than a century, the Hubbell Trading Post and others like it on the Navajo Nation have been the go-to spots for finding distinctive Navajo art. You'll find everything from handwoven rugs to beautifully embossed pottery and elaborate silver-and-turquoise jewelry. The good news is that a handful of the original trading posts are still in operation, offering a remarkable array of goods and artworks.
Dating back to the late 1800s and early 1900s, trading posts long served as gathering places where Navajo people brought their blankets, rugs, and woven baskets to trade for needed goods like flour, coffee, sugar, and tools. Today, the historic businesses on the Navajo Nation continue to offer world-famous Navajo artwork.
Even though Navajo art is also widely available in shops and at art shows in Southwestern cities like Scottsdale, Arizona, and Santa Fe, New Mexico, I find that there is something wonderfully authentic about wandering through the historic trading posts or browsing the flea markets in communities on or near the Navajo Nation.
On my many visits over the years, I have always marveled at the beautiful craftsmanship available at the small-town trading posts. And at the flea markets in towns like Tuba City in Arizona and Gallup in New Mexico, it is gratifying to occasionally find myself buying directly from the artist who created a particular turquoise necklace or piece of colorful pottery.
Here are seven fantastic places you can find authentic Navajo art, jewelry, pottery, and rugs.
1. Hubbell Trading Post National Historic Site
Ganado, Arizona
Known as the oldest continuously operating trading post on the Navajo Nation, the Hubbell Trading Post, located near Ganado, Arizona, makes for a fascinating stop on a road trip through northeast Arizona and northwest New Mexico.
In the 1960s, the trading post was designated as a national historic site, and it has since been known as the Hubbell Trading Post National Historic Site. Today, visitors can browse cookbooks, postcards, Arbuckle's Coffee, and aprons made from Blue Bird Flour sacks in the park store. They can wander into the adjoining trading post rooms that are full of glossy pottery, intricately woven baskets, and heaps of rugs with distinctive geometric designs.
As you browse, you will be walking where generations of traders and shoppers walked before. The trading post's history dates back nearly a century and a half to when John Lorenzo Hubbell began trading in the area in 1876. He purchased the trading post in 1878 and would go on to build an empire that included multiple trading posts as well as stage and freight lines. At various times, he and his sons owned 24 trading posts, a wholesale house in nearby Winslow, and other business and ranch properties.
Along with the park store and trading post, the historic site also includes the grounds of the Hubbell family home, preserved much as it was when the family sold the post to the National Park Service in 1967.
Visitors should plan to spend 2–3 hours browsing the park's visitor center, the mercantile, the trading post, and the lovely grounds that include stables, a garden, and a small hogan-style building.
Pro Tip: The park typically offers limited, guided peeks into the Hubbell home, a one-story, rambling abode-block home. Currently, access to the home is being offered based on staff availability.
2. Richardson Trading Post
Gallup, New Mexico
Prepare to be amazed on a visit to the enormous operation that is the Richardson Trading Post, located along historic Route 66 in Gallup, New Mexico. The store is so chock-full of beautiful pieces of art, it can be difficult to know where to look upon entering. One exhibit showcases ornate squash blossom–style turquoise necklaces, while others show off silver belts, Navajo and Hopi pottery, leather saddles, and kachina dolls.
And then there is the trading post's rug room — a cavernous area that features stacks of gorgeous rugs of every conceivable color and design. The room is said to contain more than 1,000 rugs, and each of them tells a story. Richardson's manager Larry Fulbright is a remarkable source of information on rug designs, the individual weavers, and the history of Navajo rug making.
Visitors could easily spend 2–3 hours browsing all that Richardson Trading Post has to offer.
Pro Tip: The store makes a great stop on a walking tour of downtown Gallup's unique Route 66 history and colorful murals.
3. Gallup Flea Market
Gallup, New Mexico
If you happen to be in the Gallup area on a Saturday, the Gallup Flea Market is considered a must-see. Billed as one of the largest Native American markets in the United States, the Gallup Flea Market features more than 500 vendors. As many as 10,000 visitors are said to shop at the market each week.
I loved the outdoor setting and the huge variety of goods and art pieces that were available when I visited in August 2022. As I browsed, I came across beautiful handmade pottery, jewelry, and paintings alongside souvenir items such as blankets, umbrellas, and tote bags.
Pro Tip: If you have the time, plan to spend a full morning or afternoon at the flea market, stopping for lunch at one of the many stands that offer tamales, fry bread, or mutton stew.
4. Tuba Trading Post
Tuba City, Arizona
Another historic trading post is available on the western side of the Navajo Nation at the Tuba Trading Post. The beautifully restored store dates back to 1906 and features two levels of Navajo arts and crafts, such as hand-crafted silver jewelry, pottery, woven rugs, sand paintings, kachina dolls, and clothing.
Along with its authentic Navajo art, the trading post carries a wide variety of souvenir items, such as Navajo Nation t-shirts, magnets, and blankets.
Tuba City is located near the western edge of the Navajo Nation along Highway 160, 10 miles east of Highway 89, a popular tourist route between Flagstaff and Page, Arizona.
Pro Tip: Also located on the grounds of the trading post is Tuba City's excellent Explore Navajo Interactive Museum. The museum offers a fascinating look at Navajo history and culture, and it is definitely worth a stop of an hour or two on a visit to Tuba City.
5. Tuba City Flea Market
Tuba City, Arizona
On Friday mornings, area artisans gather at the Tuba City Flea Market, an event that features dozens of vendors offering jewelry, pottery, blankets, and a variety of Navajo food staples.
For me, the highlight of the Tuba City Flea Market was perusing the many traditional foods, such as roast mutton; Navajo tacos made with fry bread and beans or meat; blue corn mush, a porridge-like dish made with blue corn meal; and kneel down bread, which is made with corn and is also known as Navajo tamales.
The flea market also features many booths selling colorful blankets and turquoise jewelry.
6. Teec Nos Pos Trading Post
Teec Nos Pos, Arizona
The Teec Nos Pos Trading Post dates back to 1905, and it bills itself as an old-fashioned trading post that has faithfully maintained the traditions initiated by the early founding families.
The trading post is located in the remote town of Teec Nos Pos in the far northeast corner of Arizona, near the Four-Corners area, where New Mexico, Utah, Colorado, and Arizona come together. The trading post operates as a general supply store and also provides many of the tools and materials needed by the famous Teec Nos Pos Artisans. Among other things, the trading post carries an immense collection of Navajo hand-woven rugs.
"The Teec Nos Post Trading Post is where local Navajos shop for their daily needs and sell their unique artistic creations: rugs, silver and turquoise jewelry, kachinas, bead work, and a variety of other crafts," says the website.
7. Cameron Trading Post
Cameron, Arizona
Located along the busy Highway 89 route from Flagstaff, the Cameron Trading Post has long been a popular stop for tourists. The trading post store is just one of several businesses in Cameron, which is along the scenic Little Colorado River about an hour north of Flagstaff.
Cameron's fine art gallery is known for its Navajo rugs, Hopi pottery, Hopi kachinas, silver and turquoise jewelry, and Apache baskets. Along with the Native American fine art gallery are the Grand Canyon Hotel and the Cameron Trading Post Restaurant.
When To Visit The Navajo Nation
Spring, summer, and fall are all great seasons to take a road trip through the Navajo Nation and check out the various trading posts and flea markets. Tuba City has average high temperatures in the 60-degree range in March and April, and in the 80s and 90s from May through September. October is beautiful throughout northern Arizona, with average highs in Tuba City in the low 70s. The months of November through February tend to be chilly in Tuba City, with average highs in the 40s and 50s.
Pro Tips: Travelers will find authentic trading posts in remote towns all across the Navajo Nation. The Discover Navajo tourism website lists a number of other places to check out.
And for more on Native American history and culture, read: