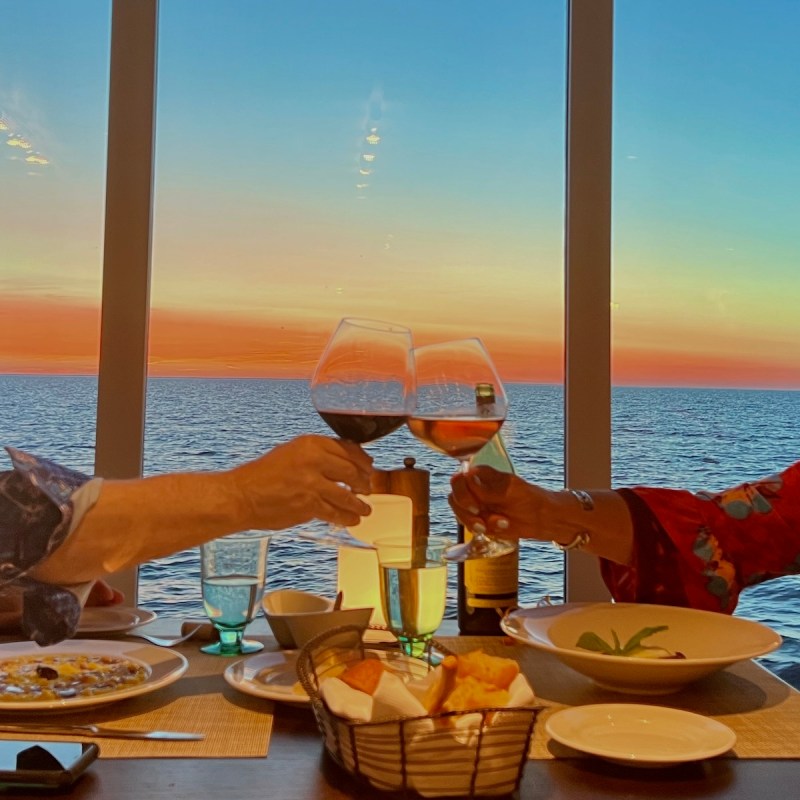 Wondering what the food will be like on a Viking cruise? Let me just say you have nothing to worry about. I recently cruised aboard the new Viking Octantis on the Great Lakes Explorer itinerary from Milwaukee, Wisconsin, to Thunder Bay, Ontario, and enjoyed my dining experiences immensely.
Viking offers many great choices from buffets to restaurant-style dining. Breakfast, lunch, dinner, and snacks are all included at no extra cost.
The World Café offers an extensive international menu and serves buffet style at breakfast, lunch, and dinner. Mamsen's offers traditional Norwegian food at breakfast and light lunches and snacks for the afternoon. Two stand-alone restaurants, Manfredi's and The Restaurant, both require reservations and offer continental menus. Did I mention room service is available 24 hours?
With so many choices for dining featuring the best of local and international fare, I wanted to share a few of my favorites. Some I had to have more than once!
I was a guest of Viking on this Great Lakes sailing. All opinions are my own.
1. Waffles And Split Pea Soup At Mamsen's
There was something comforting about the warm surroundings at Mamsen's, a small deli named after "Mamsen" Ragnhild Hagen, the mother of Viking Chairman Torstein Hagen. The photographs and handwritten recipes evoke family tradition and the pleasures of Norwegian culture. Raised on traditional Hungarian food made by my mother and still holding on to her handwritten recipes on paper scraps and using her bone china, I had an emotional attachment from the moment I walked in.
Our first stop on many days when we returned from shore excursions was at Mamsen's for open-face Scandinavian sandwiches, the signature waffle with cream and fruit, split pea soup, and the suksessterte ("success tart"). The waffles were presented beautifully on Mamsen's vintage plates and were served hot and fluffy, just how I like my waffles and the rich. The flavourful split pea soup was the best comfort food at any hour of the day. Don't miss these homestyle gems!
2. Bistecca Alla Fiorentina At Manfredi's
Manfredi's, arguably one of the best Italian restaurants at sea, was hands down my favorite place to eat dinner. They offer well-presented, authentic Northern Italian and Tuscan specialties, including osso bucco, lobster and scallop pasta, chicken Parmigiano, and outstanding bistecca alla Fiorentina. We preferred a table for two by the window to enjoy the sunset while we dined.
It was tough to choose an appetizer between the hardy zuppa di fagioli bianchi alla Toscana, a white bean soup with crispy pancetta crouton and truffle oil, the Caprese salad prepared with buffalo mozzarella and heirloom tomatoes, and the gnocchi freschi di patate con crema di tartufo, hand-rolled potato gnocchi with a black truffle sauce.
I could have made a meal of just the chunks of Parmigiano Reggiano, extra virgin olive oil, freshly-baked focaccia, garlic twists, crispy bread sticks, and other piping hot freshly baked bread.
The signature bistecca alla Fiorentina, a house special, is a thick-cut rib-eye coated in garlic oil and rubbed with porcini mushroom, kosher salt, brown sugar, and red chili flakes was my favorite. Order it medium rare as was suggested by my waiter. When ordering the zuppa, I requested that it be served piping hot, and indeed it was (I also enjoyed mouth-watering scallops and lobster served over hot al dente pasta with a buttery lobster broth).
3. Seafood And Sake At The Sushi Bar
I just couldn't resist stopping by the sushi bar. It opens around cocktail hour for an assortment of sashimi, nigiri, and rolls. We also feasted on fresh-tasting king crab legs, shrimp, seafood salad with octopus, and tasty crayfish. Each day we sampled some sake along with our sushi assortment before heading to Manfredi's or The Restaurant for dinner.
4. World Café's Caesar Salad With Anchovies
Passengers who prefer casual dining gravitate to the World Café for breakfast, lunch, and even dinner. There is something to please everyone's taste with daily specials to complement the already extensive buffet choices. Caesar salad piled high with anchovies and shavings of Parmigiano cheese paired with chicken or shrimp was my favorite lunch. On most days, I ate outside of the Aquavit Terrace on the aft deck, sipping a French rosé. Just steps from the buffet, it was convenient to pop back in for my dessert and fresh-baked bread. In the end, the Caesar salad was the winner!
5. Chairman's Poached Salmon Roe At The Restaurant
With linen tablecloths and a more formal appearance, The Restaurant provided a lovely retreat from buffet dining. Reservations are required and can be booked before and during the cruise. Even without a reservation, I would recommend giving your name to the host in case of a cancellation. By around 8:30 p.m., the crowds thinned and tables became available.
The menu had some always-available choices. In addition, every night there were new appetizers, main courses, and desserts as well. The mushroom ravioli with rich cream sauce appetizer, the Chairman's Poached Salmon Roe served with fingerling potatoes, and a cold cucumber salad as a main course hit the spot for me. It was a nice change from some of the heavier Italian meals on previous nights. Salmon is served in many different ways, hot and cold, with all meals. I preferred The Restaurant's salmon dish over all the others. 
6. Bread, Sweets, And Desserts Galore
Every time I go on a cruise, I say I'm not going to eat bread or sweets! Usually, I park that thought and plan to work out in the gym or walk a few thousand extra steps. On Viking Octantis, the smell of freshly baked bread, focaccia, dinner rolls, croissants, sticky pecan rolls, cinnamon buns, cookies, cupcakes, tarts, muffins, and cakes was seductive. It would take a lot of willpower to walk by all of this baking several times a day without sampling something. The hot whole-grain bread with a crunchy crust and firm inside was my favorite.
7. World Café's Custom Ice Cream And Gelato
One of my simple pleasures since childhood is ice cream, so I frequented the gelato and ice cream station in the World Café regularly to study the new flavors each day. After choosing my flavor, I carefully decorated my cone with crushed Oreo cookies, colorful sprinkles, marshmallows, nuts, chocolate crumbs, and other edible additions. Each one was a work of art!
At night, an ice cream mixing station like you would find at Cold Stone Dairy, opened where one of the pastry chefs blended our ice cream with sauces and all sorts of toppings on an ice-cold slab, to create an incredible treat. A cruise aboard Viking Octantis is not the time to count calories!
Viking's Exceptional Food And Service
Food aboard Viking Octantis more than satisfied our pallets for sweet and savory flavors, and we could not have asked for more variety. There were even local menu items sourced from the Great Lakes like trout and berries.
Under the watchful eye of Executive Chef Satheesh Devan, the food was prepared and presented to tempt us at every meal. The servers were very attentive, recommending wine pairings and specialty dishes. After our fun-filled days of sightseeing, submarining, kayaking, and hiking, we enjoyed being welcomed by our first names for our splendidly relaxing lunches and dinners.
For more information on Viking Cruises, check out these articles: