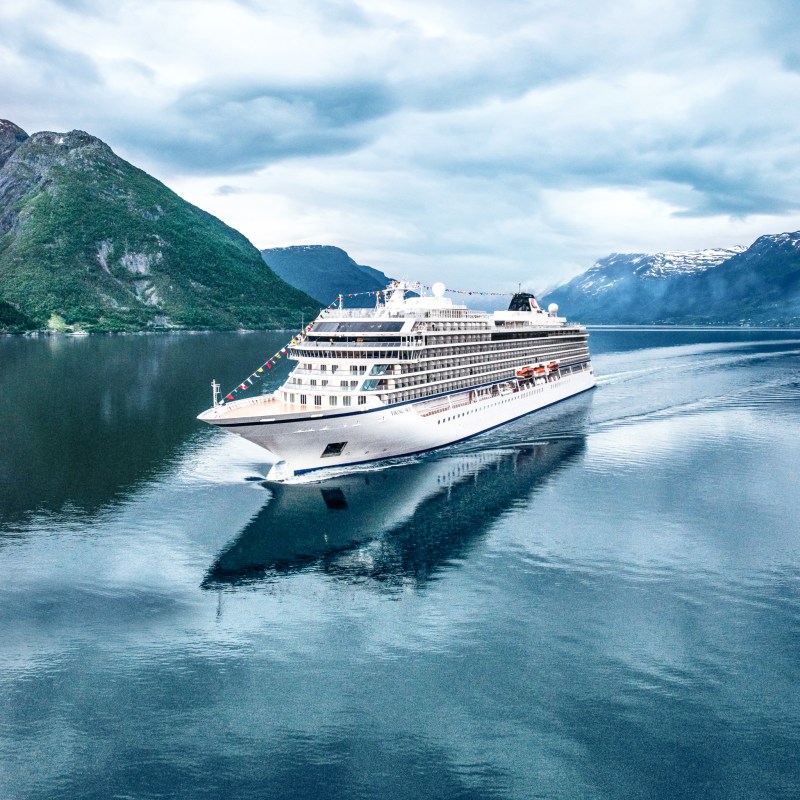 A bucket-list trip is a perfect way to celebrate major milestones in your life. In my case, it is our 25th wedding anniversary and we have long wanted to take a Viking Ocean Cruise on the Mediterranean. We decided on the Mediterranean Odyssey, a 13-day cruise which visits six countries and includes 10 tours.
Once you book your cruise, there is still quite a bit of planning to do. As an experienced traveler, I am often amazed by how many people arrive on a trip with no clue how everything works because they didn't read the materials provided prior to the trip. They are disappointed they can't do a shore excursion or eat at a specialty onboard restaurant because they didn't reserve it. As an obsessive reader, I delve deep into the options and small print so we won't miss anything important. To get the most of your voyage, take advantage of all the tools Viking offers to help you get ready for your bucket-list trip. It really will enhance your experience. Here are five important things to do to prepare for your Viking cruise.
1. Review The Viking Website And Put Important Dates On Your Calendar
The first thing you should do is review the Viking Inclusive Value webpage. Read this over and become familiar with all the extras Viking offers as this will be important when you start booking shore excursions, restaurant reservations, and drink packages. For example Viking provides beer and wine with lunch and dinner at no additional charge. This can impact your decision as to whether you wish to purchase a beverage package. They also include a complimentary shore excursion in each port.
Set up your My Viking Journey account. You will need your booking number to register. Once registered, go to the guest information section and fill out the required forms. Also review the Passport and Visa Requirements. A key piece of information here is that your passport must be valid for six months past your travel dates. Good to know! The Visa section will let you know if there are any requirements. Lastly, review the calendar. Each day of your cruise is listed with options to book spa treatments, dining reservations, and shore excursions. Your cabin size will determine when you can book these options. Dates range from 60 to 107 days before your cruise. Note when you can begin booking and that it is very specific including the day and hour in your time zone. Make an appointment with yourself to book these options. Things fill up fast, and you don't want to miss out.
2. Prepare For Cultural Immersion Opportunities
This is one of my favorite features that Viking offers. Viking Cruises are known as The Thinking Person's Cruise, and you can see why with all the cultural resources they offer. Begin by going to the itinerary for your cruise on the website. In my case, it is Mediterranean Odyssey and I went to the section on Resources. The first section to check out is filmography, and you can choose by either country or itinerary. There is an extensive list of movies, documentaries, and television shows either filmed in or about your cruise destinations. What a great resource to begin learning about the different countries you will visit and what you might like to see! So many places I have put on my list to tour are based on movies, books, or artwork that I love. Another option is Viking TV, which has a variety of programming. There is a section that is destination-specific and worth checking out.
Viking actually has a Resident Historian Program. It is part of the onboard cultural enrichment program included with your cruise. The historian hosts lectures on the history and culture of the ports you will visit. The Chief Historian has curated an extensive list of books to enjoy prior to your cruise. I was blown away by the selection for the Mediterranean Odyssey itinerary which included everything from Shakespeare to books about the famous artwork travelers have the opportunity to see at port stops. There really is something for everyone.
I love to cook and I found a variety of recipes inspired by Viking Ocean Cruises from the extensive recipe collection on Viking's website. I feel like food is such an important part of travel and can give you an insight into the local culture. There are quite a few recipes I look forward to trying. Preparing a themed dinner can be a fun way to build excitement for your upcoming cruise. I also love craft cocktails and this homemade limoncello recipe just says Italy to me.
3. Pick Your Shore Excursions
I have to admit I have been obsessing over which shore excursions to pick. To begin, go to your cruise's itinerary page. Start at Day 1 and click Read More. There will be no shore excursions offered on the first or last day of each cruise. The page is worth visiting for an overview of the port city and some videos. Then work your way through each day and read all the offerings. Some key things to consider with each excursion is the intensity level, which can range from easy to demanding. Read the descriptions of the intensity levels to make sure it is an activity you want to participate in. Viking also assigns flags and icons which further describe the tour. I like that Viking provides excursions that cover a wide variety of fitness levels and interests.
As you look through each day, note what the included shore excursion is. Typically it is either an orientation walking or bus tour of the port of call. For some ports, this will be sufficient for me, especially in the smaller towns where I can walk to all the sites I want to visit. This is where your research in cultural immersion will pay off in helping to decide what you want to do. Viking also does a Kitchen Table excursion which takes place in two parts. In the morning you will travel by mini-coach with the executive chef to visit a local food market to pick out ingredients for an evening meal. In the late afternoon, you will join the culinary team and help to prepare a meal using the local ingredients you helped select earlier. This excursion is offered at multiple ports.
Now make a list and pick two or three selections (this gives you a backup if your first choice is booked) for each day so that you are prepared when sign-up day opens. If you are booked in a suite, you should be able to get all your choices. If you are booked in the different Veranda levels, registration for the majority of the cabins opens up either 60 or 67 days from your cruise. With your list ready you will save time by not having to decide on an excursion. As it gets closer to sign-up day, check to verify which excursions are offered as they are subject to change.
4. Get In Shape
I am very intrigued by some of the shore excursions that involve biking and kayaking. It's been a while since I have been on a bike, so my training will involve some cycling to build up to the 10 miles I will need to ride. Once you have planned your activities, look at the physical requirements for each. If you've never kayaked, try an hour rental to see if you like it. Are there lots of hills or steps on a tour? Taking long walks is a good way to increase your fitness level. If you don't have hills in your area, look for a stadium where you can walk up and down the stairs. I avoid gaining weight on a cruise by always taking the stairs and not the elevator when on the ship. Don't underestimate how much walking you will be doing. Often there is a long walk from the pier to the start of your excursion. It has been my experience that I walk 14,000 or more steps when in port.
5. Two Weeks Is A Long Time; Pack Accordingly
When planning what to bring on your cruise, visit Life on Board for the dress code and tips on what to pack. Viking is all about the destination, and on my 13-day cruise, there is only one day at sea. Viking takes this into account with their dress code, which has no formal nights in the evening. Dress is "elegant casual" with no jeans, but the World Cafe is casual in the evening. Look at what shore excursions you are taking and plan accordingly.
Two weeks is a long time to pack for, but Viking offers self-service launderettes on Decks 3 to 6 which are free to use and even have complimentary detergent. Having the option to do some laundry can help lighten your packing list. Some stateroom categories include laundry services, and it is available for a fee through your steward if not included.
Pro Tips
Another resource I like to use is reviews. I also read trip reports. Personal experiences give you insights that you won't receive on the company website. Check out TravelAwaits contributor Judy Freeman's advice on how to make the most of your Viking cruise. Stephanie Vermillion captures the spirit of Viking Cruises in her article "9 Reasons to Visit Norway by Cruise."
By taking the extra time to plan, your trip will go smoother and you will know what to expect. Bon voyage!