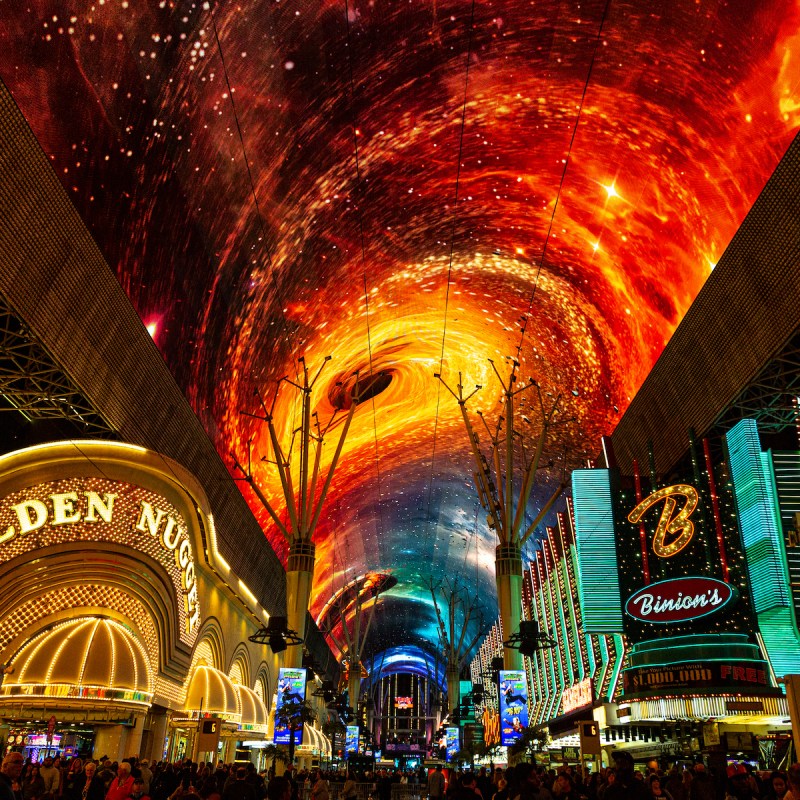 After Nevada legalized gambling in 1931, the first casinos in Las Vegas proliferated along Fremont Street in the city's downtown region. Then came the end of World War II, and new mega-hotels with glitzy casinos and top-flight entertainment cropped up along Las Vegas Boulevard a few miles away. The Strip, as that corridor is commonly known, soon dominated as a tourist destination.
Fremont Street, however, never completely lost its allure. Recent development and a gazillion new glittery lights infuse the area with serious razzle-dazzle.
Downtown Las Vegas is about 4 miles northeast of the four-mile Strip's midpoint on Las Vegas Boulevard. Most of the buzz circulates along Fremont Street, with the canopied experience situated between Main and Fourth streets.
I hadn't traveled to Las Vegas in several years and certainly not since COVID-19 pivoted our lives. I had always thought of Fremont Street as a vintage, somewhat time-worn, gambling district preserved in a proud past.
A recent media trip to Las Vegas showed me how far Fremont Street and the surrounding neighborhood have come since my previous visits. Come along as I share some of my favorite experiences:
New Circa Resort & Casino
The first new hotel and gaming complex to be built downtown in decades, Circa Resort & Casino exudes Old Vegas with a modern flair and touches of elegant quirkiness. It's also an adults-only property with loads of extraordinary dining and gaming experiences.
1. Circa Resort & Casino
Opened in late 2020, the gleaming Circa towers 35 stories over the neighborhood. Within its confines are 512 rooms, a two-level casino, a dozen dining and imbibing establishments, a massive outdoor swimming pool arena, and a cavernous sportsbook.
Beyond the lobby reception desk is the 25-foot-tall neon light depicting cowgirl Vegas Vickie, a long-time downtown icon now fully restored. In a previous life, she beckoned patrons to a now-defunct strip club, but she seems quite happy in her new digs.
All guest rooms are furnished with king-sized beds and mini-refrigerators. My standard room was decorated in a sophisticated complement of navy and browns with accents of brushed gold. The geometric-patterned carpeting, velvety sofa, and blackout draperies added richness to the space while a couple of artsy accessories with a teensy retro vibe reminded me I was in Las Vegas. The spacious bath had a double vanity with a make-up area and a walk-in shower.
Circa Resort & Casino stands at Main Street and Ogden Avenue intersection. The back door opens directly onto the Fremont Street Experience.
Pro Tip: Be prepared to show your ID when you enter the hotel. I learned the morning I walked out the front door, chatted briefly with a security officer, and darted across the street to snap a quick photo. I know she saw me, but I still had to present my driver's license when I went back.
2. Stadium Swim
At Stadium Swim, you won't have to choose between watching an important game and soaking up the rays. This massive, multi-level swimming pool and sports viewing complex is designed for both. You'll find it at the top of a three-story escalator from the second floor of Circa Resort & Casino.
All 338 chaise lounges, 32 daybeds, and 28 cabanas are arranged amphitheater-style to face a 40-foot-tall, high-def video screen. The layout is interspersed with six heated swimming pools, two swim-up bars, and a DJ booth.
Friendly wait staff will take your orders from a menu of casual eats, specialty cocktails, and domestic and imported beers and wines.
No matter where you lounge at Stadium Swim, you have an unobstructed view of the video screen. That's a draw for sports enthusiasts, but keep in mind there are no trees or umbrellas to shade you from the desert sun unless you rent a cabana.
Stadium Swim is open to the public. If you're not staying at the hotel, you'll have to pay an admission fee, which varies by the type of accommodation.
Pro Tip: Make a reservation for a chair, especially on weekends or big game days. Like the Super Bowl or World Series.
3. Legacy Club
The classiest new cocktail lounge on Fremont Street is the Legacy Club on the 60th floor of Circa Resort and Casino.
It's a sprawling yet intimate space with conversation groupings of richly upholstered seating arranged throughout. The decor is lavished with velvet, marble, and coffered ceilings, featuring floor-to-ceiling windows that capture far-reaching views of the Strip, mountains, and sunsets in the distance. The outdoor rooftop terrace is just as luxe as the indoors.
The lounge pays tribute to visionaries who led Las Vegas into the robust, glittering city it is today. Step off the elevator, and you'll face an eggplant-hued wall inset with golden busts of Howard Hughes, Steve Wynn, and others. A somewhat whimsical touch is a glass-enclosed kiosk that showcases about $2 million worth of gold bars imprinted with the Circa logo. Many visitors have their photos taken beside it.
On the menu are high-end spirits, wines, bubbles, and specialty and classic cocktails. The Legacy Club also has a dress code: It's called elegant casual.
4. Mega Bar
At the back of the street-level gaming area at Circa Resort & Casino is the linear Mega Bar, which spans 165 feet long. It is said to be the longest bar in Nevada. A sports bar at heart, the Mega Bar is lined with 53 upholstered seats, each with its own gaming console for table-top play. Mounted on the wall is a row of 46 double-stacked flat-screen TVs. The 120 beer taps, with a rotating selection, will keep you quenched.
Keep an eye on the bartenders, who are known for their entertaining mixology flair, bottle tosses, and shenanigans. Your drink might take a bit longer to arrive, but the staff is fun to watch while you wait.
Fremont Street Experience
It's time to leave Circa Resort & Casino and explore the streets. Head out the back door, left of the Mega Bar, and you are at the Fremont Street Experience. The open-air, canopied pedestrian mall is four blocks long, 90 feet high, and flanked by hotels, eateries, casinos, and shops. Among them is the city's first hotel, Golden Gate Hotel & Casino, built in 1906. There's much more, and it's mostly free.
5. Viva Vision Light Shows
Look upward because the overhead canopy is actually a ginormous video screen that Viva Vision claims is the world's largest digital display. The canopy, which opened in 1995, underwent a multi-million-dollar, high-tech renovation completed shortly before the start of the global pandemic.
On the screen, you'll view a free nonstop cinematic spectacle of fast-moving colors, graphics, graffiti, and other imagery as it morphs and tangles amid mesmerizing lights and concert-quality sounds.
Every hour on the hour, between 6 p.m. and 2 a.m., a featured light show interprets pop songs of the day from musical legends. I caught the 11 p.m. show, which incorporated the hits of Steve Aoki, an electronic dance music artist and Grammy Award nominee. Other names in the lineup included Shakira and The Chainsmokers.
6. Live Music Every Night
A party atmosphere reigns at the Fremont Street Experience, where every night the music plays on. All you have to do is show up. One of the three stages is adjacent to the back door of Circa Resort & Casino.
In addition to nightly performances by Las Vegas's top-tier DJs and cover bands, there's also a Downtown Rocks concert series. Popular world-class music sensations like Nitty Gritty Dirt Band, Stone Temple Pilots, and Rick Springfield take to the stages about twice a month. Check the calendar and map to see what's coming up.
7. SlotZilla Zip Line
Get a drone's eye view of the Fremont Street Experience promenade as you soar beneath the Viva Vision canopy. Your ride begins at the kitschy SlotZilla launch tower, which makes the adventure appear as though you're being shot out of a giant slot machine at the east end of the canopy.
SlotZilla gives you two ways to fly: On the lower Zip-Zilla lines, you're strapped into a seated position. On the upper Super-Hero Zoom lines, channel your inner Superman and fly. Prices vary.
Street Murals On Fremont Street And Downtown
Walking around the streets of downtown Las Vegas, you're sure to notice the many stunning and often provocative art murals that adorn building facades. Several are located on Fremont and Seventh Streets.
8. 'Cultivate Harmony' Mural By Shepard Fairey
On the north face of the Plaza Hotel & Casino on Main Street is a narrow red, black, and gold 21-story mural by Shepard Fairey. He's the street artist and political activist you might know for his now-iconic 2008 "Hope" poster depicting former President Barack Obama.
This one, titled "Cultivate Harmony," is rich in symbolism: The color scheme of a roulette wheel, a central rosette, a peace sign, and an eye with a teardrop outlining a world globe.
A prime viewing spot is the glass sky bridge over Main Street between Circa Resort & Casino and the parking garage.
Pro Tip: Find street murals and public art around you by visiting the MASA (Murals And Street Art) website or downloading the app to your phone. Follow the menus for cities or artists and reveal photos, maps, and directions. Add photos of your own discoveries as well!
For more things to do after you've had a taste of Old Vegas, check out these stories: