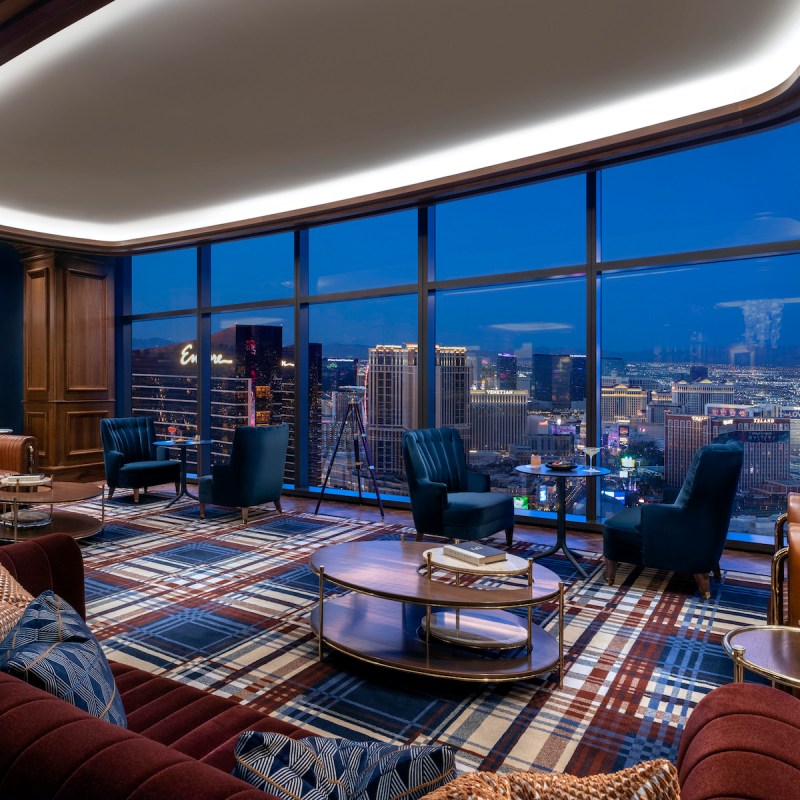 Cocktail culture in Las Vegas has grown exponentially in recent years, elevated by creative mixology accompanied by stunning theatrics and housemade ingredients. The standard Manhattans, old-fashioneds, and gimlets abound, but the city's bar menus are more likely to feature original recipes and revamped classics.
Las Vegas being Las Vegas, where ostentation and indulgence rule, adds another element to the spirited bar experience: amazing views. The most talked-about cocktail lounges may be perched atop a glassy skyscraper or surrounded by lush gardens or tucked somewhere in between, but all promise a sublime ambiance as you relax with a refined beverage.
After making the rounds (get it?) during a recent media visit hosted by the Las Vegas Convention and Visitors Authority, I raise my glass to the following incredible cocktail bars and lounges.
1. Legacy Club At Circa Resort And Casino
On the 60th floor of the Circa Resort and Casino is the ultra-luxe Legacy Club, a rooftop lounge with indoor and outdoor seating in conversation groupings. The hotel is located downtown on the Fremont Street Experience, about 4 miles northeast of the Bellagio Hotel and Casino, so you'll have far-reaching views of the famous Las Vegas Boulevard (also known as the Strip), the Las Vegas Valley, and the mountains beyond.
A prime attraction at the Legacy Club is a glass kiosk containing 500 gleaming 2-ounce gold bars imprinted with the Circa logo. A ticker at the top shows real-time pricing, based on market values, so you can see how much the treasure is worth. The night I was there, it was $1,812.170.
What To Order At The Legacy Club
A sophisticated menu features premium spirits and bubbles, plus fresh takes on beloved classics. The Green Felt Jungle is an exotic mix of coconut-washed Japanese whisky, dry curacao, herbal liqueur, lemon, cucumber, and orgeat.
Pro Tip: Book the Sunset Package, and you can watch the entire city gradually light up to its dazzling finest.
2. The Cosmopolitan's North Bar At Boulevard Pool
Get a head start on the weekend with the Sunset Cocktail Hour on Thursday evenings at The Cosmopolitan's North Bar at Boulevard Pool. The 4th-level patio adjacent to the swimming pool is usually an after-hours event space (the pool closes at 6 p.m.), but once a week it transforms into a vibrant outdoor cocktail lounge with live entertainment, signature cocktails, and light bites. Make your own tequila margarita at the Summer Spritz cart.
What I enjoyed the most about this lounge, which is located directly on the Strip, was the view of Las Vegas Boulevard below. The venue is side-by-side with the Bellagio Hotel and Casino, and across the street from Paris Las Vegas and its replica Eiffel Tower. You're high above it all, but close enough for grand people-watching. The party runs from 6:30 p.m. to 8:30 p.m., prime sunset-viewing hours.
What To Order At The Boulevard North Bar
Ichigo-For-It is a fruity, herby refresher made with Japanese whisky, blackberry lemongrass vodka, strawberries, yuzu syrup, and a splash of sparkling wine.
Pro Tip: The featured entertainer is acclaimed DJ and saxophonist Natty Rico. Don't be surprised if he jumps on your table as he struts his stuff.
3. The Lost Cactus At FlyOver Las Vegas
I felt like I was a drone soaring above mountains, rivers, and plains during the immersive film, The Real Wild West at FlyOver Las Vegas.
I was strapped into a row of seats that rose into the air, my feet dangling, in front of an immense wrap-around screen. The seats swooped, dipped, and turned as the film led through mesmerizing landscapes and cityscapes, accompanied by actual mists, breezes, and scents. Just as it seemed we were about to crash into a mountain, the scene changed to a buffalo stampede or serene waters. (Also showing was Legendary Iceland, which explores the Land of Fire and Ice.)
Guests who use wheelchairs and are unable to transfer to the mobilized seating are welcome to enjoy the film and its sensory effects from the stationary platform.
Elevate your sky-high adventure with a stop at The Lost Cactus bar and lounge, where the walls are wrapped in large murals of nature's majesty, and "stars" twinkle overhead. The menu features specialty cocktails and mocktails inspired by the films and Las Vegas location.
What To Order At The Lost Cactus
Order the prickly pear margarita because you'll "fly" over the Mojave Desert during the film. The cocktail is made with tequila, triple sec, lime juice, prickly pear syrup, sweet and sour mix, and garnished with chili salt.
Pro Tip: You can visit The Lost Cactus without viewing the films, but why would you?
4. BRERA Osteria At The Venetian Resort Las Vegas
Sipping a cocktail or glass of vino at BRERA osteria is like being at an outdoor cafe in Venice. The Northern Italian eatery and lounge is located at the hotel's reproduction of the internationally beloved St. Mark's Square. The Las Vegas version is a voluminous indoor shopping and dining plaza fashioned with stone-paved walkways, ornate street lamps, and a "sky" that changes by the hour.
The BRERA osteria menu features housemade pastas, gelato, and sorbet; wood-fired pizzas, seafood and dry-aged steaks; and risottos. While you imbibe and dine, you'll be entertained by costumed classical opera singers, jugglers, a stilt walker, and other performers in the square.
What To Order At BRERA Osteria
Brera Osteria has an extensive wine menu, especially reds, and a pleasing assortment of authentic Italian cocktails including varied spritzes. The house sangria, my choice, was concocted with Italian barbera wine and apple cider, and dressed with fruity bits.
Pro Tip: Drop in between 3 p.m. and 5 p.m. for Aperitivo Hour with complimentary bites and special pricing on pizza, cocktails, wine, and beer. Ask for a seat near the railing so you can see the performance stage.
5. Vanderpump À Paris At Paris Las Vegas
Reminiscent of a Parisian courtyard, Vanderpump à Paris is a vision of over-the-top grandeur. British restaurateur and reality TV royalty Lisa Vanderpump lavishes the art nouveau–inspired scene with velvet and brocade, crystal chandeliers and brass candelabras, and humongous floral arrangements.
The cocktails are as exuberant as the goddess of excess herself. The French Poodle, which incorporates gin, ginger liqueur, blackberry, rhubarb, and lime, is topped with a generous pouf of pink cotton candy and dusted with gold flakes. Order a dozen "Les Shots," and they arrive tiered around a three-foot replica of the Eiffel Tower. The wine list is divided into New World and Old World labels.
What To Order At Vanderpump àt Paris
Louvre at First Sight is a decadent hickory-smoked mezcal and prickly pear cocktail served under a glass pyramid, a reference to the one designed by Chinese-American architect I. M. Pei that stands in front of the Louvre Museum in Paris.
Pro Tip: The menu is a delightful literary read, designed as a newspaper broadsheet decked in fancy fonts and photos of Lisa. The menus are for sale as souvenirs, and if you want to have something to eat, there are some amazing restaurants in Las Vegas.
6. Liftoff Lounge At AREA15
AREA15 is a playground of artsy expression and alternate realities including a sculpture garden, immersive multimedia, unique retail and dining, and a plethora of wacky amusements.
One of them is Liftoff, a slow-moving vertical ride that rises 130 feet high while gently revolving 360 degrees over the desert landscape. Your ride is as smooth as a hot air balloon flight in that you don't realize you are airborne until you look down. You're seated and strapped upright around a circular 12-seat table with cupholders. Grab a beverage from Liftoff Lounge at the bottom of the ride.
What To Order At Liftoff Lounge
Liftoff Lounge is an outdoor space with a comfy industrial vibe and full-service bar. For my 10 a.m. ride, I drank a diet soft drink. You might choose from a quartet of specialty cocktails. I hear the Sky High Margarita comes with a spicy kick.
Pro Tip: Liftoff operates day and night, so choose your view — city lights or desert landscape. Nights can be chilly, so bring a jacket.
7. Allē Lounge On 66 At Resorts World Las Vegas
One of the highest perches in the city, Allē Lounge on 66 is also one of the swankiest. Head to the lobby of the Conrad hotel, one of three hotels at Resorts World Las Vegas, and take an elevator to the 66th floor.
The lounge is lavished with wood-paneled walls, parquet floors, marble tabletops, and golden accents. Leather and velour seating is composed into intimate conversation groupings. Floor-to-ceiling windows on two sides assure unobstructed views of the Strip's ubiquitous neon, while a retinue of telescopes invites you to get up close and personal.
The multi-page cocktail menu, fashioned as hard-bound books, lists an exceptional collection of fine and rare spirits and wines, signature cocktails, and variations on the classic old-fashioned. In case you were wondering, a half ounce of Louis XIII goes for $175.
What To Order At Allē Lounge On 66
The Twilight signature cocktail is a sweet, herbal mix of dry gin, creme de violette, black raspberry liqueur, lemon, egg whites, and simple syrup. Periwinkle in color and garnished with a flower, Twilight is highly Instagrammable.
Pro Tip: Plan your arrival an hour before sunset, before all the window seats are taken.
Interested in visiting Las Vegas? Or just getting an incredible view? Consider: