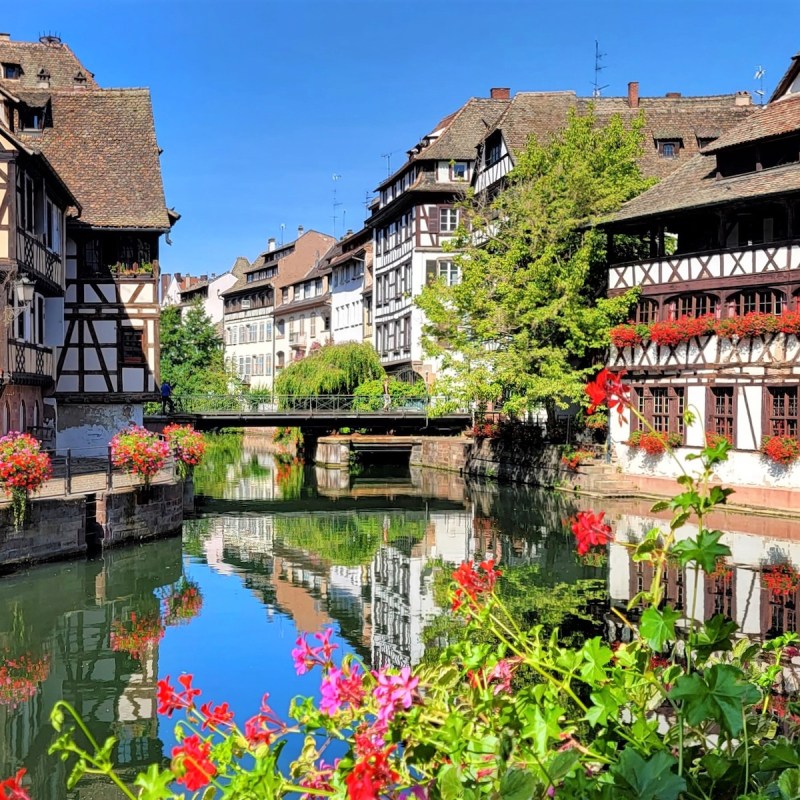 The Rhine River is the setting for one of Europe's most popular river cruise itineraries. Typically sailing the length of the river between Amsterdam and Basel, these enchanting Rhine River cruises visit the Netherlands, Germany, France, and Switzerland. This memorable journey of discovery is a rich cocktail of delights perfectly suited for those who love spectacular scenery, history, culture, wine, and outstanding cuisine.
Cruises along the legendary Rhine are filled with centuries-old castles, Gothic cathedrals, terraced vineyards, storybook villages, meandering canals, and culinary delights. There's so much to see and do along this route, as I was able to experience recently with AmaWaterways. The award-winning, family owned and operated cruise line is celebrating its 20th anniversary and offers highly immersive river cruises on many of the world's most scenic waterways, including the Rhine.
AmaWaterways invited me to be their guest to sail their 7-night Captivating Rhine itinerary from Amsterdam to Basel, Switzerland, on their newest ship, AmaLucia. This floating luxury boutique hotel is filled with amenities, including a panoramic lounge, an expansive sun deck with a pool and walking track, complimentary bicycles, and daily wellness activities. All accommodations are spacious outside staterooms, and the majority have AmaWaterways' signature twin balconies. AmaLucia also offers multiple connecting cabins as well as triple and quad accommodations, which are ideal for families and multigenerational groups.
Our sailing offered a wealth of opportunities to be immersed in the history, culture, and landscapes of Europe. All 21 enriching excursions offered on our AmaLucia voyage were included in the cruise fare, and two to four tours were available in each port of call. This luxury of choice is particularly appealing for those traveling with family members or a group of people who may have different interests and activity levels. Guests can explore at their own speed, with most walking tours available at gentle, regular, and active paces. Guided hiking and biking excursions are also featured. The tour options were excellent, and I often wished I could clone myself so I could experience multiple tours offered simultaneously.
My AmaWaterways Rhine River cruise was filled with so many fabulous moments that it's hard to pick favorites. Here are 11 of my most memorable experiences:
1. Marveling At Castles Along The Rhine
Sailing through the dramatic Rhine Gorge, a roughly 40-mile stretch between Koblenz and Rüdesheim, was an unforgettable highlight of my Rhine river cruise. The Upper Middle Rhine Valley is a UNESCO World Heritage Site filled with historic castles, palaces, fortresses, and legends.
Standing on AmaLucia's sun deck, I was mesmerized by the awe-inspiring scenery complete with picturesque towns, hillside vineyards, and 30 stunning castles and fortresses lining the river. Our knowledgeable cruise manager provided expert commentary on the Upper Middle Rhine Valley's castles, the area's stories and legends, the massive Loreley Rock, and the iconic statue that bears the siren's name. The crew made the experience even more memorable by serving Rüdesheimer coffee (more on this adult beverage later) and an elaborate barbeque lunch on the sun deck.
Pro Tip: Get AmaWaterways' Castle Cruiser map and plan to be up on the top deck early before your ship starts sailing past the first castle. Double-check the exact timing with your cruise manager so you won't miss a moment of this experience.
2. Savoring Exceptional Cuisine
AmaWaterways is known for delivering memorable dining experiences, and it is a member of La Chaîne des Rôtisseurs, one of the world's most prestigious invitation-only culinary organizations.
I was impressed with the consistently high quality of our meals and the personalized, attentive service on the AmaLucia. AmaLucia's dining areas include the Main Restaurant, the panoramic Al Fresco Terrace, and the elegant Chef's Table complimentary dining venue. The Chef's Table is a reservation-only gourmet culinary experience featuring an exquisite multi-course tasting menu paired with complimentary wines. The Main Restaurant serves three mouthwatering meals daily, with menus featuring fresh, locally-sourced ingredients and regional cuisine, including exceptional meats and seafood. Wines, beer, and soft drinks are complimentary with meals, and a tapas menu is available in the lounge.
The AmaLucia staff did an excellent job dealing with food allergies, and they surprised their guests with unannounced treats like gelato parties and other delights during our cruise.
Pro Tips: Make reservations for The Chef's Table at the reception desk on embarkation day.
3. Strolling And Shopping In Strasbourg
I fell in love with this "Gem of the Alsace," a historic city that blends both French and German cultures. Strasbourg's Grande-Île, an urban island created by a tributary of the Rhine and a canal, is a UNESCO World Heritage site filled with cobblestone streets, enticing shops, and sidewalk cafes.
I enjoyed visiting centuries-old Gothic Strasbourg Cathedral, with its magnificent astronomical clock; sampling Alsatian cuisine; and strolling through the enchanting Petite France district, with its quaint half-timbered buildings and flower-bedecked bridges. Shopping at boutiques along the Rue du Dôme, the Rue des Juifs, and in Petite France was a treat.
Pro Tip: If you're planning to go shopping, take your passport with you for possible value-added-tax refunds if you might make large purchases in one or two stores. A photo of your passport often works.
4. Watching The World Go By
Some of the best moments of my AmaWaterways river cruise were spent on our ship, simply relaxing and enjoying the breathtaking scenery. It's rare to have this kind of pleasurable downtime, and our floating luxury hotel provided front-row seats for the Rhine's spectacular show.
My AmaLucia stateroom featured AmaWaterways' signature twin balconies, providing beautiful views from both the French balcony and a full-size veranda equipped with comfortable chairs.
AmaLucia's sun deck is another great place to watch the Rhine's ever-changing landscapes. The sun deck offers loungers in both sun and shade, and a large seating area at the bow is equipped with comfortable couches, tables, and chairs perfect for taking in the panoramic scenic views.
Pro Tip: Have breakfast or lunch at the Al Fresco Terrace at least once during your cruise. The views are amazing, and it's a choice spot to watch your ship pass through the Rhine River locks.
5. Enjoying Rüdesheim After Dark
Rüdesheim am Rhein is one of Germany's most picturesque wine areas. Guests can soar above the vineyards on a gondola ride to the hilltop Niederwald Monument, join a wine tasting, visit the unique Siegfried's Mechanical Music Cabinet museum, and take a guided biking or hiking tour.
I enjoyed sampling local wines and viewing the terraced vineyards, but one of my favorite experiences was exploring Rüdesheim after dark. This quaint town comes alive at night. We strolled around the Old Town and down Drosselgasse, a narrow cobblestone street lined with restaurants, wine bars, taverns, and boutiques. Our group listened to live music and visited the Rüdesheimer Schloss for authentic Rüdesheimer coffee, a potent beverage made with local Asbach brandy and sugar and topped with whipped cream and chocolate shavings. It was an enchanting evening.
Pro Tip: AmaWaterways provides free tourist train rides for easy access to Rüdesheim's Old Town area. Wear sturdy shoes, since the cobblestone streets can be hilly and uneven.
6. Interacting With Our Fantastic On-Board Community
AmaLucia offers an environment of casual luxury, along with an incredibly welcoming staff. It was fantastic to spend time relaxing on board and enjoying the ship's amenities, exceptional cuisine, personalized service, and vibrant onboard community.
The AmaWaterways team created fantastic camaraderie on our cruise, encouraging close interaction with staff members and other guests. Guests come together to share stories at mealtimes and get to know each other better on shore excursions. We had fun with new friends in the evenings, enjoying the entertainment and dancing the night away in the Main Lounge and at parties on the sun deck.
Pro Tip: Plan to be at the ship's daily Sip & Sail happy hour in the Main Lounge. It's a great place to meet and mingle with other guests, and complimentary wine, beer, and spirits are served.
7. Exploring Historic Heidelberg
Our included tour of beautiful Heidelberg was a fabulous experience. This well-preserved city is set along the scenic Neckar River and is home to Germany's oldest and most renowned university. We started by taking a guided visit through the ancient ruins of Heidelberg Castle, a royal Renaissance palace built with stunning red sandstone. The world-famous fortress towers above the Neckar Valley and its cellars contain the Heidelberg Tun, the world's largest wine barrel. After touring the castle, we had plenty of time on our own to explore the Old City with its countless shops and boutiques, stroll along the waterfront, and relax at an outdoor café while sampling German beers.
Pro Tip: Walk across Heidelberg's Old Bridge to enjoy dazzling views of iconic Heidelberg Castle, the Old City, and the Neckar River.
8. Amping Up Wellness And Staying Active
Most AmaWaterways river cruise ships have a professionally trained Wellness Host on board who leads complimentary yoga, Zumba, and other fitness activities throughout the journey. Active shore excursions, including guided bike tours and hikes, are also offered in ports of call. Guests who prefer riding in their spare time rather than taking a biking excursion can use AmaLucia's complimentary bicycles.
I loved AmaLucia's activities and yoga classes and discovered flexibility I didn't know I lacked. As a result of the superb wellness programs on AmaLucia, my husband and I have taken up yoga at home.
Pro Tip: AmaWaterways also offers very reasonably-priced massage services on their ships, and guests raved about their treatments. Make your appointments at the reception desk on embarkation day.
9. Cruising Along Amsterdam's Canals
Amsterdam is home to 165 canals, and a scenic canal cruise along these tree-lined waterways is a fantastic way to see the city's centuries-old historical center and beautiful attractions. There's so much to see and do in Amsterdam, so plan to spend several days here before or after your cruise. During our extended time in Amsterdam, we took a fabulous canal tour and visited the Van Gogh Museum, the Rijksmuseum, and the Floriade Expo, a world-renowned horticultural exhibition occurring once each decade.
Pro Tip: AmaWaterways offers immersive, fully-escorted land packages in Amsterdam and Switzerland on their Rhine voyages. Guests highly recommended these convenient river cruise extensions.
10. Discovering Enchanting Riquewihr
Surrounded by lush vineyards, idyllic Riquewihr is one of the most beautiful towns in France. Straight out of a fairytale, Riquewihr is a medieval French village said to have inspired animators creating Belle's hometown in Disney's Beauty and the Beast. This storybook village is filled with postcard-perfect half-timbered houses, cobblestone streets, charming shops and cafés, and structures dating back to the 13th century. Riquewihr is known for producing outstanding wines, such as its exceptional riesling. We enjoyed relaxing at a delightful outdoor café and sampling local treats here.
Pro Tip: Riquewihr's cobblestone streets can be uneven, and there's a tourist train available if preferred. Make sure to try Les Macarons de Riquewihr at Maison Alsacienne De Biscuiterie. They're delicious!
11. Chilling Out In The Pool
When choosing your river cruise ship, consider the amenities that would make your vacation more pleasurable. Europe's summers are often hot, so spending time in the pool is appealing. AmaLucia's sun deck features a lovely outdoor pool, and I was thrilled to kick back and cool down there during our cruise in July. Aqua aerobics are also offered here. The ship's pool is heated, so it can still be wonderful to enjoy in the spring and fall.
Pro Tip: Head up to the pool in the evening. It was a fantastic place to relax while watching the sunset, then sit at the swim-up bar while stargazing later at night.
For more along the breathtaking Rhine River, check out: