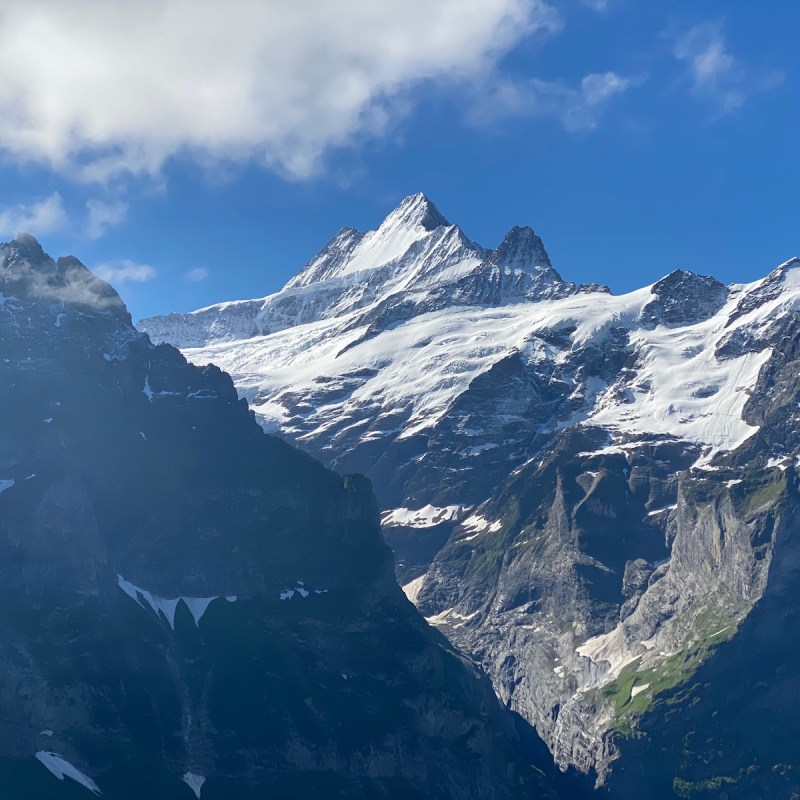 At Jungfraujoch – Top of Europe, a blizzard raged and the wind was so bitingly cold that my poor gloveless hands were turning into ice. I had packed a thick jacket for this trip to the Jungfrau region of Switzerland, but I didn't pack anything else suited for winter, like a hat or gloves.
It was summer after all.
I was on a hosted adventure to experience summer in the Swiss Alps near the town of Grindelwald in central Switzerland, so I didn't think I would need anything beyond a coat for the cold nights.
Yet, even as the sun shone warmly in the valley, I was shivering and freezing in the summer, but winter, storm that raged on top of Jungfrau, one of two major 4,000-footers of the Bernese Alp. The furious snow blocked out most of the Aletsch Glacier view at 11,332 feet above sea level.
Not being prepared for a variety of weather conditions was one of a few mistakes I made when I visited the Jungfrau region for the first time. I am usually adept at researching places before I visit, but I still missed out on some tips that would have made my life a little easier while visiting Switzerland.
Here are 7 things I wish I knew before visiting the Swiss Alps.
1. Bring Layers
The weather in the bucolic valleys of Switzerland vary dramatically from the weather at the top of the mountains and peaks in this region. Because the Swiss Alps straddle the northern European climate and the warmer southern European climate, the weather can be both cool and warm at the same time. In fact, you could experience sunshine in one valley while rain pours down on the other side of the mountain.
When in doubt, it's better to have that extra jacket and pair of gloves and not need it, rather than to need it and not have it. Bringing heavy winter gear along with shorts and tank tops may mean extra luggage, but don't underestimate how diverse the weather in Switzerland can be at any time of the year.
Pro Tip: For every 328-foot gain in elevation, the temperature can drop approximately 1.8 degrees. So, if you get on top of the Jungfraujoch, for instance, you're at 2.14 miles above sea level where the mountain tops are chilly in summer and sometimes covered in thick layers of snow.
2. Be Prepared For Altitude Sickness
Elevation, again, can cause a bit of misery for visitors to Switzerland if they aren't prepared for the altitude. Switzerland lies at an average elevation of 4,429 feet above sea level, making it one of the highest countries in the world. Switzerland's highest mountain peak — Dufourspitze — is 15,203 feet.
If you're not used to high elevations, then altitude sickness can be pretty miserable. According to a study titled "Prevalence of acute mountain sickness in the Swiss Alps," acute mountain sickness is "not an uncommon disease at moderately high altitude." It can cause "severe headache, vomiting, dizziness, tachypnoea, and pronounced pulmonary rales."
One of the ways to combat this sickness is to ask your physician for a prescription called Acetazolamide, or Diamox. This is the common prescription for preventing acute mountain sickness, high altitude pulmonary edema, and high altitude cerebral edema.
You can also get over-the-counter medications to combat altitude sickness, but in my personal experience, they don't work as well.
Pro Tip: If you are at high altitudes, treat all headaches, dizziness, or vomiting as altitude sickness. Immediately descend to a lower altitude and make sure you are always properly hydrated. If you do plan to climb or summit these high peaks, spend a day or two in one of the nearby towns to slowly acclimate.
3. Tummy Issues Are Common
One of the best things about Switzerland is the food and drink. The Swiss are masters in the arts of chocolate, cheese making, and wine, so be prepared to be tempted by plenty of delicious, rich, and dairy-heavy foods.
While traveling in planes, trains, and automobiles generally causes me to "slow down" in the digestive process — if you know what I mean — the rich and tempting foods made me even more constipated than usual. Other people may have the opposite problem, depending on their body types.
So, if you plan to indulge in all the rich cheese dishes and fondues, the mouthwatering chocolate and hearty sausages, be sure to pack your over-the-counter tummy medications for either issue.
4. Switzerland Is Expensive
You might have heard already that Switzerland is expensive. In fact, Zurich and Geneva are often included in lists touting the most expensive cities in the world.
Yes, certain things are much more expensive in Switzerland, like groceries, clothing, shoe shopping, and going out to dinner or for drinks. In fact, unless you eat fast food, finding a meal for less than 20 CHF ($20.51) is difficult.
Public transportation, tourism excursions, and medical costs are also much higher in cost than other destinations.
That being said, if you have the ability to stock up on light groceries to cover breakfast and lunch, you'll be able to indulge in the cost-worthy food that restaurants serve here. Just, be aware of the expenses you may face and budget accordingly.
5. Invest In A Rail Pass
Switzerland is home to some of the best public transit in the world, and if you want to see all that this beautiful country has to offer, traveling by train, gondola, and funicular is the way to go. As stated above, Switzerland can be a bit expensive, so buying individual train and gondola tickets can really add up after a while and a rail pass can save you a ton of money.
The Swiss Travel Rail pass from Rail Europe gives you access to the panoramic trains like the Glacier Express, Bernina Express, Luzern–Interlaken Express, GoldenPass Panoramic as well as the Gotthard Panorama Express. Although this is a much better option than buying individual tickets, you can expect to pay a lot for the Swiss Travel Pass, so be prepared for sticker shock.
Ths rail pass also has public transport in more than 90 Swiss towns and cities. It even offers senior passes. The Swiss Travel Pass is sold for 3, 4, 8, and 15 days and allows free entrance to over 480 museums and exhibitions.
6. Buy Your Alcohol In The Stores
Like many other things in Switzerland, going out to drink and buying wine at restaurants is a pricey affair. Skip drinking at the bars and restaurants and just buy your wine and beer at the grocery store to drink at your hotel or rental.
Keep in mind that alcohol hits the body a lot faster and harder in higher elevation, making you a cheap drunk in the mountains.
7. Get A Universal Adapter
If you are traveling around Europe and Switzerland, get the right adapter to charge your electronics. While most of Europe uses the Schuko plug (type F), Switzerland is different and uses type J outlets, which are smaller.
Instead of buying both, you can buy a universal travel adaptor. Just make sure it has a type J outlet included.
Check out our most recent Swiss Alps coverage, including: