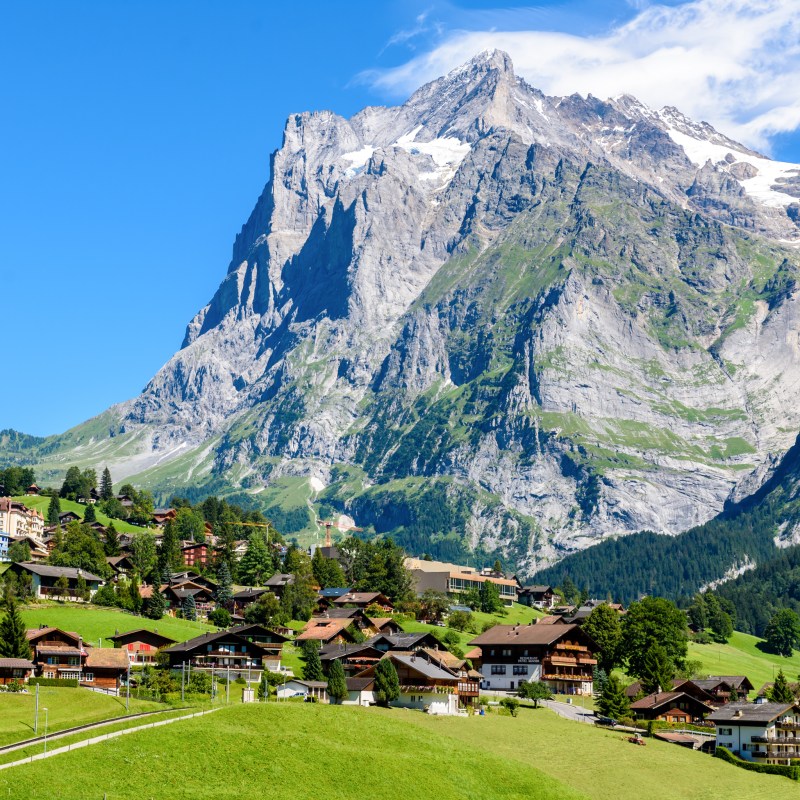 Grindelwald, located in the Swiss Bernese Alps (Berner Oberland in German), is bordered by three massive mountain formations, the notorious North Face of the Eiger, Wetterhorn, and Jungfraujoch. From this, you might think it's only a location for serious mountaineers, but you would be wrong. Summer or winter, Grindelwald entices you with plenty of activities, from skiing to walking, riding picturesque trains, or indulging in luxurious spas. You put in as much physical effort as you want or can and just enjoy a perfect weekend with such a choice of activities that you could easily spend a whole week.
Summer or winter, Grindelwald is an exceptional place. There are reasons why movies such as Star Wars and James Bond were filmed here when Grindelwald was covered in snow. In the summer, you can enjoy a riot of wildflowers carpeting the valleys.
The place was discovered for tourism early on. The notorious Eiger North Face, for instance, was first conquered in 1938. Cable cars, gondolas, mountain trails, and trains abounded and were among the first built in Switzerland. The history of all this is beautifully documented in the Grindelwald Museum, which is definitely a must-see. Grindelwald has seen its share of tragedy, too, not only because at least 64 climbers have died attempting the ascent to the Eiger North Face but also the Great Fire of 1892. It broke out in the then biggest hotel, the Bar Hotel, and fanned by a gale, spread quickly, destroying 1,500 houses. Luckily, the fire claimed no lives.
If you travel by car, Grindelwald is easily reached from anywhere in Switzerland. Arriving by train, you have to change in Interlaken. The nearest international airport is in Zurich, some 83 miles away. The train ride from there takes just under 3 hours.
Being so popular, Grindelwald offers plenty of accommodation for every taste and budget. And of course, there is no shortage of places to eat and drink, either.
If you come in winter and want to ski or snowboard, you don't need to drag your gear with you. There are many places where you can rent your equipment. In the summer, which invites hiking, walking, or climbing, you will want to bring good hiking boots. A word of caution: some of the most spectacular walks like the Cliff Walk are not suitable for people who suffer from vertigo.
Things To Do In Grindelwald
Ride The Jungfraujoch Railway
To get you started on your weekend, it's always a good idea to go on a half-day train ride for an overview of the terrain to get you used to climate and altitude without requiring much physical effort. The ideal is a ride on the Jungfraujoch Railway, all the way up to the majestic Jungfraujoch. The red cogwheel train departs from Klein Scheidegg and runs for a great part through the Jungfrau Tunnel. There are three stops where passengers can disembark and look at the stunning mountain panorama, and there are even windows in the tunnel walls where you can see the incredible sea of ice of the Aletsch Gletscher. Once at the top stop, you can visit an observation platform. There is also a cable car should you decide on a return visit.
Rent A Trottibike
The German-Swiss language is known for having endearing names for things, with lots of i's and li's at the end or the middle. Trottibikes are an example of fun for the whole family. They are a hybrid between scooters and bicycles. In Grindelwald, you can rent them (half-size for kids) to comfortably roll along less frequented asphalt roads, enjoying the landscape without much physical effort, then leave them at a cable car stop and return that way or glide back all the way to Grindelwald. One starting point is the Bort middle station. So, when you see the sign for trottibike rentals, you know what they are. Helmets are obligatory and provided free of charge.
Explore The Glacier Canyon Walk
Are you interested in how glaciers form and move? Then explore the Glacier Canyon Walk. Just a short walk from the center of town you find the start. This 0.5-mile walk leads through natural tunnels and rock galleries along a stream formed by the retreating glacier. A lesson in natural history. Plan 1 to 2 hours for the entire walk and your return to Grindelwald.
Challenge The First Cliff Walk
If you don't suffer from vertigo or fear of heights, this is an exciting adventure for you. The First Cliff Walk is a walkway that hugs the 6,500-foot-high cliff of the mountain First. It's mesh bottomed, so you see the valleys below along the walk. At the end, you come to a glass-bottomed platform that juts 147 feet out into space. The views are spectacular along the walk to the valley below, which is green in summer and snow-covered in winter, and on the platform because of the surrounding mountains. Silence rules all around, only interrupted by the occasional sound of cowbells.
To get there, you have to make your way to the Firstbahn cable station in Grindelwald to catch a gondola to the start of the walk, which takes about 30 minutes each way. Go early because as a popular attraction it can get crowded. If you really are a daredevil, you can extend your trip there and fly the First Flyer Zip Line, Europe's highest and fastest. With all the stops along the way, taking pictures, and getting back down, plan half a day for this adventure.
Chill In A Luxury Spa
After all that skiing and snowboarding in the winter and the hiking and walking in the summer, you definitely need at least a few hours of pampering and relaxation in a luxurious spa. Luckily, Grindelwald has a great offering. Some are public, and others are attached to hotels and for guests only. Others are open to guests and visitors, usually at a rather steep price, such as the Wellness Oasis at the Sunstar Hotel.
Enjoy Alpine Beauty At Lake Bachalp
A far less challenging experience is a walk to picturesque Lake Bachalp (Bachalpsee). All you need is hiking shoes and a picnic basket. To get there, you take the same gondola to First, then follow the signs and start on a beautiful walk through alpine meadows, along creeks and small streams. The terrain is flat all the way to the lake. In summer, the meadows invite you to picnic, and the water in the streams is so clear and clean that you can fill your water bottles. On a clear day and if the sun is just right, you can see the mountains reflected in the lake, a great photo opportunity. Return the same way and plan half a day.
Learn About Local History At The Museum
The Grindelwald museum is located in the Talhhaus next to the church. It's a traditional wooden house with many interesting exhibitions inside, which was started by local people collecting their heritage and heirlooms. Grindelwald was discovered by tourists early on. The museum shows the history of the several railways and the way of alpine farming, which was hard work.
Marvel At The Jungfraujoch Ice Palace
We have already mentioned Europe's highest railway and the amazing trip to the top of Jungfraujoch. Once there, the icing on the cake (pun intended) is a visit to the Ice Palace. Imagine walking through an ice tunnel under a glacier and emerging in hall after hall of ice chambers filled with the most beautiful ice sculptures, which, by their very nature, are always changing. A treat for adults and an adventure for the kids who will talk about it for days to come.
Best Hotels In Grindelwald
Grindelwald offers a great variety of accommodation for all budgets. They range from luxury to bed and breakfasts to holiday apartments. At the top range and very popular is the Romantic Hotel Schweizerhof. Conveniently located just steps from the train station, the hotel offers five-star luxury in single rooms as well as family-friendly suites.
Equally close to the train station but more intimate is the Boutique Hotel Glacier. With just 28 rooms and the Eiger North Face at your doorstep, you get into the Grindelwald spirit right away. The name refers to the Lower Grindelwald glacier, which once reached right into the valley. Fine dining is a plus in this hotel, as is the design, a mix of modern and traditional.
Hotel Alte Post is far more economical than our other suggestions but no less romantic and conveniently located. It even has a little wellness center.
Best Restaurants In Grindelwald
With all these winter and summer activities that await you in Grindelwald, you'll work up a good appetite and won't have to worry about calories, which is good because Swiss food is rich. There are fondues, cheeses and meats, and the specialty roesti: deep-fried onion and potato pancakes.
Most of Grindelwald's good restaurants are located along Dorfstrasse, the main street, and all the hotels have good restaurants. An example is the restaurant in the Hotel Bodmi, where roesti, fondues, and cordon bleus are especially good. Great food and a special atmosphere await you at Restaurant Barry's, named after the famous St. Bernard dog, Barry, who saved several lives.
Pro Tips
Switzerland charges a visitors tax of CHF 4.70 per person per night spent in the country. The tax is added to your hotel bill.
Grindelwald is extremely popular in summer and winter. Locals recommend you go as early as possible to the attractions you want to visit to avoid long queues and big crowds. The gondola to First, for instance, only takes four people at a time. Also note, the gondolas never stop completely but slow down enough for you to hop on. Be careful.
Related articles: