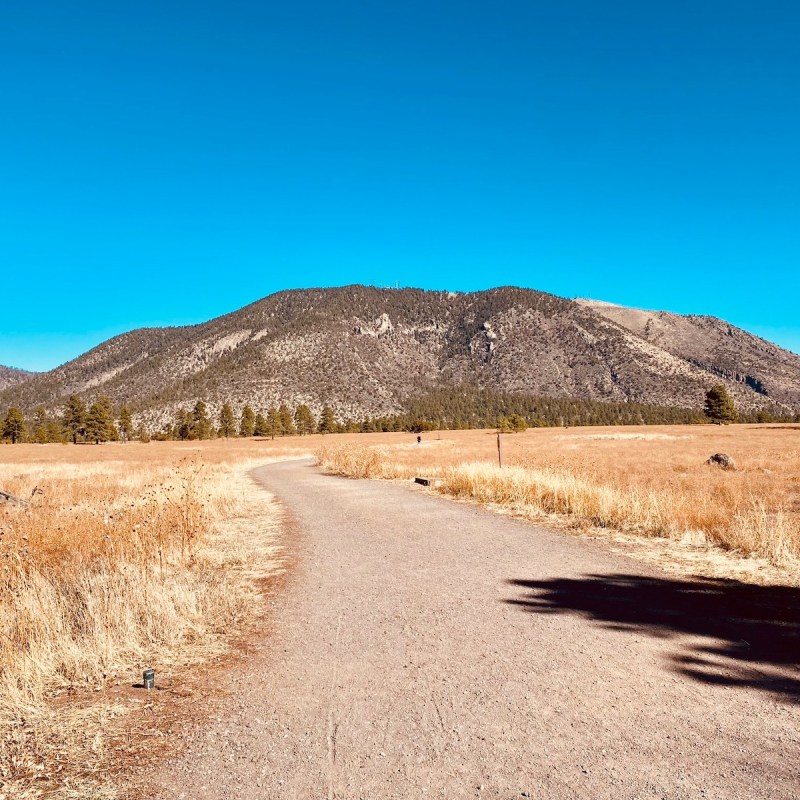 Housesitting in Flagstaff, Arizona, two beautiful dogs and I got to hike and walk across the area with insider tips on the best places to go. First, at the end of the cul de sac, we hiked Mount Elden nearly every day. It was a bit steep to get to the top with two dogs on a leash, so I tried some of the other places too.
I've learned the best time to begin a hike in any of these locations is the morning. Be sure to take sufficient water and protein bars. As always, wear sunscreen, insect repellent, and a hat to protect you from the blazing sun at altitude.
1. Mount Elden
Length: 2–6.3 miles; Plan 3 to 10 hours
Elevation Change: 2,295 feet
At 9,295 feet elevation, Mount Elden, the 500,000-year-old dome volcano's southeast face has been aptly described as "corduroy cast in stone" and a "staircase of petrified lava." You have your choice of three trails (Fatman's Loop, Little Elden Springs, and Mount Elden Loop) to explore these slopes or walk the more level surface of the Pipeline Trail Loop.
The climb begins gradually enough for the first bit, then climbs steep and rough at the halfway mark. If you go further, to the Elden Lookout Trail, it's steeper still, but coming down through the Gunsite Rocks and Fatman's Gap isn't nearly as rigorous, and you'll enjoy the view along the Christmas Tree Trail.
Take the time to look around as you go, or when you stop for a breather. You'll pass through a forest of oak, pinon, ponderosa pine, fir, broad-leaf yucca, and a few huge, gnarled, alligator bark juniper aged more than 1,000 years.
Because of the sunny eastern exposure, it's usually snow free and remains open all winter.
How to get to the Trailhead if you don't live in the neighborhood: drive East on Route 66 and turn towards Page on Highway 89. The trailhead lot is on the left, just past McDonald's.
Pro Tip: Take dogs if you have or can borrow them. They heard the coyote long before I spotted him.
2. Picture Canyon
Length: 2 miles; Plan 2 hours
Less than 10 minutes from the house, Picture Canyon became my second favorite place for a walk. This totally easy, fairly level dirt path allows for strollers or wheelchairs and remains open year-round. Your reward for walking the distance? A petroglyph courtesy of the Walnut Canyon cliff dwellers. Anasazi pre-historic art dates back 1,000 years and depicts archers, turtles, deer, elk, bighorn sheep, birds, and geometric shapes.
It's a great place for wildlife watching. Binoculars on the trail map indicate the best bird-watching sites.
3. Lowell Observatory Mesa Trail
Length: 6 miles; Plan 2-3 hours
Elevation Change: 770.997 feet
I first took this trail on my initial visit to Flagstaff's Lowell Observatory. I didn't live at altitude then and was surprised how breathless it left me. It's basically one steep climb through dense ponderosa pine. The Observatory grounds provide educational plaques throughout your journey.
Percival Lowell moved to Flagstaff in the 1890s, seeking dark skies and life on Mars. He's buried here at the Lowell Mausoleum.
Early October is the best time to hear an elk's spine-chilling bugle and the weather is best from March to October.
4. Buffalo Park
Length: 2-mile hiking loop; Plan 60–90 minutes
This sculpture of a buffalo at the entrance welcomes you to Buffalo Park, home to mule deer, bluebirds, kestrels, and chorus frogs to watch during your walk around the well-maintained Flagstaff Urban Trail System loop. Easily accommodating strollers and wheelchairs, stay on this level loop to enjoy views of Mount Elden and the San Francisco peaks across open grassy meadows.
Veteran hikers jump over to the Arizona Trail.
Conveniently located in north Flagstaff, off North San Francisco Street to Forest Avenue and right up the hill to Gemini (make a left and park in the lot).
5. Walnut Canyon
Length: 0.7 miles rim–0.9 miles island; Plan 1 hour
Elevation Change: starting at 7,000 feet, the Island Trail is a 185 feet climb with 240 steps
A National Monument since 1915, Walnut Canyon, just a few miles outside Flagstaff city limits, advertises two of its trails, the Rim Trail that offers the house in pit display, and the more rigorous Island Trail, but actually contains nine trails from 0.7 to 14.5 miles in length.
In the visitor center, you'll find a discussion of the Sinagua, the "people without water," who were able to create a homeland out of this dry region 800 years ago. Archeologists have found artifacts of nomads in the area from more than 1,400 years ago.
Archeologist Scott Kwiatkowski told me the cliff dwellings were occupied for little more than 100 years. It's unclear why they left, but by the year 1250, were found established in villages southeast along the Anderson Mesa. They're believed to have assimilated into the Hopi
culture.
As you traverse the trails, you can imagine the canyon alive with the Sinagua voices, singing, laughing, and living. Busy with the work of the day, carrying food and water.
The strenuous one-mile island trail descends into Walnut Canyon via 185 vertical feet of steps that feel difficult to climb if you're not fit and acclimated to the altitude. Yet it's a trip through time to view the 25 ancient cliff-dwelling abodes surrounded by massive cliffs and sheer drop-offs amidst ponderosa pine and shrub.
Pro Tip: Always check the weather. Rain or snow can make the hiking trails unstable. Closed on Christmas Day.
6. Lava River Cave
Length: 1.4 miles; Plan 2 hours.
This natural wonder formed 700,000 years ago from molten rock out of Hart Prairie's volcanic eruption, Lava River Cave's lava tubes, and stone icicles created from the forces of heat and subsequent cooling.
It's an easy hike, but a little scary. While most of the ceiling height is 30 feet, for a very short distance it drops to 3 feet, and you'll be grateful for the headlamp and good walking shoes on the sharp, slippery rocks.
You'll want to take extra batteries for your headlamp as well as a jacket since it is always 40 degrees Fahrenheit. Don't take dogs, ropes, or harnesses.
To get there, drive 9 miles north of Flagstaff on US 180 and turn west (left) on FR (Forest Road) 245 (milepost 230). Continue 3 miles to FR 171 and turn south 1 mile to where FR 171B turns left a short distance to Lava River Cave.
7. Mount Humphrey
Length: 10.7 miles; Plan 7 hours
Elevation Change: 3,000 feet
The highest point in AZ, Mount Humphrey is a great hike to take the dogs and enjoy the view of the Grand Canyon on a clear day. It was a bit difficult at first to climb over tree roots and rocks, but the dogs loved it.
The trail starts at Arizona Snowbowl, at the first parking lot on the left once you enter the ski area. The signage along the trail isn't easy to follow so keep your trail map handy.
Pro Tip: Check the weather. Lightning in the summer monsoon season is very dangerous along this trail.
8. Foxglenn Park
Length: 1.9 miles. 1-2 hours
Elevation: 112 feet
This concrete trail of the Foxglenn Park Trail starts near an elementary school and playground with sporting fields. We enjoyed the public art along the wheelchair and stroller-accessible path. We stuck to the main trail on our first visit which included a few hills through forested areas and branched out to some of the side trails on subsequent visits. You can then follow the Rio de Flag Trail that will take you over to Frances Short Pond by the original flagstaff celebrating the nation's centennial in 1876 planted by the New England settlers on their way to California.
9. Wupatki National Monument
Length: 0.5 miles; Plan 30 minutes
This Wupatki Native American Monument is home to some of the world's most culturally revealing archeological sites. The 110-room pueblo and ball court were built about 100 years after the Sunset Crater Volcano eruption. The blow hole here allows airflow in and out of the ground. Archeologist Scott Kwiatkowski tells me the Wupatki people, and Hopi that followed them, keep spiritual watch over the area.
In the visitor center, exhibits explain how the Wupatki survived by farming, hunting, gathering, and trading.
The short trail is both stroller and wheelchair accessible allowing for scenic views of the Painted Desert.
10. Sunset Crater Volcano National Monument
Length: 0.25–3.4 miles; Plan 15 min to 2.5 hours
Elevation Change: 312 feet at Lennox Crater
"Born in a dramatic series of eruptions 900 years ago, Sunset Crater remains the youngest volcano on the Colorado plateau," Kwiatkowski shares. The option to hike here allows the entire family to experience this area of lava flows and cinder deposits, desert vegetation, wildflowers, and aspen trees.
The short A'a Trail allows you to view the basaltic lava formed into jagged blocks. Check out the Lenox Crater, one that you can climb since the main crater was closed to climbers in 1973. From the Lenox Crater summit, you'll find majestic views of the San Francisco Peaks. Hiking through lava fields where the Apollo program astronauts trained provides a different perspective of this other-worldly landscape at this most recent volcanic eruption in Arizona. For longer hikes, you'll want to have proper hiking boots.
The Lava Flow Trail and Bonito Vista Trail are stroller and wheelchair accessible. Dogs are allowed on the U.S. Forest Service section of the Lava's Edge Trail.
Pro Tip: Check the website for closures before you go.
For more information on traveling to Arizona, check out these articles: