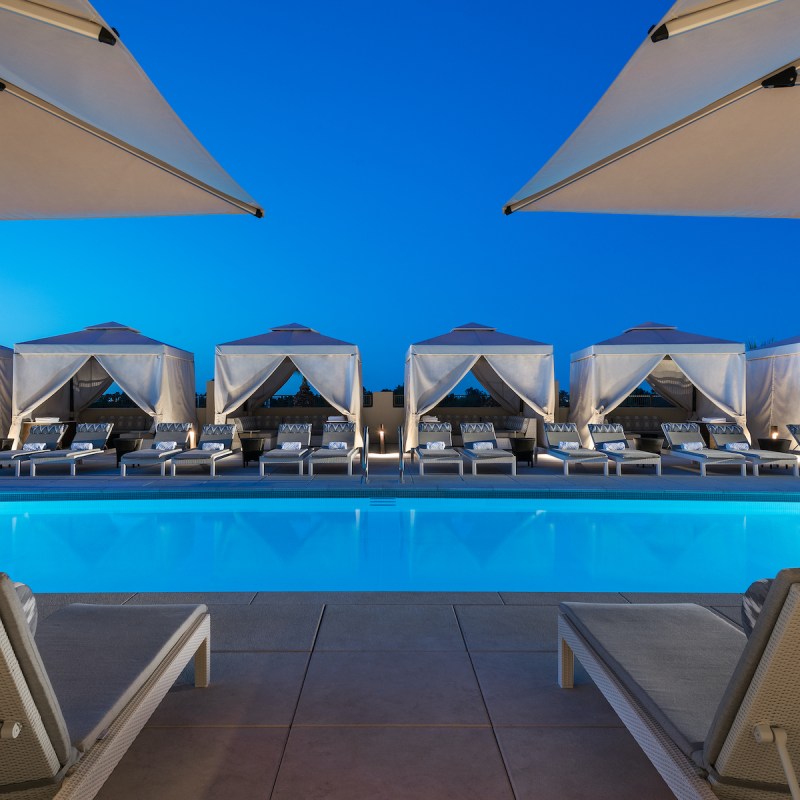 One of the things I like to do when traveling in the Southwest is to enjoy local spa treatments because they incorporate indigenous ingredients you can't usually find anywhere else in the U.S. They're called "farm-to-spa" experiences, and they offer unique treatments that heal the body and soul with desert-inspired botanicals like prickly pear, aloe oil, citrus, and cactus flower. Native American traditions are also popular in these Arizona spa treatments, providing inspiration for distinctive healing therapies.
I was hosted by both Experience Scottsdale and Visit Phoenix for these spa treatments, but my opinions are my own.
1. Body And Soul Relaxation Massage
The Phoenician Spa, Scottsdale
When you walk inside The Phoenician Spa, you will be whisked away into a wondrous world of tranquility and calm. This separate, three-story building offers a diverse menu of treatments to make you feel totally relaxed and rejuvenated. Using desert botanicals, you can savor a range of treatments such as holistic massage, hot stone rituals, body treatments, wraps, facials, and nail services. Also, featured inside is a boutique, Drybar hair salon, movement studio, and rooftop pool. Like the mythical Phoenix, the spa is designed to elevate your mind, body, and spirit.
To get the full essence of the spa experience, they suggest you start with a preparatory hot and cold hydrotherapy in their gender-specific locker room.
I opted for the body and soul relaxation massage that infuses organic lavender, sage, and the high-potency extract of arnica flower to target aches, pains, and soft-tissue damage. I felt the stress melting away as both the physical massage and aromatic scents lifted my spirits. They used steaming hot towels throughout the service to assist in the anti-inflammatory regimen and the healing properties of the essential oils, all while calming the mind.
Afterward, I relaxed at the rooftop pool with exquisite mountain views, sipping tea and feeling at one with the desert.
Pro Tip: Try to book your spa treatment 3 to 4 weeks ahead of time as appointment slots tend to fill up.
2. Gila River Rock Massage
Aji Spa, Sheraton Grand At Wild Horse Pass Resort, Chandler
The Aji Spa at Wild Horse Pass Resort & Spa is located in the heart of the Sonoran Desert, where the horses still roam free. This is Arizona's only five-star Native American Spa in the Gila River Indian Community and reflects the traditions of the Pima and Maricopa tribes in décor, culinary selections, and outdoor adventure.
Aji means "sanctuary" in the Pima language, and the spa features centuries-old, indigenous treatments based on the ancient rituals of the Native American tribes. Many of these treatments use elements such as white clay and river rocks found in the Gila River. The 17,500-square-foot spa has 17 treatment rooms, a salon, a fitness center, and a relaxing watsu pool that offers innovative healing techniques not well-known to Western people.
The treatments offered at Aji Spa come from traditional Native American healing practices and a deep knowledge of the restorative properties of the plants, animals, and terrain that surround Wild Horse Pass. These include scrubs, facials, hair, nail treatments, and massages.
Another aspect of Native American immersion is the roundhouse used for meditation and yoga classes. Through story-telling art, gardens, and treatments, Aji Spa will inspire you with a renewed perspective as you seek sanctuary from your daily world.
I like the feel of hot stones on my back and chose the Gila River rock massage that helps melt stress and anxiety away. The treatment gently applies the hot rocks, creating a sense of intense calm and tranquility while clearing toxins and restoring the body to a natural state of balance. I came away feeling like the weight of the world had been taken off my shoulders.
Just introduced at Aji is their customized flower essence aroma massage that uses the powerful healing properties of flowers to create the ultimate well-being and relaxation. Containing the bioenergetic imprint of flowers, the essences have transformative power. When paired with a restorative massage, it is designed to instantly boost your mood and inspire a renewed state of mind.
3. Desert Botanical Facial
Well & Being Spa, Fairmont Princess Scottsdale
The award-winning Well & Being Spa fuses spa and wellness together, offering a total experience and a sense of renewal. From specialized yoga classes to customized aromatherapy massages to desert botanical facials, these therapies help kickstart your goals into high gear and ready to Live It Well.
You'll be inspired by the design of this spa that incorporates nature's primary elements of air, water, earth, wood, and fire. The 44,000-square-foot facility includes 27 treatment rooms, a waterfall grotto, a rooftop pool, and a state-of-the-art gym with other amenities. The spa is also open to those who are not guests of the hotel.
I was excited to try the desert botanical facial because it incorporated so many indigenous products. My therapist worked to hydrate my skin with aloe and other natural remedies. It soothed and hydrated my skin while addressing sensitive areas. My skin was completely transformed after the facial.
Pro Tip: The spa recommends taking time out before and after your services to enjoy the rest of the facilities like the wet steam room, Swedish dry sauna, hot therapeutic whirlpool, and the grotto waterfall. Enjoy healthy spa cuisine at the rooftop pool.
4. Dr. Babor Earth Ritual
Spa Avania, Hyatt Regency Scottsdale Resort & Spa At Gainey Ranch
Awaken your inner spirit with a spa treatment that works towards restoring your daily balance. Spa Avania believes in a uniquely holistic approach and a total-immersion experience based on synchronicity with your internal clock. This blend of science and nature uses time-specific treatments to stabilize your natural biological rhythm. These blissful treatments create the ultimate indulgence.
The Dr. Babor earth ritual sounded interesting and began with a stimulating body polish fortified with natural poppy seeds, rich in antioxidants and essential nutrients. A decadent firming cream wraps the body in a mood-elevating fragrance of orange, mimosa, and vanilla musk. The journey ended with a lymphatic facial that left my skin invigorated with a pure desert glow.
Pro Tip: Take advantage of their French Celtic mineral pool, which provides a range of minerals for optimum health and longevity. It served as the perfect after-treatment!
5. Jojoba And Prickly Pear Body Polish
Four Seasons Resort Scottsdale At Troon North
The prickly pear is native to the Sonoran Desert. I enjoyed a full-body exfoliation that used a combination of prickly pear body scrub with jojoba oil to banish dull skin. I found the deep penetrating properties of the oil to be so relaxing and the delightful scent of the prickly pear smelled so good. When I left, my skin felt smooth and moisturized.
Other Botanical Treatments In The Southwest And California
If you're planning to visit New Mexico, look for spa treatments that use plants, sacred stones, and scents from the dry climate of the high desert. Lemon sage massages, wine and honey wraps, and stress-relieving facials all start with ingredients from local farms. The Spa at Hotel Santa Fe uses calming lavender, white sage, and squash blossom in their spa rituals.
Spas in California use wine, vine extracts, and grape seed oil as part of their body treatments. Spa Terra at Meritage Resort & Spa in Napa, California uses vino-therapy for wine-drenched skin. This relaxation massage soothes and restores muscles. Plus, toast to your incredible experience with a glass of house-made Trinitas wine.
Located in California's Napa Valley region, the Carneros Inn boasts a variety of vinotherapy services like the rosemary mint and cabernet wrap — a luxurious cabernet mud wrap — or the rosemary mint grapeseed scrub. This invigorating grapeseed exfoliation fuses essences of rosemary and mint, followed by an application of lavender oil.
For more on Spas, check out these TravelAwaits articles: