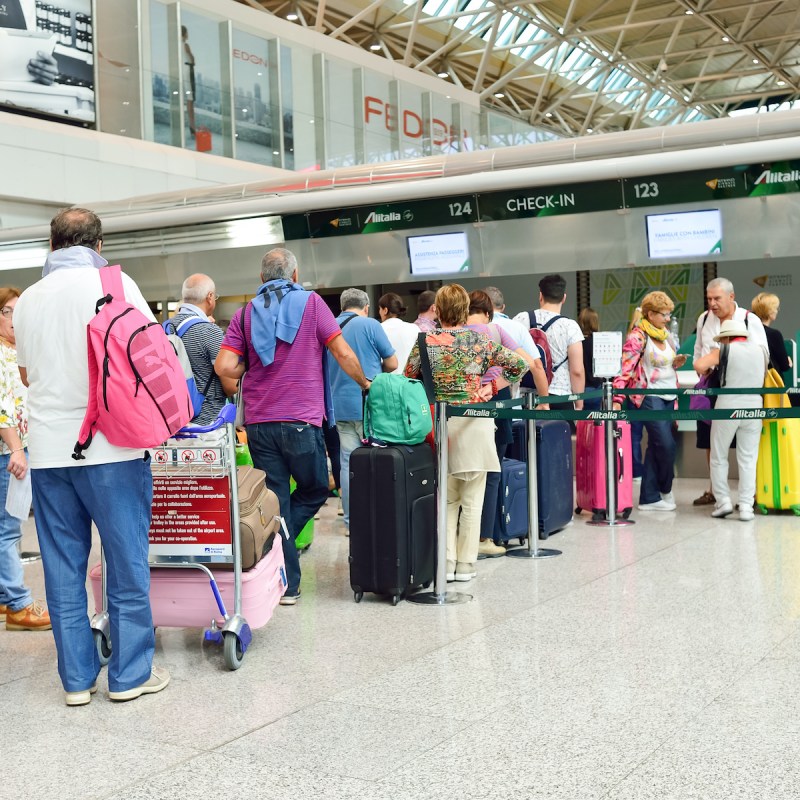 Mention "travel chaos," and anybody who has been traveling by air this summer will immediately know what you mean. That is especially true if they have been passing through some European airports.
For starters, it's common to see long lines winding their way through security checkpoints, or piles of baggage, and then even more lines at baggage carousels. Add to that the astonishing number of flight delays and high numbers of flight cancellations and the situation becomes increasingly frustrating for travelers, airline, and airport workers alike.
In response, a few airlines are taking steps such as hiring more pilots and cabin crew, and even reducing their scheduled number of flights to ease air traffic congestion and mitigate the chance of canceled flights due to staffing shortages. What's more, several European airports have hired additional ground and baggage crews to streamline operations. They also have capped their daily maximum number of flights to further alleviate airport crowding and make it easier for flights to arrive and depart on time.
Unfortunately, however, it doesn't seem the situation will return to any semblance of normal anytime soon, especially in Europe.
If you have plans to travel to Europe this summer or fall, you'll need to be prepared for potential travel disruptions. Here's what you need to know about where, and when, those disruptions may occur.
Schiphol Airport, Amsterdam
First, Amsterdam's Schiphol Airport announced it will limit its number of departing passengers in July and August to minimize congestion and long lines for air travelers. That limit will vary from day to day but will hover around 72,500 in August.
In a new turn of events, however, Schiphol Airport has now announced it will continue to limit — and even decrease — the number of daily passengers in September and October after consulting with airlines.
In September, the airport will cap its maximum number of passengers at 67,500 each day. That number will then be increased slightly in October to 69,500.
"The purpose of setting a maximum is to ensure the safety of passengers and employees and to create a reliable process at the airport," airport management explained. "All efforts are focused on keeping the consequences for travelers to a minimum."
Heathrow Airport, London
Last month, John Holland-Kaye, CEO of Heathrow Airport in London, wrote in a statement that "We have started to see periods when service drops to a level that is not acceptable: Long queue times, delays for passengers requiring assistance, bags not traveling with passengers or arriving late, low punctuality, and last-minute cancellations."
As a result, the airport announced it will cap the number of daily departures at 100,000 from July 12–September 11. The move is intended "to do all we can to protect passenger's holidays and our interventions are part of a suite of industry measures that will help consumers this summer."
Since then, however, Heathrow management announced the cap on flights will continue until October 29 due to staffing issues, according to The Times.
Gatwick Airport, London
London's Gatwick Airport — the U.K.'s second busiest airport — also announced last month it would institute a capacity of up to 850 flights per day in August so passengers can "experience a more reliable and better standard of service." Those numbers are down from the approximately 950 daily flights offered before the COVID-19 pandemic.
"Following a further review of its operation, and on behalf of travelers, Gatwick is temporarily moderating its rate of growth for July and August by putting in place a gradually increasing capacity level at the airport, which aligns its growth trajectory with airlines and ground handler's resource capabilities," airport management explained. "This action will then allow airlines to fly and manage more predictable and reliable flight programs for the rest of the peak school summer holiday period."
Stewart Wingate, CEO of Gatwick Airport, went on to add, "As has already been the case, the vast majority of flights over the summer will operate as normal, and the steps taken today mean that our passengers can expect a more reliable and better standard of service, while also improving conditions for staff working at the airport."
Air Travel In Spain
Ryanair, an "ultra-low cost" Irish air carrier, recently agreed to a 5-year agreement with its Spanish pilots, but its union crew members plan to carry out a series of rolling labor strikes in Spain until January as they continue to ask for higher pay, better working conditions, and more holidays.
The good news is that the strikes won't take place over busy weekends. Instead, they will be carried out from Monday to Thursday every week from August 8 to January 7, according to Reuters.
While the airline notes that the strikes will have "minimal" impact on its operations, it should be pointed out that they will have an impact on flight service from Madrid, Barcelona, Malaga, Alicante, Seville, and Palma de Mallorca.
Also in Spain, budget air carrier easyJet is also bracing for labor strikes. In this case, however, it's the pilots who will be striking for 9 days. At issue is the pilots' request that working conditions be restored to the way they were before the COVID-19 pandemic disrupted operations, according to Euronews.
The Spanish Union of Airline Pilots (SEPLA) is also asking that easyJet offer its pilots new multi-year contracts.
"This is the last possible recourse, as all attempts by the pilots' representatives over the last 6 months to reach an agreement have failed," SEPLA said, according to Euronews.
The pilots will strike three times in August, each time for 72 hours over a weekend. Those dates are August 12–14, August 19–21, and August 27–29.
Trains And Tubes In London
Getting around London is expected to be exceedingly difficult on Friday, August 19. That's because Transport for London workers plan to strike that day, which will force millions of commuters and tourists to find another way to get around town.
Here's what's going on. Members of the Rail, Maritime, and Transport (RMT) union will stage a strike on August 19 as the next stage in a long-running dispute with the city of London.
"Transport workers on the London Underground and Overground network will take 24-hour strike action in separate disputes on August 19," RMT announced. "Tube workers have been locked in a dispute over attacks to pensions and jobs for over 6 months while Overground workers employed by Arriva Rail London will strike over pay."
The London Underground Limited (LUL), commonly known as the Tube, is a public rapid transit system.
While you're thinking about it, be sure to visit all of our Europe content, including: