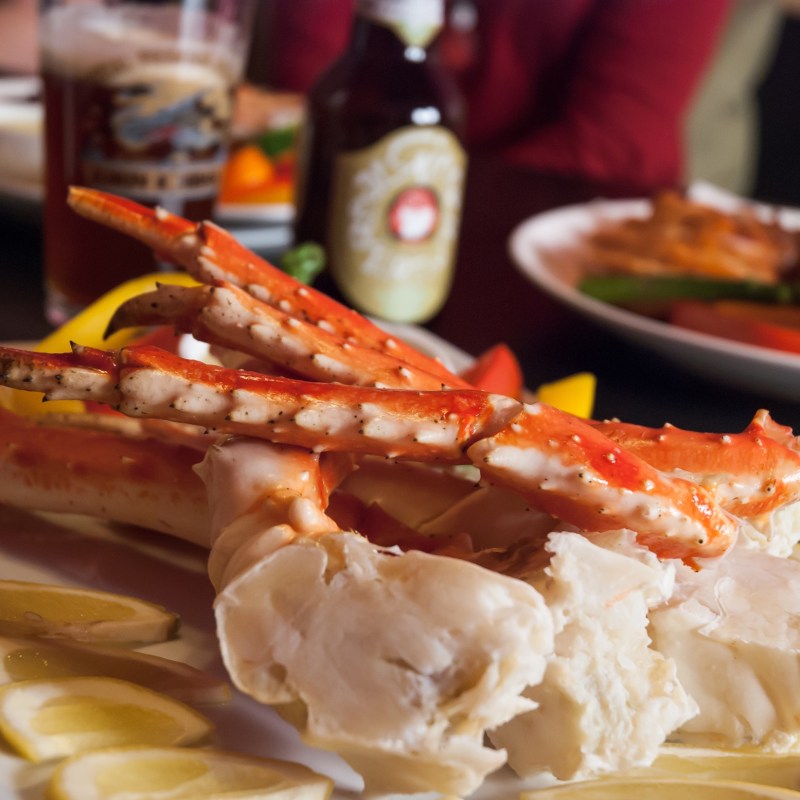 Alaska can conjure images of glaciers, the northern lights, and maybe moose, but cuisine might not cross your mind when thinking of the Great Land. Truth be told, Alaska has a host of must-try local dishes. From wild-caught seafood fresh from the North Pacific Ocean and wild berries grown in rich glacial soils to the distinctive taste of reindeer, Alaska has several local delicacies. TravelAwaits contributors Heide Brandes and Meryl Pearlstein tell us all about their favorite Alaska foods and where to find them while in Anchorage.
Heide's picks:
1. Reindeer Sausage
Where To Find It:
The Alaska Sausage and Seafood Company
Snow City Cafe
Did you know that caribou and reindeer are actually the same species within the deer family? In Alaska, they are called caribou in the wild but referred to as reindeer once domesticated. These animals are very common in Alaska, with roughly 750,000 roaming the state. Although wild game meat cannot be served in restaurants, which is why you won't find moose on many menus, delicious dishes utilizing domestic reindeer can be found in many restaurants.
The Alaska Sausage and Seafood Company sells a wide range of gourmet smoked sausages made with reindeer, but you can also find reindeer at Snow City Cafe as a breakfast side or in the Tundra Scramble, a massive breakfast plate piled high with Alaska reindeer sausage, mixed peppers, mushrooms, red onion, and cheddar cheese.
Pro Tip: Get to Snow City Cafe early, especially on the weekends, if you don't want to wait an hour or more for the massive breakfasts, famous egg Benedicts, and fluffy pancakes.
2. Alaska King Crab
Where To Find It:
Glacier BrewHouse
Humpy's Great Alaskan Alehouse
Simon and Seafort's
As one of the most expensive items on any menu, no trip to Alaska is complete without tackling the massive Alaska king crab. Harvested off the coast of the Bering Sea and Southeast Alaska, blue king crab, red king crab, and golden king crab are highly sought-after delicacies, and restaurants like Anchorage's Glacier BrewHouse and Humpy's Great Alaskan Alehouse often feature this special on their menus.
Known as Simon's to the locals, Simon and Seafort's dishes up a 20-ounce serving of Alaska king crab legs on their menu as well.
Pro Tip: These massive crabs can be an adventure to eat. Wear clothes you don't mind getting messy in as eating king crab can get pretty wild.
3. Locally Sourced Yak
Where To Find It:
49th State Brewing Co.
Center Market
While yak isn't native to Alaska, locally sourced yak has made it onto the menus in Anchorage, thanks to a few creative ranchers who say yak is the next healthy and lean meat trend.
You can decide for yourself at 49th State Brewing, which serves up a fun Yak-a-Dilla (a quesadilla made with Alaska-raised yak) and the "World Famous Yak Burger," a half-pound monster made with smoked Gouda cheese, caramelized onions, and applewood smoked bacon.
If yak doesn't appeal to you, 49th State Brewing also has an Elk Smash burger that's locally sourced as well.
Anchorage's Center Market, Alaska's only year-round farmers' market, features vendors like Sunny Hill Ranch who raise and sell products from these big, hairy, horned creatures.
4. Alaska Salmon
Where To Find It:
Bridge Seafood Restaurant
Humpy's Great Alaskan Alehouse
Chinook salmon, coho salmon, pink salmon, sockeye salmon — this pink-fleshed variety of fish reigns supreme in Alaska's waters, and you'll have no problem finding restaurants that serve up salmon in creative and delicious ways.
Bridge Seafood Restaurant on the banks of Ship Creek in downtown Anchorage serves up a "salmon of the day," and visitors can watch salmon being caught along Ship Creek while enjoying their meal.
Humpy's Great Alaskan Alehouse also serves up a variety of salmon dishes on the menu, ranging from smoked salmon chowder to smoked salmon dip, salmon and scallop fettuccine, and salmon burgers. While you're exploring all of the salmon choices at Humpy's, sip on Humpy's Bloody Mary made with smoked salmon vodka.
5. Alaska Berries
Where To Find It:
Glacier BrewHouse
Farmers Markets
Arctic Valley Ski Area
If you've never had the exquisite explosion of flavor that bursts from Alaska berries, you're missing out on one of the sweetest experiences in this state. Berries of all kinds grow wild and in farms and gardens throughout Alaska, including salmon berries, cranberries, lingonberries, strawberries, and more.
For a hoppy taste of local berries, try the Glacier BrewHouse's Raspberry Wheat, an unfiltered wheat beer loaded with 210 pounds of real red raspberries, or its Huckleberry Collins cocktail, made with vodka and local huckleberries. Those looking for a non-alcoholic option are sure to enjoy the Frontier Wild Blueberry Cream Soda at 49th State Brewing.
During the summer months, farmers markets are open every day of the week in Anchorage, and no matter what day you visit, you'll likely find some of the local berries. You can also pick your own at Arctic Valley Ski Area at the top of Arctic Valley Road, aptly named "Blueberry Hill" above the Glen Alps trailhead into Chugach State Park.
Meryl's picks:
6. Sourdough
Where To Find It:
Simon & Seafort's
Lakefront Anchorage
San Francisco isn't the only city to lay claim to having sourdough as a culinary specialty. Anchorage has made sourdough a food staple, serving it plain, warmed, toasted, or slathered with butter. At Simon & Seafort's, the bread is served hot, and I'll dare you not to request a second helping. Try it, if available, at the iconic Lakefront Anchorage deck restaurant, along with a generous plate of halibut fish and chips as you watch the seaplanes land on Lake Hood.
7. Halibut Cheeks
Where To Find It:
Everyone has heard of Alaska halibut and some have probably tasted it. But if you haven't sampled halibut cheeks, you've missed something extra delicious. Sweet, tender portions of the muscle removed from the halibut head is a specialty at Anchorage's famous Simon & Seafort's restaurant. Pan-seared with a light coating of panko and asiago crumbs and a drizzle of beurre blanc, the oval-shaped halibut cheeks go especially well with the views from one of the restaurant's window-side tables. Try them with a Midnight Sun Kodiak Brown Ale or a Broken Tooth IPA.
8. Scallops
Where To Find It:
Seven Glaciers Restaurant
Crush Bistro
Kincaid Grill
Alaska scallops are featured on menus throughout Anchorage. Buttery and wild, they are a cut above East Coast bay or sea scallops. At the upscale Seven Glaciers Restaurant at Alyeska Resort, the scallop bisque is made with seared Alaska weathervane scallops, smoked salmon mousse, and chive oil. Available on both the restaurant's full menu and small-bites bar menu, the warming soup is delicious any time of the year and pairs well with an Alyeska Brewski, a hazy pale ale made especially for the restaurant by nearby Girdwood Brewing Company. If you're not planning a visit to the mountain, you can find scallops at many seafood-oriented restaurants in Anchorage including Crush Bistro where they're served with a red coconut curry, or at Kincaid Grill prepared nicoise-style with olives, tomatoes, and lemon butter nage.
9. Hot Dogs
Where To Find It:
Tia's Gourmet Sausage and Hotdogs
Yes, these are a thing in Anchorage. You can order the familiar version, made from beef, or be daring and try something you'll only find in Anchorage, reindeer hot dogs. Sold at restaurants and outdoor hot dog stands, my hot dog favorite was the "hot" reindeer version at Tia's Gourmet Sausage and Hotdogs in front of the Anchorage Visitor Center. Spice it even further with a choice of eight sauces in squeeze bottles including spicy aioli, spicy mustard, and spicy mayo. Just look for the bright yellow umbrella.
Bonus: Brews
Where To Find It:
Midnight Sun Brewing Company
King Street Brewing Company
Cynosure Brewing
Double Shovel Cider Co.
With more than a dozen breweries, thirsty visitors can sample a variety of craft beers in Anchorage. Some of the favorites are the Panty Peeler, a Belgian-style tripel, and the brewery's flagship India pale ale Sockeye Red served frosty at Anchorage's oldest brewery, the Midnight Sun Brewing Company.
King Street Brewing Company's eponymous King Street IPA is the city's most popular IPA but you can also choose a Hefeweizen, blonde ale, APA, or stout from the brewery's extensive beverage menu, or at Simon & Seafort's among others. Cynosure Brewing is another great local-approved option, serving Belgian-style ales and lagers. You can even grab their growlers to go!
Cider fans can get a taste of Alaska berries, too, in the seasonal versions at Anchorage's micro-cidery Double Shovel Cider Co. Or stick to the regulars, Appalanche Semi-Dry and the Forget-Me-Hopped.
Pro Tip: For an oddball kind of souvenir, the colorfully designed cans at Midnight Sun Brewing Company are works of art. Bring some home.
To discover even more to eat (and drink!) while in Anchorage, Alaska, click here.
Related Reading: