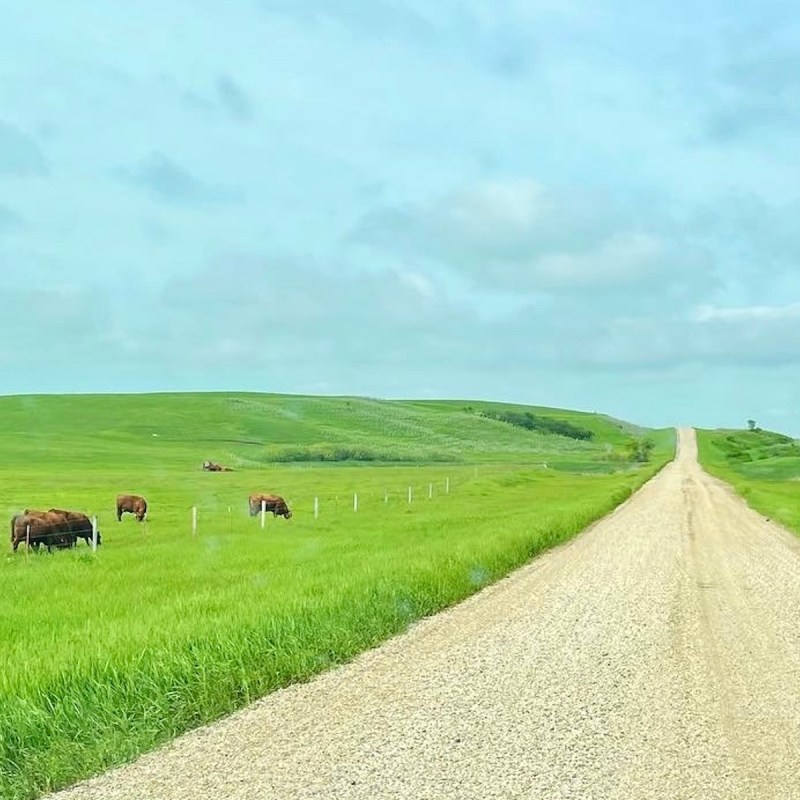 Virtually every big family dinner I attended as a kid growing up in North Dakota included two delicious and doughy favorites: kuchen and knoephla. Kuchen is a sweet custard-and-fruit pastry-like pie, and knoephla is a rustic flour-and-water-based noodle usually served with meat and sauerkraut. Every mom could make them, and kids almost universally loved them.
After moving to Arizona as a young adult, I learned that kuchen and knoephla were not exactly the household staples I assumed they were as a youth. In fact, I found that hardly anyone outside the region of North Dakota (also South Dakota) — settled by an ethnic group known as "Germans from Russia" — had even heard of the two dishes.
When I recently returned to North Dakota for a visit, I was happy to find that German cuisine has continued to thrive. From the capital city of Bismarck to the state's largest city of Fargo, and in many small towns in between, dining and grocery establishments offer the staples of my youth.
When To Visit North Dakota
The best time for a road trip through North Dakota is May through September, when average high temperatures tend to be in the 70-to-80-degree-Fahrenheit range. Depending on the year, late fall and early spring can be chilly and snowy, and winters can be brutally cold, with average highs hovering below the freezing mark from December through February.
A summer road trip of 5 or 6 days would allow you to take in a number of the state's attractions and stop for German food along the way. This route roughly follows the east–west Interstate 94, with a detour to several small towns in the south.
Here are 7 places to stop for delicious and decadent tastes along North Dakota's German food trail.
1. Kroll's Diner
Knoephla Soup, Knoephla, And Sauerkraut
Kroll's, a regional restaurant chain, bills itself as offering traditional American diner food and German favorites. I also found that it offers an extensive selection of the traditional tastes of North Dakota.
First is the restaurant's knoephla soup filled with soft dumpling-like knoephla in a rich cream base. Kroll's also serves the traditional knoephla-and-sauerkraut dish, with knoephla served alongside kielbasa sausage, sauerkraut, red-skinned potatoes, and onions.
Best Things To Do In Bismarck
Bismarck is a scenic city along the Missouri River with a host of notable attractions, including the Lewis & Clark Riverboat and Fort Abraham Lincoln State Park. It is also home to the distinctive Art Deco-style North Dakota State Capitol, where public tours are available.
Bismarck offers a range of chain and local hotel accommodations, as well as many home rentals on Vrbo. A stay of 3 or 4 days would allow you to explore the area, try the local cuisine, and take a day trip to the spectacular Theodore Roosevelt National Park, located about 2 hours west.
2. Frieds Family Diner
Fleischkuechle
Located just across the Missouri River from Bismarck in the town of Mandan, Frieds Family Diner is a popular American restaurant that serves up authentic German food. Among its sandwich selections is homemade fleischkuechle.
Loosely translated, fleischkuechle (or fleischkuelkle) is a small meat pie. Frieds describes its version as a lightly battered pork and beef patty that is deep-fried and served with caramelized onion.
Best Things To Do In Mandan
The Mandan area was one of the major stops on the Lewis & Clark Expedition of 1804, and the fascinating On-A-Slant Village is on the Lewis & Clark National Historic Trail. Between the two, Bismarck and Mandan could be explored in a stay of 3–4 days.
3. The Depot Café
Fleischkeuchla With Mashed Potatoes And Gravy
For another version of fleischkeuchla, head to the Interstate 94 town of Jamestown and check out The Depot Café, located in a downtown mall not far from the railroad.
The Depot Café serves its fleischkeuchla (with a slight variation on the spelling) as an entrée and accompanies it with mashed potatoes and gravy, a vegetable, and a dinner roll. The German favorite is described as a seasoned beef patty wrapped in a delicate dough and deep fried.
Best Things To Do In Jamestown
Jamestown is known as the home of the World's Largest Buffalo sculpture, as well as the fun and informative Frontier Village that is located nearby. It is also home to the Jamestown Reservoir, a beautiful area that offers boating, fishing, picnicking, and hiking opportunities.
A stay of 1–2 days would allow for exploring the Jamestown area and taking in some of the regional foods.
4. Tastee-Freez
Knoephla Soup And Broasted Chicken
One of the fun things about knoephla soup is that it often turns up in the least likely places. On my recent trip to the tiny south-central North Dakota town of Gackle, I was surprised to see knoephla soup featured on the menu of the popular drive-in Tastee-Freez (also known as The Freez).
The soup was delicious, but the real star at the Tastee-Freez is the broasted chicken, a type of fried chicken that is cooked in a pressure cooker. It can take 30–40 minutes to get your order, but it is worth the wait for the crispy, juicy chicken. Of course, the Tastee-Freez is also popular for its ice cream cones, sundaes, slushies, and frozen treats.
Pro Tip: The Gackle Tastee-Freez is typically open only in the summer months.
Best Things To Do In Gackle
Gackle has been called the "Duck Hunting Capital of the World," and hunters from around the region travel to the town during hunting seasons. For those on a German-food road trip, a stop of a few hours would allow you to have lunch and take in the small-town atmosphere.
5. Ashley Supervalu
Kuchen And Fry Sausage
To call kuchen a fruit pie is not exactly accurate. Rather than a traditional flaky pie crust, kuchen features a sweet and fluffy yeast dough as its crust. The crust is filled with a creamy custard and a variety of fruits such as peaches, rhubarb, or prunes.
One of the many places in North Dakota to try kuchen is at the Supervalu grocery store in the small town of Ashley, not far from the South Dakota border. While the peach and prune varieties are the favorites of locals, the store features a number of other flavors as well, such as apple and apricot.
Ashley Supervalu is also known for its homemade "fry sausage," another regional favorite. The sausage, a garlicky, spicy creation of pork or beef, is preserved in a casing, rounded into a loop, and smoked. A famous version of homemade sausage is also available in the nearby town of Wishek at Stan's Supermarket.
Best Things To Do In Ashley
Campers and fishermen gravitate to Ashley and its Lake Hoskins RV Park and Campground for fishing in the region's lakes, as well as the small-town living. For those on a German food road trip, a stop of a few hours would allow time to shop and explore.
6. Valley Meats
Summer Sausage
For all things meat-related, Valley Meats in the Interstate 94 town of Valley City has long been a regional draw. Along with a wide range of beef and pork products, it specializes in several varieties of summer sausage — a hard, dried pork or beef sausage that is similar to salami.
Valley Meats is also known for its fresh homemade beef jerky, sold by the pound, as well as its variety of cheeses and specialty curds.
Best Things To Do In Valley City
Valley City is a pretty town in the heart of the Sheyenne River Valley, and the Sheyenne River Scenic Byway is a beautiful way to explore it. In addition, downtown Valley City features vintage buildings and boutiques. An afternoon stop would allow you to explore, shop, and drive the scenic byway.
7. Wurst Bier Hall
Pretzels With Beer Cheese
For a combination of traditional German beer hall standards and Germans-from-Russia favorites, the Wurst Bier Hall in downtown Fargo is the place to go in eastern North Dakota.
Along with local creations like knoephla soup and kuchen, Wurst also serves popular beer-hall choices like warm pretzels served with beer-cheese sauce, and spaetzle served with a variety of toppings, including a rich mushroom gravy accompanied by a side of tart sauerkraut.
Best Things To Do In Fargo
Wurst Bier Hall is located in Fargo's fun downtown and is just a block from the colorful "Greetings from Fargo" mural. Downtown Fargo is worth exploring for its Historic Fargo Theater, vintage buildings, and many restaurants and shops.
Other things to do in the city include the Plains Art Museum; the Hjemkomst Center's Historical and Cultural Society of Clay County in Fargo's sister city of Moorhead, Minnesota; and the Fargo Air Museum.
There are many hotel accommodation choices in Fargo, as well as rental choices on Vrbo.
Cuisine Backstory
According to the Germans from Russia Heritage Society and the North Dakota State University's History of Germans from Russia websites, a wave of Germans migrated to the Volga region of Russia from the late 1700s through to the late 1800s.
By the 1870s, many of those Germans, who treasured their German identity and culture, decided to leave Russia and began immigrating to North America. They went on to settle in the Great Plains — from the Canadian province of Saskatchewan to the U.S. state of Texas — and many have preserved their cuisine and culture through the generations.
Pro Tip: Along with these choices, you're likely to find German specialties in mom-and-pop cafés in small towns all over North Dakota. Other dishes to watch for are kase knoephla, a cheese pocket (also known as cheese buttons) similar to a pierogi and filled with a dry-curd cottage cheese/onion mixture. Also look out for strudel, a savory rolled-dough dumpling that is served with creamed-chicken gravy.