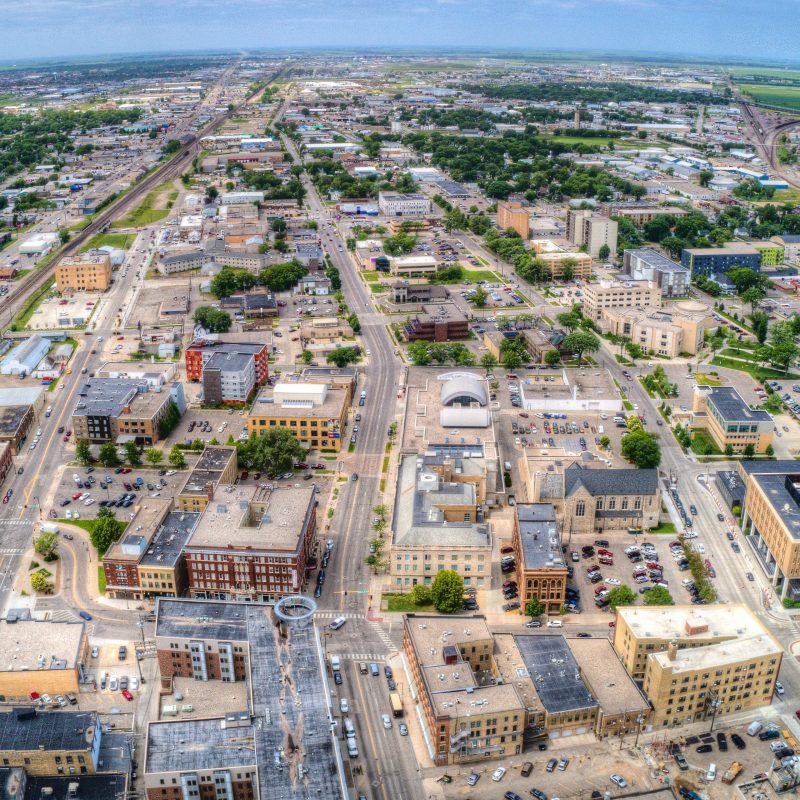 Chances are you've heard of Fargo, North Dakota. North Dakota's largest city was made famous around the country in 1996 when it served as the setting for the eponymous Coen Brothers movie that earned Frances McDormand her first Oscar.
But even before its cinematic debut, Fargo played an important role in the Midwest. It's a historic frontier town that once served as a fur-trading post, and it earns 50 percent of the credit for Wells Fargo Bank.
A thriving, artsy city steeped in Nordic, Native American, and pioneer traditions, Fargo is a delightful stop in the Sioux State that ought not to be overlooked.
Explore The Downtown Area
Every trip to Fargo should begin in the city's trendy, vibrant, revitalized downtown area, the place where the frontier town was born. Fargo's main artery is undoubtedly Broadway. The thoroughfare served as the commercial heart of the city for years, and today it is a diner's and shopper's paradise lined with boutique shops, cafés, bars, and more. Much of the city's downtown revitalization efforts have focused on Broadway and Main Avenue.
If you like street art, the area offers tons of it, all produced by local artists. Fargo is covered in art, from gorgeous street murals to decorated electrical boxes. Don't miss Art Alley, or First Avenue North between Fourth and Fifth Streets.
Enjoy An Evening At The Theater
While you're on Broadway, don't miss one of the city's iconic gems — the Fargo Theatre, an Art Deco movie theater that was constructed in 1926. If you look at a photo of downtown Fargo, chances are the marquee of the theater will be somewhere in the background. The theater was built for cinema and vaudeville, but today, it offers independent and foreign films. The venue also hosts a concert series and other events. The theater is listed on the National Register of Historic Places and is a treat to take in.
Note that the only way to see the inside of the theater is to purchase a ticket, so be sure to check the calendar of events before your next trip to Fargo — there is so much to choose from! Matinees cost $7.50, while evening showings cost $9.50. Special events have different pricing.
Get Artsy
The Plains Art Museum in Fargo features a cross-section of artistic styles, from American Modernist to traditional and contemporary Native American. The permanent collection features about 4,000 works of art from around the world, including traditional Native American works of art and artifacts, contemporary art, photography, and more. Be sure to check out the visiting exhibits, including Brad Kahlhamer's A Nation of One, which will be on display through the end of January.
The museum, which is located in a renovated historic warehouse, is also home to the Katherine Kilbourne Burgum Center for Creativity, a multipurpose arts facility that offers classes for the community as well as a space for learning and discussion.
The best part about the museum? Admission is completely free.
Hit New Heights
The Fargo Air Museum is Heaven on Earth for airplane aficionados. The sky's the limit at the museum, which hosts a rotating exhibit of historic, flyable planes. You'll see a North American P-51 Mustang outfitted with a Rolls-Royce Merlin engine and best known as a World War II fighter plane. You'll also see Duggy, a Douglas DC-3 built in 1939 that served in World War II. A replica of the Wright Flyer is also on display. The museum showcases military memorabilia and is home to one of the largest aviation libraries in the Midwest. Admission starts at $8 for adults.
Take A Step Back In Time
History buffs will love the glimpse into the past that Bonanzaville provides. The 12-acre living history museum brings to life the time when bonanza farms were scattered across the North Dakota prairie in the late 19th century. It includes nearly every type of structure and business that would have existed in the region at the time, from blacksmith shops to log cabins, general stores, banks, and barbershops. Tickets start at $12 for adults. Keep in mind that the museum and village are open only during the spring and summer months, from May through September.
Spend Some Time In The Great Outdoors
When the weather is right in Fargo, getting outside to experience the wide-open, blue-skied prairie is a must. Lindenwood Park is Fargo's largest park, complete with landscaped campgrounds, bike and kayak rentals, walking paths, and picnic shelters. The park sits on the banks of the Red River, which separates North Dakota from Minnesota. In the winter the park becomes a popular place for activities like snowshoeing and cross-country skiing.
Eating In Fargo
If you've come to Fargo for the food, you've done well. Foodies passing through Fargo are in for a real treat, from old-school favorites to modern-day delights. Fargo's kitchens and craft breweries are always cooking up something new and exciting (or nostalgic and comforting, if that's your thing).
Sandy's Donuts & Coffee Shop
Satisfy that sweet tooth at one of Fargo's favorites. The story behind Sandy's Donuts & Coffee Shop is a true American comeback tale. In 1983, Sandy Ostlund lost his job running a trucking company. He was 55 years old and decided to start over, this time opening and running a donut shop. Today, Sandy's Donuts is more than a simple donut shop — it's a donut empire with four locations across Fargo. The company even delivers! Go with a classic dark chocolate iced donut, or try something more unusual like the red velvet cake donut.
BernBaum's
If you prefer your breakfast on the savory side, head to BernBaum's for the city's best bagels. The New York-style bagels with Scandinavian flair (a nod to North Dakota's Northern European heritage) are made fresh daily. There are even gluten-free and vegan options. The Iceland bagel plate comes with lox, gravlax, and cucumber with a chèvre schmear. There are also sandwiches and small plates like knishes, latkes, and blini.
Mezzaluna
Elegant cocktails, black linen tablecloths, dark wood, and an industrial brick exterior set the tone at the fine-dining restaurant Mezzaluna. The restaurant lives in the 1917 Smith, Follett & Crowl building and retains its original wood floors, beams, and ceiling. Known as one of the best restaurants in North Dakota, Mezzaluna offers elevated American cuisine with locally sourced ingredients. Think bone-in pork chops, cumin-roasted garlic risotto, bacon-wrapped bison meatloaf, chive fettuccine, truffle fries, and more.
Craft Breweries
Fargo's beverage of choice is most certainly beer. Believe it or not, there are 10 breweries located within the city. Craft beer has become quite the Fargo tradition, and the best places to sample the local brews are the breweries themselves. Drekker Brewing Company, for example, is set in a large hall, a nod to the Norse roots of the region. Drumconrath Brewing Company adds an Irish flair to its eight-beer tap list. Live music, food trucks, and trivia round out the offerings.
Shopping In Fargo
Fargo loves its boutique shops. This is the city to visit if you're after one-of-a-kind mementos and crafts.
Start at Zandbroz Variety. A quirky hodgepodge of books, gifts, scented soaps, coffee mugs, and wrapping paper, this is the best spot for cute gifts and souvenirs.
Broadway is a major thoroughfare for clothing shops such as Kindred People. Kindred People is known for its women's clothing, accessories, shoes, beauty products, and gifts. Most jewelry and gift items in the store are designed by local or regional artists.
Indulge in all things vinyl at Vinyl Giant Records, which sells new and used vinyl across all genres. It also offers vinyl accessories, new and used turntables, speakers, and home cinema gear.
In the summer, Fargo bursts with color, especially at the farmers markets that pop up throughout the community. Red River Market is the largest, and it offers local food, fresh produce, gifts, and more every Saturday.
Finally, if you're feeling the call of the Old Country, visit Stabo Scandinavian Imports, which features unique items from Norway, Sweden, Denmark, and Finland. Stock up on candy, jewelry, and even the iconic Norwegian troll dolls.