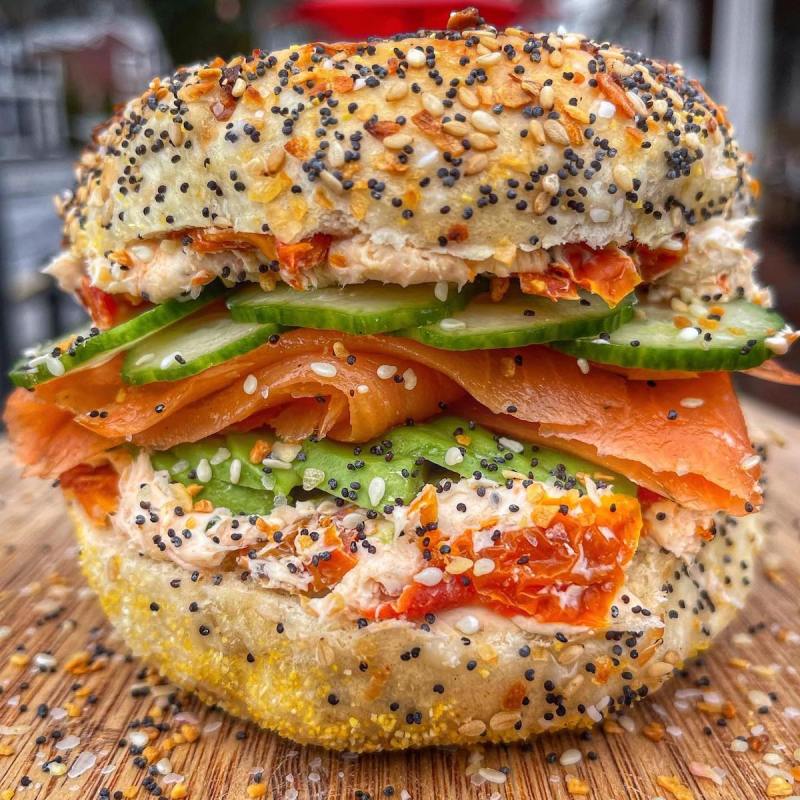 Although the towns clustered along the Hudson River between Albany and New York City are small — at least compared with the Big Apple — they offer a wide range of fantastic dining experiences. Taking full advantage of the quality ingredients produced by local farms, orchards, and vineyards, chefs prepare flavorful meals and bartenders craft impressive cocktails.
One of the best places to taste the flavors produced in this fertile river valley is the quaint Hudson Valley town of Rhinebeck. From bagels at breakfast to a craft cocktail in an Adirondack chair under the stars at night, these are my favorite restaurants to experience in Rhinebeck, New York.
1. Rhinebeck Bagels & Cafe
When you visit Rhinebeck, you'll be 100 miles north of the birthplace of the New York bagel in Brooklyn. But you can still start your day with some of the best bagels in the Hudson Valley at Rhinebeck Bagels & Cafe.
I won't judge you if you like to keep things simple in the morning and order a bagel with a schmear of plain cream cheese. But if you want a breakfast with a bit more sustenance, I recommend the Smokin' BLAT that piles smoked salmon, bacon, lettuce, tomato, and avocado on a freshly baked bagel.
Rhinebeck Bagel & Cafe also offers filling deli sandwiches for guests visiting at lunchtime, including the Pilgrim with turkey and cranberry sauce and The Chucky, a grilled cheese sandwich with chicken salad and mayo.
Scrumptious Sip: Fresh-pressed watermelon lemonade
Vegetarian Pick: Spinner with egg whites, Swiss cheese, avocado, tomato, and spinach
Seafood Splurge: Lobster roll
2. Bread Alone Bakery
Another great breakfast and lunch eatery in Rhinebeck is Bread Alone. Using only organic grains, they bake a variety of artisan breads, rolls, and pastries daily. And at the bottom of the cafe menu, you'll see where they source their local ingredients, like New York State's oldest family-run dairy and a fourth-generation family-owned poultry farm.
Fuel up for a day in the Hudson Valley with a breakfast sandwich of eggs, breakfast meat, melted cheddar, and avocado on a housemade brioche roll. Or dig into a slice of avocado toast topped with cherry tomato, fresh herbs, and chili flakes.
If you visit Bread Alone for lunch, you'll discover a nice selection of soups, salads, and sandwiches. Try the chicken club with bacon, roasted tomato, and arugula on a housemade ciabatta bun, or the filling house salad with red leaf lettuce, baby kale, arugula, cucumber, cotija cheese, and spicy roasted pecans.
Vegan Pick: Tempeh breakfast burrito
Pro Tip: Look for Bread Alone products at over 30 farmers markets across New York every week.
3. Le Petit Bistro
Le Petit Bistro sits at the corner of Mill Street and East Market Street in the heart of Rhinebeck. For those who love French cuisine, start your dinner with the French onion soup, escargot en croute, or pate maison served with pistachio, cornichon, and Dijon mustard. Or enjoy a platter of freshly shucked oysters on the half shell.
For a French bistro-style entree, I recommend either the steak frites or moules frites that pairs hanger steak or a bowl of steaming mussels with crisp French fries. For a taste of the Alpine region, order the pork schnitzel served with braised red cabbage and potatoes. And for a dish you're likely not to find anywhere else, try the duck burger topped with cheddar or Swiss cheese, pickled onion, and duck fat aioli.
Seafood Splurge: Seared scallops with risotto and beurre blanc
Must-Sip Cocktail: French kiss martini with vodka, pineapple juice, and Chambord
Pro Tip: Le Petit Bistro also serves an impressive Sunday brunch from 10:30 am to 3:00 pm.
4. Buns Burgers
For a juicy burger, crispy fries, and creamy milkshake, you can't beat Buns Burgers, which serves up American classics in the healthiest way possible using grass-fed beef, hand-cut fries, and locally sourced ice cream.
Beef lovers can opt for a single or double patty topped with cheddar, lettuce, tomato, and pickle inside a grilled bun slathered with Buns sauce. What is Buns sauce? It's a zesty mayo that's insanely delicious whether topping grass-fed beef or serving as a dipping sauce for a bucket of French fries. In addition to its Original Bun sandwich, Buns Burgers offers ground lamb patty, grilled chicken, crispy chicken, and vegetarian burgers.
Pair your burger with a milkshake made with ice cream from the Adirondack Creamery. As you might expect, Buns Burgers blends up plenty of chocolate and vanilla, but don't overlook special flavors that change daily, as well!
Vegetarian Pick: Veggie stacker with portobello mushroom, sweet potato, cucumber, Swiss cheese, and avocado-bean spread
Good To Know: Buns Burgers also has two other Hudson Valley locations in Saugerties and Kingston.
Be Sure To Take Home: Buns sauce
5. Bia
Although there are several English-style pubs in the Hudson River Valley, Bia (pronounced bee-ya) is one of the only restaurants serving Irish fare. But while you'll find ale tempura-battered fish and thrice-cooked chips with minted pea puree on the menu, this Gaelic gem in the heart of downtown Rhinebeck is far from a typical chipper.
Start with the Irish stout and treacle brown bread and a farmhouse cheese board for the table. Then dive into one of several scrumptious starters, like the house corned Berkshire pork belly served with a black pudding croquette and tart Granny Smith puree. For a larger plate, try the venison schnitzel with tart cherry and caper relish, the lamb sirloin with bean ragout, or the fresh-caught seasonal fish of the day. And don't be afraid to drink your dessert by topping things off with an Irish coffee spiked with single-grain Irish whiskey and rich cream.
Indulgent Entree: Petite Pennsylvania lamb sirloin
Sensational Sides: Whiskey glazed baby carrots and duck fat roasted potatoes
Must Sip: Irish coffee
6. The Amsterdam
For upscale farm-to-table dishes in a renovated 18th-century Dutch colonial home, there's The Amsterdam. Belly up to the bar or grab a spot in the cozy dining room where you can watch the culinary team work its magic in the open kitchen. Or for a more laid-back evening, enjoy a charcuterie board and drinks under twinkle lights in the outdoor seating out back.
Because the menu changes seasonally, it's tough to recommend a specific dish. But whether you order beef, duck, pork, or chicken, you can be sure it is raised in pastures and without antibiotics or hormones.
Pro Tip: Try The Amsterdam for brunch on the weekend, with dishes like eggs Benedict, shakshuka, and croque monsieur.
7. Terrapin Restaurant
For more than 20 years, Chef Josh Kroner has been creating delicious dishes under the steep gabled roof of a former church, using local, organic ingredients whenever possible. Terrapin Restaurant offers two dining options: Red Bistro for casual dining and take-out for lunch, dinner, and late-night cravings, and the Terrapin dining room for a more romantic, elegant experience.
Red Bistro is known for its create-a-sandwich menu that allows diners to build their own masterpieces. First, select a base, like a hamburger patty, veggie burger, shredded duck confit, or beer-battered fried cod. Then select your bread from options like a brioche roll, French baguette, or sourdough sandwich slices. Finish it off with a long list of toppings, sauces, and extras, like smoked gouda, sauteed portobellos, sliced jalapenos, and citrus aioli.
If building your own gourmet sandwich feels overwhelming, you can press the easy button and order a specialty sandwich like a Terrapin Reuben or crispy eggplant dip. Or make selections from Terrapin's list of tapas, appetizers, and lighter plates.
Open for dinner seven nights a week, Terrapin's dining room has a nice selection of pasta, fish, and meat entrees. For a taste of the Hudson Valley infused with Asian flavors, try the Hudson Valley duck Peking style, where sauteed duck breast confit are wrapped in delicate crepes. And steak lovers will enjoy the blue cheese–crusted filet mignon with Port wine demi-glace and truffled mashed potatoes.
Must-Try Quesadillas: BBQ duck with mango-avocado salsa and truffled fig, brie, and roasted shallot
Seafood Splurge: Pan-seared scallops with green chile Hollandaise
Good To Know: All animal products served at Terrapin Restaurant are free-range, grass- or natural grain–fed, and raised without hormones or antibiotics.
8. The Tavern At Beekman Arms
If the overhead beams and wood-paneled walls of The Tavern at Beekman Arms could talk, they'd have a lot to say. Because this last restaurant has a history that dates back to before our states were united. In fact, it was at this tavern that the quarrel between Aaron Burr and Alexander Hamilton took place, ultimately resulting in the duel that killed Washington's secretary of the treasury.
The menu at this historic site is packed with classic "meat and potatoes with veg" dishes, like New York strip steak with fries and haricot verts, short rib pot roast with roasted potatoes and seasonal vegetables, and Berkshire pork chop with roasted sweet potato and spinach.
Unique Bites: To accommodate the governor's mandate of a minimum food purchase with cocktails, check out the list of Tavern bites.
Good To Know: Connected to the tavern, the historic Beekman Arms and Delamater Inn is America's oldest continuously operated inn and a wonderful place to stay when you visit Rhinebeck.
If you're looking for additional Hudson Valley experiences, consider: