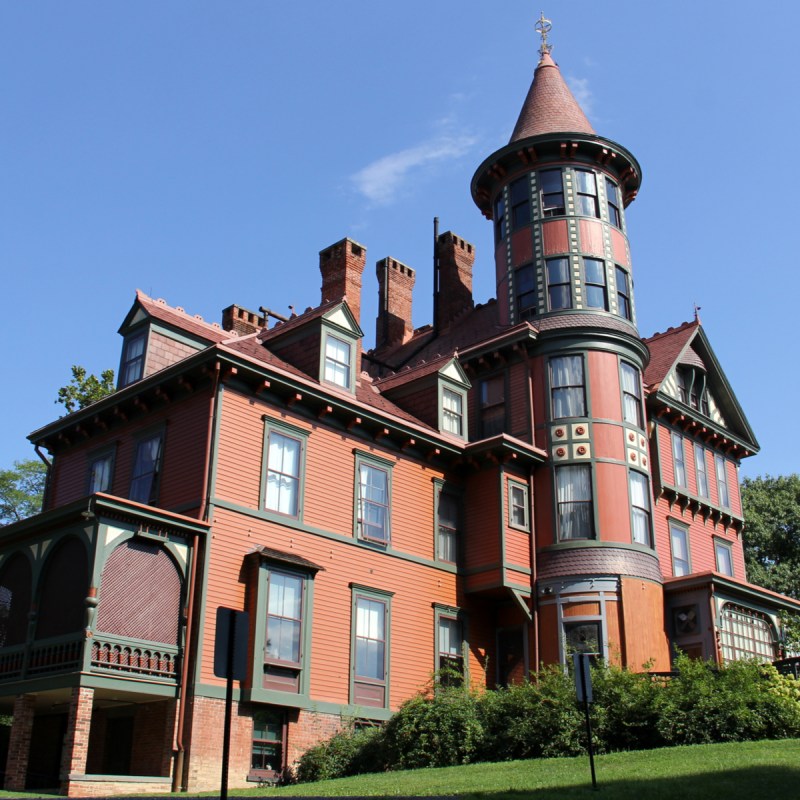 From ancestral homes dating back to pre-Revolutionary War times to opulent mansions that celebrated the prosperity of business magnates during the Industrial Revolution, Upstate New York's Hudson Valley is full of impressive historic homes.
Filled with impressive art, framing the beautiful Hudson Valley scenery, preserving America's rich history, and showcasing elegant architecture, Hudson Valley's historic mansions are sure to excite everyone in your travel party. Be sure to add these ten beautiful mansions in Upstate New York to your Hudson Valley itinerary!
Note: Some of my experiences were hosted. All opinions are my own.
1. Lyndhurst
Tarrytown
Just 25 miles north of the Big Apple, the Lyndhurst Mansion sits on 67 acres overlooking the Hudson River. This Tarrytown mansion is an imposing limestone building of sharp angles, narrow hallways, and limited natural light, making it one of the most notable examples of Gothic architecture in the United States. But the average American may recognize it as the spooky setting for movies like House of Dark Shadows and series like 7 Deadly Sins and The Blacklist.
Explore the history, art, and architecture of the former country home of "robber baron" Jay Gould on an hour-long classic tour of Lyndhurst. For some of the best views in Tarrytown, take the Backstairs Tour, which allows guests to climb to the fifth-floor observation tower, where you can look out over the Hudson River and see all the way to Manhattan on a clear day.
Pro Tip: Enjoy a beautiful mansion firsthand at the Tarrytown House Estate. Perched on a hill above Lyndhurst, the white porticoed King Mansion is now home to Goosefeather, an upscale Cantonese restaurant, and offers elegant accommodations. You can dig into crispy shrimp bao and sip a signature cocktail in the mansion's dining room before retiring to one of the beautiful rooms with a view for a unique experience not available at other Upstate New York mansions.
2. Kykuit
Tarrytown
Built on the highest point in Pocantico Hills, Kykuit is an impressive four-story ivy-covered brick mansion surrounded by 87 acres of beautifully terraced grounds overlooking the Hudson River. Four generations of Rockefellers enjoyed this Tarrytown mansion as a summer getaway and winter weekend retreat. This uniquely named mansion is derived from the Dutch word for "lookout," and it's easy to understand the inspiration when you gaze out at the wide Hudson River lined with evergreen firs and colorful maples and elms.
While some Hudson Valley historic sites allow visitors to explore the grounds independently, Kykuit can only be seen via a guided tour. Tour options range in length. Allow at least 2 hours to explore Kykuit, and if you're interested in viewing the manicured grounds, be sure to select a tour that provides that option.
3. Locust Grove
Poughkeepsie
Overlooking the Hudson River from a bluff in Poughkeepsie, Locust Grove is an Italianate mansion set on 200 acres; it was once the summer home of Samuel Morse. While you may know him as the man who revolutionized the way the world communicated with the invention of the telegraph and Morse Code, you may not know that Morse was originally a painter. As his Upstate New York estate was being designed, Morse reminisced about the years he spent enjoying the Italian countryside, sketching his vision for the floor plan and exterior features on scraps of paper given to architect Alexander Jackson Davis.
See the mansion from the gardens and grounds or tour the inside of Locust Grove via a guided tour. Note that this Upstate New York mansion is not ADA accessible. Visitors should be prepared to walk up several steps to the front door and a flight of stairs to the second floor when visiting.
4. Springwood
Hyde Park
America's 32nd president was born in and spent most of his life in the sprawling three-story Italian-style mansion known as Springwood, dubbed "the Summer White House" for the 12 years Franklin D. Roosevelt was in office. The president is now buried in the adjacent rose garden, and his presidential library (the nation's first) is also on-site.
A ranger-led tour of FDR's home lasts about an hour and includes a look at original furnishings, artwork, books, photographs, and other Roosevelt family belongings.
Pro Tip: While not as grand and imposing as Springwood, you might also enjoy Val-Kill Cottage, the nearby retreat that Eleanor Roosevelt called home, and Top Cottage in Poughkeepsie, the wooded retreat where the Roosevelts welcomed heads of state and other distinguished guests.
5. Vanderbilt Mansion
Hyde Park
Just a few miles up the river from Springwood, the Vanderbilts built a jaw-dropping 54-room, 44,000-square-foot beaux arts country house known as Hyde Park. The interior includes all of the finest finishing touches, from rich wood paneling to European marble.
The estate included greenhouses and a working farm that ensured the Vanderbilts had in-season produce, dairy and meat products, and fresh flowers when they spent time here. On the surrounding 200 scenic acres overlooking the Hudson River, the family enjoyed golf, lawn tennis, and carriage rides.
Since 1940, the National Park Service has managed the property, offering daily public tours.
Pro Tip: Be sure to read Anderson Cooper's book Vanderbilt: The Rise and Fall of an American Dynasty to learn about the fascinating (and often scandalous) events that took place inside this beautiful Upstate New York mansion.
6. Mills Mansion
Staatsburg
With its two-story front portico supported by eight massive Ionic columns, the Mills Mansion looks like a Greek temple, courthouse, or bank. It was originally a 25-room Greek revival mansion built in the 1830s. Ogden Mills and his wife, Ruth, expanded it into a French chateau-inspired, 65-room beaux arts mansion as the 20th century approached.
When you tour the impressive Gilded Age mansion, note that it includes all of its original furniture, including the long table and carved chairs in the dining room and all of the pieces in Ruth's frilly, rose-colored bedroom. As you explore the colossal home sitting on more than 100 acres in this hamlet of Hyde Park, keep in mind that the couple owned four other homes and typically stayed in Staatsburg only from mid-September until Christmastime.
Pro Tip: If you plan on visiting several attractions operated by New York's state park system, you may want to purchase an Empire Pass. Most sites charge an $8 to $10 admission fee, but for $80, you can purchase an annual pass that gives you access to all of the properties managed as state parks, including historic sites, forests, beaches, trails, and more.
7. Wilderstein
Rhinebeck
Wilderstein, a three-story Queen Anne mansion at the center of 40 wooded acres overlooking the Hudson River, was Daisy Suckley's family home for 140 years. And while the rose-tinted Victorian mansion with hunter green accents and its distinctive circular tower is certainly an impressive sight, so are the gorgeous grounds, where Calvert Vaux (one-half of the dynamic duo who designed New York City's Central Park) created an impressive network of carriage drives and walking trails rimmed with native flora and accented by wooden gazebos.
Explore the grounds and exterior of Wilderstein between 9 a.m. and 4 p.m. year-round at no charge. Or dive deeper into the property's history with a guided tour.
Fun Fact: A confidant to President Franklin D. Roosevelt, Suckley also bred Scottish terriers, including the World War II leader's beloved Fala.
8. Clermont
Germantown
Seven generations of the prominent Livingston family lived on the banks of the Hudson River in a home dating to pre-Revolutionary War times. The most notable member of the family was Robert R. Livingston. A member of the committee that drafted the Declaration of Independence, Livingston was the first chancellor of New York. And as the Empire State's highest judge, he administered the oath of office to George Washington when he was sworn in as the nation's first president in New York City in April of 1789.
Now part of New York's state park system, the Clermont State Historic Site protects one of the oldest riverfront estates in the mid-Hudson Valley region. Step inside the white house, with dormer windows and moons carved into its shutters, on a guided tour. Or explore the surrounding 500 acres, where you'll be treated to amazing views of the Hudson River and the Catskill Mountains.
9. Olana
Hudson
Just across the Rip Van Winkle Bridge from his mentor's home and studio, Hudson River School artist Frederic Church built his home, Olana, on a hill overlooking the Hudson River Valley. Working closely with architect Calvert Vaux, who once again left his mark on Upstate New York, Church created an impressive stone-and-brick home adorned with elaborate stencils blending Victorian and Persian architecture.
While many historic mansions in the Hudson Valley were built as summer or vacation homes, Church and his wife, Isabel, raised their four children at Olana. And as one should expect from an artist whose career was largely built around the beauty of the Hudson Valley, the home was designed to accentuate panoramic views of the Hudson River and Catskill Mountains.
The grounds of Olana are a public park, so the exterior of the home, views of the Hudson Valley, and carriage roads are free to visit from 8 a.m. to sunset. A variety of tours of the grounds and historic home are available, including an electric carriage tour of the 250-acre grounds.
10. Schuyler Mansion
Albany
Enjoying renewed fame thanks to Lin-Manuel Miranda's wildly successful Broadway musical, Hamilton, the childhood home of Eliza Schuyler, Alexander Hamilton's wife, is the northernmost mansion I recommend visiting in the Hudson Valley. Relatively modest — at least compared to a Gilded Age Vanderbilt or Rockefeller home — this two-story red-brick Georgian mansion is where Hamilton and Eliza wed in 1780.
Once part of an 80-acre farm overlooking the Hudson River, today the Schuyler Mansion State Historic Site occupies just the northeastern corner of the block at Catherine and Clinton Streets. Take a guided tour to explore the beautifully maintained mansion and learn more about the Schuyler sisters — Eliza, Angelica, and Peggy.
Related Reading: