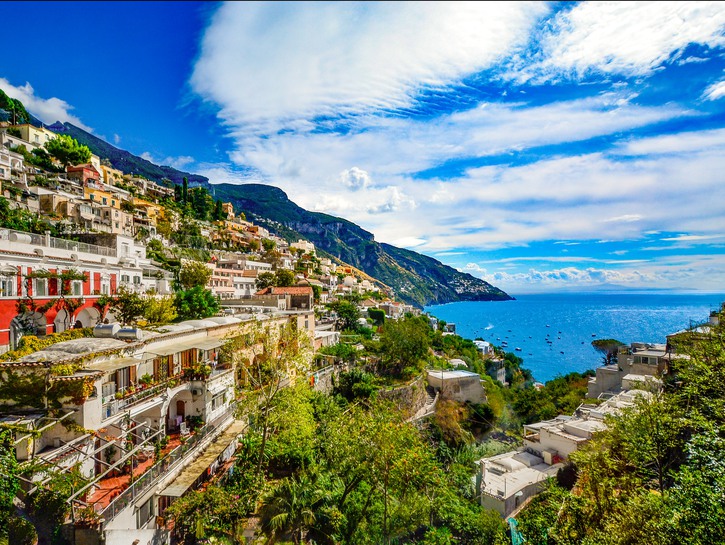 Italy is a destination that consistently sits at the top of travelers' bucket lists, and it's no wonder why. With a history dating back thousands of years, Italy is littered with priceless artworks and some of the most dazzling architectural achievements in the world. This peninsular country also prevails as a gastronomical Mecca across the globe, inviting visitors to taste its world-class pizza, pasta, seafood, wine, and coffee.
We've dug deep to provide an extensive list of Italy's most beautiful destinations, including landmarks, artworks, architecture, protected areas, coastal towns, and so much more. The following 8 most beautiful places in Italy illustrate the country's overall attraction and what makes it one of the most visited nations on earth.
1. Most Beautiful Metropolitan City: Rome
With nearly 3,000 years worth of internationally recognized art, culture, and architecture on display, Italy's capital city is arguably the most iconic and historically significant city in the world.
Rome has an unparalleled liveliness and vibrancy that truly isn't found anywhere else on the planet. In 2017, Rome welcomed approximately 9.6 million international tourists, making it the 12th most visited city of that year.
When in Rome:
You'll need to spend a significant amount of time in this crucial metropolitan Italian city if you want to see all of its major attractions. We've broken down the top tourist attractions to see while visiting Rome.
1. Colosseum
2. Spanish Steps
3. Trevi Fountain
4. Vatican City
5. St. Peter's Basilica
6. Roman Forum
7. Sistine Chapel
8. Pantheon
2. Most Beautiful Coastal Village: Positano
A stunning cliffside village nestled along Italy's Amalfi Coast, Positano possesses a certain charm that has made it a popular holiday destination, due to its unique pebble beachfront, steep cliffside views, and narrow streets filled with cafes and boutique shops.
Favorable weather kisses this charming coastal town throughout most of the year, and seeing its many vibrant buildings light up in the evening is a sight that will remain engrained in travelers' memories for a lifetime.
When in Positano:
The best things to do while in Positano are…
1. Visit the 10th century Church of Santa Maria Assunta 
2. Hike the Sentiero degli Dei trail
3. Take a day trip to Mt. Vesuvius and Pompei
Venice is like eating an entire box of chocolate liqueurs in one go.
— Truman Capote
3. Most Beautiful Port Town: Venice
Venice is undoubtedly Italy's most beautiful port town and arguably the country's most romantic city as well. Fairytale gondolas weaving through the city's thousands of winding canals make for a proper romantic getaway, guaranteed to reignite the flame for any traveling couples.
When visiting Venice, travelers will notice hundreds of centuries-old traditional Venetian masks hung in shop windows, typically worn during the city's cherished Carnival of Venice festival, held annually in February.
When in Venice:
If traveling to Venice, be sure to check out these top attractions:
1. Piazza San Marco
2. St. Mark's Basilica
3. Doge's Palace
4. Grand Canal
5. Rialto Bridge
6. Teatro La Fenice
4. Most Beautiful Place to Take a Photo: Lake Como
Celebrities like George Clooney have put this gorgeous Northern Italian region on the map, due in part to its dramatic scenery and luxurious villas. Lake Como is part of Lombardy and sits idyllically at the foothills of the Alps.
With Milan as the region's capital, this is a great destination for travelers who wish to hit both the capital city and Lake Como with one stone. The tip of the lake also reaches the famed resort town of Bellagio.
When in Lake Como:
Popular attractions in Lake Como include:
1. Villa Carlotta
2. Villa del Balbianello
3. Isola Comacina
4. Castello di Vezio
5. Most Beautiful National Park: Cinque Terre
Cinque Terre is a collection of five small seaside villages situated along the rugged Italian Riviera coastline. It is a protected area that was inducted as Italy's first national park in 1999, and has been recognized as a UNESCO World Heritage Site since 1997.
Cinque Terre is located in the province of La Spezia, consisting of the towns of Riomaggiore, Corniglia, Manarola, Monterosso al Mare, and Vernazza. Quaint and picturesque throughout, Cinque Terre is a lesser-known tourist destination that is slowly gaining more recognition, so be sure to head there before it becomes a tourist trap!
When in Cinque Terre:
While visiting Cinque Terre, be sure to…
1. Enjoy a cliffside meal at La Torre in Vernazza
2. Hike the Blue Path
3. Take a romantic stroll along the famous Via dell'Amore (Lover's Lane) in Riomaggiore
6. Most Beautiful University Town: Florence
Iconic for its Duomo that can be spotted at almost any angle throughout this bustling university town, Florence boasts citywide views of the Apennine Mountains and an abundance of cultural masterpieces of Renaissance architecture and art, such as Michelangelo's Statue of David, Botticelli's The Birth of Venus and Leonardo da Vinci's Annunciation.
The University of Florence is a public research university comprising 12 schools and approximately 60,000 students. It is a popular destination for study abroad students, welcoming an average 4,000 international students annually.
When in Florence:
Don't miss out on these top attractions while visiting this exciting university town:
1. Florence Cathedral
2. Uffizi Gallery
3. Galleria dell'Accademia
4. Ponte Vecchio
5. Palazzo Vecchio
6. Piazza della Signoria
7. Palazzo Pitti
7. Most Beautiful Countryside: Tuscany
In 2003, Diane Lane starred in the popular Under the Tuscan Sun, a film exemplifying the sheer beauty and essence of Italy's celebrated Tuscany region, specifically in the town of Cortona.
Tuscany's countryside is teeming with rolling hills and the best Chianti grapes in the world, stretching from the Apennines to the Tyrrhenian Sea.
While in Tuscany, be sure to taste some of the region's finest gastronomical delights, such as lampredotto, an Italian sandwich made from the fourth stomach of a cow, or panzanella, a Tuscan chopped salad made from bread and tomatoes, typically eaten during the summer months.
When in Tuscany:
In Tuscany, be sure to check out:
1. Leaning Tower of Pisa
2. Elba Island
3. Boboli Gardens
4. Sant'Agnese Farm
5. Máté Winery
8. Most Beautiful Island: Capri
A tiny island in Italy's Bay of Naples, Capri is known for its rugged landscape, renowned limoncello, and handmade leather sandals. A popular summer vacation destination, days spent in Capri during warmer months will be filled with coastal views and hundreds of opulent yachts floating in and out of the island's cove-studded coastline.
Insider TIp: When visiting Capri, don't forget to head to its sister-town on the other side of the island, Anacapri. A more residential and spread out neighborhood, Anacapri is your ticket to reaching the top of Monte Solaro by chairlift.
When in Capri:
A trip to Capri wouldn't be complete without…
1. Strolling through the island's most famous town square, the Piazzetta 
2. Shopping…anywhere and everywhere
3. Gazing upon the island's mesmerizing Blue Grotto
4. Visiting famous Swedish physician and author Axel Munthe's villa and art collection at Villa San Michele
5. Witnessing the island's awe-inspiring Roman imperial palace ruins, Villa Jovis
There you have it — a beautiful Italian destination for all seasons and reasons. Ciao, bella!