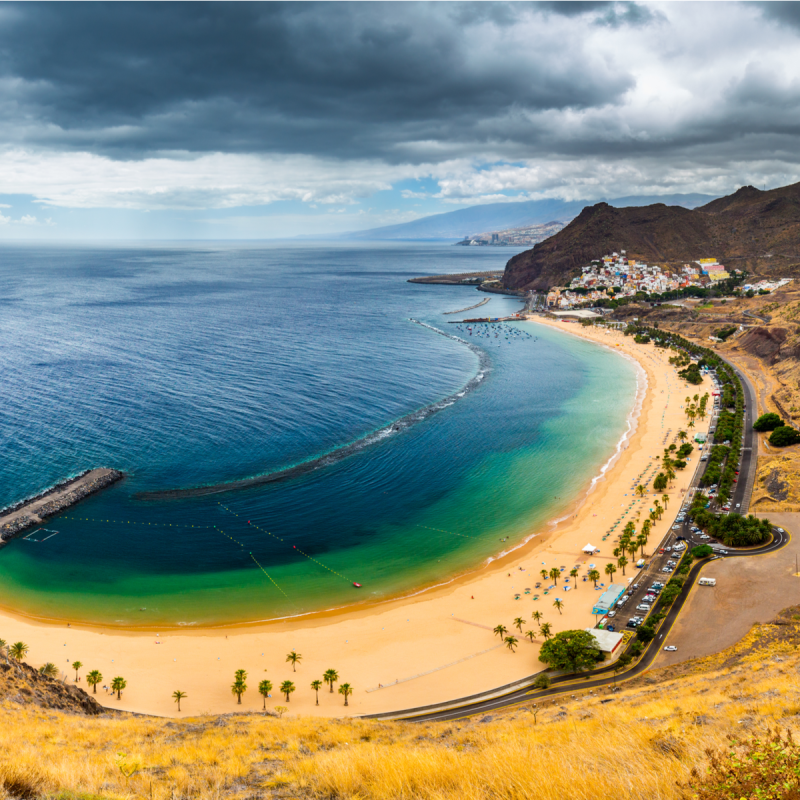 The Canary Islands are an archipelago in the Atlantic Ocean west of the African continent. At their closest point, they float just 62 miles west of Morocco. The eight main islands are Tenerife, Fuerteventura, Gran Canaria, Lanzarote, La Palma, La Gomera, El Hierro, and La Graciosa.There are also numerous smaller islets and islands that form the island group. Together they constitute the southernmost of the autonomous communities of Spain.
Santa Cruz de Tenerife and Las Palmas de Gran Canaria are jointly the capitals of the islands, informally known as "the Canaries." Although the islands are all of volcanic origin, their landscapes, flora, and fauna are very different, reaching from quasi rain forest to desert and vast beaches. Let's look at a few statistics first to see why retirement in these islands could be a desirable option.
1. Gorgeous Canary Island Weather
The number one favorable factor that brings roughly 12 million visitors to the Canaries each year is no doubt the weather. An average of 2,800 hours of sunshine per year, with July being the sunniest month with 308 hours and December with 181 hours, tells its own tale of good weather. Winters are generally warm enough to take advantage of the fabulous beaches you'll find on all the islands, whereas summers can be quite hot, especially in the desert-like parts including Mas Palomas on Gran Canaria, where you find vast dunes.
2. Ease Of Access
There are of course many more factors to take into account when considering the best place for your retirement. Given the statistics, that approximately 200,000 people have chosen one or the other of the Canary Islands as their retirement home, it is obvious that there must be quite a few pros. We will get to them in turn. One important fact is that it's easy to get there. Each of the islands has an airport with the exception of Tenerife, which has two, one in the north and one in the south, both international. In addition, many cruise ship lines touch on the Canaries, as do inter-island ferries.
3. A Diverse Retiree Population
This survey gives an interesting overview of the countries the retirees in the Canary Islands come from and what their reasons are. It shows that many retirees hail from cold, European countries like Norway, Germany, Finland, the UK, and Ireland as well as Austria, to, among other things, escape cold winters.
It's not only Europeans who retire here; there are also plenty of North and South Americans who make their retirement home in these blessed islands.
Pro Tip: Deciding where to make one's retirement home is a complex decision. Even more so if you'll be moving to a different continent, as would be the case if you're an American considering leaving the U.S. to move to Spain. A different culture, different lifestyle, different language, and a lot more will affect your retirement life — and might even be a bit of a culture shock. Read on for additional pros and cons of Canary Island retirement, which I share with Americans in mind.
4. Canary Island Lifestyle Pros And Cons
Life in the Canary Islands moves at a leisurely pace; nobody is in a particular hurry. In fact, one of the first words you have to learn is mañana, which means "tomorrow."
Your plumber promises to be at your house at 11 a.m.? Don't bank on it. It could be many hours later or, in fact, the next day. The same applies to punctuality. You are invited to a meal or a party? Don't turn up at the agreed hour. You will only fluster your host.
Talking about meal times, Spaniards eat much later than Americans or other Europeans. That said, South Americans will have no difficulty adapting.
Breakfast is usually just a coffee and a pastry, followed by a snack at around 11.
Lunch is between 2 p.m. and 3 p.m. and can extend for several hours because of the habit of entremeses, when people sit on long after the food is eaten, chat and drink cognac or aperitifs.
Dinner is even later and rarely starts before 9 p.m.
Another thing you have to get used to is the siesta. Office workers go home for lunch and don't return to work before 5 p.m. and then work until 8 or 9. With the exception of supermarkets, shops also close between 2 p.m. and 5 p.m., but open again until 9 p.m. or even longer. This custom will require some adjusting and planning on the part of expat retirees.
Pro Tip: Note that magazines, newspapers, and tobacco are only sold in state-controlled shops called estancos.
5. Canary Island Residence Requirements
As a non-EU resident, you can only stay in Spain (remember, the Canary Islands are a part of Spain) for a maximum of 90 days without a visa. If you want to live there longer, and it makes no difference if you wish to live and work there or to retire on a pension with a passive income, you have to apply for residency, and there are several different ways and types of visas to consider.
As a rule of thumb, all involve a lot of red tape, time, and money, and you are well-advised to start the process well before your planned retirement date — and by getting in touch with your nearest Spanish Consulate or Embassy.
On the ground in Spain, you'll need to contract the services of an English-speaking lawyer (abogado) and a gestor. This person is a professional who manages and administers your paperwork, of which there is plenty. You actually need both because one looks after legal aspects and the other after the red tape. Budget quite a bit for fees, not only for the professionals but also for the authorities.
6. Social Life On The Canary Islands
People retiring on islands tend to group together. Depending on nationalities and the size of the respective islands, they will form communities where for instance, Swedes, British, or Americans will meet regularly to exchange opinions, experiences, or just socialize. This can obviously be a pro but also a con as it can become claustrophobic or restrictive. It is entirely up to you what you want to do.
Culture fans will also find the islands a bit wanting. Don't look for operas, shows, or big theatre productions. There are cinemas and of course, plenty of local fiestas (festivals) where you can watch dance performances and thus get to know the local customs. There are also historical sites and, for stargazers, several first-rate observatories.
Generally speaking, locals are welcoming to foreigners and you are well-advised to learn at least the basics of Spanish. Not only will it make everyday life easier, it will also open doors and bring out big smiles.
7. Canary Island Taxes
Whatever your status, as an expat, you have to pay taxes in Spain. The tax authority is called the Hacienda and you certainly don't want any trouble with them. One of your first visits should therefore be to your gestor. Just bear in mind that you'll probably have to pay U.S. taxes as well.
Pro Tip: One of the first documents you need is the Fiscal Identification Number (NIF), without which you cannot buy a car or property or open a bank account.
8. Food On The Canary Islands
The Canary Islands, especially the Orotava Valley, are very fertile, which makes for fresh and healthy food. Sitting in the middle of the Atlantic Ocean, there is plenty of fish and seafood, too. Food is less expensive than in many northern European countries, and apart from supermarkets, it's a joy to explore the many local markets for the freshest seasonal products.
9. Canary Island Healthcare
One of the most important considerations for retirees is healthcare. Luckily, the healthcare system for expats in Spain is excellent. Through your residency, once obtained, you have access to the social security system and can obtain your SIP Card, and with it, free health care.
There are plenty of public hospitals with specialists for just about everything. Of course, if you wish, you can, like me, enroll in private health insurance, too, but retirees have to consider that there are age limits (different from company to company), but generally, you'll need to be 60 or younger to be accepted.
10. Getting A Driver's License
If you are an American and want to drive a motor vehicle in Spain, which, at some time as a retiree, you certainly will, you'll need your U.S. driver's license together with an International Driving Permit (IDP). Here is how to obtain the IDP.
The con is that this U.S.-driver's-license-plus-IDP bliss does not last forever. Americans who are long-term residents for more than 6 months must swap their U.S. license for a Spanish one.
Unfortunately, that means going through the entire process, not just a document swap. Prepare for medical tests, driving lessons, driving tests, and hefty fees. The minimum age for getting a license in Spain is 18, and the minimum age for renting a car is 21.
11. Canary Islands Cost Of Living
It is tricky to give an accurate assessment of the cost of living because it depends on many factors. Tourist centers are more costly than remote areas, and that applies to the Canaries, too. It also depends on how many dependents there are in your family and if you'll consider renting a property or buying one. Renting is more usual in Spain, but, given that this is such a beautiful and healthy destination, people might want to retire to a permanent home (apart from the one they might want to keep in their home country).
Here is a good overview of the cost of living, from food and clothing to the amenities like electricity and telephone service. Note that internet in the Canaries is rather costly.
If you consider buying, according to idealista, the cheapest islands to buy on are Gran Canaria and Tenerife.