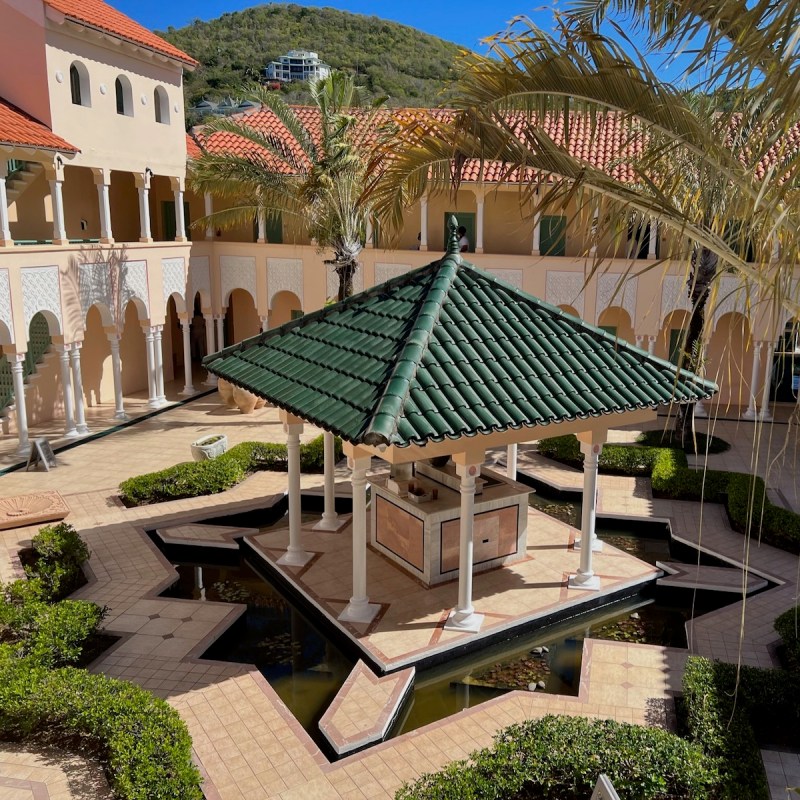 Set on its own private beach on the Caribbean, the BodyHoliday Santa Lucia resort is an all-inclusive vacation that focuses on your entire well-being. Its natural approach to overall physical health is one of the reasons it was recently named as one of the top wellness resorts in the world. I recently took a girls' trip there to celebrate a birthday, and our stay was an equal balance of relaxation and invigoration. Here's why.
1. Daily Spa Treatments
Every Day Is Relaxing When You Get A Massage Or Facial
Dubbing it as "restorative beauty," your BodyHoliday stay includes a daily spa treatment. You will receive a massage or facial each full day you are staying at the resort (not on the day you arrive or depart). The included therapies are magnificent, but consider upgrading to focus on a specific area. The Back Therapy massage I got was the best my back has ever felt! Speak with the spa staff to identify one of the many treatments that will help you the most.
The spa is spacious, with more than two dozen treatment rooms. These rooms are where you will go for all massages and facials. Once you finalize your spa itinerary, you will have a printout with your treatment dates, times, and room numbers, which makes the spa process speedy and hassle-free. When you go to the spa, there is no reason to check in; just go to your designated room to meet your therapist.
There's also an open-air stage-like area with massage chairs. This is where the more concentrated services take place, like the head, neck, and back massage. There are two chairs and it was nice to do a service with a friend, but not be in a room together. Plus, there is something very relaxing about hearing the sounds of the tropical breeze while getting a massage.
I always recommend walking the resort's property whenever you arrive to familiarize yourself with where everything is located. This includes restaurants, pools, and of course, the spa. This is especially true at the BodyHoliday because the spa is a bit of a hike; you have to climb a bunch of stairs to get to it. But, once you make it to the top, relaxation — and a beautiful view — await! Leave yourself some extra time to get to the spa before each treatment so you aren't stressing about missing your time slot.
Pro Tip: You can book spa appointments before your arrival through the resort's webpage, but it needs a bit of work. A few people in our group had trouble booking and moving appointments. I would strongly advise swinging by the spa once you settle in to talk with a spa staff member to go over your schedule.
2. The Food
All-Inclusive Dining Options Even If You Go Off The Property!
BodyHoliday's five dining options are a harmonious blend of healthy and indulgent. Tao is the resort's signature restaurant, serving fusion dishes, including sushi, satay, curry, and pad thai. The laid-back, elegant vibe is rivaled only by the restaurant's view — full-length windows facing the sea. Tao is only open for dinner on specific nights of the week, so it's best to reserve your table in advance.
On the flipside, the Pavillion Grill is the resort's most casual spot to grab a bite. The clay pizza oven is the highlight; create your own pizza or try one of the daily specials, often featuring fresh fish. The Pavillion Grill is come-as-you-are easy and is open for lunch and early dinner.
The open-air Cariblue restaurant offers casual dining for breakfast, lunch, and dinner. It's the only restaurant at the resort where you can get a full breakfast. There are pastries, cheese, fruit, an omelet station, plus decadent desserts. For lunch and dinner, Cariblue offers a buffet of rotating dishes that feature fresh fish and meat, as well as heartier options.
At night, Cariblue Windows emerges as a chic dining option. Set inside (in the air conditioning) you can watch chefs cook and have a more intimate experience since there are only a few tables available. We opted for Cariblue Windows for my friend's birthday celebrations and enjoyed a multi-course dinner with wine pairing.
The Wellness Cafe is open at various times throughout the day to offer lighter fare, like smoothies, grab-and-go salads, and sandwiches. If you like peanut butter, you have to try the peanut butter balls at the Wellness Cafe. They are popular so they will run out if you wait too long. Trust me, they are irresistible.
Pro Tip: If you are going on an excursion off resort property, ask the Wellness Cafe to pack a lunch for you. You can throw them in your own cooler or you can buy a BodyHoliday lunch box. Just be sure to put in your order well in advance so the staff has time to put it all together for you!
3. Water Sports
Learn A New Sport Or Just Relax With Included Water Toys
BodyHoliday's all-inclusiveness is not limited to food and drinks; it also includes water toys. At one end of the beach, there's a wooden house where you can get equipment for paddleboarding or windsurfing on a first come, first served basis. Need help? Sign up for one of the complimentary classes to learn how to navigate the water toys. During the afternoon, you can go tubing and wakeboarding, or just simply relax in the calm partitioned-off area inside a floating disc; we fit four people in ours!
There are more water adventure options available, for an extra cost. Sailing lessons, scuba trips, and even an off-property boating adventure are available. If you prefer to stay on land, BodyHoliday offers classes in golf, tennis, cycling, and archery, ranging from beginner to advanced. Some are included in your trip price; some are extra. There's even a weekly tennis match between guests, daily beach volleyball games, as well as beach cricket and touch rugby.
4. Fitness Options
From Sun Up To Sun Down, There's An Option For Everyone
BodyHoliday is an all-around wellness resort, focusing on the entire body. In that fashion, the resort offers a variety of fitness and wellness amenities to encourage healing and growth. With BodyStats, you can meet with a wellness professional to go over physical statistics, then set up a personalized fitness and nutrition plan through BodyAware. The program is meant to help you during your stay and set you up for success once you return home.
The included fitness amenities are abundant. Group fitness classes — like dance, yoga, and water aerobics — will have you moving with your fellow guests or opt for personal training sessions with more individualized programs. My favorites were the 30-minute ab class and the morning stretch class.
Daily-led meditation sessions help you relax while at the resort, but also provide useful tools to incorporate into your normal life. The resort's experts can also help you to quit smoking or do a digital detox. Yoga and Tai Chi classes round out the resort's core value of treating the mind as a way to create overall wellness. Don't feel like taking a class? Opt for the walking trail around the resort. It's set up with periodical stations to test your fitness skills.
Pro Tips
The website allows you to sign up for fitness classes online, but we found that didn't necessarily hold your spot. My advice would be to show up early, because once the class is full, they won't let anyone else in.
Also, the BodyHoliday resort is quite a drive from the airport on very windy and narrow roads. Come prepared! Or, if you want to skip the drive, you can take a boat to the resort — or even a helicopter! BodyHoliday can book the helicopter for you, but the boat is through a third party. Driving is the cheapest option, followed by the boat, and the helicopter is by far the most expensive of the trip, but also the fastest.
Read up on TravelAwaits' favorite all-inclusive resorts: