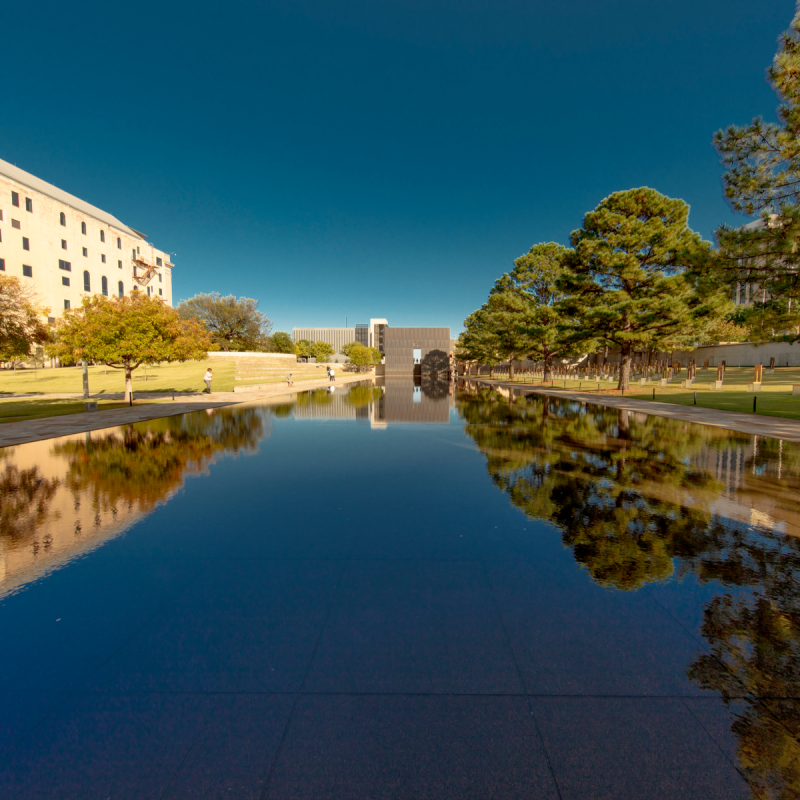 If you look for it on a map, it doesn't exist. The federal government removed Route 66 from the US Highway System in 1985.
America first really learned of Route 66 from John Steinbeck in 1939. He called it "The Mother Road" in The Grapes of Wrath because he said it called out to farmers and migrants desperate for a new life during the Dust Bowl.
Route 66 took on a new life after WWII when Americans had cars and some money and time to travel. This road symbolized the growth and changing of America for more than 50 years. My wife, Pam, and I wanted to ride this road and see these changes first-hand — the history, the attractions, the nostalgia, and the oddities.
So, a few years ago, she rode her Harley, and I rode mine, nearly 2,500 miles from Navy Pier in Chicago to Santa Monica Pier in California. It's the ride we still talk about. It's the trip we're still asked about.
Learn from my mistake: You can't do this trip justice without doing some homework. Read about the road and the stops and pick the ones you want to make your trip special to you. There are plenty of traditional stops, like the Gateway Arch in St. Louis or the original McDonalds in Downey, California. But I look for the "different." That said, let's ride my top stops on Route 66 from Illinois to the West.
1. Pontiac Murals
Pontiac, Illinois
Plenty of pride about the history of Route 66 is easy to see on the sides of buildings all over downtown Pontiac — about 60 miles southwest of Joliet. Some of this artwork is truly spectacular and worth the walk around or drive around.
Pro Tip: The Route 66 Association Hall of Fame and Museum is the best starting point for maps of the murals. You can find the Hall at 110 W Howard St, Pontiac, IL 61764.
2. Cars (The Movie)
Along The Route
You'll see plenty of places along Route 66 that were a big part of the Disney movie Cars. Cars On The Route is at 119 North Main Street, Galena, Kansas 66739. It is an old Kan-O-Tex gas station and parked out front is the International Harvester tow truck that was the inspiration for the Cars character Tow Mater.
I loved the gorgeous art deco gas station at 101 E. 12th Street Shamrock, Texas. It's at the intersection of US 83 and Route 66.
Pro Tip: Park across the street in Shamrock for the best pictures of the gas station. It's big! And in Kansas, get up close for your pictures with Mater. It's fun.
3. Oklahoma City National Memorial
Oklahoma City
Many stops on Route 66 are special. This one was memorable and moving for me. I was in TV News when I watched the scenes from the Murrah Federal Building that morning in 1995.
At the center of this gorgeous memorial is a reflecting pool. The time 9:01 is carved into the gate on one end. It represents the innocence before the explosion. The gate with 9:03 carved in it symbolizes the start of the healing. The rectangular pool between them represents the moment of the explosion.
Walking along that pool, I looked back and clearly saw the images of destruction and death. And closing my eyes, I saw the images of heroism and survival. To my right was a field of empty chairs. Nine rows of chairs signifying the floor where each of the victims died. And there are 19 smaller chairs — for the children who died.
On the remaining wall of the building, there's a plaque of the names of the 600 survivors from that day. The Oklahoma City National Memorial is incredibly moving. Of all the memorable stops on our trip, this one is on my list of top spots because of the impact it had on me. I encourage you to make the time to stop…and really stop to remember.
Pro Tip: Get there before 9 a.m. and allow travel time for rush hour traffic. I hope standing at that spot at 9:01 is as moving for you as it was for me.
4. Oklahoma Route 66 Museum
Clinton, Oklahoma
Several states have Route 66 museums and each one details the road's local impact. The one that struck me most just happens to be the biggest and has changing exhibits that highlight the highway. Keep in mind that by this point in your tour of Route 66, you'll have some perspective of the history and appreciation for its importance.
Pro Tip: Right across the road from the museum is the Trade Winds Inn. Clinton is about halfway between Memphis and Las Vegas. Elvis and his entourage stayed there four times. He always had Room 215. The Inn maintains Room 215 as it was, and you can see it. Thankyathankyaverymuch.
5. Sandhills Curiosity Shop
Erick, Oklahoma
This place just cracked me up. Road signs, vintage guitars, antique furniture, junk, memorabilia, and stuff that I struggle to classify are stacked high in this store where nothing is for sale. It's more of a quirky museum that claims to be the "Redneck Capital of the World." Give it an hour and let me know how you describe it.
Pro Tip: Harley Russell runs the place and entertains with his offbeat humor and live music, which might not be suitable for younger ears.
6. Cadillac Ranch
Amarillo, Texas
This is an art exhibit where you're encouraged to add your own graffiti! West of Amarillo, grab a can of spray paint and add your flair to one of 10 Caddies buried nose-first in a field. An eccentric millionaire paid artists to create it in the mid-'70s. So it's part art project, part avant-garde sculpture garden, 100 percent odd, 110 percent memorable. You're on I-40 at this point in the journey, so look for Exit 60 and take it to 13651 I-40 Frontage Rd, Amarillo, TX 79124.
Pro Tip: I suggest going at dawn or dusk. The sky at those hours creates some great backdrops for the pics, the cars, and, of course, you! You need to take your own can of spray paint and a flashlight. There are no lights, and you'll walk a flat dirt road about 50 yards to get to the partially buried cars. Parking is along the I-40 Frontage Road.
7. Route 66 Mid Point Cafe
Adrian, Texas
This cafe is right where you'd expect it to be — the halfway point of the route. Even if you don't have a sweet tooth, trust me, stop at the self-proclaimed "Home of Ugly Pies." To be honest, I don't remember how they looked, but the piece(s) I had tasted great!
Pro Tips: There's a good photo-op at the halfway point sign across the street from the café. And again: TRY. THE. PIE.
8. Wigwam Motel
Holbrook, Arizona
This was the Airbnb of its day! Route 66 gave birth to "motor hotels" and those became "motels." They were built near the road as opposed to the pricey, traditional hotels that were in downtown areas. These wigwams have bathrooms, showers, heat, AC, and cable. You'll have to live without Wi-Fi for a night. Rates are under $100, but book in advance.
Pro Tip: Don't miss a great photo-op with some of the classic cars parked outside the rooms like they were a few decades ago.
9. Standin' On A Corner
Winslow, Arizona
Sounds like a song, right? The classic song from the Eagles' hit "Take It Easy" is another photo-op just waiting for you. The mural on the building at the corner of Kinsley and E 2nd Street in Winslow is of a store-front window reflecting "a girl, my Lord, in a flatbed Ford slowin' down to take a look at me."
Pro Tip: Because of the layout and size, this is not an easy spot for selfies. Try it the old-fashioned way. Get someone to snap the shot for you. Street parking is easy and close.
I'd love to show you the great old neon signs and vintage motels in Tucumcari, New Mexico. Or share my pics from historic buildings and retro signs in Santa Rosa, New Mexico, or the old gas stations — some remodeled, some sadly withering with time. I love this road for its history, its little piece of Americana, and what it says about our century and how we grew as America and Americans.
My best advice is to do that homework. There are loads of books and apps to help you. Be sure to put the top down, and remember that it's not about the destination, whether it's Chicago or L.A. It's about the journey. Let that sink in.
Take a breath. Or two. Put the smartphone in the center console, and focus on the road. Now you're ready to start writing your own stories of Route 66. See you on the road.
Destination Santa Monica? Check out How To Spend A Day In Santa Monica and Rediscovering California: How One Writer's Learning To Love Where She Lives Again.