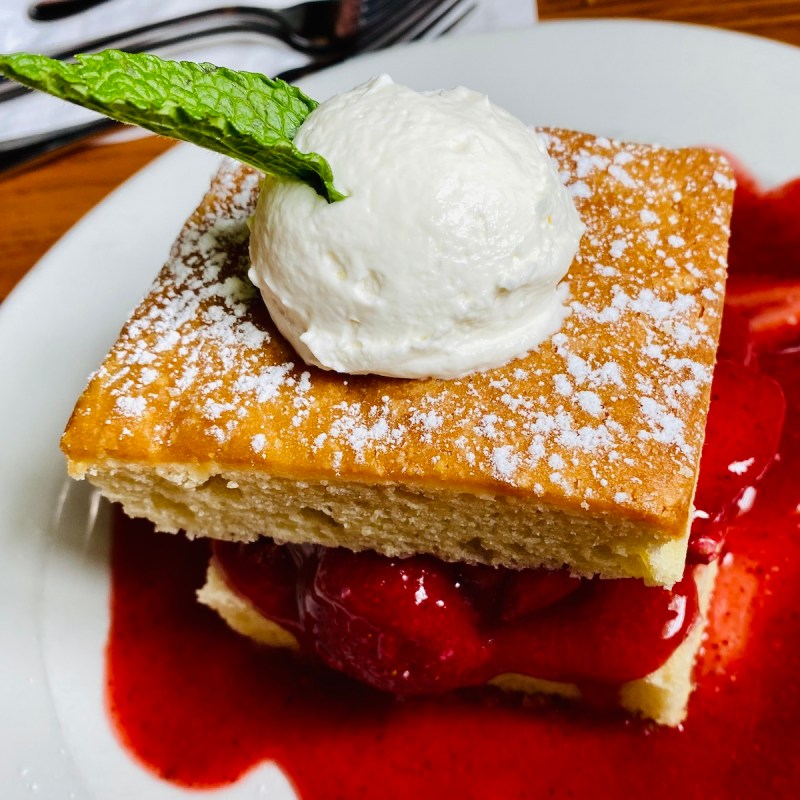 Our first trip to the Outer Banks of North Carolina included four travel writers with a long weekend to gather, explore, share information, and enjoy each other's company. We wrote, joked, laughed, and ate. Gosh, did we eat! Here are the best restaurants we had the privilege to dine at in the Outer Banks.
1. The Kill Devil Grill
Kill Devil Hills
Recommended by a Texas husband during our rained-out attempt at hang gliding, there was a brief wait for seating at this historic railcar turned diner and grill, The Kill Devil Grill. Sit at the bar stools in the renovated railcar or wait for a red vinyl seat booth and hope you're lucky enough to get our server, Adele.
She rattled off the daily specials like the true professional she is. A sampling: the grilled mahi served over cheese grits and topped with grilled local asparagus; the fried flounder sandwich with lettuce, tomato, and housemade tartar; jumbo fries served with soft-shell crab sandwiches; a green chile pork burrito with pineapple slaw rice and avocado; and the day's salad special, the Kitchen Sink Seazar, which is like a traditional Caesar but with tomatoes, pine nuts, grilled and chilled chicken, and penne pasta.

"You guys have any questions?"
The salmon salad had been so highly spoken of by our cohort that two of us ordered that, one ordered the fried flounder sandwich, and another the Southern fried chicken salad. Our salmon was the size of a plank dinner portion, and the salad was sprinkled with cucumbers, sweet corn, grape tomatoes, and mixed in a basil citrus vinaigrette (we both held the goat cheese).
The Southern fried chicken kicked up more than a notch with corn, bacon, potato sticks, and a buttermilk garlic dressing that was so wonderful, I thought I'd made a mistake with my salmon choice. And then we each tried a bite of the fried flounder sandwich…
"That is freakin' amazing."
"That tastes just like chicken fingers."
And, "I'd come back for that again." We were still speaking about that flounder hours later.
We were shocked to realize we might still have some room for dessert. It didn't take much for Adele to talk us into it. She recites these as easily as she did the daily specials.
"The apple crisp served warm with vanilla ice cream, the chocolate chip pecan pie served with whipped cream (made fresh, not overly sweet), [the] strawberry shortcake, or the best key lime pie you'll have ever tasted."
For the strawberry shortcake, the shortcake is a light double layer around the strawberry and preserve-like juices, topped with light whipped cream and a mint leaf. Sold! We ordered two strawberry shortcakes, one key lime pie to go (eaten that night, though), and one warm apple crisp served with that ice cream in the middle. I was just uncomfortably full when we left, already looking forward to a return visit.
2. Trio Restaurant & Market
Kitty Hawk
Recommended by the visitors bureau, Trio is a great place to start your dining experiences along the Outer Banks. On the west side of the barrier islands, it's a combination restaurant, liquor store, and souvenir shop (get your painted wine glasses here). If you're hungry from your flight into the area and subsequent drive down from Norfolk, your taste buds will treasure the experience.
While Trio offers soups, salads, small plates, and charcuterie, our hearty appetites were ready for the handhelds and desserts. One intrepid traveler chose the yummy mac 'n cheese, served on a slate, as well as smoky garlic shrimp (with just the right amount of spice) with a delicious warm baguette.
As usual, I started with dessert first. The pistachio gelato was obviously fresh — it's not green and had the skin of the pistachio.
Two of us chose the French dip, one with fresh chips, the other with salad. Both of us removed the mayo and caramelized onions — it was just better (to us) without it. Another one of us had the crab cake sandwich. Even 4 hours later, "Mmm, that was delicious."
The coconut custard pie, made from scratch, delicately balanced with flavorful coconut mixed so well that didn't need the cream delicately perched on the side of the slate.
The specialty drinks include the most Instagram-able lavender Earl Grey tea with the loose-leaf infuser, predominantly for the steam produced for a prolonged period.
Lavender was the flavor of the day as the lemon lavender blueberry fizz pleased sight, smell, and taste. The Abita root beer benefits from the use of Louisiana sugar cane (rather than high-fructose corn syrup).
3. Sal's New York Pizza
Kill Devil Hills
Recommended by Michael, our hang-gliding instructor from Kitty Hawk Kites, we knew Sal's New York Pizza was a local-preferred hole in the wall from the moment we walked in the door. With just six tables and double that number of bar stools, this bar and restaurant had a surprising number of items, from true New York–style pizza to a make-your-own pasta bowl.
The "bar pizza" changed each day, with the True Hawaiian Pineapple available while we were there. Custom made without cheese, the crust was so thin that one writer was able to finish a 14-inch pie without difficulty.
Other favorites included the eggplant parmesan —a massive slice that filled the plate — and the make-your-own pasta with penne noodles, marinara sauce, and your choice of meats.
The owner welcomed us as newcomers, not realizing we were travel writers. Turns out there isn't a "Sal" there — they bought the joint with the name attached — but they really are from New York. Poughkeepsie, to be exact, and competitors of mine in athletic competitions in high school. Small world.
4. Avenue Grille & Goods
Manteo
Right along the waterfront, the Avenue Grille offers a great selection of healthy items we enjoyed tremendously. Starting with the edamame hummus platter, filled with peppers, carrots, radishes, and cucumbers — this was, hands down, the most delicious dish of the day.
Our favorite drink here was the lavender lemonade, with a nod to the eco-consciousness of the restaurant for not volunteering straws with each drink. The boneless fried chicken with salad was delectable.
The Grille Burger was really juicy, especially with a bonus piece of bacon.
The maple pecan fried chicken breast was huge — "like a really big chicken!" — and deserving of a to-go box long before it was time to leave.
The catch-of-the-day fish tacos were a tilefish, not one I was familiar with, but were offered grilled, blackened, or fried and were very tasty. They were served with their slaw and choice of three relishes on corn tortillas to stand fast with a gluten-free day.
5. Sam & Omie's
Nags Head
The locals have loved Sam & Omie's for breakfast so much since 1937 that there is frequently a 45-minute to hour-long wait. Their specialty is their "Omie-lette," and one in our party enjoyed their sausage, onion, and cheese Omie-lette. Another had traditional buttermilk pancakes and bacon. A third enjoyed the egg breakfast with hash browns. It was my turn for an upside-down day, as I had a side order of hash browns with the chocolate peanut butter pie. Served with chocolate syrup and whipped cream, it's a smooth way to start your day.
6. Orange Blossom Bakery & Café
Buxton, Hatteras Island
Our horseback riding instructor recommended Orange Blossom as the not-to-be-missed spot on Hatteras Island. Home of the "Apple Uglies," this locally owned bakery makes both apple and mango "Uglies," donuts, pastries, bread, croissants, biscuits, bacon, sausage, salsa, and eggs.
The Apple Ugly is like a giant cinnamon roll with an apple pie–type center. It's heavy on cinnamon and super sweet, so the hot coffee is a good foil… taste it before you add any sugar to your coffee! We entered behind a long line of women ordering two to seven Apple Uglies at a time. We ordered two of those, two fried pies (one apple, one cherry), juices, and coffee.
7. Diamond Shoals Restaurant
Buxton, Hatteras Island
Recommended by the visitors bureau, Diamond Shoals Restaurant was the perfect stop for a large meal after horseback riding and lighthouse touring. Large portions and prompt service (ask for Suzy!) help big appetites. Yet they're so popular, they'll run out of several favorite dishes, or the daily catch, early in the day. That was the case for us when we asked for the crispy rice-wrapped shrimp. We enjoyed the homemade hush puppies, not as spicy as I'm accustomed to, and a little more breaded, with us disagreeing about whether they were more or less sweet than usual. Tasty.
I chose the catch-of-the-day tacos, made with grouper. The fish was an inch wide and as long as the tortilla in which it was served. The accompanying salsa and lettuce added a nice crunchy texture. The grouper sandwich with fries surprised me — groupers are light, white fish.
The mahi wrap with fries was delicious and filling.
The mahi with regular fries and mango salsa was refreshing. They'd initially arrived with sweet potato waffle fries that tasted like they'd been dipped in cinnamon sugar, but they cheerfully switched to their usual fries for the member of my group who didn't need all that sweetness.
All that said, there is plenty more to do in the Outer Banks than chow down. The 200-mile stretch of barrier islands is dotted with unique towns and landmarks. Here's more for your OBX stay: