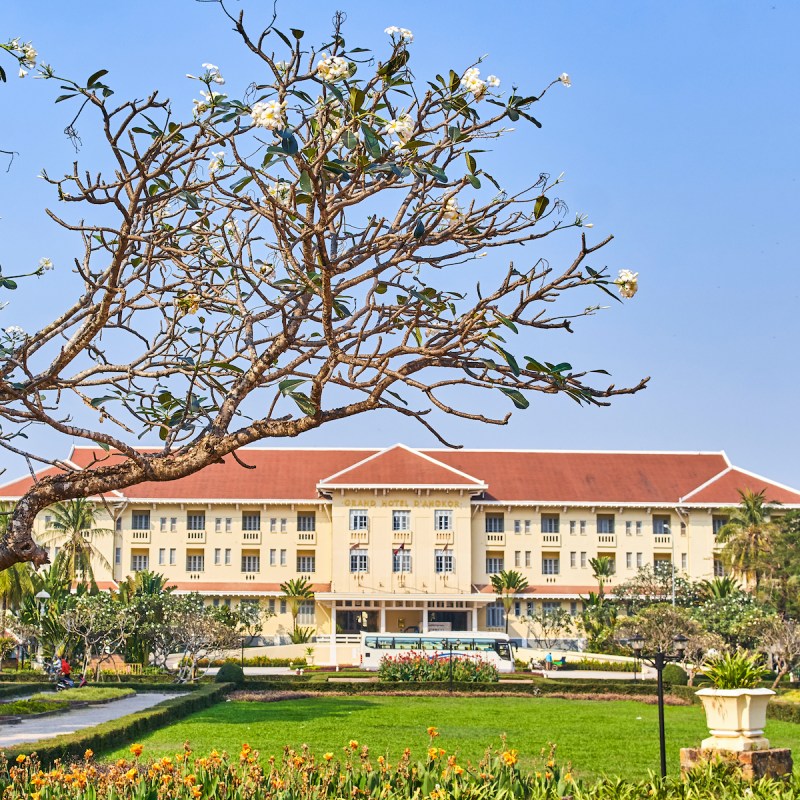 After almost 3 years, one of the most iconic heritage properties in Southeast Asia reopens its doors to guests. Raffles Grand Hotel d'Angkor in Cambodia has a refreshed new look offering a mix of culture, heritage, and charming hospitality.
The meticulous transformation started in 2019 with facelifts to its rooms and suites. This happened before the world shut down to travel. The famous façade and exterior now shine with a bright white, rather than the cream-beige hue which is the color of French colonial architecture across Indochina. The rooms have lighter and brighter interiors with Segafredo coffee machines, USB charging stations, and Simmons pillow-top mattresses.
The French windows have been upgraded, and each room has a writing desk and vintage rotary telephone. More space was added by removing cabinets and replacing them with built-in wardrobes. All bathrooms have been upgraded with Italian tiling and rain showers. The traditional ceiling fans remain, as well as the beautiful views of the Royal Gardens, the resort's iconic swimming pool, and views of street scenes or the plantation-style grounds of the hotel.
"It is a magnificent feeling to bring this enchanting hotel back to life," said General Manager Dennis de Groot in a news release. "The Grand Hotel is a national treasure, and its storied history is testament to Cambodia's colourful past. It was originally built as a rest stop for archaeologists and adventurers seeking to explore the ancient kingdom of Angkor Wat. As we prepare to celebrate the hotel's 90th anniversary this year, we are delighted that this hotel can continue to set the standard for luxury hospitality, where travellers arrive as guests, leave as friends and return as family."
The move to reopen on June 1 comes at a time when Cambodia has removed all major travel restrictions. The country was widely praised for its handling of the pandemic and its effective vaccine program.
The hotel first opened in 1932 and was celebrated as La Grande Dame de Angkor. For almost 90 years it welcomed guests from Charlie Chaplin to Jackie Kennedy to Michelle Obama through its checker-tiled lobby which still remains — as does the hotel's original teak and wrought iron cage elevator. When it opened, it had just 63 rooms, all with private bathrooms, which was considered a revelation in its day. Designed by French architect Ernest Hébrard, it combined Khmer art and furnishings with Art Deco influences. The property was taken over by Fairmont Raffles Hotels International in 1997 at the invitation of Cambodia's King Sihanouk.
Entertainment has received an upgrade as well. Raffles Marquee is an elegant event center situated along 15-acres of French gardens. It will play host to everything from Khmer performances and fashion shows to wedding receptions and business conferences. It's also fully air-conditioned, giving a unique setting for all kinds of events in the town of Siem Reap.
Named after the year it opened, 1932 is the hotel's latest signature restaurant, serving traditional Royal Khmer cuisine for a unique dining experience.
It's a 20-minute drive to the doorway of the UNESCO Heritage temples of Angkor. The hotel offers an enticing series of Raffles Curated Journeys and Resort Programs designed to infuse local experiences with worldly elegance. Guests can explore the ancient Angkor Archaeological Park on an iconic Vespa, before being one of the first travelers of the day to enter the temple.
You can take a local tuk-tuk tour for a journey through the Silk Road of Angkor, visiting the beautiful Banteay Srei Temple and Golden Silk Farm. If you want to taste Siem Reap, you can indulge in exclusive Culinary Hidden Gems, or if shopping is more of your style, explore Siem Reap's Kandal Village neighborhood with the help of a Raffles Butler. Culture lovers can enjoy a majestic performance of Cambodian dances in the Apsara Terrace.
You can also experience the culture on the resort grounds. Guests can take part in on-site activities including monk blessings, Angkor Sling masterclasses, botanical and culinary garden tours, and a tour with the hotel's resident historian.
Raffles Grand Hotel d'Angkor was recognized this year by U.S. magazine Travel + Leisure as among the top 500 hotels in the world. Rooms start at $350 per night. For reservations or inquiries, call +855 23 982 598 or email bookus.siemreap@raffles.com.