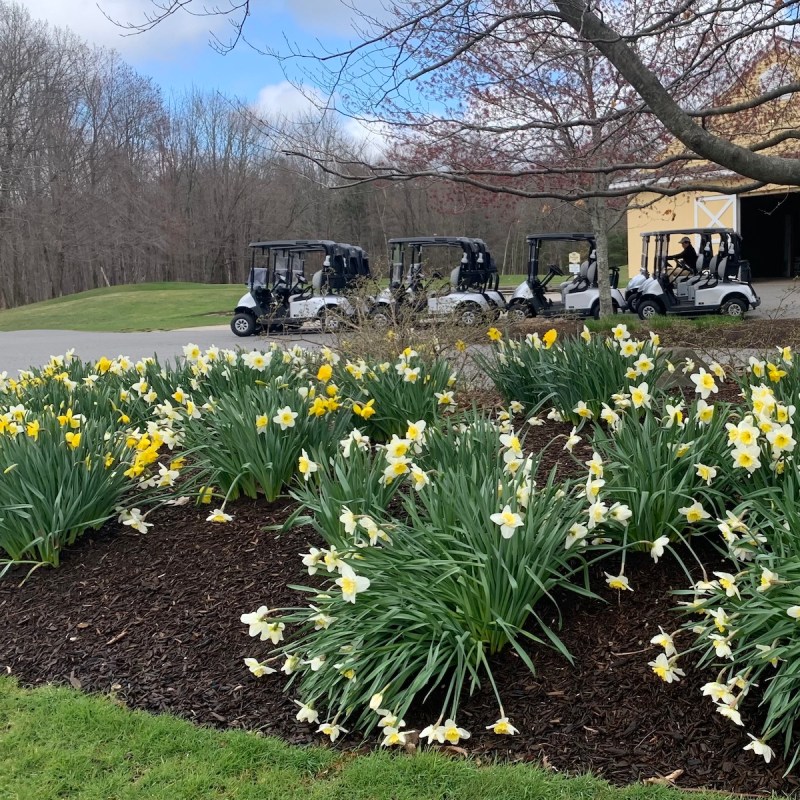 Grab your bag of sticks and a golf buddy then head out to play some top-rated courses that offer challenging conditions, beautiful scenery, and a day out swinging away. Below you will discover great public courses across the Commonwealth of Massachusetts where you can enjoy fresh air, a little exercise, and a fun round of golf. Whether you are a newbie duffer or an experienced even-par player, you will enjoy New England golf.
The weather in Massachusetts is delightfully sunny in the summer and perfect to ride the course. In the spring, there is a morning chill in the air, and walking the course will keep you warm and loose. During autumn, the crisp crunch of leaves and gorgeous New England foliage provides a colorful backdrop to your round.
The courses highlighted have a range of prices based on green and cart fees ranging from very budget-friendly to country club chic. The fee scoring does not include golf club rentals.
$: $75 or less
$$: $75 to $150
$$$: $150 to $250
$$$$: $250 and up
Our list of Massachusetts public golf courses is presented in no particular ranking order.
1. The Ranch Golf Club
Southwick
Set in western Massachusetts, The Ranch Golf Club rests in the beautiful Berkshires. A pretty course with undulating fairways banked by thick greenery, golfers can enjoy the challenge of perfecting their aim and placement. The course has an open style offering beautiful panoramic views.
After you have conquered the course, spend some time exploring the Berkshires. You will find lots of great options in our destination guide.
Cost: $–$$
2. Wachusett Country Club
West Boylston
Wachusett Country Club in central Massachusetts is a beautifully maintained, semi-private course. The up and down play offers stunning views of the local hills including Wachusett Mountain.
When you are looking for a unique challenge, play world-famous courses at the Swing 365 golf simulator. Pebble Beach, PGA National, and others are just waiting to test your risk and reward style of simulated golf. It is a fun way to get a game in with friends when you can't hit the links.
Cost: $–$$
3. Crumpin-Fox Club
Bernardston
Planted just this side of the Massachusetts/New Hampshire border, Crumpin-Fox Club offers golfers a bucolic setting to test their club selection and drivability. Designed with a fair amount of bunkers and challenging green approach shots, Crumpin-Fox is the perfect course to improve your game.
With its undulated elevation changes, each tee to green presents an interesting perspective and unique challenge. The 8th hole is particularly devious with a substantial watery border on the left and a tall stand of trees on the right. These hazards leave the golfer to question whether or not their shot will carry the water.
Cost: $–$$
4. Red Tail Golf Club
Devens
Located in the former military base, Fort Devens, Red Tail Golf Club is now the recreational anchor for the Devens complex. Surrounded by a thriving industrial park and a training base for U.S. Armed Forces across New England, Red Tail brings acres of landscaped greenery to the area.
The 17th hole, fondly known as "the Bunkers," is actually named for the ammunition storage bunkers, still visible to the right of the green. However, the hole is a veritable ocean of sand bunker challenges that will trap your ball and have you searching for your wedge.
Cost: $–$$
5. Newton Commonwealth Golf Course
Newton
Newton Commonwealth Golf Course is a public golf course just outside of Boston. The popular course is the perfect spot to hone your skills. All levels of golfers will be able to work on aspects of their long and short games. Navigating bunkers, doglegs, and fast greens add a fun challenge to the round.
This pretty oasis of green just outside the city is a respite from a hectic workday surrounded by concrete.
Cost: $
6. Granite Links
Quincy
Granite Links Golf Club offers golfers 27 links-style holes where you can plan a variety of 18-hole rounds. The generous fairways and rolling hills are a classic example of New England golf. Beautiful distracting views of the Blue Hills and the Boston skyline can impede your shot concentration.
The three nine-hole courses are Granite, Milton, and Quincy. One nine-hole course, designated on a rotating basis, is reserved for members-only play.
Cost: $$–$$$
7. Farm Neck Golf Club
Oak Bluffs
While vacationing on Martha's Vineyard, plan to play 18 holes at Farm Neck Golf Club. This stunning public course rivals many private courses in the area. As you traverse the course you will encounter classic Vineyard topography — everything from salt marshes, panoramic overlooks, and tree-lined fairways. It is a gift to be able to play a public course on this gorgeous vacation island. As Martha's Vineyard is the playground of the rich and famous, you never know who you will encounter out on the course.
You will find a big swing in fees depending on the season. The off-season can be a great time to play if you find a warm day. At the height of the summer season, the fees are considerably higher. If you are heading to Martha's Vineyard from Boston, our road trip guide will help in your trip planning.
Cost: $–$$$$
8. Cyprian Keyes Golf Club
Boylston
Cyprian Keyes Golf Club offers players and duffers a par 3, 9-hole course and an 18-hole field of play. The 18-hole course is designed with a variety of play challenges and hazards. You will find several water challenges, sand traps, and doglegs. You will also find a calming ambiance where you can enjoy the meticulously maintained course while you work on perfecting your game.
Cost: $–$$
9. Pinehills Golf Club
Plymouth
Traversing coastal Massachusetts, Pinehills Golf Club is a beautifully maintained golf course with fairways resembling long carpets of green presenting players with unforeseen challenges. The rugged terrain and tree-lined holes give golfers an opportunity to test their risk and reward mettle.
Pinehills boasts two spectacularly designed courses by the famous Rees Jones and Nicklaus Design teams. You will enjoy the challenge of play at either of these beautiful courses.
Cost: $–$$
10. Taconic Golf Club
Williamstown
Located in the beautiful Berkshires of western Massachusetts on the campus of Williams College, Taconic Golf Club is a gem of a course. Taconic provides golfers with a magical combination of spectacular scenery, a classically challenging course, and superb playing conditions.
Cost: $$–$$$
11. Robert T. Lynch Municipal
Brookline
Robert T. Lynch Municipal, also known as the Brookline Golf Course, is home to the legendary amateur, Francis Ouimet. Ouimet won the U.S Open at Brookline's The Country Club against all odds.
Robert T. Lynch Municipal is a popular course that plays 6,208 yards from the blue tees. Accessible yet challenging, a round of play in this neighborhood course will make you feel right at home. When the grill shacks are fired up and sending wafting aromas across the fairways, you know you have found a new golf home. Lynch is a wonderful spot to make new friends, hone your golf skills, and enjoy your outing on the course.
Cost: $
Francis Ouimet: An American Hero
Francis Ouimet's amazing showing at the U.S. Open began the interest in golfing for regular working-class folks. His success began to erode the "upper-class players only" stigma surrounding golf.
Born in 1893, Ouimet started his golf career as a caddie and defeated two professional golfers in the 1913 U.S. Open play-off. He went on to win the 1914 and 1931 U.S. Amateur championships. Ouimet played on the U.S. Walker Cup team between 1922 and 1936. In 1951, he was the first non-Briton to be elected the captain of the Royal and Ancient Golf Club of St. Andrews.
Ouimet's contribution to golf is immortalized in the Ouimet Fund. This need-based college scholarship fund offers generous scholarships to students who have worked at golf courses across Massachusetts. According to the Ouimet Fund statistics, "Since 1949, The Fund has awarded nearly $44 million in scholarships to more than 6,325 deserving men and women."
Amazing Private Clubs
Massachusetts is home to several amazing private clubs. If you are fortunate enough to have a good buddy that is a member at one of these clubs, make sure you get them to take you along for the golf cart ride-of-your-golfing-dreams.
Myopia Hunt Club in Hamilton
Eastward Ho Country Club in Chatham
The Country Club in Brookline
Kittansett Club in Marion
Essex Country Club in Manchester-By-The-Sea
Boston Golf Club in Hingham
Best Public Golf Courses In Massachusetts
Massachusetts is a golfer's summer haven. With so many fantastic public courses to play across the Commonwealth, golfers of all levels and abilities will find a course that is perfect for their skill set. Many of the courses listed here are budget-friendly and perfect for a golf outing with true players or beginning hackers.
Whether you are heading to the Berkshires, Martha's Vineyard, Boston, or parts in between, you will be able to explore a wealth of gorgeous golf courses while you are visiting. If you are lucky enough to live in New England and haven't explored the area links, it is time to add a new venue to your golfing bucket list.
For more ideas and inspiration on Massachusetts, explore these articles: