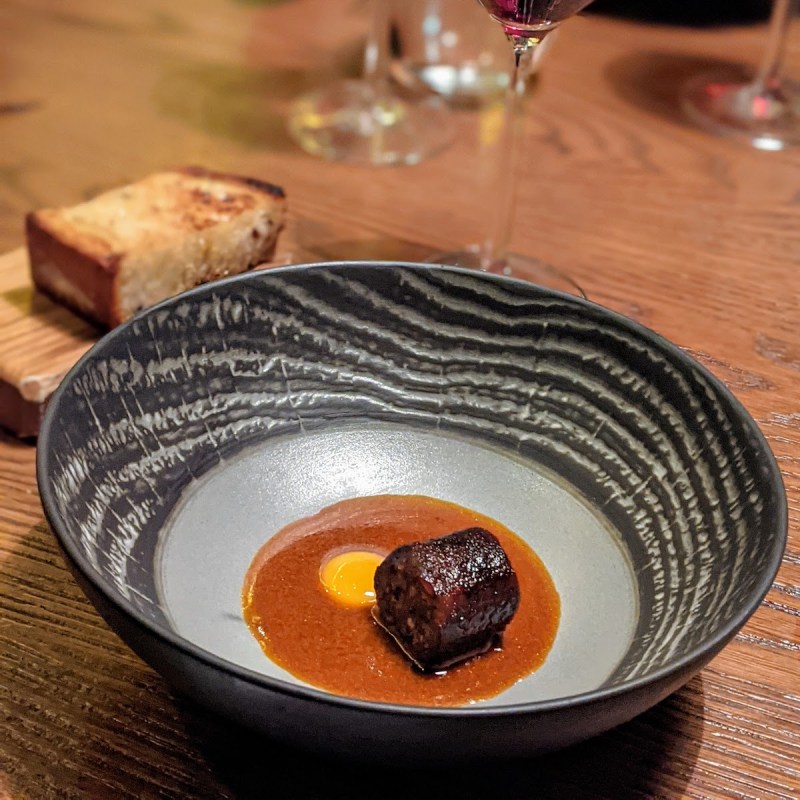 One of the best parts about visiting Spain is that even the smallest, most nondescript hole-in-the-wall joints usually have good food. We've eaten in hundreds of these neighborhood dining rooms, where my husband, Floren, and his family, who hail from Madrid, can get typical Spanish food at fair prices, plus the community culture Spaniards are famous for.
But sometimes we want a little something different. After having been kept apart from friends and family by the pandemic, when we were finally able to visit again last fall, Floren was ready to splurge on something unique. He zeroed in on DSTAgE, in the hip Chueca neighborhood, and invited four friends to join us. Floren says, "I chose the restaurant because I wanted to create a special experience for my friends, after 2 years without being able to see each other in person. I'd heard good things about the chef, and liked the idea of a creative multicourse menu with lots of different food options."
DSTAgE definitely fits the bill. It was founded by Basque chef Diego Guerrero, who earned his first chef de cuisine gig at El Refor in Álava at the ripe old age of 23. He quickly became the heir to Spain's avant-garde culinary movement, which began in the mid-1980s. During his early career, Guerrero racked up numerous prizes, including his first two Michelin stars while at the helm of the chic El Club Allard in Madrid.
But Guerrero felt Spanish haute cuisine was becoming too fussy, formal, and Frenchified. In 2013, he resigned, spent a year traveling, and came back brimming with ideas. He opened DSTAgE in 2015, with the plan to make good food less about bourgeois experience and more about the food itself. Naming it after the acronym for the clunky phrase "Days to Smell Taste Amaze Grow & Enjoy," Guerrero put his focus squarely on fresh, flavorful ingredients and simple yet visually arresting presentation. It's no wonder that in 2017, he was awarded two more Michelin stars.
Within the Guerrero restaurant empire, you'll also find DSpeak, an a la carte lunch and dinner restaurant, and DSpot, a cozy, family-friendly bistro that serves more affordable, accessible selections like ravioli, tortilla (Spanish omelet) with truffle, and nachos with homemade guacamole. More recently, the chef founded DPickle Room, a bar that features fermented foods and creative cocktails.
The Ambience At DSTAgE
The restaurant, located in a brick building that once housed a brewery, has an urban, industrial vibe, with lots of steel, rustic woods, and minimalist lighting. On the top floor, there's a small bar, a dining area, and an open-concept kitchen, where you can watch the chefs at work. Downstairs, amid glass cases housing more than 200 Spanish and international wines, there's a private dining room with a large communal table. Guerrero sometimes hosts demonstrations and classes here, as well. A back entrance leads to a patio garden where herbs are grown for DSTAgE's many unusual dishes.
Pro Tip: DSTAgE doesn't offer accommodations, such as high chairs or a stroller storage area, for young children. They say diners 10 and up are welcome, but if you're traveling with grandkids, I advise getting a sitter. The type of food served at DSTAgE will be entirely lost on young folk. Menus can be adapted to dietary restrictions or intolerances, but you must provide this information during the booking process.
The Menu At DSTAgE
DSTAgE doesn't offer an a la carte menu. Instead, you can choose from two tasting menus with either 15 or 18 courses, with or without wine pairings. Menus change according to the season and bring together flavors from disparate cultures, including Mexico, Japan, and Spain. "It's not just cooking. It's a form of expression. It's a language," Guerrero said in this 2017 docu-series. "The less rules I have, the more creative I can be." Guerrero has insisted that the food is made with a lack of pretense and ornamentation. That's debatable — especially if you're dining with a bunch of wits, as we were — although the food is excellent.
We went the luxe route, with 18 leisurely courses over a 2.5-hour period, and a couple of bottles of wine. Two of our group were on a keto kick and were reluctant to touch or finish items like the bread and the desserts. I strongly recommend eating with such friends. In the win-win of the evening, I magnanimously volunteered to whisk the temptation out of sight, and right into my own stomach.
I wouldn't have been able to do this with normal-sized courses, but the portions at DSTAgE, as with all multicourse degustation menus, are petite, sometimes even small enough to be consumed in a single bite. This might lead you to believe you're not getting a good value for the money, but keep in mind that you're paying for top-quality ingredients prepared in innovative ways, and presented with a more casual take on serving theatrics (such as the tableside sprinkling of pasta with Parmesan cheese). We felt pleasantly full, but not overstuffed, after our meal, and the sharing of "extras" among the non-keto friends at the table didn't change this.
What's more, our meal at DSTAgE turned out to be a unique experience we wouldn't have been able to replicate elsewhere. It even became something we talked about months later on a holiday Zoom call.
Our Multicourse Meal
Our meal started off with a weblike nest of horchata ice cream topped with a fresh anchovy. Yes, an anchovy. On ice cream.
Spaniards love a good anchovy, so I wasn't surprised to see it on the menu. I was, however, a bit woozy at the thought of eating it atop a frozen treat. The contrast between sweet and salty turned out to be interesting, but not enough that I wanted to finish this particular course. As I handed the rest of my plate over to Floren, who has the voracious appetite of a grizzly bear and the metabolism of a hummingbird, I wondered if this boded ill for the remainder of the dinner.
The second course, tender grilled calamari in a light broth, redeemed the first. The third, a vegan chorizo made with lentils, carrots, and peppers and served in a paprika-spiced wine sauce, was even better. A perfectly crusty, grilled rustic bread made its first appearance. Thanks to the carb-conscious among us, I scored two pieces.
Other courses followed at regular intervals. Roasted cauliflower topped with a caviar-black olive tapenade. Homemade ribbons of pasta in a broth of miso, tomato, and basil. A smoky rosette of red pepper. A stew with fish-based broth, and vibrant green beans from the north of Spain. A slice of roasted salmon topped with crispy fried salmon skin. Shiitake confit in a bread-based syrup. Haddock cheeks atop an emulsion of sesame seeds and Padrón pepper. The latter, a vegetable that hails from northwestern Spain, is a favorite of my mother-in-law, who grows them in her garden and makes a game of passing around a plate of grilled peppers, then whooping in surprise when she gets a particularly hot one.
Although I enjoyed most of the dishes, my favorite savory course was the miniature bowl of roasted corn swirled in a chile-and-peanut-infused oil. The sweetness of the corn was offset by the spicy oil. Smooth, mild goat cheese was a delicious accompaniment.
As an eat-dessert-first kind of person, I loved all three of the finishing courses. The kumquat sorbet, served in a hollowed-out citrus shell and arranged, like a tiny shrub, among the leaves of a succulent, was my favorite. Not only was it a refreshing palate cleanser after so many savory treats, but it also provided a nostalgic blast back to my childhood, when my Italian grandfather grew a dwarf kumquat tree in the big bow window in his kitchen.
The second dessert course was creamy chocolate in acorn sauce. It was good, but quickly eclipsed when our server brought out the capper: Guerrero's famed Maiz, a wispy nimbus of cotton candy topped with mango ice cream rolled in popcorn. After receiving detailed instructions from our server, we dutifully scooped up the sweet from the sides and nibbled it like a taco, then used the leftover bits of cotton candy to soak up any ice cream that had puddled onto the plate.
The meal wasn't without its eye-rolling moments, especially when the servers gave overly convoluted explanations of what we were about to eat. But it didn't take away from the enjoyment of the food and the camaraderie, which is what we'd come to DSTAgE for in the first place. If I decide I want to replicate the experience and try a few Guerrero favorites at home, I might just pick up a copy of Irreductible, his 2016 cookbook, featuring the handsomely disheveled chef on the cover.
For more ideas and inspiration on Spain, explore these articles: