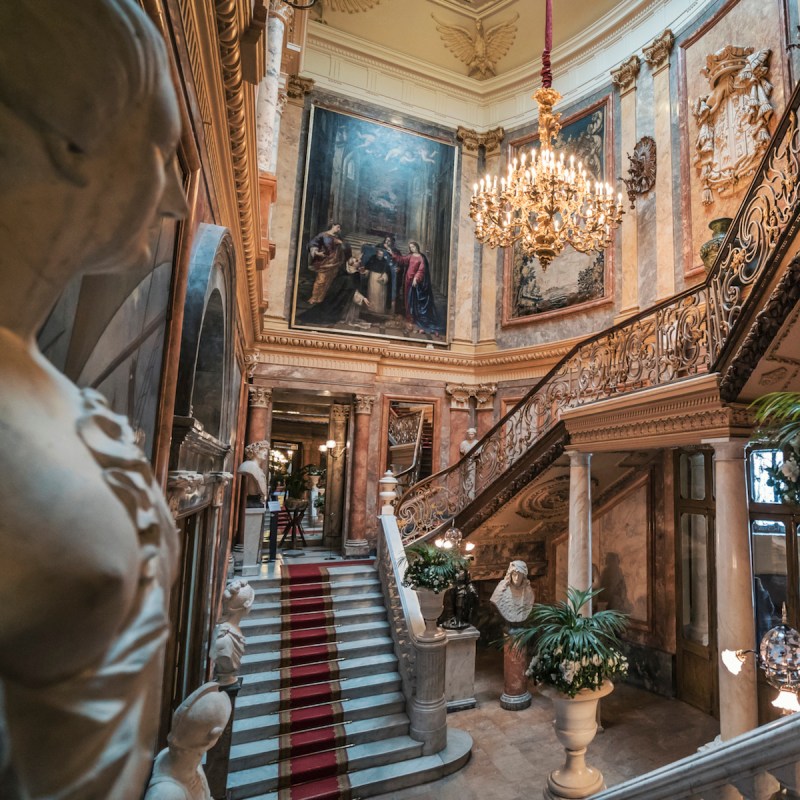 Spain's Prado Museum routinely ranks among the best attractions in Madrid and the top ten museums in the world. With good reason: Its collection of Spanish and European art dating back to the Medieval period is unmatched and includes the likes of Titian, Hieronymus Bosch, Francisco Goya, El Greco, Peter Paul Rubens, and Diego Velázquez. The building is housed in a stunning, sprawling Neoclassical structure that dates back to 1819, a work of art in itself. But the Prado's popularity — it hosts more than 3 million visitors per year — can often be its biggest drawback. Where can you go in Madrid to get the museum experience without the crowds?
Spain's capital city has more than 40 museums, running the gamut from maritime history to animation, from the ancient to the uber-modern. If you're looking for an alternative to the Prado, start with these fascinating museums.
1. National Archaeological Museum (Museo Arqueological Nacional, Or MAN)
13 Calle Serrano
I visited this massive museum last year and could not get over the wealth of artifacts and art it contains. It has entire wings dedicated to prehistory; ancient Greece, Rome, and Hispania; and Egypt. You'll find stone statues and carvings, coins, pottery, funerary objects, and jewelry. The modern portion of the museum is equally vast, spanning the mid-15th through the mid-19th centuries. Its collection includes scientific instruments, weapons, furniture, textiles, and more.
Any trip to the MAN must include a visit to La Dama de Elche. The pride and joy of the museum, this 4th-century sculpture of a resplendently dressed woman was discovered in the Valencian countryside by a farm worker. While her identity is unknown, researchers believe she was an Iberian aristocrat. The sculpture was originally multi-colored, but her pigments have faded to a uniform and lovely sand tone.
2. Reina Sofia Museum
52 Calle Santa Isabel
Like the Prado, the Reina Sofía Museum is housed in a large, beautiful Neoclassical building. Its collection focuses on contemporary Spanish art, including one-name wonders like Picasso and Dalí, as well as other Spanish and international geniuses — Joan Miró, Juan Gris, Ferran Adrià, and Diego Rivera, to name a few.
Its pièce de résistance is Picasso's Guernica. At 25 feet wide and 12 feet tall, it's a stunning depiction of a bombing in the eponymous Basque town during the Spanish Civil War. Picasso sent the piece to the Museum of Modern Art in New York for safekeeping during World War II, specifying that it should return to Spain only when democracy had been returned. That happened in 1981, after the fall of the Franco regime.
The Reina Sofia Museum has four venues, including two buildings in the Atocha district and two in Retiro Park, the city's phenomenally pretty green space. Walking between the two locations takes about 20 minutes. The main venue's Nouvel Building is also home to an open-to-the-public collection of 100,000-plus art books.
3. Sorolla Museum
37 Calle General Martínez Campos
My first acquaintance with Spanish painter Joaquín Sorolla y Bastida came via my husband, who to this day keeps a framed print of the artist's Two Sisters. Next to the MAN, this little gem is my favorite museum in Madrid. It displays 1,200 of Sorolla's paintings and illustrations, and has been added to over the years, thanks to additional purchases by the state. Even if you're not a fan of Impressionist work, there's no denying the charm of Sorolla's former home and studio.
The manor itself is wonderfully preserved, and located in a quieter neighborhood. The home displays all its original décor, plus a large collection of objects amassed by the artist himself — clothing, jewelry, sculptures, ceramics, and photographs. Save some time for quiet walking and contemplation in the outdoor garden, also designed by Sorolla. You'll feel like you've exited a time machine into early-20th-century Madrid.
4. Naval Museum
3 Paseo Del Prado
Military history buffs, this one's for you. Madrid's stately Naval Museum features objects from the Middle Ages to today, all with a link to maritime history. The 12,000-piece collection is laid out in easy-to-follow chronological exhibits. View a variety of navigational instruments, weapons, and model Armada ships, as well as uniforms and medals, and the supplies and personal effects of sailors. I'm not usually a big fan of military history, but the map collection — including a circa-1500, exquisitely illustrated parchment document by Spanish cartographer Juan de la Cosa — left me speechless.
In recent years, the museum has introduced themed "routes" through its collection, to give context on related items from different time periods. These include Illustrious Seamen, Naval Shipbuilding, and Cultural Exchanges.
Pro Tip: Many of Spain's best museums are free to the public. During the pandemic, most have required reservations. Check websites in advance for potential admission fees and ticketing. Parking in the city is difficult, so your best bet is to use Madrid's excellent Metro system to get to places that are farther apart.
5. Thyssen-Bornemisza Museum
8 Paseo Del Prado
Billed as "Everyone's Museum," the Thyssen-Bornemisza is based on the private collection of a single Swiss family. Dedicated solely to Western painting, it was designed to be broad in scope. The collection includes most European and American styles, from the 14th through the 20th centuries, from artists like Peter Paul Rubens, Rembrandt, Claude Monet, Edgar Degas, Pablo Picasso, Vassily Kandinsky, Georgia O'Keeffe, and Jackson Pollack.
Unlike the vast majority of art museums, the Thyssen-Bornemisza trades the standard white gallery walls for clay pink. This gives it a warmer, friendlier feeling. It also boasts colorful terraces with views of the garden, and a restaurant that serves delicious sandwiches, smoothies, and aperitifs.
6. Casa De La Moneda Museum
36 Calle Del Dr. Esquerdo
Like money? Me too, especially when it allows me to travel to unexpectedly fascinating museums like this one. Casa de la Moneda, or "Money House," chronicles the history of currency. Its permanent exhibition shows how money has evolved in different cultures, from ancient to the modern. You'll find coins, stamps, bills, notes, and other forms of payment, and the machinery and tools used to create them.
Casa de la Moneda is a leader in its genre, with one of the largest cash collections and scientific study facilities in the world. On my visit, signage was only in Spanish, but you can use the in-house Wi-Fi to connect to an English audio guide.
7. Museum Of Romanticism
13 Calle De San Mateo
Like the Sorolla Museum, the Museum of Romanticism is a period-manor-turned-art-museum. Built in the late 1700s, it uses décor, furniture, and art from the Romantic period (late 1700s to mid-1800s) to recreate the lives of the Spanish bourgeoisie.
The massive collection of 17,000 paintings, drawings, prints, photographs, sculptures, and furniture can be overwhelming, so be sure to pick up a guide at the reception desk to help you choose a plan of attack. I loved the ceiling murals in the dining room, the dramatic paintings of Leonardo Alenza, and the shapely Ignace Pleyel & Cie grand piano, made for Queen Elizabeth II. Take a break between viewings in the petite garden, which is lush with live greenery and flowers from spring through fall.
8. CaixaForum Madrid
36 Paseo Del Prado
A combination museum and cultural center, CaixaForum is located across the street from the Prado. It has an unusually large scope, covering ancient, modern, and contemporary art, music, poetry, fashion, and more. Somehow, it all seems to work.
With about 21,000 square feet in a repurposed power station, CaixaForum hosts various rotating exhibits, from the traditional to the sociopolitical. It also offers lectures, workshops, conferences, and concerts. These have included talks on modern cinema and current affairs, and multimedia art and poetry festivals. Spend some time admiring the vertical garden, a living wall of more than 250 plant species.
9. Canal De Isabel II Exhibition Hall
125 Calle De Santa Engracia
Located in a decommissioned elevated water tank from the early 1900s, this unusual museum is as eye catching from the outside as it is on its interior. The circular brick building has a porthole-pocked metal dome with elaborate geometric designs in the stonework below.
Inside, Canal de Isabel hosts temporary exhibits on contemporary photography from both Spanish and international artists. Each year, during Madrid Fashion Week in March, it features a special show on fashion design. You might not guess it from the large circular staircases, but this museum is fully accessible, with two elevators to help you get from floor to floor.
10. Cerralbo Museum
17 Calle De Ventura Rodriguez
Although it's considered one of the most important museums in Madrid, the Cerralbo is perhaps its most under-the-radar. Opulently designed and decorated, the late-19th-century Italian-style mansion was the home of Enrique de Aguilera y Gamboa, the 17th Marquis of Cerralbo, and his family.
A well-traveled group, the Cerralbo family amassed thousands of objects and pieces of art from around Europe. The collection includes furniture, glass, ceramics, sculptures, paintings, drawings, clocks, armor, and a variety of archaeological artifacts. Baroque tapestries and paintings? You'll find excellent examples here. Fine-cut glass and gilded chandeliers? Got those too. From rooms painted with elaborate ceiling murals and carvings clad in gold leaf, to a carved staircase so spectacularly architectural it makes Buckingham Palace look like a velvet-covered wannabe, this is quite possibly the house museum to shame all house museums.
Pro Tip: There are few display signs around the Cerralbo. Pick up a museum guide at the entrance for context on the different art and objects.
If you're looking for other getaways in Spain, check out these articles: