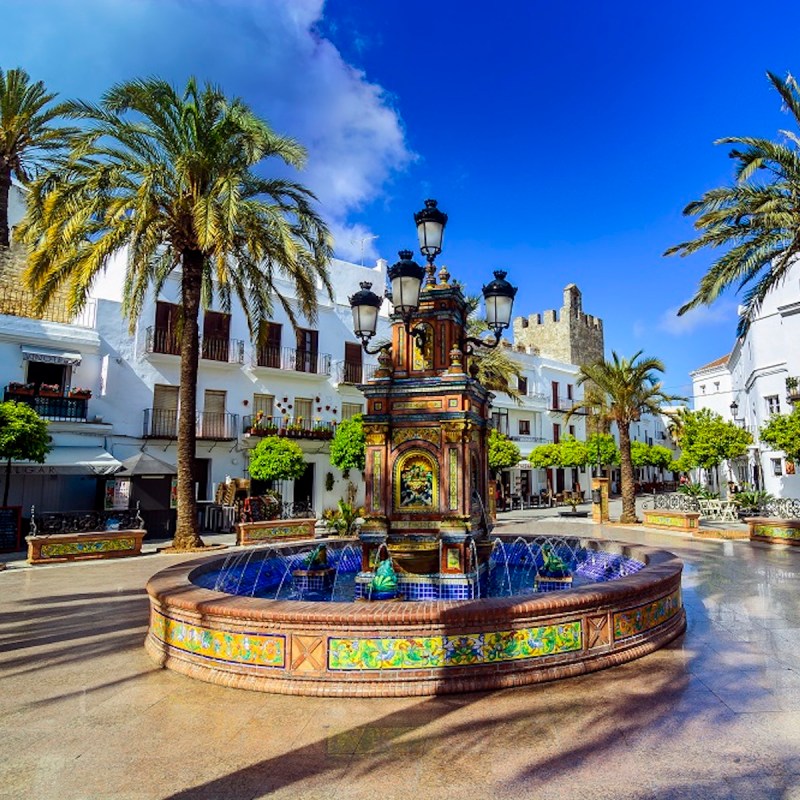 It is hard to rein in my enthusiasm for one of the prettiest sights in the south of Spain: the string of white villages (or pueblos blancos in Spanish) that runs from the Province of Malaga in the east to the Province of Cadiz in the west. Glued to the steep mountains in the background, the villages follow the coastline of the Mediterranean but are located several miles inland. When looking at them from a distance, you sometimes have to wonder how these whitewashed houses with their red tile roofs and colorful door and window frames manage to stay upright rather than slide down the mountainside. But they do, often for a century and longer, lining equally steep, cobbled streets and smothered in flower pots and trailing bougainvillea, geraniums, and hibiscus.
Spain was under Arabic rule for 700 years, and the influence of Arabic art and architecture is clearly visible in the white villages which adds to their unique charm. There are castles or castle ruins, arches, and the distinctive Arabic decorations in the south of Spain known as the Mudejar style. In addition, in Vejer, there is a medieval wall, several churches and convents, pretty lookouts, a beach, and even windmills. In short, everything that is conceived as typical for Andalusia is accumulated in one rather small village, which is why Vejer should be high on the agenda of white villages to visit. Vejer isn't short of fabulous restaurants and hotels either, so a luxurious weekend is guaranteed.
Vejer, complete name Vejer de la Frontera, is located between the cities of Cadiz and Algeciras on the south coast of Spain. It is only 33 miles from Cadiz, half the distance from Algeciras. You might want to consider a luxury weekend in this lovely village, having made Cadiz your base for your stay in Andalusia.
Things To Do In Vejer
Wander Vejer
To familiarize yourself with the layout and beauty of Vejer, which is considered one of the most beautiful white villages of Spain (it has won the First National Embellishment Award in 1978), just wander around the winding streets and let yourself be surprised by what you discover. The village is located on the right bank of the river Barbate — a very pleasant view. However, what pleases me most are the white-washed houses, nearly all of which feature open patios full of flowers and are left open for any passer-by to enjoy and admire. Vejer has avoided chain stores, and instead, you will find countless small arts and crafts shops where you can browse ceramics, Moroccan clothes, paintings, embroideries, and other trinkets that will delight any souvenir hunter.
The centerpiece is the Plaza de España, which dates from the 15th century and, in times past, even served as a bull ring. In the middle stands a beautiful fountain decorated with hand-painted tiles from Seville and four water-spewing frogs. The town hall stands on one side of the plaza, where numerous cafes invite you to have breakfast.
La Cobijada
Leave the Plaza de Espana and climb up Calle Costanello to reach one of the curiosities of Vejer. La Cobijada is a monument to women that shows the curious habit of the women of Vejer to cover their body and face with a black veil, leaving just the left eye uncovered. And no, this has nothing to do with burkas or the Arabic past! It's a tradition people are proud of. Just take notice. Next to the bronze statue of a woman dressed in this so typical fashion for Vejer, is one of the best outlooks over the village, streets, and the white houses.
Arco De Las Monjas
Of course, we are on the lookout not only for curiosities but also for the most photogenic part of this pretty village, and one of the most stunning is Arco de Las Monjas. It is a series of arches formed by a narrow street at the entrance to the ancient Jewish Quarter, framing the panorama behind like a precious painting.
The Castle Of Vejer
We have mentioned before that some white villages also have castles, and Vejer is no exception. By now it will be late afternoon, and taking into account that it can get quite hot in Vejer, it is an ideal time to visit the castle. It is, for strategic reasons, located at the highest point of the village and requires quite a steep climb. The castle, which is still pretty much intact, is open to the public from 4 to 6 p.m. excerpt on Sundays. It makes for another opportunity to learn about the history and look out over Vejer. The castle dates from the 10th to the 11th century and has three rectangular towers. It was declared a national monument in 1931.
El Palmar – Beach
Believe it or not, one of the nicest white mountain villages also has the best beach in the area! Why not start the second day of your luxurious weekend with a refreshing bath and swim in the warm waters of the Mediterranean? Take your car or a taxi from your hotel and make the 9.5-mile drive to El Palmar. If you fancy, you can windsurf or else just have a swim and laze on the fine, white sand and work on your tan. The morning hours are the best to do so, as you will not run the risk to burn. The beach amenities are rather basic, but there are some huts, so-called chiringuitos, where you can get refreshments.
The Medieval Walls
Now that you're back in town and have seen the castle the previous day, it's now time to visit the over two-mile-long medieval wall interrupted by three towers that Vejer has managed to preserve through wars and centuries. You might not be in the mood to walk the entire length, but a small section will give you a good idea of how thick these massive walls are.
Windmills
You simply can't leave Vejer without a look or a short drive to the three windmills that stand behind the historic district on a hilltop. They are symbols of Vejer just like the castle or the mysterious covered left eye.
Restaurants In Vejer
La Juderia
When you're hungry from your first day of exploring Vejer, you might want to round out the evening with a good dinner in a restaurant that has a typical Andalusian ambience and serves excellent local food. Therefore, head to La Juderia (closed on Sunday). You can't go wrong here, especially when you like fish and want to enjoy their specialty, bluefin tuna. You can have meat and other fish dishes too.
Pro Tip: You may want to try the Spanish rice dish paella. Be aware that Spanish families eat paella for Sunday lunch and never for dinner. So, don't do that either unless you really want to look like a tourist who is new to Spain. Another thing to consider is that meals in Spain are taken late — lunch around 3 p.m. and dinner rarely starts to be served before 9 p.m. or later. If you are hungry in between, have some of the ever-present tapas (snacks) served in any bar at any hour.
Merado De San Francisco
If you want to catch the life and atmosphere of a Spanish village, there is no better place to go than to a market where the locals shop. Mercado de San Francisco is just such a place. At this small, covered market in a white building, you can find clothes and trinkets, but mostly food stalls serving Spanish and even Asian cuisine if that is what you like. It has an authentic feel and very reasonable prices.
Corredera 55
If you want to enjoy a more elegant, sit-down meal of excellent Spanish cuisine before you leave, Corredera 55 is your place. The elegant, sophisticated restaurant is located in Plaza de España, so you will have no difficulty finding it.
Hotels In Vejer
As this is a luxury weekend, you don't want to skimp on hotel accommodation and you can't do better than the chic boutique Hotel V, located in a 17th-century building with a roof terrace, bar, and hot tub. The spacious rooms feature extra-large beds and are provided with antique Portuguese furniture. The roof terrace affords a view over the beach and the sea which you can enjoy in comfortable loungers whilst sipping a cool drink from the bar.
Another alternative is Casa la Siesta. This is suitable for visitors who fancy the real, rural Andalusia, in a luxurious 7-bedroom country hotel that is not lacking any modern amenities. It is predominantly adults only and features a heated saltwater pool, an alfresco bar, and romantic outdoor dining under the stars. It is, of course, not in the center of Vejer but is very quiet and relaxing, surrounded by herbal gardens and olive groves. Simply cover the 3 miles to the center of town by taxi.
There is cheaper accommodation available in Vejer, like Hostal El Mirador or Hostal Buena Vista.
For more ideas and inspiration on a trip to Spain, explore these articles: