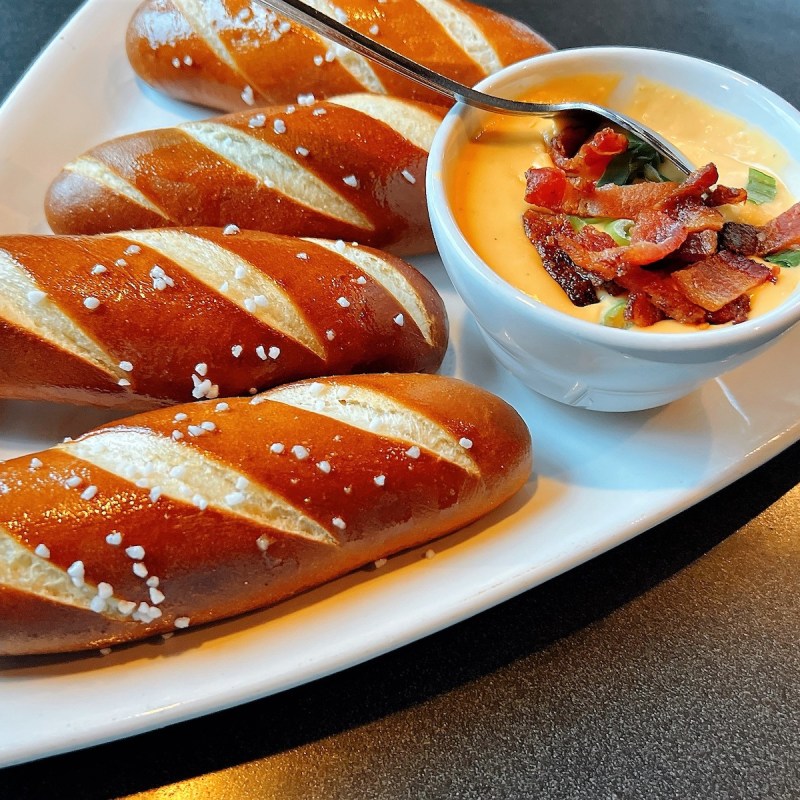 Grand Rapids is Michigan's second-largest city and has a thriving food scene. You'll find everything from fine dining to taco stands. I chose these restaurants because their dishes offer house-made components that are seasonal and local.
Here are seven fantastic Grand Rapids restaurants listed randomly.
1. The Green Well
Located in the East Hills neighborhood, The Green Well has a casual, friendly atmosphere. The green in the restaurant's name refers to the restaurant's nature-forward and sustainable elements. One wall features green plants as a nod to nature. To highlight sustainability, you'll find cloth napkins rather than paper. If you want a straw, request it, as they would prefer not to use them.
Their menu constantly changes, but the theme is comfort food with an international spin, prepared with ingredients from local providers. We found some traditional American comfort food on the menu, like deviled eggs, Creole shrimp and grits, and barbecue pork polenta. But we also found the international side of the menu with items such as beef bulgogi and Green Well curry.
We had the mushroom bao buns with an Asian flair. We chose this starter because the server assured us it was Instagram-worthy. The chef made the buns from a white dough and formed it into a taco shape as the foundation. Then they cooked the mushrooms in hoisin sauce to give them a meaty flavor. My husband, who doesn't eat mushrooms, asked what type of meat it was. Little did he know. Then they added pickled carrots, cucumbers, and a couple of jalapeno slices, for some crunch and heat. Finally, a sprinkle of cilantro and sesame seeds garnished the dish. If you visit, try these.
For dessert, we selected the vanilla bean cheesecake. The base was an oat cookie crust. The pastry chef infused the filling with real bits of vanilla bean, and then they topped it with a maple blueberry sauce. The dessert was easily shareable.
Pro Tip: Ask the kitchen to split the plate if you want to share an entrée or want to divide an entrée between the grandkids. They'll do it for no additional charge.
2. Grove
Grove, also located in the walkable residential East Hills neighborhood, has been completely refurbished to a modern aesthetic during the pandemic. They support local farmers and artisans through their farm-to-fork dining. The basis of their seasonal meals follows the Midwest farming season, so you won't find fresh tomatoes on the menu in January.
Try their twice-baked squash with quinoa, flavored with coconut milk and apricot, harissa, and pumpkin seeds.
When I was there, the menu included a potato-crusted wild striped bass with carrot, ginger, and bok choy. Unfortunately, as with most farm-to-fork restaurants, the menu constantly changes, so your favorite might not be available until the following year.
Pro Tip: Plan to make reservations to ensure you have a seat in this often fully seated venue.
3. Taqueria Luna Cocina
In downtown Grand Rapids, Taqueria Luna Cocina combines West Michigan and Latin America into a venue with ecology as a central theme. They are deeply rooted in sustainability. While they admit that West Michigan doesn't have local avocados, they source local meats and produce as much as possible. When they need non-local items like avocados, they buy them from independent suppliers.
I ordered a mix-and-match plate of three tacos. I love carnitas, and this one didn't disappoint. They made it with braised pork, which they call cerdo. In addition, I selected the carne asada, a steak version, and the slightly spicy chorizo. Each taco used a double corn tortilla so that the meat wouldn't break through and the tortilla wouldn't come apart. They served each with onions and a sprinkling of cilantro. The plate also came with pickled red onions, grilled onions, and lime wedges. I added some guacamole too.
As a side, I had elote, fresh sweet corn, cut off the cob, then mixed with chile, butter, a squeeze of lime, some aioli, and a sprinkle of cilantro.
Pro Tip: They also offer a full menu of Mexican beverages, both alcoholic and non-alcoholic, like Jarritos.
4. Sundance Bar & Grill
Sundance Bar & Grill has two locations, one in downtown Grand Rapids, known as a lunch place, and the 28th Street location, known as the go-to place for weekend breakfasts. While the 28th Street location also serves lunch and dinner, I tend to go there for brunch on the weekend.
They serve American dishes in a Southwestern style. One of my favorite dishes here is the churro pancakes. They take traditional American buttermilk pancakes and add cinnamon chocolate chips. Then they add chocolate sauce on top and sprinkle on some churro crumbles. The dish comes with eggs any way you want them and bacon. You'll also want to order one of their giant cinnamon rolls with icing to divide amongst the table.
I enjoy their tacos for lunch, especially the shrimp or carne asada versions. I always add some guacamole and chips as a side and pair it with the house salsas trio of fire-roasted tomato, avocado-poblano, and hatch chile salsa.
Pro Tip: If you can't make it here in time for breakfast or brunch, they have breakfast for dinner on their menu.
5. Terra
While they offer dinner, I love to have brunch at Terra, meaning Earth. Terra's menu features farm-to-fork fresh dishes with seasonal, locally-sourced ingredients. Terra is a casual, family-friendly environment in a building that's almost 100 years old.
An exhibition-style kitchen and exposed brick contribute to the casual feel, while the modern artwork on display added a pop of color to the walls. The open kitchen features a wood-fired pizza oven.
Summer outdoor dining offers patio seating with large umbrellas. The menu is seasonal, so what's on the menu when I visited may not be in season when you dine there. But I loved their ricotta toast that began with toasted milk bread. Then they spread it with lightly sweetened ricotta and topped it with fresh strawberries and fresh basil. The dusting of sunflower seeds added a slight crunch.
The bowl called "The Hair of the Dog" starts with a foundation of buttermilk biscuits topped with sausage gravy. The garlic-infused biscuits came dotted with shreds of cheddar cheese. Then they topped it with kale and charred onions. The house-made jalapeno hot sauce provides some heat balanced with a hint of honey. Then it's covered in fluffy scrambled eggs. You can order a simple version of biscuits and sausage gravy as a stand-alone dish.
Pro Tip: Terra staff endorses parking in the adjacent lot.
6. MDRD
You'll find MDRD in downtown Grand Rapids, located in the Amway Grand Plaza Hotel's Tower side, on the 27th floor. The restaurant is completely renovated and features stunning skyline views of the city.
The restaurant, pronounced "Madrid," has a menu with a laser-sharp focus on next-level modern Spanish food from Madrid, as the tagline says, the Rhythm of Madrid. MDRD is an upscale fine-dining restaurant that combines Spanish imports with local ingredients. Our servers warmly answered our questions about the dishes. Their enthusiasm will add to your comfort if you're unfamiliar with Spanish food.
The elegant atmosphere features a marble bar and gold and white tile walls. A local artist's murals add a pop of color to the stylish setting. Table settings imported from the Iberian Peninsula add to the Spanish feel.
We started our meal with traditional Spanish tapas, or small plates. After spending 3 months in Madrid a few years back, I couldn't wait to reminisce with a plate of patatas bravas and some croquetas de jamón. I fondly remember having these two dishes with my colleagues before dinner at the bar, and MDRD's version didn't disappoint.
The menu included Spanish classics like mixed paella, roasted Iberian pork belly, and seafood specialties like Spanish octopus.
The mixed paella was a work of art. The protein in this version included shrimp, chicken, and rounds of morcilla. Bomba rice added salty bits and texture, referred to as socarrat. This version also had artichokes and piquillo pepper.
Pro Tip: I suggest making your reservations for sunset to enjoy the panoramic scene from their floor-to-ceiling windows.
7. Monelli's Italian Grill & Sports Bar
Located in the Grand Rapids suburb of Wyoming, Monelli's Italian Grill & Sports Bar is a family-run restaurant serving made-from-scratch Italian specialties. While they are a full-service Italian restaurant with entrees like chicken piccata and classic lasagna, you'll also find a variety of sandwiches and pizzas on the menu.
If you're there for a game, choose to sit on the bar side, which has several big-screen televisions. If you'd like quieter dining, select the dining room. In either case, the food is the same.
I must mention some of the items that are house-made here. They make their bread, sausage, meatballs, pizza sauce, beer cheese dip, and even potato chips. With everything house-made, it tastes fresh.
For an appetizer, begin with the arancini, house-made risotto balls stuffed with fresh mozzarella, then lightly breaded and fried until golden brown. Next, they serve them on a homemade roasted red pepper aioli bed and top them with a dollop of light lime dressing. Another good starter is the beer cheese dip with warm pretzel sticks.
The pizza sub was exactly a pizza on a toasted sub roll. First, the cook spread the roll with house-made pizza sauce, then topped it with Applewood smoked ham, pepperoni, mushrooms, and onions. Then they melted mozzarella cheese over the whole thing and topped it with house-made sausage cubes. It's a nice switch from a traditional pizza with all the pizza flavors. Finally, they serve it with house-made potato chips.
Pro Tip: Monelli's is a free-standing building in a strip mall, so you won't have any issues with parking.
For more ideas and inspiration on Michigan, explore these articles: