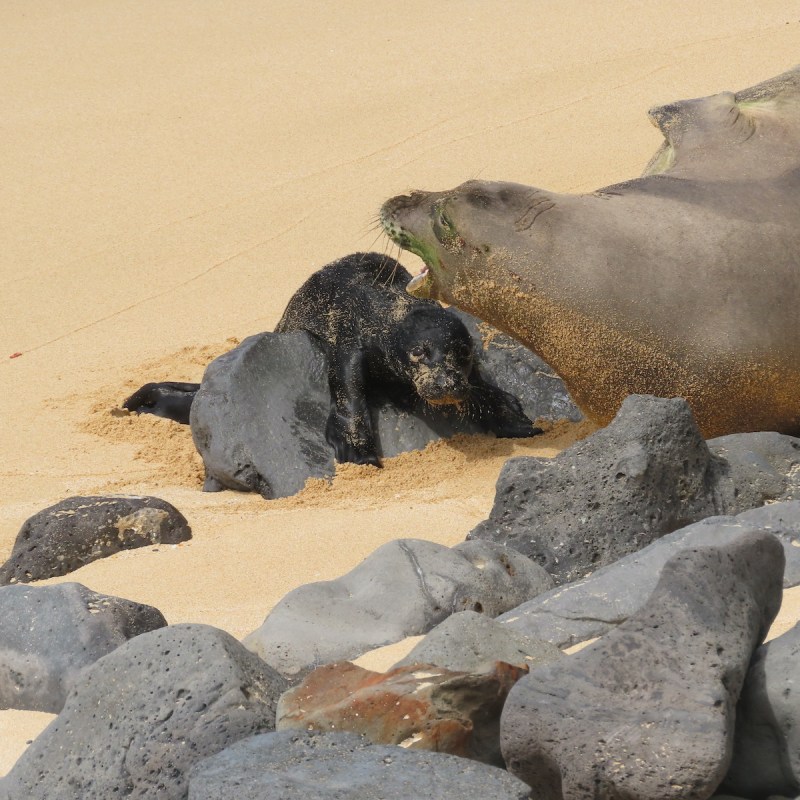 You've seen plenty of cute animal pictures before, but new pictures and videos from Hawaii are not only adorable — they're rare.
Lesley Macpherson, who works for Hawaii's Department of Land and Natural Resources Division of State Parks, witnessed a Hawaiian monk seal's birth. Actually, she not only witnessed the pup's birth, she was also able to take pictures and video of a veteran mother known as RN58 by the DLNR giving birth to a seal pup now known as PO5. By the way, PO5 is the fifth pup born on Oahu, Hawaii, this year.
"As soon as its [amniotic] sac burst, the little one starting wiggling around," Macpherson said in a statement. "Mom checked on it by vocalizing. He was able to move fast."
One of the video clips even shows the pup scaling a large rock.
"It was 20-minutes old when the pup made it to the rock," Macpherson said. "Mom was on the other side vocalizing. The pup took three long minutes to scale it."
Hawaiian Monk Seals
If you aren't familiar with Hawaiian monk seals, there, unfortunately, is a reason.
Hawaiian monk seals are one of the most endangered seal species in the world, according to National Oceanic and Atmospheric Administration (NOAA) Fisheries. The population is estimated to be around 1,400 seals in total, with about 1,100 seals in the Northwestern Hawaiian Islands and 300 seals living in the main Hawaiian Islands.
Hawaiian monk seals can live to ages of 30 years or more. Adult seals, which are 6 to 7 feet long, weigh between 400 and 600 pounds.
The seals are also what's known as "generalist" feeders, which means they eat marine life that's available. So, while they are known to eat common fishes, squids, octopuses, and eels, they also eat a variety of crustaceans, including crabs, shrimps, and lobsters.
Interestingly, if you're wondering why the seal pup in the pictures is black while the mom is gray, there's a simple reason. Newborn monk seal pups are born black, while weaned pups and older seals are dark gray to brown on their back and light gray to yellowish-brown on their belly, NOAA Fisheries explains.
Protecting Mom And Her Pup
Hawaiian monk seals are protected under the Endangered Species Act, the Marine Mammal Protection Act, and State of Hawaii law. With that status in mind, Hawaii's DLNR, NOAA Fisheries, and Hawaii Marine Animal Response will work together to monitor the seal mom and her pup as well as the other seal moms and pups.
"We ask that you please give Hawaiian monk seal mothers and pups plenty of space — at least 150 feet — and avoid disturbing them," NOAA Fisheries explains. "This will ensure the mother remains with her pup and the pup gets the nutrition it needs to develop properly."
NOAA Fisheries also notes that, for the seals' safety as well as people's, everyone needs to stay behind fencing or signs. And, of course, anybody on the beach with a dog needs to keep their dog leashed.
"It's really important, especially during rearing and weaning, that people respect the boundaries set up to protect these seal pairs and to keep their dogs on leashes at all times," Ryan Jenkinson, protected species program lead for the DLNR Division of Aquatic Resources, said.
Be sure to read all of our wildlife content, as well as: