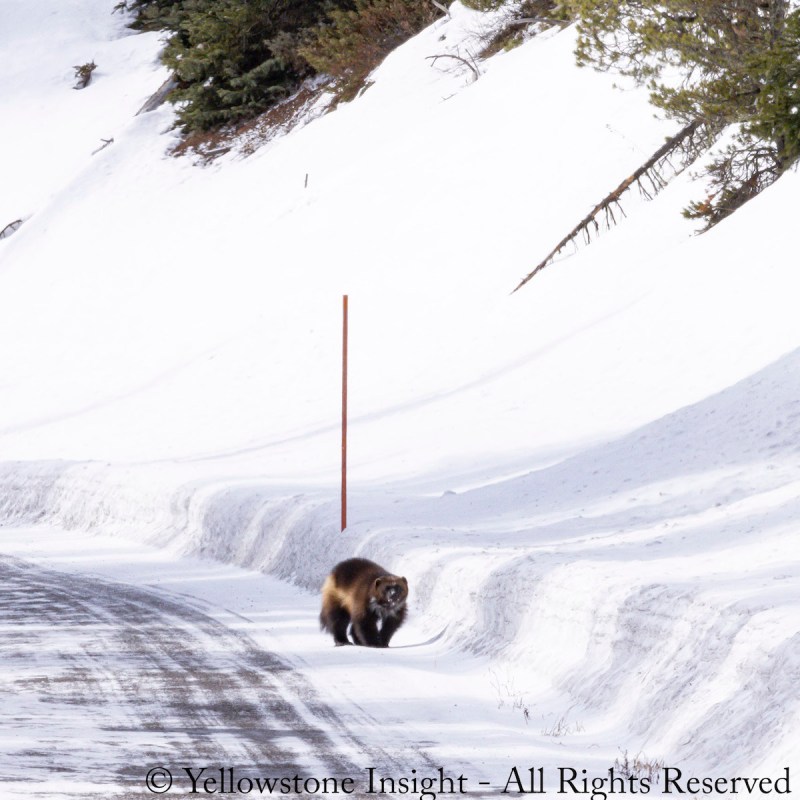 A father, his 9-year-old daughter, and their tour guide recently had what some wildlife experts call the "sighting of a lifetime" in Yellowstone National Park.
The sighting happened by chance last weekend. It lasted only a few frozen minutes. What they saw is one of the world's rarest and most reclusive animals: a wolverine.
"We were returning from the park's North East Gate after an already amazing wildlife day, and when we rounded a corner heading westbound, there was a low-to-the-ground, dark animal loping away from us in the oncoming lane," said MacNeil Lyons, who has been working and traveling in Yellowstone for more than 20 years and owns the tour company Yellowstone Insight.
"The guest said out loud exactly what I was thinking, 'Is that a bear?'" Lyons recalls. "For a hot second, we both thought it might be a young black bear moving away from us, but as it turned and looked over its right shoulder toward us — there was no mistaking the elusive animal was indeed a wolverine!"
What's A Wolverine?
Wolverines, a mid-size member of the weasel family, live in cold, snowy places. Weighing between 13 and 31 pounds and ranging from 38 to 47 inches long, wolverines are "opportunistic eaters," so their diet can include burrowing rodents, birds, eggs, beavers, squirrels, marmots, mice, and vegetation, according to the National Park Service (NPS).
They live in remote areas and are rarely seen, which makes it difficult to measure their population. For instance, between 2006 and 2009, seven wolverines were seen in eastern Yellowstone and adjoining national forests, the NPS explains.
One of the reasons for their elusiveness, not just in Yellowstone but around the world, is that they are highly territorial, Rebecca Watters, executive director of The Wolverine Foundation, told CNN.
"An adult male keeps a territory of up to 500 square miles while an adult female might roam 300 square miles, which doesn't leave much room for a lot of wolverines," Watters said.
"We get sightings," said Zack Walker, a Wyoming Game and Fish Department biologist, according to Cowboy State Daily, "but it's usually on a trail camera or something like that. Very few of them are seen in-person."
The Yellowstone Sighting
Lyons said that because there were no other vehicles in the vicinity, he and the group were able to stop and watch the wolverine for 3 full minutes. Based on its size, Lyons figured the wolverine is a healthy male.
"Another car eventually approached from behind, so I hit the flashers to let them know to slow down and hopefully not to pass us," Lyons explained. "At the sight of the second car, the wolverine decided it was time to bound up a steep hill of snow, northbound to higher ground, out of our line of sight and behind some dense evergreen trees."
As Lyons pulled his truck forward, one of his guests called out, "Stop. There it is!" he recalled. Lyons was then able to put the truck in park, lean out his window, and take several pictures.
Dr. James Halfpenny, a noted wildlife tracker, scientist, educator, and friend of Lyons, later drove to the undisclosed site and looked for wolverine tracks. He found that the wolverine was only on the road for less than 130 yards.
"We actually were very blessed to be there at that exact moment to witness this rare animal before it scampered back into the dense evergreen forest that parallels that stretch of Yellowstone's road corridor!" Lyons said.
Yellowstone, the nation's oldest national park, is celebrating its 150th anniversary this year. To learn more about it, be sure to read all of our Yellowstone content, including:
Be sure to also visit our wildlife category, as well, including Tips For Safely Viewing Wildlife In National Parks.