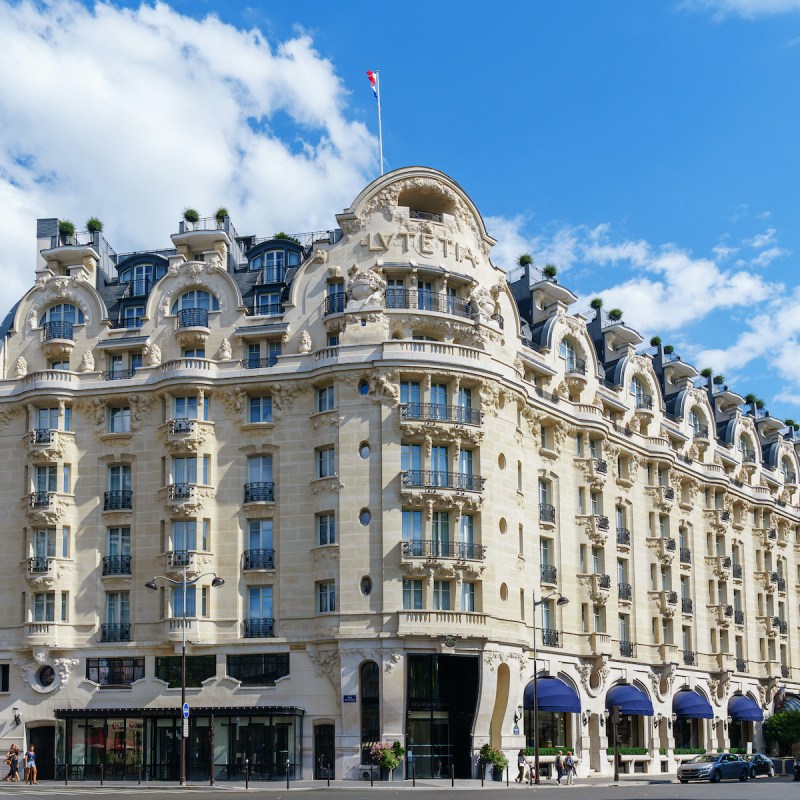 The Saint Germain area is one of the most beloved neighborhoods of Paris with a rich history, formidable architecture, beautiful parks and gardens, chic fashion and home boutiques, and cool cafes. Attractions include the sublime Luxembourg Gardens, the Saint Germain Church (one of the oldest in Paris, dating back to the 6th century), the legendary cafes Les Deux Magots and Café de Flore, where Picasso, Gertrude Stein, and Ernest Hemingway rubbed elbows, and the finest home design, home accessories, and antique shops in Paris.
Saint Germain has a wide range of accommodations to fit every budget from a five-star, Art Nouveau luxury paradise to small boutique hotels to quirky, off-the-beaten-path hotels.
1. L'Hotel
A one-time fleabag hotel in the early 1900s, and where Oscar Wilde spent his last days in exile from England before he died, L'Hotel is now one of the most romantic hotels in Paris. Its sumptuous décor by one of the top interior designers in Paris, Jacques Garcia, and intimate rooms give the feeling you are staying in a luxurious Paris apartment. The hotel only has 20 rooms which range from the compact Mignon room (183 square feet) with leopard wallpaper to the 377 square foot Oscar Wilde suite which has a private terrace, to the ultimate treat, L'Appartement, a 484 square foot one-bedroom suite, with a separate salon, inspired by Louis-Antoine, Cardinal of Noailles and decorated in red velvet and silk. Room amenities include continental breakfast, air conditioning, full-size green toiletries, a mini-bar, and complimentary coffee and tea.
For some R&R after a long day of sightseeing, go to the lower-level spa with an indoor pool and hammam (Turkish-style steam bath).
The cozy and opulent Wilde's bar has an extensive selection of French wines, Champagne, cocktails, spirits, cheeses, charcuterie platters, and other snack food. On the first Thursday night of the month (except August), Wilde's bar hosts live jazz, cocktails, and art experience from 7 p.m. to 11 p.m.
Pro Tip: You must make a reservation in advance to use the spa facilities.
2. Hotel Des Marronniers
Discreetly situated in the courtyard of an 18th-century building, Hotel des Marronniers is a three-star hidden gem. Decorated with traditional French fabrics and carpeting in a cheerful color palette of dark red, sunshine yellow, and sage green, the rooms are small but luxurious. The Superior Garden Room has views of the garden below and the tower from the ancient Saint des Pres church, and the Family Room — actually two rooms joined together — can sleep up to four people, has a double bed, two twin beds, and a full bathroom. All rooms include a flat-screen TV, air conditioning, and a safe.
One of the highlights of Hotel des Marronniers is the peaceful, lush garden veranda where breakfast, drinks, and tea are served. The veranda is outfitted with white wrought iron chairs, café tables with starched white tablecloths, a stone fountain, and a gazebo. The drink menu offers teas, coffees, hot chocolate, French wines, Champagne, beer, and soft drinks. Indoors, there's a library and game room with tufted leather chairs and stone walls.
The Rue Jacob, where the hotel is located, is lined with former mansions from the 1700s, fashion boutiques, fabric stores, and home décor shops.
Pro Tips: The outdoor garden is open to the general public. Hotel des Marronniers has single rooms for solo travelers with a twin bed that are considerably less expensive than the double rooms.
3. Hotel Lutetia
Hotel Lutetia has a fascinating story attached to it. Opened in 1910, it was the first grand hotel on the Left Bank of Paris. The Art Nouveau stunner was founded by the owners of the Bon Marché department store, a luxury emporium for upscale Parisians, who wanted to entice and house international clients when shopping at the store.
In its heyday, it drew a stable of rich and famous clients such as Pablo Picasso, President Charles DeGaulle, Josephine Baker, and James Joyce, who partly wrote Ulysses while staying at the hotel. During WWII, when the Germans occupied Paris, they took over the hotel. In an ironic twist, when the war ended, the hotel was converted into a residence for refugees and prisoners of war.
In 2014, the Lutetia went through a gut renovation for 4 years at a cost of over 200,000,000 euros and reopened in 2018. It was redesigned by the prestigious French architect Jean-Michel Wilmotte, who designed galleries for the Museé D'Orsay, the Louvre, and the Rijksmuseum in Amsterdam. Although the rooms and suites were completely redesigned, many of the Art Nouveau architectural details were preserved and restored.
The hotel now has 184 rooms with 47 suites along with seven "signature suites" including the Josephine Baker, with panoramic views of the Eiffel Tower, and the duplex Saint Germain suite, designed by film director Francis Ford Coppola, measuring a generous 1,800 square feet with an expansive, furnished terrace with 360-degree views.
Rooms are lavishly appointed with Carerra marble bathrooms, furniture from Poltrona Frau, and silk pillows in Hermes fabric. In addition, all rooms have king beds, Hermes toiletries, Murano glass lights, a Bang & Olufsen LED TV, oak floors, and touch screen room controls.
On the lobby floor, a magnificent, restored fresco runs along the 100-foot Bar Josephine which serves creative cocktails by mix master Nicola Battafarano and has a grand piano and jazz trio on Sunday nights. The hotel also has two restaurants, the Brasserie Lutetia and the more informal Le Saint Germain, and the holistic Spa Akasha has a 54-foot-long indoor swimming pool, jacuzzi, and a list of massages and facial treatments.
Pro Tip: Visit the food halls of the Le Bon Marché, La Grande Epicerie, located in a separate building across the street.
4. Le Relais Saint Germain
Just down the street from the Odeon metro station, the outside of Le Relais Saint Germain is a welcoming site with flower boxes on each window filled with pink flowers. Owner Yves Camborde took over the 17th-century building in 2004, creating a stylish four-star hotel with 22 rooms, all individually decorated with an eclectic combination of contemporary and antique furnishings. All rooms feature air conditioning, a coffee maker and tea kettle, a mini-bar, air conditioning, free Wi-Fi, and complimentary continental breakfast served in your room or at the restaurant.
Besides running a hotel with a personal touch where guests are treated like family members, Camborde is also a stellar chef and has three restaurants next to one another and one other around the corner. Le Comptoir is frequently rated one of the best restaurants on the Left Bank. The inside is tiny and only seats about 20 people, but the outdoor terrace with heat lamps and blankets is much more substantial. Dinner reservations are almost impossible to get, but as a guest of the hotel, you are guaranteed a table. Le Comptoir de la Terre is a stand-up, counter restaurant specializing in small plates, and the Le Comptoir de la Mer is the same setup as Comptoir de la Terre but with seafood small plates. Le Comptoir du Marché is a casual restaurant with small plates, main courses, and an extensive French wine list.
5. Hotel Des 2 Continents
A great find, Hotel Des 2 Continents is a small, three-star hotel. Single rooms start at 135 euros a night and double rooms start at 141 euros a night and include air conditioning, free Wi-Fi, a flat-screen TV, and a room safe. Hotel Des 2 Continents is conveniently located near the Saint Germain des Pres Church, designer shops on the fashionable Boulevard Saint Germain, and the food halls of the Marche Saint Germain.
6. Esprit Saint Germain
The Esprit Saint Germain is a five-star hotel that is known for its great service and refined elegance. The hotel is located a block away from the Saint Sulpice Church, the second-largest church in Paris after Notre Dame. Famous for being in The Davinci Code, Esprit Saint Germain is the quintessential neighborhood hotel. The spacious rooms and suites are tastefully decorated with contemporary furniture in neutral, soothing tones. Premium amenities include Diptyque toiletries, thick terry cloth bathrobes and slippers, Nespresso machine and tea kettle, complimentary fruit platter upon check-in, double glazed windows to keep the noise out, mini bar with snacks and drinks, and a USB plug to charge your electronic devices. There's also a specifically designed room to accommodate guests who have limited mobility.
Esprit Saint Germain also offers fully furnished, one- and two-bedroom apartments with hotel services to make you feel like a true local. Apartments come with a kitchen with a microwave, dishwasher, refrigerator, and stovetop burners. The two-bedroom apartment, measuring 950 square feet, can accommodate up to seven people.
Pro Tip: Visit the nearby Pierre Hermé pastry and chocolate shop known for its French macarons in exotic flavors and extraordinary pastries.
7. Pavillon Faubourg Saint-Germain
Nestled on a quiet side street just off Boulevard Saint-Germain, the newly opened Pavillon Faubourg Saint-Germain is the epitome of a chic, Parisian boutique hotel.
The original building, a former palace built in 1642, has been transformed into a five-star hotel with 47 rooms, a spa with a pool, and a restaurant. The individually designed rooms are done in a tasteful contemporary style, and amenities include air conditioning, a bathrobe and slippers, a mini-bar, bottles of water, and an in-room safe.
At Les Parisiens restaurant, Chef Thibault Sombardier prepares classic dishes from Burgundy and Beaujolais, the regions where he spent his childhood. The menu includes roasted veal chop with morel mushrooms, white asparagus with mousseline sauce, and a heavenly chocolate mousse served warm with almond hazelnut praline and buckwheat vanilla ice cream.
If you fancy a drink or aperitif, relax in the James Joyce Bar, named after the legendary author who once lived in the building. Enjoy a themed cocktail; for example, the Ulysses-inspired Bloom Like a Geisha, a concoction of Sakura passion flower–infused rum, yuzu, and vanilla.
For more ideas and inspiration on Paris, explore these articles: