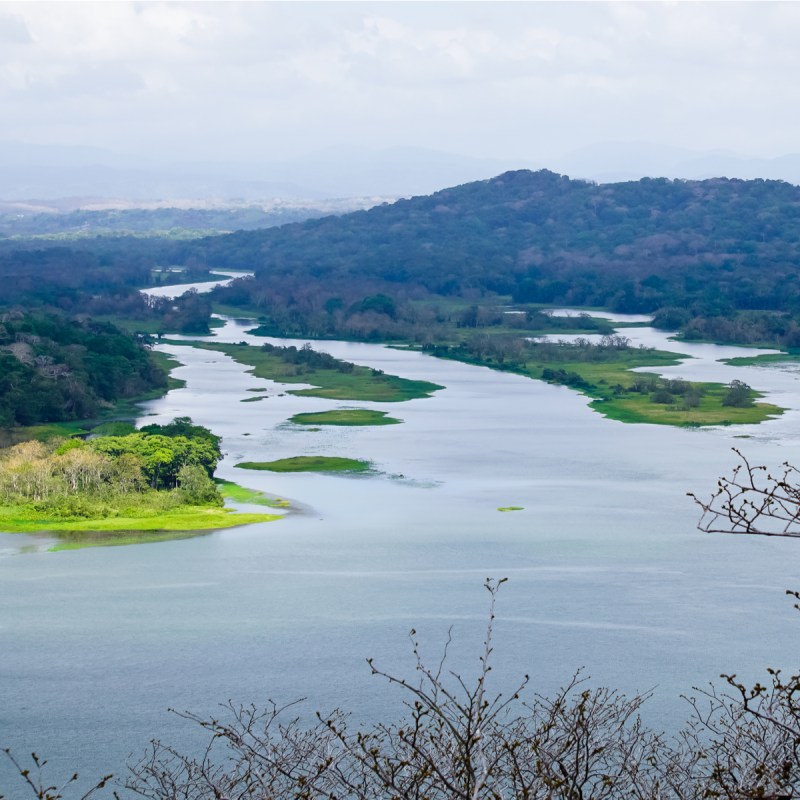 It's imperative to feel comfortable and safe while traveling.
Medjet
provides premier air medical transport, travel security, and crisis response memberships, providing peace of mind for an affordable price.
I simply prefer to be outside more than inside and am often labeled a "nature lover." Vacationing in national or state parks for over 30 years, I occasionally met a few wild things but rarely veered off a maintained trail. Sadly, I missed many beautiful and fascinating aspects of our planet — the animals on the other side of my secure corridor.
It all changed when I retired. A courage vein tugged and I created a bucket list that eventually included exploring the Americas below Mexico and seeing as many adorable animals as possible. Would these creatures be as adorable closeup as they are on the screen in the nature documentaries I'd seen? I took a deep breath and followed my bird-watching buddies to a primeval rainforest in Panama for 10 days to find out.
It was the vacation of a lifetime and the beginning of a passion for cruising, crawling, climbing creatures that thrive in a rainforest.
According to National Geographic's Resource Library, "a rainforest is an area of tall trees and a high amount of rainfall." The entry goes on to state that "rainforests are Earth's oldest living ecosystems, with some surviving in their present form for at least 70 million years." Thousands upon thousands of avian, insect, reptile, and mammal species are found under a rainforest canopy.
Over 60 percent of Panama is covered in forest, resulting in the largest forest cover of any country in Central America. But that was not always the case. During the period when the United States built the Panama Canal, vast areas of the forest were destroyed, losing essential habitat for many animals whose diets are primarily insect-based. A measureless swamp after annual tropical rains resulted in creating the perfect habitat for malaria-carrying mosquitoes now without natural predators. Today, the forests have returned, along with reptiles, bats, and birds, greatly reducing the threat of malaria.
To get the most out of a Panama rainforest excursion, join a tour group with professional guides (more on my recommendation below) who will explain the beauty and importance of each animal encountered, all at a safe distance. Panama is a beautiful country, full of nature adventures, great food, and charming villages. Venture outside the "city box" into the natural side of Panama and discover amazing creatures, stunning flowers, and soul-pampering peace.
Let me share a few of my favorite wild animal encounters in Panama's rainforest, plus a few just-plain-fun things to do, and where to stay, while visiting this unique Central American country.
1. Sleep In A Radar Station
Canopy Tower was originally built in 1963 as a U.S. military radar station during the Cuban Missile Crisis to defend the Panama Canal. Located in the middle of Soberania National Park, the facility has been transformed into a charming bed and breakfast, recently awarded the 2020 Terra Incognita's Top Ethical Ecotour Providers.
2. Wine And Dine On Top Of A Jungle
On the third floor of Canopy Tower is an elegant restaurant with 360-degree views of the forest canopy. Breakfast every morning included European and Panamanian specialties accompanied by fruit-eating toucans nearby. Delicious chef-cooked meals in the evenings were backdropped with amazing sunsets and squawking parrots flying to their roosting trees.
3. Hang Out With A Sloth
Just outside the restaurant is a wrap-around deck with an honored regular resident. One unique tree allowed to grow above the deck level is the favorite perch for a three-toed sloth. Seen almost every day, it is probably the most photographed sloth in history!
4. Take A Hike With An Ant
Nearby Soberania National Park spans 55,000 acres across Panama. One of the many hiking trails deep into the park is the Camino de Cruces, built in 1527 to link Old Panama City to the port of Venta de Cruces. Parallel to the foot trail is a four-inch-wide leafcutter ant highway. Ecological engineers, they cut small pieces from leaves to carry back to their underground nest, not to eat, but to rot, creating fungus that feeds the colony. These little ants can carry up to 50 times their own weight, which is comparable to a human lifting two cars above their head.
5. Tangle With A Trogon
Once a petroleum pipeline thoroughfare during World War II, Pipeline Road now serves as the main access through Soberania National Park. Holding the record for the most bird species spotted within a 24-hour period, finding distinctive birds was our goal on this day. Soon, a black-tailed trogon posed for photos, daring us to get closer. There are eight species of trogons in Panama, all colorful and with an attitude. Look high in fruit trees for bright orange and red feathers.
6. Spread Your Wings With An Anhinga
The Chagres River runs through the middle of the Soberania forest, giving visitors many opportunities to see creatures that live around water, including anhinga. As large as a wild turkey, these birds can be intimidating as they dry their wings after fishing, which is a must, or else they cannot fly. Look for them perched in trees or sitting on rocks.
7. Cross The Centennial Bridge
Built in 2004, the Centennial Bridge is one of the most beautiful bridges in South America. Designed to mimic the mountains and appear to float among the clouds, the bridge can be seen for many miles.
8. Discover Sweet Flowers With A Honeycreeper
Flowers abound in a rainforest near the equator, where the climate allows a year-long growing season. There are over 1,200 species of orchids alone in Panama. Tour packages tailored to hunting orchids are common. The green honeycreeper, a small active bird the color of the forest, is often found circling flowers.
9. Crawl To Adventure With A Caterpillar
The silk moth caterpillar is a common rainforest resident, but do not touch. Not only do they blend in perfectly with their environment, but they also ensure their survival with an artsy hairdo. Each spiky bristle is filled with toxins that cause fiery stings — making the caterpillar unappetizing to predators. This caterpillar will turn into a colorful moth with large spots resembling eyes — another survival technique in their everyday adventure to stay alive.
10. Hum Along With A Hummingbird
Over 30 percent of hummingbird species in the world live in Central America, such as this violet-bellied hummingbird found at the Panama Rainforest Discovery Center. Hundreds of hummingbirds greet visitors at the center loaded with hummingbird feeders along the deck. A 174-step spiral staircase with interpretive panels takes visitors through the growth levels of a rainforest, from seedling to the canopy.
11. Get A Suntan With An Iguana
Of all the animals encountered in a rainforest, amphibians and reptiles are often the most fascinating. But no one can deny that the showstopper is the magnificent green iguana. Able to grow as large as 6 feet from head to tail, this herbivore can surpass 20 pounds in a healthy rainforest. A cold-blooded reptile, iguanas are often spied sunbathing on top of rocks.
12. Blend In With A Butterfly
The survival of most rainforest creatures depends on camouflage, and the goatweed leafwing butterfly, resembling a dead leaf, is a perfect example. Because each butterfly relies heavily on its host plants, many of the 1,800 species of butterflies in Panama are seasonal.
Pro Tip: April through December is the best time to visit for butterfly enthusiasts.
13. Take A Selfie With An Elephant Tree
Panama has 3,043 tree species, but a favorite is the ceiba tree. Nicknamed the elephant tree because of their massive trunks, they make perfect resting spots after a long hike.
14. Howl With A Baby Monkey
Gatun Lake borders Soberania National Park and is a haven for monkeys with various monkey species protected by the park living on a group of islands. However, they roam freely among treetops and can be found throughout the forest. The largest and most prevalent is the howler monkey. Catching a group carrying their infants was an extraordinary experience. Extremely quiet slipping between trees, when humans intrude, they howl loudly in protests that can be heard for miles.
15. Go Fishing With A Kingfisher
Calamito Lake inside Soberania National Park has a marina with a pleasant deck and benches great for observing water wildlife such as graceful egrets and stocky herons. Watching green kingfishers suddenly swoop from a standstill and pose to catch fish — and cheering when they're successful — is a favorite spectator activity.
16. Do The Wave At The Canal
Completed in 1914, the Panama Canal continues to save ships almost 8,000 miles on their journeys, which would otherwise take them around the South American continent. Less than an hour's drive from Panama City, the canal is a favorite family getaway destination on weekends, with groups timing their trips to when a cruise ship uses the 40-mile canal. Slipping by slowly from one level to another, the ship is within 10 yards of hundreds of spectators. Each side waves to each other, sometimes with cruisers waving flags from their home countries and those on land holding up Welcome To Panama signs.
Inspired and want more on Panama? Consider 9 Reasons I Decided To Spend My Retirement Years In Panama, The Best Things To Do In Panama, and The Reasons I Decided To Buy A Second Home In Panama.