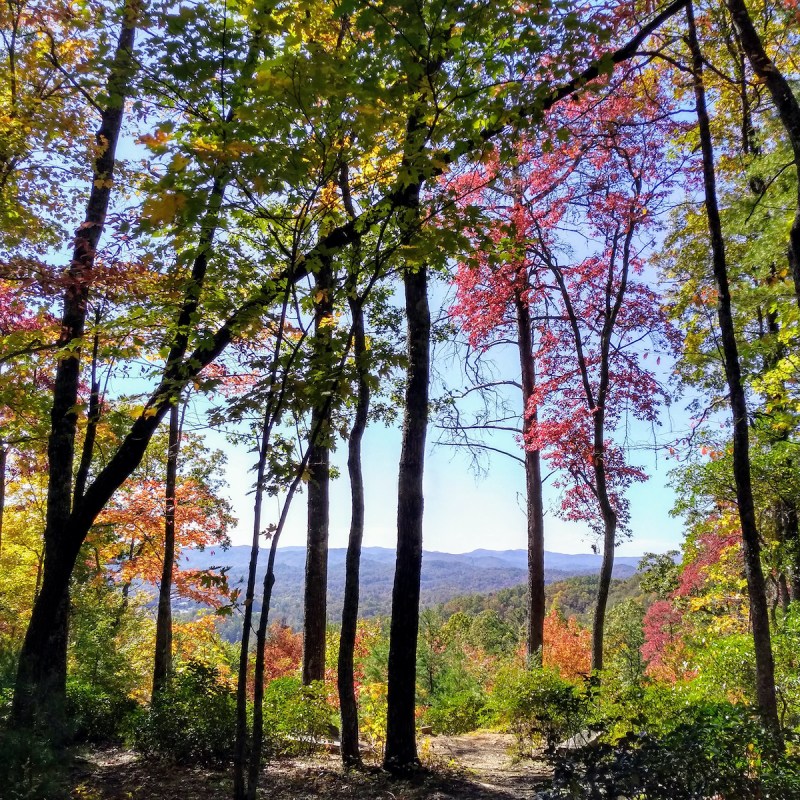 North Carolina's Pisgah National Forest is like a long, cool drink in summer, a palette of brilliant warm colors in fall, a quiet retreat from the world in winter, and a colorful, fragrant promise of rebirth in spring. This natural treasure is located 2,100 feet above sea level in the mountains of Western North Carolina. It lies along U.S. Route 64, northeast of the charming town of Brevard. From Asheville Regional Airport, it is approximately 30 minutes by car.
In 1915, the renowned Vanderbilt family sold 86,700 acres of prime forest land to the United States government, and Pisgah National Forest was born. The forest now extends over 500,000 acres through parts of 15 North Carolina counties. It is considered the birthplace of modern forestry in America, contains the highest mountain peaks east of the Mississippi River, and is a haven for hikers, bikers, and folks who simply want to bask in nature's generosity.
Note: Accommodations for this article were generously provided by Pilot Cove. All opinions are entirely my own.
1. Find Your Forest Happy Place
The Pisgah National Forest is divided into three main Ranger Districts. My husband and I stayed in a luxury cabin at Pilot Cove in the Pisgah Ranger District, situated on either side of the Blue Ridge Parkway south of Asheville. The Appalachian and Grandfather districts also offer a wide range of experiences, however, on this particular visit, we confined ourselves to activities within easy driving distance of Pilot Cove.
The cabins at Pilot Cove are modern, well equipped for self-catering, and comfortable. Our deck had a lush forest view that made outdoor dining and relaxing a delight.
The 64-acre property features an amphitheater for special events and live music in summer, as well as hiking and biking trails. Add an assortment of nearby restaurants and easy driving distances for day trips to Asheville and Biltmore Estate, and settling in at Pilot Cove as your home base for a family forest vacation or weekend getaway makes perfect sense.
Pro Tip: Depending on the season, area roads may be closed due to snow, ice, or flooding. Be sure to consult weather and road condition information before leaving home.
2. Hike And Bike For Health And Happiness
Pisgah National Forest is home to hundreds of miles of hiking trails. Whether you enjoy long, challenging hikes, easy-to-navigate trails, or something in between, the forest gives you an abundance of choices.
For easy, family-friendly hiking, Graveyard Fields offers a unique landscape with a waterfall reward. The hike to the top of Looking Glass Rock is more challenging, but waiting atop this iconic white-granite pluton rock is the kind of spectacular 180-degree view that makes the effort well worth while. And these are only the beginning of the adventures you'll find hiking in the forest.
Mountain biking enthusiasts will discover dozens of trails to conquer, ranging from easy to challenging. Be aware, though, that the majority of trails are appropriate for intermediate or advanced riders.
Try your wheels on Black Mountain Trail, Sycamore Cove trails, and the Bracken Mountain trail system. You'll find a kinder, gentler option riding the path along the Davidson River.
You can also explore Pisgah National Forest on horseback for a loftier view. But whether you hike, bike, or ride, winter is the best time to catch breathtaking views of the mountain peaks through the barren trees.
Pro Tip: Before venturing too deep into Pisgah Forest, be sure to stop in at the Pisgah Ranger Station/Visitor Center for maps and helpful information on trails.
3. Catch A Fish Or Two
The Pisgah Ranger District of the forest lies in Transylvania County. The area is blessed with the kind of fresh, clear mountain water sources that make the to 500 miles of fishable water every fisherperson's dream come true.
Small lakes and streams are ideal for fly fishing. Try spinner and reel fishing on larger rivers. Rent a boat, or bring your own, and get out on the French Broad River. Whichever method you choose, those fish are calling your name.
Pro Tip: You will need a North Carolina fishing license in order to cast your line.
4. Engage In Sports In And On the Water
Pisgah National Forest lakes and rivers don't only belong to the fish. Swimming, boating, paddle boarding, tubing, kayaking, canoeing, and rafting are even more enjoyable when surrounded by the beauty of the forest. Lake Powhatan Swim Area and Davidson River Recreation Area are only two of the many options for water sports.
5. Take A Scenic Drive
Not in the mood for non-stop activity? Pack a picnic, get in the car, and see what you can see.
The Blue Ridge Parkway is a popular scenic drive, and for good reason. Stunning scenery beckons you at every turn and along every stretch. The parkway runs through large portions of Pisgah National Forest, allowing you to take in its splendor. Choose your perfect spot to get out of the car, stretch your legs, and dine al fresco.
Another option is the Forest National Heritage Scenic Byway, which connects with the Blue Ridge Parkway at milepost 411.9. Along this 15-mile stretch, you'll find spectacular Looking Glass Falls, visible from your car, or up close via a short walk. Or you can take a short hike up to Moore Cove Falls. The entrance to the byway is in the area of Brevard.
6. Splash Out At Sliding Rock
If you're traveling the Forest National Heritage Scenic Byway, be sure to stop at Sliding Rock Natural Water Slide, where pure fun awaits you. A 60-foot natural water slide ends in an 8-foot deep pool and makes for an exhilarating ride down on your bottom, and a refreshing dip.
Sliding Rock is staffed with lifeguards, and restrooms are open from Memorial Day weekend through Labor Day weekend, 7 days a week, from 9 a.m. to 8 p.m.
Pro Tip: This is a wildly popular site during the summer months, so arrive early.
7. Visit The Cradle Of Forestry
At the Cradle of Forestry, a comprehensive 6,500-acre learning center, you will learn about the history of forest conservation and management in Pisgah National Forest. The experience will open your eyes to the heart and history of this sparkling gem of nature.
In the Forest Discovery Center, you'll find a wealth of informative interactive displays, including an old logging train and a helicopter simulator that takes you on a firefighting flight.
At the first forestry school in America, you can take guided walks, visit historic buildings, and come away with a better understanding and appreciation of forestry in general, and the Pisgah National Forest in particular.
The Cradle of Forestry is a seasonal venue, so be sure to consult the website for current information.
Pro Tip: Before your visit, download the National Forest App (available on the Apple Store and Google Play), featuring maps of the Pisgah district and the Cradle's 3 miles of interpretive trails, an audio tour of the historic Biltmore Campus trail, and more.
8. Explore The Fun And Fascinating Town Of Brevard
For a rainy day fallback or a delightful small-town experience, Brevard will keep everyone occupied and engaged. From free live music to museums, live theater, and shopping, Brevard has enough events and activities to keep you coming back.
Two museums to check out are the Veterans History Museum of the Carolinas, filled with fascinating historic military artifacts; and the Transylvania Heritage Museum, tracing Transylvania county's history from its early settlement to the present.
You don't have to be a child to enjoy browsing O.P. Taylor's, a two-and-a-half-story toy store on steroids. If a toy, book, game, or puzzle exists, you'll probably find it at Taylor's.
Simply wandering the streets of Brevard will bring you face-to-face with unique items of interest, such as a creative, colorful rendition of a crane hanging in front of a shop and bobbing in the breeze.
9. Eat, Drink, And Be Pleasantly Surprised
Although you can do your own cooking in your Pilot Cove cabin, food and drink are within close proximity if you feel you need a break. Hawg Wild Barbecue has a down-home vibe and food to match. For something a little more international, check out Sora Japanese. Or for the seafood lover in you, try Pisgah Fish Camp.
When in Brevard, be sure to drop into Bracken Mountain Bakery for some good coffee and freshly baked cookies, pastries, and bread. Brevard is also home to Plaza Garibaldi, a cheerful, budget-friendly Mexican restaurant serving tasty food along with its friendly service.
For a brew or two, try Oskar Blues Brewery or the Brevard Brewing Company. The former can be a little difficult to find, but the unique on-tap offerings and funky atmosphere make it worth the effort to get there.
Pro Tips
A visit to Pisgah Forest is a wondrous experience year round, but spring and fall will give you a less crowded, more affordable vacation.
Looking for more to do in the Tar Heel State? Consider: