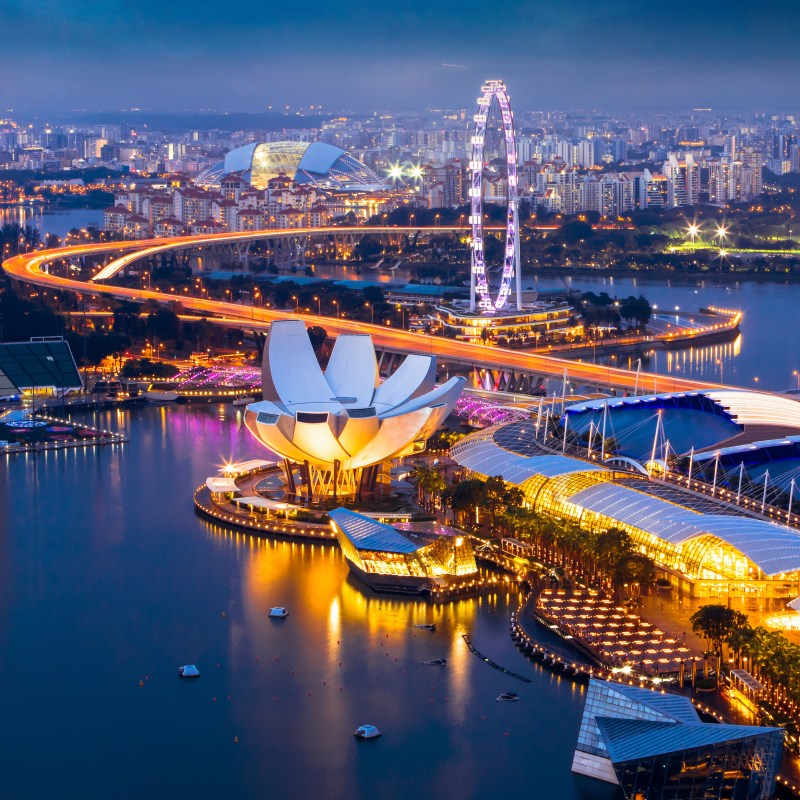 Singapore is an amazing city full of things to do, see, and eat. Once seen as a stopover on the way to other Asian destinations, Singapore has become a hot destination. From Marina Bay Sands to the Singapore Zoo Night Safari to the Super Trees in Gardens by the Bay, Singapore has dozens of top attractions. While you are exploring the major attractions, though, take time to see some of these Singapore hidden gems, too.
1. Learn About World War II At The Former Ford Factory
The Former Ford Factory was once a factory but is now a museum that tells the story of World War II from the British, Japanese, and Singaporean perspectives. It is the place where the British surrendered to the Japanese during the war. A guided tour will open your eyes to the Singaporean experience of WWII and is absolutely worth seeing. The museum is one floor and is wheelchair accessible. Here, you can enjoy very informative free tours.
Closest MRT: Beauty World
2. Bukit Brown Cemetery For A Glimpse of Singapore's Past
Bukit Brown Cemetery is a very unique place in Singapore. The cemetery has been in existence since at least 1833. A guided tour is the best way to see the cemetery and learn about the Hokkien and Teochew clans' burial customs. On a tour, you will also learn about the famous people buried in Bukit Brown.
Long pants, insect repellent, water, and a hat are essential here, and know that the terrain is uneven in many places. It's a long way from the bus stop, so consider taking a Grab (Singapore's version of Uber or Lyft).
Closest MRT: Botanic Gardens or Caldecott
3. Tranquil Beaches On St. John's, Lazarus, And Kusu Islands
If you think of a beach in Singapore, Sentosa most likely comes to mind. But there are other beaches that are equally beautiful and less crowded. St. John's, Lazarus, and Kusu islands are a short ferry ride from the mainland. St. John's is the first stop. A 10-minute walk from the pier to Lazarus Island will bring you to a lovely and secluded beach. The water is very calm and good for inexperienced swimmers.
Kusu Island, the second ferry stop, is a tiny island with a Chinese temple and three Malay shrines.
You will need to bring food and drink for this excursion as there is no food to purchase on the islands. Many Singaporeans go for the day for picnics, swimming, and fishing.
Closest MRT: Marina South Pier
4. Visit The Thian Hock Keng Wall Mural
Behind the Thian Hock Keng Temple at Amoy Street is a 40-meter mural depicting the early voyage of Hokkien immigrants to Singapore. The Singapore Hokkien Huay Kuan (Clan Association) commissioned YC Yip, a local muralist, to document the lives, history, culture, and contributions of their clan members to the country.
One of the first Chinese clans to make it to Singapore from what is today known as the Fujian Province in China, the Hokkiens were instrumental in the building of Singapore. The coolies (men) and samsui (women) were from Fujian and they built the original HDB flats. Many of the early wealthy merchants who had warehouses along the Singapore River were also Hokkien.
Closest MRT: Telok Ayer
5. Join The Celebration At The Istana
Singapore's President resides at The Istana. Built in 1869 by the British, The Istana is just off Orchard Road. If you are lucky enough to visit Singapore on one of the five days of the year when The Istana is open to the public, do not miss this opportunity. Families come to picnic on the grounds and to experience the festivities during the celebrations. Make sure to go inside and check out the exquisite collection of art and gifts given to Singapore by other nations. The lines get very long by late morning, so plan to arrive early. Walking shoes are a good idea as the buildings are up a hill and the grounds spread out.
Closest MRT: Dhoby Ghaut
6. Cutting Edge Culture At The Aliwal Arts Centre
Located in Kampong Glam, the Aliwal Arts Centre focuses on performing arts. The center hosts an Urban Arts festival, music, talks, parties, and other events. The area around Aliwal has some of Singapore's best street art. It is also within walking distance of the Sultan Mosque and Haji Lane. Many restaurants, bars, and shops can be found nearby. This is also a great area to pick up unique souvenirs.
Take a break at Rich and Good Cake Shop on Kandahar Street — it is famous for its amazing swiss roll made with local flavors.
Closest MRT: Bugis, Lavender, or Nicoll Highway
7. Nonstop Shopping At Mustafa
If you're jetlagged and unable to sleep, head to Mustafa for a bit of shopping in the middle of the night. Known for its budget prices and variety of goods, Mustafa has six floors jam packed with electronics, jewelry, perfume, clothes, food, and anything else you can imagine. It is open 24 hours a day. The top floor has a wide selection of spices at reasonable prices. You can also change most currencies at the Mustafa currency exchange.
Closest MRT: Farrer Park
8. Shopping And Dining At Holland Village
Holland Village was established by the Dutch in the early 1900s. With European-influenced aesthetics, it is a very popular place for expats, artists, musicians, and families to live. And today, it is a trendy area for both locals and tourists alike. Cafes, restaurants, hip bars, art galleries, and home-grown retail outlets await the visitor.
Closest MRT: Holland Village
9. Take A Hike Along The Southern Ridges
The modern image of Singapore is a city of high rises. And there are a lot of them. Two hundred years ago, Singapore was a lush tropical forest. You can still experience the tropical forest today while seeing amazing panoramas of the city and its southern islands. There are many hikes, from short and easy to long and strenuous.
If you are up for a long (and likely hot) three- to five-hour hike, head to the Southern Ridges. Made up of Mount Faber Park, Telok Blangah Hill Park, Kent Ridge Park, HortPark, and Labrador Nature Reserve, this 6.2 mile span of green open spaces, pathways, parks, and gardens is perfect for getting away from the hustle and bustle of the city. It is also wonderful for bird watching.
And don't worry — you need not do this entire 6.2 mile walk to have the experience.
10. Walk Henderson Waves
Henderson Waves, Singapore's highest pedestrian bridge, will give you a Singapore nature experience in a one-hour walk. Located in the middle of Henderson Road and spanning almost 900 feet, the bridge rises 118 feet above ground. This undulating wave-like architectural structure connects two hills, Mount Faber and Telok Blangah Hill. Walking along the bridge will give you a sense of being in an elevated forest canopy.
There are a few ways to get to Henderson Waves. Take bus51, 57, 93, 97, 120, 166, or 175 to Alexandra Road. Get off at the bus stop just past Depot Road. Then stroll along the elevated forest walkway for about one mile to reach Telok Blangah Hill.
11. Enjoy Labrador Nature Reserve
Another possibility is to skip the walk and go directly to Labrador Nature Reserve. The reserve is great for bird watching, nature, and views of the sea. One of the fiercest World War II battles took place at Labrador, and you can see Fort Pasir Panjang. It is a good spot for families and children. There are walkways, so some (but not all) of the reserve is accessible.
Closest MRT: Labrador Park
Alternatively, you can get to Labrador as an extension of the Henderson Waves Walk. If you are walking the Henderson Waves starting at Telok Blangah Hill, you will end up at Mount Faber Hill. Once there, locate the Marang Trail, which will bring you down to Harbourfront MRT. Either walk along the harbor or take the Circle line two stops to Labrador Park from Harbourfront MRT.
12. Relax At Sentosa
Should you decide to do the 6.2 mile walk, you will end up at Mount Faber. At that point, you might want to take a well-deserved ride on the cable car over to Sentosa Island, where you can spend the rest of the day lounging on one of its three beaches, exploring Universal Studios, gambling at Resorts World, or enjoying the SEA Aquarium.
13. Eat Chili Crab With the Locals
Chili crab is Singapore's national dish. It is savory, spicy, and delicious. Try it while in the country. Best to go where the locals go: Jumbo or Long Beach restaurants at the UDMC Seafood area right next to the ocean. You will find many families and office workers digging into chili crab at the numerous round tables at Jumbo or Long Beach. Prices are reasonable, service is efficient, and the food is wonderful. We recommend that you try the black pepper crab in addition to chili crab.
If you are in Singapore on a short stopover, UDMC is only a 10 minute taxi ride from Changi airport.
Closest MRT: Bedok
14. Prawning At Orto
If you'd rather catch your own seafood, why not try your hand at the largest prawning facility in Singapore? Orto is open 24 hours for the fishing of large prawns. Bait and rods are provided. After you've managed to hook a few large prawns, you can use the provided grills to cook them. Orto also has a trampoline park, go karts, paintball, and other activities.
Closest MRT: Khatib
Whether you're planning your first trip to Singapore or going for a return visit, include some of these hidden gems on your itinerary. You'll have a local experience and see parts of Singapore that many people miss.
Also in Singapore: