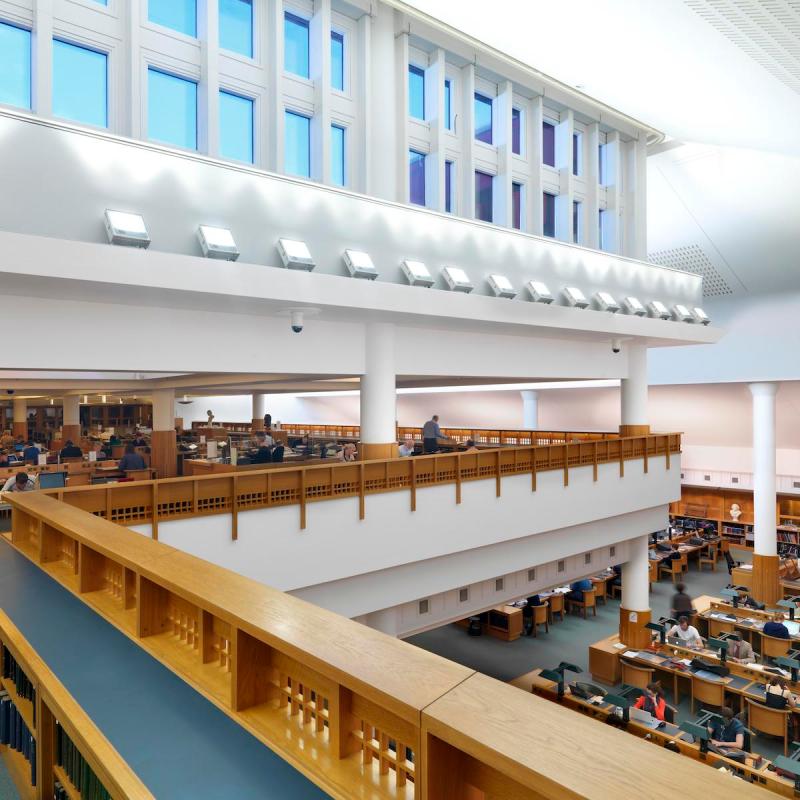 Can a library really be the most exciting place to visit in all of London? If you travel like me, the answer is a resounding yes! The British Library is much more than a center for library and archival work. Though it may be the national library of the United Kingdom and one of the largest libraries anywhere in the world, it's also an amazing travel destination. It's an incredible spot that showcases British history, culture, and influence through printed material. A visit here will give you more "wow!" moments than just about any other attraction in London, and you'll leave with a laundry list of bragging moments to tell your friends back home. But this is much more than a Can you believe what we just saw? kind of a destination. A visit to the British Library really helps you put so many elements of British history and political development into context. Suddenly, visits to other destinations like Shakespeare's Globe Theatre, the Tower of London, or the British Museum have a greater significance when you've seen some of the documents which make these places what they are.
The British Library is located next to King's Cross railway station and St. Pancras railway station. Being situated next to a massive transportation hub is one of the reasons I've been popping into the British Library for more than 20 years. It's the perfect spot to spend an hour before or after you need to catch a train. (There's a cloakroom and locker room available, though luggage larger than carry-on size is not allowed.) Being inclined to travel frugally, I also appreciate that the main exhibition space offers free admission, though there is a fee for some special events and programs that require advanced ticketing.
The best recommendation I can offer the British Library is that the people most inclined to think that libraries are boring always seem to be the visitors who leave the most impressed. As such, if you suspect that a visit here wouldn't really be your thing, that's proof in my books that you'd absolutely love it. Don't believe me? Read on…
There Are Treasures To Explore
At the British Library, exploring treasures has a double meaning, as many of their most precious works are stored in the "Treasures" room. Admission to the Treasures of the British Library room in the Sir John Ritblat Gallery is always free, and it's open 7 days a week. For those on a non-academic visit, this is the main area you'll want to check out.
This part of the building is cooler and darker than other rooms in order to preserve the delicate artifacts. The contents have been described as a holy grail for history buffs and, in the British Library's own words, it contains everything "from Magna Carta and Shakespeare to Florence Nightingale and Gandhi. Explore some of the world's most exciting, beautiful and significant books, maps and manuscripts."
It Helps To Pick A Theme
I have a tendency to meander around like a kid in a candy store, but a more sensible plan would be to pick a theme to avoid missing out on any historical VIPs. Then you can giddily explore to your heart's content! The British Library describes itself as "Showcasing the greatest works from our literary, scientific, music, art and sacred texts collections." I think that's a good place to start. Identify which of those five topics speaks to you and dive in!
Discover The Best Of Britain
Jane Austen's desk. Charles Dickens' notes. Shakespeare's First Folio. Lyrics and scribbles by John Lennon and Paul McCartney. Research diagrams from Florence Nightingale. Manuscripts from Virginia Woolf. Correspondence from Charles Ignatius Sancho. The earliest of Chaucer's Canterbury Tales. King John's Magna Carta. The British Library's collection reads like a "who's who" of the country's most famous luminaries and achievements. If you know their name, you'll find them here.
A copy of every book published in Britain and Ireland is automatically given to the British Library. With about three million titles added every year, the collection will soon close in on 200 million or so. Most of those writers would no doubt dream of one day making into the select few hundred artifacts that are on display to the public!
Admire International Innovators And Influencers
The British Library's collection doesn't just include documents from British sources. Its artifacts include notebooks and preparatory sketches from da Vinci and Michelangelo, a Gutenberg Bible, the Diamond Sutra (the world's earliest printed book), and a map of New York dating to the 1600s. Works by Copernicus, Galileo, Mozart, and Gandhi are just a few of the prominent names you'll instantly recognize. It also has one of the largest collections of ancient maps in the world and a huge selection of precious religious texts representing many faiths.
Don't Miss Out On Temporary Exhibitions
There's only so much space in the British Library, and it's impossible to display the entire collection at any one time. That's what makes the temporary exhibitions so interesting. When new collections are acquired or loaned, or when there's a special anniversary or simply just a desire to celebrate a particular person or theme, you'll find it in the temporary exhibitions. As I write this, lucky visitors can take in a tribute to James Joyce's Ulysses and also author Angela Carter on the 30th anniversary of her death, previously unseen material from Paul McCartney's personal archive to commemorate the release of Paul McCartney – The Lyrics: 1956 to the Present, and a celebration of 150 years of Alice in Wonderland in Through the Looking Glass, and What Alice Found There.
Free Tours, Seminars, And Resources Are Available
What's even nicer than free admission? Free tours! At any given time, free tours may be available on particular themes, for the temporary exhibitions, or possibly for the treasures of the British Library in general. You can find the events page here. Note that some free tours might require advanced reservations, as do the free virtual experiences like curator's talks, which are presented via Zoom.
If you can't make it to London right away, you may still be able to enjoy a tour at the British Library. Digital tours of special exhibitions (like Elizabeth and Mary: Royal Cousins, Rival Queens) are available for a modest fee of just a few pounds. The British Library also offers a long list of online exhibitions, from the evolution of Alice in Wonderland to the Russian Revolution. If you've ever wondered what exactly is the Magna Carta, this is the section you'll want to check out! If your London trip is a few years away, this is a fun way to enjoy a little bit of travel adventure before you go.
While the British Library is known for printed works, it also has a massive catalog of sounds. You can listen to everything from interviews with Jewish survivors of the Holocaust to the sounds of British wildlife and a survey of dialects in rural areas.
You Can Study And Work Here
Just like the name suggests, the British Library is indeed a library! Should you be in London for an extended amount of time, it's a superb place to study, write, or conduct research. You can learn more about getting a Reader pass here.
The Gift Shop Is An Essential Stop
Plenty of museums have cute gift shops, but the one at the British Library is just lovely. It's an essential stop for anyone who loves books and music and you'll find everything from puzzles and games to classic prints and literary-themed egg cups. Some of my past purchases include a set of Beatles-themed coasters and mini-notebooks featuring sketches of rabbits on the cover.
Pro Tip: Enjoy Classic English Fish And Chips Nearby
North Sea Fish (7 & 8 Leigh Street) is an easy 7-minute walk from the British Library. You can dine in, but a more affordable option is a visit to the takeout kiosk to the left of the entrance. A takeout order of fish and chips is usually around 10 pounds (no need to get a large – a medium piece of fish is already pretty big). There's a public park just a few steps down the street to enjoy your meal. However, if you're looking for a different flavor profile, the Norfolk Arms pub is right across from the North Sea and it specializes in small plates with a Spanish tapas flare and has ample vegetarian options. Don't be surprised if you see a number of taxicabs on the street. The North Sea is one of the included local landmarks on "the Knowledge," an extensive test that all would-be taxi drivers must memorize.