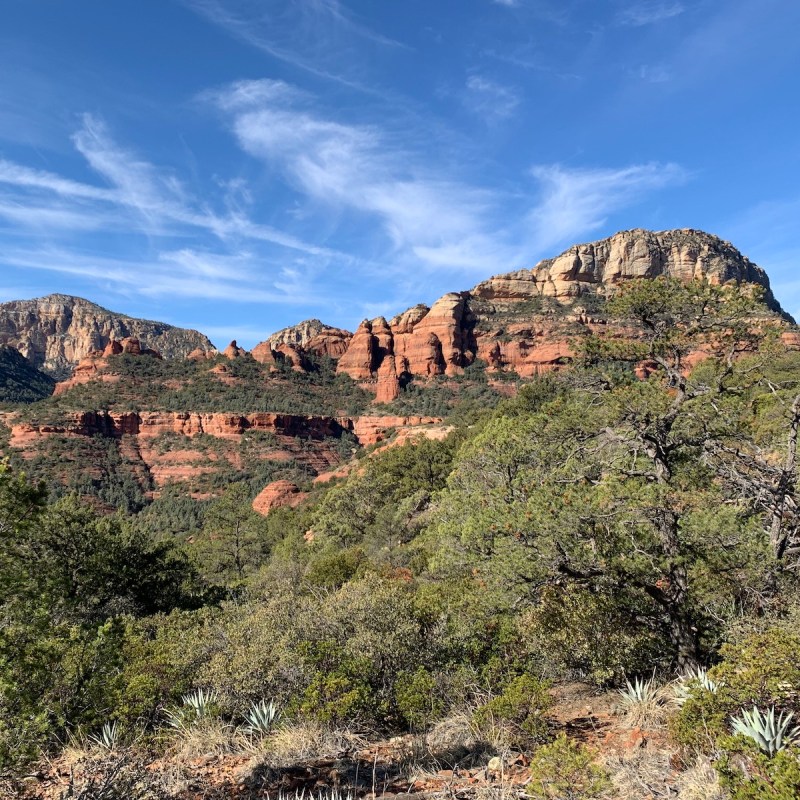 A guided hike has long felt like an extravagance and not a necessity to enjoy nature. The best part about hiking is the simplicity. Put on a pair of shoes, find a trail, and you're a hiker.
Boy was I wrong.
During a visit to Sedona, a mecca for any hiker, not only did my definition of hiker change, but also my view of a guided hiking experience. I realized how much I've been missing all the times I've set out on my own. I was hosted by Trail Lovers and the experience changed how I've viewed every hike since. Here's why we loved it and why you'll be hooked if you try it too.
Perfect Activity For All Ages And Abilities
Your guided hike experience starts before you even get on a plane or in the car. Trail Lovers wants to make sure you pick the hike that is best for you and your crew. You choose the difficulty and the length, anywhere from 2 hours to half-day hikes. You also choose the type of scenery you'd like to enjoy. They even offer nighttime hikes with goggles to help you really experience the wildlife. While hiking, they go at your pace and make sure you're hydrated along the way.
They Pick You Up And Drop You Off
When I told my husband we were being picked up at 6 a.m. to hike on our vacation, I received no reaction. He knew there was no way out, but his skepticism level was elevated. Jason, our guide and owner of Trail Lovers, and his colleague met us outside the lobby and off we went. He dropped Jason and us off at the trailhead, took the van to our ending location, and it was there when we emerged — 6 hours later.
You Don't Have To Worry About Gear
At the trailhead, Jason fitted anyone interested with backpacks and hiking poles. Knowing the Sedona weather, they even brought extra gloves. We've been on many hikes, but it's the first time our boys looked like actual hikers! Jason did communicate with us before the hike and helped us understand the basics of what to wear, but he was also prepared for any lack of preparation on our part.
You Avoid The Crowds
Sedona is filled with gorgeous, Instagram-worthy spots that attract hundreds of folks hoping to check Devil's Bridge and other notable hikes off their list. While our hike lasted a total of 6 hours, we were 2 hours in before we saw our first person, a trail runner who went speeding by. It was another 2 hours before we saw anyone else. All in all, we didn't see many people and most were near the end of the hike, just starting their day. To say this was the most peaceful hike we've ever experienced is an understatement.
You'll See More Terrain
Remember the early morning drop-off? A guided hike allows you to see more of Sedona by dropping you off at the start of a trailhead and picking you up at the other end. Our hike was 6 miles straight through. We would have never attempted the entire trail if we had to turn around and do it all again when we got to the end. By taking care of the pick-up and drop-off, they allow you to see and experience more of the beauty. It maximized the memories we made and the time we spent together as a family.
They Change How You View Nature
My 8-year-old son said it best, they'll make you think differently about nature. You will never view what you see on a hike the same again. Our guide pointed out animal tracks and got down with the boys to show them how to tell what kind of animal they belonged. He had us scratch the bark of a tree and smell it's scent of vanilla. He showed us a 1,000-year-old tree, which we would have walked right by had we been on our own. When I wanted a closer picture of the tree, Jason made sure we didn't step on anything we could have damaged to view it. As we learned, where you step can change that environment for years to come. He also identified the beautiful red rock formations and shared their many names, and then posed the interesting question: Should we name them, why or why not? The significance of these experiences greatly affected all of us. Every hike since, no matter where we are, we know we are missing things that someone who knows and loves the area would be able to tell us.
They Respect Nature And Have Knowledge To Spare
Not only did our guide identify important sites along the way, he talked a lot about survival. My boys were captivated! He taught us the proper way to cross a wash or riverbed. He identified the plant you can use to brush your teeth, another you can pull the bark from to stuff in your clothing to keep warm if you get lost and unexpectedly have to spend the night. He explained how to signal a helicopter and the importance of having a plan before you hike and sharing that plan with the proper folks.
Each guide has a unique area of expertise from geology and archeology to botany, ornithology, and more, so no two guided hikes will ever be the same.
They Bring Great Snacks And Plenty Of Water
With the 6 a.m. pick-up in mind, Jason was actually up at 4 a.m., or earlier, cutting fruit and cheese, and packing other snacks for our day. They'll ask what you prefer, pack it, carry it, then find the perfect spot to enjoy it. I was already sure I didn't want to hike without a guide ever again before this part of the experience, but this put it over the top. While finding the perfect place to enjoy, he made sure we left no trace and kept everything as we found it.
They Answer All Of The Kids' (And Adults') Questions
I can't tell you for sure how many questions Jason answered from my two inquisitive boys. It's whatever 6 hours times nonstop equals. He expertly and thoughtfully answered each and every single one, some multiple times. As a parent, you wanted to take him home with you. You also realize you're learning so much more because of the barrage of questions as well.
You Don't Have To Worry About Getting Lost
We did try to hike on our own in Sedona during our stay. At the first opportunity, we took a wrong turn, didn't realize it for about a half-mile and turned around to get back on track. It was then I realized this wasn't something we had to worry about during our guided hike. We were able to just walk and enjoy our surroundings. In hindsight, even though it was 6-miles-long, it was so much more relaxing than any other hike we had done before or since.
You'll Have Photos To Last A Lifetime
Right now, I'm really talking to the photographers in each family. Getting a photo of your entire family on vacation is a special treat in itself and your guide will be ready and willing, of course.
Trust me, you'll want to remember this experience forever, and having a photo of everyone together to look back on years down the road and isn't a selfie — I promise you'll miss it that much — is another perk.
They Take Care Of Nature's Calls
I'll keep this one short and sweet. When Jason picked us up, he explained we were good if we needed to use the restroom during our hike. I didn't realize there would be public restrooms along the way, but I was happy to know there would be. Well, that wasn't the case at all. Basically, he was prepared to help you find a spot to use the restroom in nature and prepared to carry out anything if he had to. Not something you want to necessarily think about, but good to know he's prepared, and willing.
They Take Special Events To The Next Level
As you get to know your guide, you'll start wanting a do-over for some of life's greatest moments. A proposal or anniversary celebration with the perfect backdrop and celebratory food and drink waiting for you to enjoy during a romantic hike? Yes, please! They're experienced at making any intimate occasion magical.
They Love The Land
Every guide with Trail Lovers must pick up at least 10 pieces of trash on every guided hike. Not your trash, trash left by others, which they know if left behind, will harm the environment. During 2020, when nobody was booking a guided hike, but folks were loving the outdoors on their own (maybe a little too much), trash became a big issue. Jason and his team created S.O.S., Stewards Of Sedona. They started organizing clean-up days to save the environment they love. The organization continues today. Just when you thought you couldn't love them any more!
While this experience isn't inexpensive, the value is there. This is my family's favorite vacation experience, ever, and I feel like we've done some pretty cool things. It wasn't just one thing, it was everything that combined to make it an absolutely perfect day. It's something we can't wait to do again.
For more incredible experiences near Sedona, visit these articles: