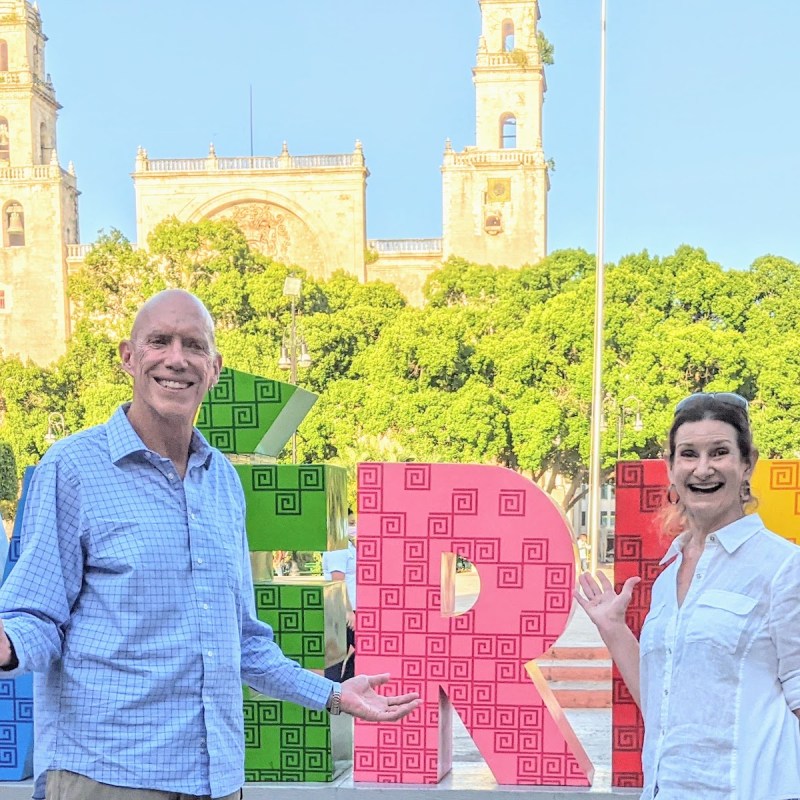 Mérida has not reached the upper echelons of Mexican tourist meccas like Cancun, Puerta Vallarta, or San Miguel de Allende. It isn't on the coast, nor does it offer the spring-like climate of the country's highlands. But if you are looking for a destination rich in history with a unique (and delicious) cuisine and fascinating excursions, this Colonial gem on the Yucatán Peninsula should be on your radar.
Dating back to the Mayan civilization, Mérida has the distinction of being one of the oldest continually occupied cities in North America. The Spanish founded the city in 1542 on the site of T'ho, the center of Mayan culture in the region.
Today, Mérida boasts the second largest historic center in the country behind Mexico City. The Gulf of Mexico's white sand beaches are minutes away and direct flights from the U.S. are only 2 hours. Plus Mérida ranks as the second safest city on the American continent.
Ready to visit this enchanting Colonial city? Here are seven tip-filled topics to help you make the most of your adventure.
1. When To Go
As a local expat confided to us, "There are three seasons in Mérida — hot, hotter, and hottest." Visiting in May, the most sizzling month of the year, we can affirm this sage advice.
High temperatures from March through September range from the mid-90s to 100-plus degrees Fahrenheit, with near 100 percent humidity during the summer months. The rainiest months are June through September.
Therefore, winter is the best time to visit Mérida. You will be greeted with sunny days and a temperature range from lows in the mid-60s to highs in the mid-80s. Glorious! No wonder over half of the city's expats are snowbirds.
2. How To Get There
If you plan to fly from the U.S., there are direct flights to Mérida International Airport from Dallas, Houston, and Miami. The airport is located only a few miles from the city.
If you are traveling from Cancun to Mérida, the best choice is by bus. You may be thinking, "Are buses safe in Mexico?" The answer is an unqualified "Yes." They are also extremely clean, comfortable, and inexpensive. Expect to pay about $25 for your scenic 4-hour journey across the Yucatán Peninsula. We recommend ADO for your trip.
3. Where To Stay
Mérida has a wide range of accommodations to fit every budget. Choose any area close to Plaza Grande, the city's main square in the historic district.
4. How To Get Around
Downtown Mérida is very flat and walkable. But if you are visiting during the hottest months (or if you're just pooped from sightseeing), taxis and Ubers are your best bet. Believe it or not, your ride will typically cost $2 or less.
When hailing a taxi, make sure you see a Taximetro sign on top, which indicates it is metered. Write down the location, address, and cross street to hand to the driver. Of course, this information will be entered in the app when you use Uber.
5. What And Where To Eat
You may not be aware that each of Mexico's 32 states has its own particular cuisine. Throughout the Yucatán Peninsula, the ancient Mayan influence is still woven into local fare.
Be sure to try cochinita pibil, slow-roasted pork marinated in sour orange and achiote, usually served with yellow corn tortillas, red-pickled onion, refried black beans, and habanero chilies. Another typical dish, sopa de lima ("lime soup") may not sound that appealing, but we promise it's yummy!
To sample from an exquisitely prepared menu in the style of Oaxaca, another Mexican state with acclaimed cuisine, head to Apoala at Santa Lucia Park. As the sun sets and temperatures cool, rooftop bars come alive all around the city. One of the best is Picheta overlooking Plaza Grande.
6. Things To Do In Mérida
Take your pick from a vast array of activities in Mérida that suit your interests. These are some of the highlights.
Free Walking Tour
We always recommend signing up for a walking tour immediately after arriving in a new destination. You learn so much and get a feel for the "lay of the land" that will serve you during the rest of your trip. The Mérida tourism office right on the downtown main square has free tours every morning at 9:30 a.m. Be sure to tip your informative guide.
Pok Ta Pok
No, that's not a typo. Pok ta Pok is an ancient Mayan ball game that is re-enacted every Saturday night in front of San Ildefonso Cathedral in downtown. More than just a sport, it was an important ritual in which the ball represented the sun and the hoops of the game were the events that humanity has to go through.
Biciruta
On Sunday mornings, a beloved tradition called Biciruta takes place along Paseo Montejo — Mérida's expansive, leafy boulevard patterned after the Champs-Élysées in Paris. The street is closed to vehicular traffic and filled instead with music, cyclists, skaters, walkers, pets, and people watchers.
It is a blast to be a part of the local scene while taking a leisurely stroll, admiring massive mansions, and stopping for a coffee and pastry along the way.
Cooking Class
Once you have tasted the delectable local cuisine, you may want to strap on an apron and learn how to prepare it at Los Dos Cooking Classes. Started by renowned chef and cookbook author David Sterling, the school is now in the capable hands of Chef Mario Canul.
Museums
Housed in an incredible refurbished mansion on Paseo Montejo, the Anthropology and History Museum features extensive exhibits of local Maya history and anthropology. For an even more immersive experience, visit the ultra-modern Mayan World Museum.
7. Day Trips
If you are in Mérida long enough to explore activities outside of the city, be sure to put these two at the top of your list.
Progreso
A quick, easy, and inexpensive way to beat the heat in Mérida is to hop on a bus and head to the beach at Progreso, home to the world's longest pier (4 miles!). Buses leave frequently from the downtown terminal and round-trip tickets are about $2. In less than an hour, you can order a seafood lunch under an umbrella with your feet in the white sand of the Gulf of Mexico. Outstanding!
Chichén Itzá
Named one of the New 7 Wonders of the World, Chichén Itzá is a massive Mayan complex about a 2-hour drive from Mérida. The star attraction is the Kukulkan Pyramid, a four-sided pyramid that is one of the tallest and most remarkable examples of Maya architecture. On the way, be sure to stop at Izamal, a small town where almost every building is painted bright yellow. Right in the middle of town sits the ruins of a huge pyramid called Kinich Kakmó.