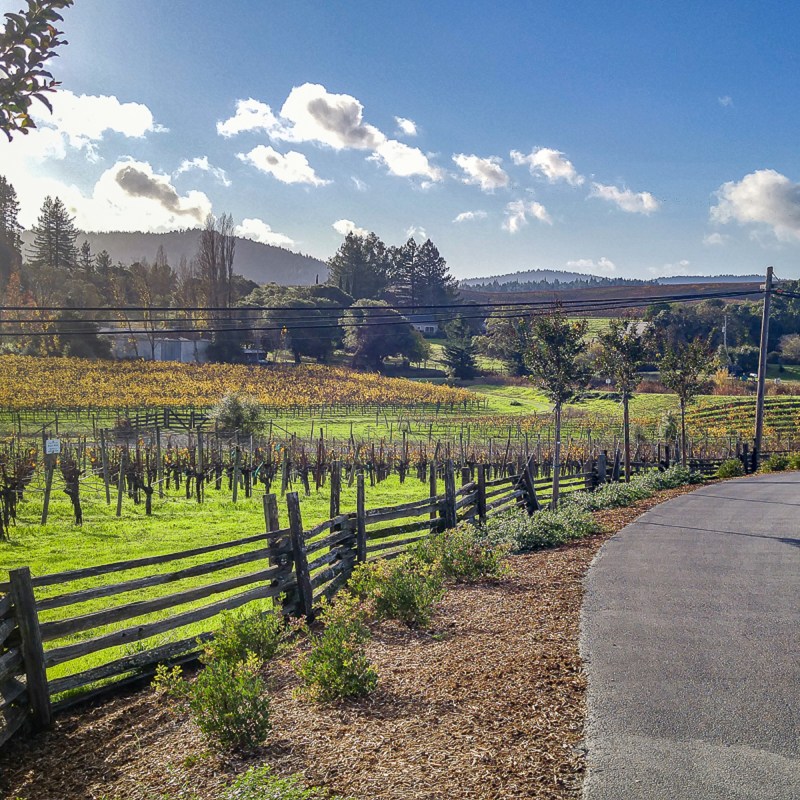 Life slows down in Anderson Valley. The vineyards, farms, ranches, and micro-towns are organic food and beverage meccas in America's Greenest Wine Region, Mendocino County.
The two-lane California Highway 128 turns and curls through Anderson Valley (AV) on California's North Coast. The scenery changes around each curve and over the next rise. The drive through shifting landscapes of woodlands, undulating hills, vineyards, fruit orchards, olive groves, pasturing livestock, high chaparral, and verdant valleys is part of the AV experience.
Falling in love with this laid-back and productive valley is easy; just show up. But the longer you stay, the more folks you meet, the better it gets.
1. Get In Touch With Your Inner Explorer
AV is rural. It's farmland. There's not a stoplight to be seen, no four-lane roads, and definitely no big-box stores or beehive hotel chains. It's a bit off the beaten path but less than two hours from the Golden Gate Bridge.
Let your inner explorer reign. Stop at a scenic overlook. Take the turnoff with the "Fresh Peaches" sign. Stop in one of the small towns, park, and wander on foot on both sides of the street. Ask a local what they recommend for lunch, a winery, or B&B.
Don't make a schedule. Follow your heart. This area is famously on Mendo-Time, a "time zone" known for a laid-back approach to life.
2. Taste The Local Grape
Italian immigrants planted the first vineyards here in 1894. The first bonded winery opened in 1911. Today Anderson Valley is known for its many award-winning pinot noirs and the spectacular sparkling wines produced by Scharffenberger Cellars and Roederer Estate.
You will also find chardonnay, sauvignon blanc, riesling, sémillon, syrah, Gewürztraminer, pinot blanc, and pinot gris.
There are fortyish remarkable wineries, so I won't list them all. Instead, I suggest taking a cruise through the Anderson Valley Wines website. You can learn about many wineries and the history of wine-making in the valley.
While meandering through AV, stop at any winery; you can't go wrong. Go on a weekday in the winter season and you will most likely be treated to a private tasting. Many of the operations are small with very few staff. You never know; your wine host might be the winemaker.
Some of my favorites are Artevino,a winery and art gallery; Husch, the oldest winery in Mendocino County; Penny Royal Farm, purveyor of goat cheese and wine; and Seebass, a tasting room on Main in Boonville.
3. Taste A Farm
AV has more than wine to offer. The valley is filled with farms growing fruit, vegetables, poultry, sheep, goats, and cattle. Organic and sustainability are the way in Anderson Valley. Fresh, clean, and delicious; it's authentic farm-to-table fare.
Gowan's Oak Tree, a farm stand, is hard to beat for variety. Open year round, they specialize in apples, with a subspecialty of cider apples (see number 8 in this roundup). The fruit and vegetables are grown on the premises. Their apple cider is addictive. Frozen apple pies ready to bake can be stashed in the cooler until you get back to your vacation rental. The stand offers dried fruits of all kinds; I love dried peaches.
You'll see a pop-up farm stand now and then along the road. When you see one, stop; make a U-turn if necessary. The produce is popular and will disappear quickly.
Another way to taste local produce is in the markets you see in little towns like Boonville, Philo, and Navarro. For example, you'll find local meats, fish, poultry, fruit, and vegetables at Lemon's Philo Market in Philo.
In Boonville, stop at Disco Ranch. Wendy carries one of the finest selections of local, domestic, and international wines on the coast. She always has something yummy in her tapas case.
Navarro General Store is at the north end of the valley in Navarro. As the name implies, they carry a little bit of everything. You'll find hardware, camping gear, groceries, local beer, and wine. Their deli is legendary. The store is an excellent place to pick up picnic supplies on your way to, well, number 10 of this roundup.
Navarro Store often has a barbecue fired up in front of the store. The grill master uses local produce and meats for traditional grill fare like hot dogs, tri-tip, and hamburgers. It is outstanding.
The store sits in the middle of a conifer forest. The setting is comfortable with an umbrellaed deck. Picnic tables under the trees are dog-friendly. Take the time to hang out a while under the tall trees. The store is the hub of the micro town, Navarro, population 49.
Local restaurants also serve products from farms, ranches, and vineyards in the valley and nearby coast. Three favorite eateries are Boonville General Store (the Bourbon Pound Cake is heavenly); Lauren's at the Buckhorn (the chicken pot pie is nirvana); and The Bewildered Pig (a valley jewel). You've got to try the deviled eggs. Like most food-related things in Anderson Valley, any place you choose will be good. In a friendly, food-centric place like AV, bad food or impersonal service won't last long. Here is a list of places to eat in and near AV from the Anderson Valley Wine Growing Association.
Pro Tip: Monthly, on Sunday mornings, the Anderson Valley Grange No. 669 serves a pancake breakfast. There couldn't be a better way to meet locals and learn about life in Anderson Valley.
4. Get To Know A Goat
Do you like goat cheese? Would you like to try some? Then Penny Royal Farm is the place for you. This bucolic farm, creamery, and winery make cheeses that leave you craving more.
Take the farm tour to see the gardens, vineyards, and creamery. Afterward, head to the patio behind the wine and cheese shop for a Penny Royal wine and cheese pairing. It is delectable.
In the shop, you can purchase all the ingredients for your own cheese and wine pairing at your local lodging or back home when you return. Don't worry about packing your purchases; Penny Royal will ship them for you.
5. See An Artist In The Wild
Anderson Valley is home to some creative folks. Galleries and studios are two of the best places to find local artists' work. Drop-in John Haines Gallery in Boonville. The Anderson Valley Art Guild has an Open Studio Weekend during Memorial Day weekend each year. As you drive through the valley, you may see an Open Studio sign. That's an invitation to stop in. Potters' painters, sculptures, photographers, and musical instrument makers call AV home.
6. Meet The Elders
The Anderson Valley Historical Museum presents Native American and European Immigrant heritage. You can't miss it; turn left at the Little Red School House.
7. Play In The Beer Park
Even if you're not into beer, go to Anderson Valley Brewing's Beer Park. Thirty acres of the brewery's Boonville home have been transformed into a dog- and family-friendly park. Award-winning beer, outdoor seating, disc golf, and live music make Anderson Valley Brewing an all-ages destination.
8. Gowan's Heirloom Cider
Take a bottle of hard cider to an Adirondack chair under an apple tree and laze away the afternoon or watch the sunset. Stop at the tasting room in an apple orchard at Gowan's Heirloom Cider.
The cider is made on the farm where the organic orchards were established in 1876. Six generations of Gowans have been stewards of the land and its bounty.
Gowan's cider is lovely and comes in a variety of flavors. I keep going back for a bottle of the Spiced Apple and another of Rosé, a cider made with heirloom apples, then fortified with pinot noir wine. Either one is the perfect accompaniment to one of Gowan's Apple Pies from the farm stand south of the tasting orchard.
9. Redwood Tunnel
Not precisely in Anderson Valley, a redwood forest at the north end of Anderson Valley is a magnificent experience.
Navarro River Redwoods State Park begins at the north end of AV. The park is one of California's 41 redwood parks. As Highway 128 passes through the park, redwood giants on either side of the road form a tunnel. Only dappled sunlight reaches the road. Don't hurry through the drive. There are pull-outs for stopping to smell the redwoods.
10. Sunset Picnic
As you pass through the valley, pick up the makings for a beach picnic at sunset. Just a few miles past the redwood tunnel, you'll come to the Pacific Ocean, where the Navarro River reaches the sea. Bring a blanket, a camera, and your picnic to the sandy beach for an unforgettable meal. Navarro Beach is located in Navarro River Redwoods State Park.
Reserve a beach wheelchair by calling (707) 937-5721 at least 7 days in advance.
Where To Sleep
Hotel rooms can be scarce in AV, but there are a few small lodgings. In Boonville, you'll find the Boonville Hotel. It's a great location to call home for a weekend. Everything here is unique, just like Boonville. They have a full restaurant and bar and serve some of the county's best. Check with your favorite hotel booking site for rooms in Anderson Valley.
There are distinctive vacation rentals in the area; some are old California-style ranches that can manage a group. Check your favorite vacation rental booking site to see what's on offer.
Camping is another option. There are camping sites for tents to luxury RVs. Here is a list of tent and RV camps in Anderson Valley.
Getting There
The closest airport is in Santa Rosa, Charles M Schulz Sonoma County Airport (STS). San Francisco, Oakland, and Sacramento are also good options.
Anderson Valley is made for a road trip. A comfortable, economical auto is advised. Charging stations are located at many wineries if you have an electric car.
Via auto, take Highway 101 to Exit 522, Fort Bragg/CA-128 West. The Highway 128 junction is a quarter-mile west of the exit.
Further Reading: