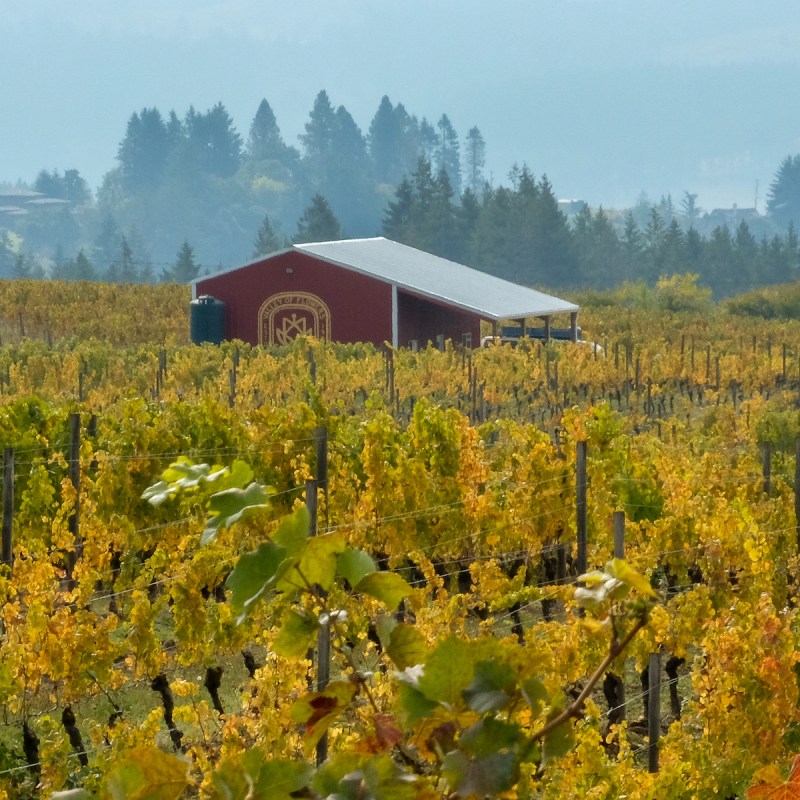 Since the 1980s, when Oregon's pinot noir wines began earning accolades on the international stage, wine lovers have been flocking to the Willamette Valley's vineyards and wineries. Back then, they found less than 50 wineries in the newly formed Willamette Valley AVA. Today more than 700 wineries dot the landscape — and Oregon wine country has become a vacation destination.
Like the Burgundy region of France, the green and rolling coast range foothills are perfect for producing quality wine grapes. Protected by the mountains from the cold and wet air of the Pacific Ocean, the region's volcanic soils and climate are especially well-suited to grow pinot noir. Of the more than 27,000 acres planted in vineyards, 19,000 acres are growing pinot noir grapes. Pinot gris and chardonnay are the second-most extensive plantings, with varieties such as syrah, riesling, and other varietals a distant third.
The highest concentration of wineries is about an hour's drive southwest of Portland. Several companies offer tours from Portland or Salem, or you can make the 30-minute drive yourself. More than 120 of Oregon's boutique wineries are within a 10-mile radius of Newberg, making it easy to visit multiple tasting rooms on a day trip or weekend getaway.
But there's more to wine country than just tasting rooms. In addition to award-winning wines, wine lovers will find five-star luxury hotels, indulgent spas, and farm-to-table fine dining. Wine shows up in everything, from facials at the spa to cocktails. Travelers can also choose from a host of outdoor activities that add adventure to a wine-tasting weekend.
Here are seven of my favorite experiences in Oregon wine country.
Note: Thank you to Taste Newberg for hosting me on a press trip to this beautiful area. All opinions are my own.
1. Wine Tasting
With so many wineries close together, it's easy to be your own guide. For planning information, visit the Willamette Valley Wine website to discover a boutique winery you've never heard of (many only sell to its wine club members and at the tasting room), or track down award-winning wines at their source. The site also includes lists of tasting rooms that are kid- or dog-friendly. A touring guide and special events calendar are available on the Oregon Wine website.
Wineries are as unique as the wines they produce. A few to try: woman-owned Arlyn vineyard, winery, and farm, which releases just 900 cases of wine a year; Domaine Divio, for its Burgundy-style wines and scenic views; Eminent Domaine, which crafts bold wines amid Ribbon Ridge's grand vistas; and Rex Hill, for its outstanding wines, B Corp status, and LIVE-certified sustainable practices.
Most wineries offer outdoor seating in the garden or on the patio, as well as space indoors to enjoy the wine on rainy days. Some tasting rooms offer a cheese or charcuterie plate, but for heartier fare, you'll want to pack a picnic. Wherever your wine-touring takes you, be sure to call ahead for hours and reservations.
Pro Tip: If you'd rather let someone else do the driving, you can choose from a variety of tour companies. The Taste Newberg website lists more than 30 tour companies under the "Explore" tab.
2. The Willamette Water Trail
For 187 miles, the Willamette Water Trail runs through the Willamette Valley and Oregon wine country. This makes it a prime spot for kayakers, standup paddle boarders, canoers, and others who want to spend a lazy afternoon on the wide, clear green Willamette River. Watch for great blue herons and other wildlife along the tree-lined river, or pack a picnic to enjoy at one of the riverside parks. Several companies, such as Alder Creek, rent kayaks, SUPs, or canoes during the summer months for the day or the afternoon.
One of the best places to launch is Rogers Landing, just a few miles from downtown Newberg. The park has an extensive dock, a boat ramp, picnic tables, and restrooms. Plan to spend 2 to 4 hours on a leisurely paddle with little current. A small launch fee is required.
3. The Allison Spa
The award-winning Allison Spa offers manicures, pedicures, and such luxurious treatments as an hour-long massage with champagne oil, a divine wine facial, and skin-enhancing light therapy. Though COVID has forced suspension of hydrotherapy services and use of the sauna and steam room, the spa still offers massages and other wellness treatments in 12 private rooms. Enjoy a private yoga session or relax with Himalayan salt therapy, one of the spa's newest features. The 15,000-square-foot space provides areas for relaxation, including the reservable Sky Lounge for groups. Reservations should be made 6 to 8 weeks in advance.
Pro Tip: The Allison Spa is located in the Allison Inn, which is surrounded by extensive gardens and walking paths. Take a stroll around the grounds, where art lines the paved walks and blown glass sprouts from the flowerbeds. Most of the art is for sale, so the sculpture garden is always featuring new art.
4. Wine De Roads
Touring wine country by bicycle allows you to slow down, savor the beauty of the rolling hills, and immerse yourself in the scents and sounds of the countryside. Breath in the fresh air, the aroma of woodsmoke, or grapes ripening on the vines. You might pedal past vineyards, wineries, grazing horses, lavender fields, or farm stands. The routes selected by bicycle tour company Wine de Roads vary, but they all lead guests on a leisurely ride in the Chehalem Valley with stops for tastings at three boutique wineries.
The fee includes everything you'll need to ride, including a Raleigh hybrid bike, water bottle, helmet, and safety vest (you can bring your own helmet if you prefer). It does not include tasting fees. Routes are chosen for their lack of traffic and the wineries along the way. Although the tour lasts 6 hours, only 1 to 2 hours is actually spent riding. This allows for an unhurried experience in the tasting rooms. If you cannot ride the whole way, the support van can pick you up (it also carries any wine you purchase).
5. Hike The Rex Hill Vineyard
If you've ever wanted to tour a vineyard with an expert in grape growing and have your questions answered, here's your chance. Rex Hill winery offers guided seasonal walks through the estate's pinot noir vineyard on the hill beside its tasting room (with expansive views of the valley from the top).
Guests will learn about the soils of the Willamette Valley, the grapevine's lifecycle, and how both affect the wine. They'll also learn about the winery's biodynamic, LIVE-certified, and sustainable approach to growing grapes. Then they get to taste the fruits of the vineyard — Rex Hill's pinot noir wines. The tour includes a flight of five wines, some during the hike and some afterward in the light-filled tasting room.
Dressing in layers and wearing comfortable, water-resistant walking shoes is recommended. Tours are held Fridays, Saturdays, and Sundays. Reservations can be made online at Tock (preferred) or by phone at (503) 538-0666.
Pro Tip: Look for the old drying tunnels in the tasting room building; the facility was formerly used for drying fruits and hazelnuts.
6. Farm-To-Table Dining
The Willamette Valley grows a great deal more than quality wine grapes, and much of it will land on your plate at the local farm-to-table restaurants. JORY, the in-house restaurant at the Allison Inn and Spa in Newberg, even has a chef's garden to ensure the freshest ingredients for its gourmet meals. SubTerra, another fine dining restaurant, sources ingredients from nearby farms and artisan producers, such as Alchemist's Jam. The Painted Lady restaurant offers an eight-course tasting menu made from fresh, local ingredients. The menus at each of these restaurants change with the seasons. Reservations are recommended.
7. Vista Balloon Adventures
Imagine floating on a misty summer morning in a hot air balloon over the patchwork of orchards, vineyards, and fields of Oregon wine country. Far below, the sunlight glints off the Willamette River, a dark ribbon that winds through the verdant hills and valleys. For nearly 30 years, Vista Balloon Adventures has been delighting guests with an elevated perspective on Oregon wine country, flying gently over the valley in the quiet early morning hours.
The adventure begins at dawn with the inflation of the 100-foot-tall balloons. The family-owned company flies up to six balloons at a time, in small baskets that hold two people (plus the pilot) or larger baskets that can accommodate up to 10 guests. The balloons fly for an hour before landing in a field; the location depends on where the wind takes them. A chase van returns guests to the company base in Newberg after the balloons are deflated and packed up.
The entire experience takes about 2 to 3 hours. The balloons fly from April through October, weather permitting. Reservations should be made well in advance.
Pro Tip: Dress in layers. Mornings are cool, but once you're airborne, you won't feel the wind and the propane burners warm up the basket.
Wine country experiences in Oregon: