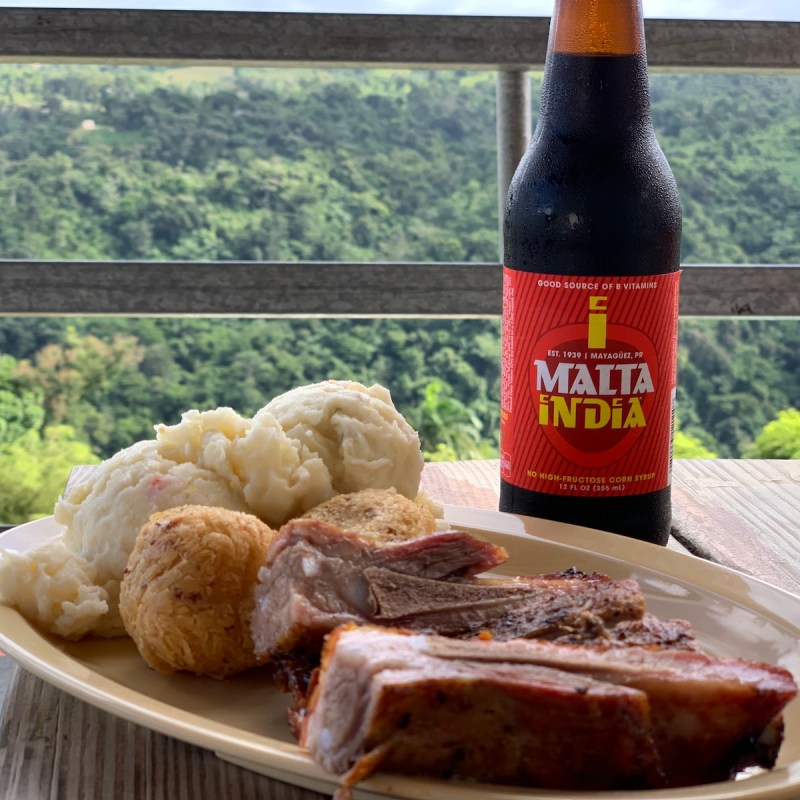 Drive less than an hour south of San Juan and you will be in the hills of the small town of Cayey in an area known as Guavate. This central Puerto Rican community is famous for its Ruta del Lechón. Traverse the winding road complete with hairpin turns as you skirt the edges of the central Puerto Rican mountains. The route is dotted with restaurants that specialize in Lechón Asado, spit-roasted sucking pig. This mile-long strip of roadside eateries begins roasting their delectable fare in the wee hours of the morning so it is ready for hungry patrons. The tools of the trade include an open fire pit (or charcoal) and a machete that are both used to expertly cook and portion up the main course.
I recently had the exciting opportunity to explore all the unique foods along Puerto Rico's famous Pork Highway, la Ruta del Lechón. I am delighted to share my culinary experience with you.
The Lechóneras are the roadside restaurants that make up the pork route. Some offer restaurant-style seating with wait service, however, many deliver their fare cafeteria style, where you queue up at the counter to make your selections. For the non-pork crowd, roasted chicken is a good option, flavorful and moist it pairs perfectly with the variety of side dishes offered.
Note: The information in this piece was obtained during a sponsored press trip, but all recommendations are my own.
Lechónera Certificada
Lechónera Certificada is a certification that the establishment is using 100 percent Puerto Rican pork. According to Lechónera Certificada, only three percent of the pork eaten in Puerto Rico is raised locally, the remainder is imported from U.S. Puerto Rican grown pork has an extra layer of fat under the skin, making the finished product more moist and silky, enhancing the succulent flavor.
Three excellent Lechóneras that apply to the certification are El Mojito, Los Pinos, and El Cunao. El Cunao has been serving perfectly roasted pork for more than 80 years, and is the granddaddy of the Lechonera scene. The restaurant is constantly filled with locals enjoying a great meal, and the buzzing atmosphere creates a party vibe.
1. Lechón Asado
The star dish of the Lechónera is its Lechón Asado, spit-roasted suckling pig. Expertly roasted for hours, the Puerto Rican-grown pork is juicy, tender, and flavorful. Enjoyed throughout the year, roast suckling pig is a favorite during the long Christmas season which runs from September to January.
You can explore Puerto Rico's long Christmas season with its festive celebrations and traditions here. (story in editing at this time).
2. Pig Candy
Due to the long, slow roast of the Lechón, crispy skin is the prized bite. The seasoned skin takes on a lacquered finish that is reminiscent of caramelized candy. Backed by the extra layer of fat from the locally farmed pork, the roasted cracklings are crispy, savory, and juicy. It is the ultimate porky bite at the table, be sure to get your portion before it is gone.
3. Mofongo
Mofongo is a delicious Puerto Rican side dish made with fried green plantains mashed together with salt, garlic, broth, and olive oil. The ingredients are smashed together in a wooden pilon, a mortar and pestle, until they reach a smooth consistency — no lumps please.
Mofongo has the consistency of mashed potatoes, but is subtly sweet and very starchy. Mashed with garlic and olive, the delicious dish is difficult to stop eating. Beautifully turned out from the pilon, it makes a pretty side dish presentation.
4. Tostones
The ubiquitous Tostones are made from plantains, a starchy relative of the banana. The Puerto Rican answer to a French fry, Tostones are twice fried in hot oil to give them a super crispy and crunchy outside texture that plays against the soft, supple interior. You will find them as a side on almost every dish. Perfect for dipping or simply munching, they are positively addictive.
5. Morcilla
This is the dish where the foodies test their metal. Morcilla is a sausage made from pigs blood and rice. Spiced with chili peppers, the black, blood sausage brings a fiery zing to your palette. It tends to present a slightly blood taste which the chili peppers help to temper. Stuffed into intestinal casings, the sausages are then cut into pieces and fried. They are best eaten hot. If you are a little tentative, be sure to have a strong beverage available as a chaser.
6. Longaniza
If you would like a more traditional type of sausage, ask for Longaniza. Made with ground pork and seasoned with garlic and annatto, a spice with a nutty profile, the sausages taste delicious. They are sweet and mildly spicy with a soft red hue from the ground annatto.
7. Arroz Con Gandules
Arroz con Gandules is a traditional Puerto Rican rice dish with pigeon peas. This is a classic recipe where every Abuela (grandma) makes it with her own special twist. It will be found on every holiday and celebratory table across the island.
The dish begins with an aromatic sofrito made from a blend of green and sweet peppers, onion, garlic, and culantro. Sazon seasoning (a beautiful spice blend) and tomato paste bring the dish from white rice to it's delicate yellow hue. The Gandules are tiny green pigeon peas that impart a slightly nutty flavor rounding out the dish.
8. Gandinga
Gandinga is the result of true tip-to-tail cooking. It is an offal stew made with pig's kidneys, heart, and liver. Served over white rice, the zesty sauce brings life to the otherwise texturally uninteresting organ meat.
9 Pollo Asado
When you need a respite from the perfectly cooked Lechón, you should reach for the Pollo Asado. A seasoned, spit-roasted chicken that is cooked to perfection. The tender and juicy meat marries perfectly with the classic Puerto Rican spice blend.
10. Asopao De Pollo
Nothing screams Puerto Rico more than its classic chicken and rice dish, Asopao de Pollo. After cooking the sofrito, the chicken is pan seared then combined with the remaining ingredients to simmer away on the stovetop. Rice, tomatoes, and chicken broth round out the flavorful stew. Traditionally finished with peas, olives, and cilantro the dish is perfect for a cozy meal with family and friends.
11. Guineitos En Escabeche
Guineítos en Escabeche is a briny side dish made with boiled green bananas, onions, olive oil, vinegar, garlic, and adobo seasoning. Tangy and bright, this dish adds the perfect acidic accompaniment to the rich roast pig main dish.
12. Yuca Con Mojo
Yuca is a particularly popular starch in Puerto Rico. It is the root of the cassava plant. Yuca con Mojo is a concoction of boiled yuca dressed in a garlicky, citrus mojo dressing. The savory, acidic properties of the mojo is a perfect foil to the richness of the starchy yuca.
13. Medalla
As you explore the amazing variety of dishes along la Ruta del Lechón, the perfect accompaniment is a Medalla Light beer. Produced by Compañía Cervecera de Puerto Rico it is one of the top selling beers on the island. For a light beer, it has a light but well-rounded flavor that marries perfectly with the rich pork and starchy sides.
14. Malta India
Manufactured in Mayaguez, Puerto Rico, this soft drink has a unique flavor profile. As soon as you unscrew the top, the malt aroma assaults you. Super thick and dark, the soft drink is syrup-like and very sweet. You definitely should give Malta India a try the next time you visit Puerto Rico. There is no middle ground with this beverage; you either love it or will never order it again.
15. Tembleque
Coconut pudding for dessert — yes please! Sometimes you just want to end your meal with something delicate and sweet. Tembleque is a soft custard simply prepared with coconut milk and sugar then thickened with cornstarch. Dusted with cinnamon, it is light and sweet, the perfect ending to a heavy meal.
Several Dozen Casual Roadside Restaurants
There are many restaurants along la Ruta del Lechón, some precariously perched on precipitous hillsides. The busiest and liveliest time of the day is dinner time when the Lechónares not only feature their slow roasted, tasty pork dishes but are also featuring live music, creating an instant party atmosphere.
A few restaurants offer patrons ample parking, however, if you visit during the busy evening hours, you may have difficulty finding a spot.
Puerto Rican Cuisine
The best way to learn about a region's people and history is to eat their traditional cuisine. You will learn more by seeking out eateries that are off the beaten path away from the touristy areas.
When you are planning your next visit to Puerto Rico, be sure to check out Discover Puerto Rico for all the up-to-the-minute information about this fabulous island destination.
If you love exploring the Caribbean foodie culture, check out Miami's Little Havana district, you will love the local Cuban flavors.
See what else Puerto Rico has to offer visitors: