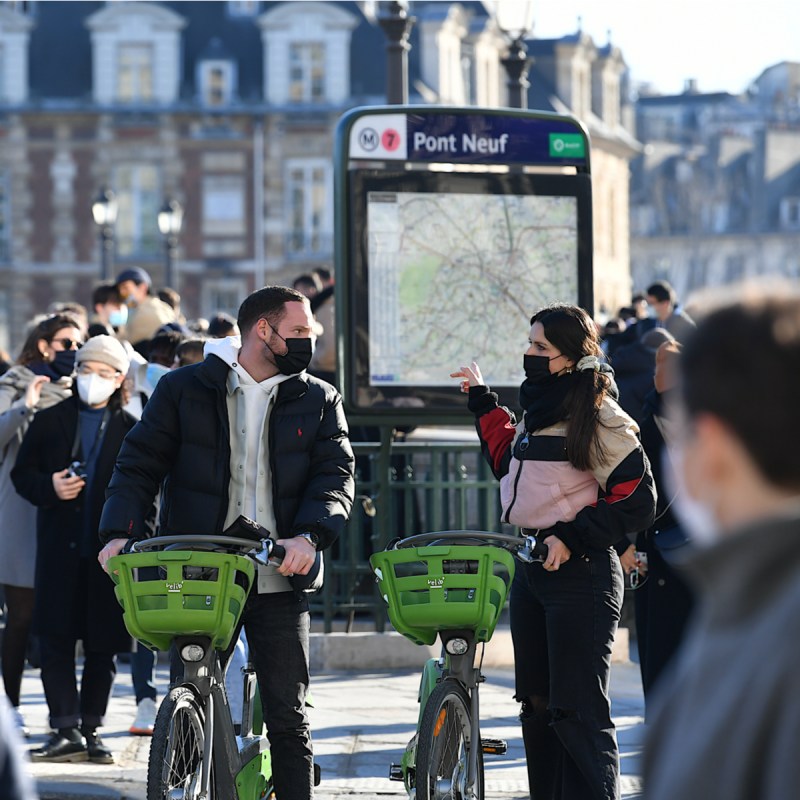 COVID-19 cases are surging in Europe, including in Germany, Belgium, and France. In response, the French government recently began requiring everyone to wear masks (again) while inside public places. Now, the city of Paris has taken an extra step and is requiring everyone to wear masks while in certain outdoor settings.
The new requirement is due to "a rapid deterioration of epidemiological indicators within the city of Paris," Paris Police Chief Didier Lallement announced last week.
"In October, the incidence rate in Paris was between 50 and 100 cases per 100,000 people" Lallement explained. "The incidence rate has now increased rapidly to 266 cases per 100,000 people and the increase shows no sign of slowing."
A Troubling Situation
France's increasing rate of COVID-19 infections, along with those in neighboring Germany and Belgium, is part of what's called the "fifth wave" of cases.
According to data from Johns Hopkins University, just under 70 percent (69.91) of France's eligible population is fully vaccinated for COVID-19. However, in the past week alone, France has reported 205,363 new cases of COVID-19, with 451 deaths.
Outdoor Mask Mandate
Last week, Jérôme Salomon, French general director for health, announced in a press conference that France will not impose another lockdown or a curfew at this stage during the fifth wave of COVID-19 infections. He did, however, announce that France will again require everyone to wear a mask while in all indoor spaces – including cinemas, theatres, bars, cafés, night clubs, and restaurants. He described the current wave as "stronger and longer" than the previous wave this past summer, reports The Local.
Local authorities in France can impose mask requirements for outdoor public spaces if they believe the mandate is necessary — and that is what happened in Paris.
Effective last week, everyone in Paris must wear a mask while attending all gatherings, demonstrations, meetings, or organized activities in a public space. They also must wear a mask while attending outdoor festivals or performance venues, outdoor markets, vintage sales, and flea markets. Other places that now require attendees to wear a mask include outdoor spaces of universities and outdoor spaces in front of places of worship.
There are a very few exceptions. For instance, people with disabilities who have a medical certificate justifying their mask exemption don't need to wear a mask in outdoor settings. And, as you would expect, runners, joggers, and other people exercising outdoors aren't required to wear a mask.
A Serious Matter
The police will be enforcing the mask requirement, and offenders who are not wearing a mask in designated areas face fines of 135 euros ($146 U.S.), Chief Lallement explained. The police will also be checking public establishments, such as bars and restaurants, to ensure that they are enforcing mask and health pass rules.
"Users who frequent places subject to health passes without a valid pass or who do not wear the mask will be fined," Lallement said. "The operators of public places who do not control the sanitary pass when they are subject to this obligation, or who do not ensure that a mask is worn by users, customers, or employees, will be fined and may be subject to closure."
Know Before You Go
The U.S. Centers for Disease Control and Prevention notes that there is a "High Level of COVID-19 in France," and has correspondingly given the country a Level 3 warning classification. Based on that guidance, the U.S. State Department urges Americans to reconsider travel to France.
Be sure to read the rest of our France coverage, including: