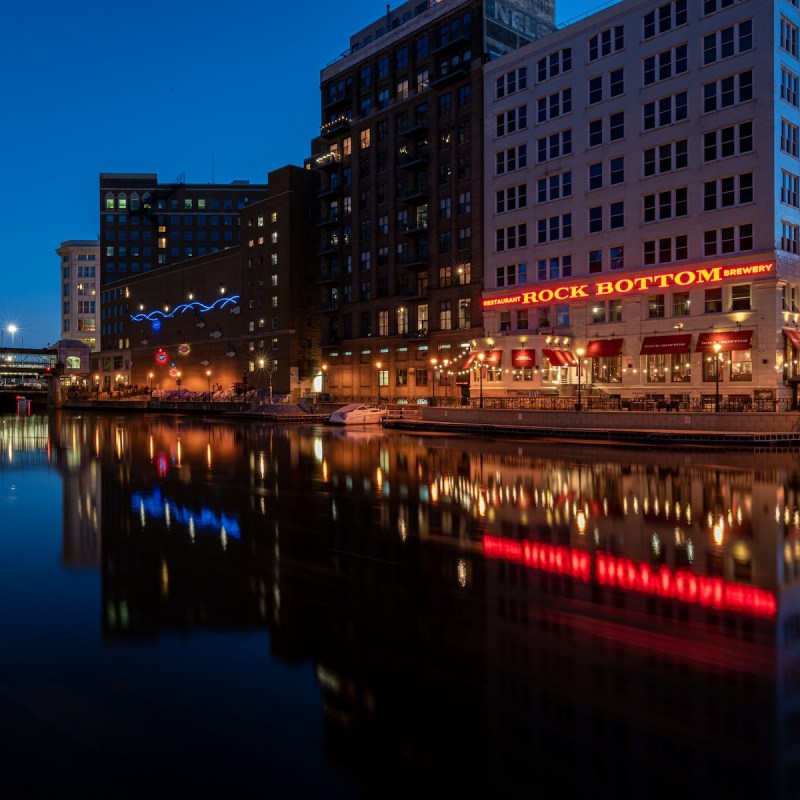 When you think of Wisconsin cuisine, visions of cheese curds and brats may come to mind, and you wouldn't be wrong.
However, the food scene in Milwaukee, one of Wisconsin's largest urban areas, rivals anything found in the coastal metropolis areas and features everything from killer steaks to intriguing ethnic dishes.
When I visited Milwaukee this fall for a conference, I was blown away by the diversity of this city. Founded in 1795, Milwaukee has always been tied to agriculture and food. Thanks to surrounding fertile land and its proximity to Lake Michigan, Milwaukee was a center of agriculture and shipping. In fact, beginning in the 1830s, Milwaukee was the largest shipper of wheat in the world.
When a wave of German and Polish immigrants arrived in Wisconsin in the mid-1800s, they brought a culture of brewing, cuisine, and grain trading. Wisconsin's immigrants also brought their cheesemaking traditions with them, and by the 1920s, over 2,800 cheese factories existed in the state.
The city's food scene remains strong to this day, and the diversity of its restaurants pay homage to the immigrants of the past and present. Yes, I indulged in the famous Wisconsin cheese curds and beer brats that harken to the state's heavy German influence, but I also discovered the spicy tastes of Africa, the Middle East, and Asia.
If you're looking for a culinary journey through the city that The Fonz from the show Happy Days called home, here are seven fantastic restaurants to try in Milwaukee, Wisconsin.
1. Mader's Restaurant
Milwaukee's German heritage is evident in everything from its numerous breweries to its architecture. It's no wonder this city has spectacular German food as well.
One of the most popular places to get your wiener schnitzel and strudel fix is at the famous Mader's Restaurant in the city's Old World Third Street Historic District, the last of the original German retail districts in Milwaukee,
This eatery has a long history in Milwaukee, founded in 1902 by German immigrant Charles Mader. When it opened, a hearty German lunch cost only 4 cents and a stein of beer was 3 cents. If you drank two steins of beer, your lunch was free.
Today, Mader's remains one of the most popular German restaurants in the city, and even celebrities like Justin Bieber, Stevie Wonder, Frank Sinatra, and U.S. presidents like John F. Kennedy and Ronald Reagan were guests.
The restaurant specializes in German favorites like Mader's famous pork shank, served with apple demi-glaze, red potatoes, and choice of red cabbage or sauerkraut; the Rheinischer Sauerbraten roast beef serviced with raisins and gingersnap sauce; or the beef and mushroom strudel, baked with sauerbraten, Kassler Rippchen Swiss cheese, and grilled red onions.
But, in addition to guzzling steins of beer and enjoying pretzel bites with beer cheese, you can also indulge your senses with the vast collection of German art and stained glass at the Tower Gallery, which houses the world's largest Hummel figurine and German beer stein store.
Pro Tip: For specialty cocktails and a bar menu that includes potato pancakes, the New Glarus Spotted Cow Braised Reuben, or a jumbo pretzel, head to Mador's The Knight's Bar. For a warming and spicy cocktail, we recommend the Gluhwein, which is a homemade red wine served hot with clove-infused orange and cinnamon.
2. Old German Beer Hall
Continuing with the German theme, the Old German Beer Hall is designed to reflect the famous Hofbrauhaus in Munich, one of the most famous beer halls in the world. Milwaukee's Old German Beer Hall is steeped in Bavarian traditions and history, and with a decor that replicates Old World Bavaria, diners feel like they are toasting prosit in the original Munich beer hall.
Popular menu items include the local Usinger Sausages from Usinger's Famous Sausages, made daily right across the street from Old German Beer Hall, and giant pretzels made in Munich with flour from the Royal Bavarian Mill.
Some unique dishes include the 3-Brat Dark Beer Chili, made with Usinger's brats and slow cooked in Hofbrau Munich Dunkel Lager. The Hofbräuhaus Wurst Platter includes Usinger's Coarse Bratwurst, knackwurst, smoked bratwurst and weisswurst along with German potato salad, sauerkraut, red cabbage and dense rye bread.
Every Friday, Old German Beer Hall has a giant fish fry and on Saturdays, the restaurant specializes in its Saturday Schnitzel Dinner.
Like any good beer hall, music plays a big part of the festival atmosphere, and musical acts are featured multiple days of the week.
Pro Tip: If you love the furniture at Old German Beer Hall, guess what? You can buy your own massive German garden set from the American Beer Garden Company. The beer garden table and bench sets come from Biga Furniture in Auerbach, Germany, and can be purchased from the factory warehouse in Milwaukee.
3. The Public Market
If you're visiting with your family or friends and no one can decide which cuisine they want to eat, then a trip to the Milwaukee Public Market can solve all your problems. This indoor food market in Milwaukee's new hip Historic Third Ward, also known as "Milwaukee's Arts and Fashion District," is a popular destination for both locals and visitors.
This foodie experience features not only boutique markets where you can purchase cured meat, Wisconsin cheeses, and specialty olive oil, but an array of food vendors serving up a variety of dishes, like Thai sushi rolls, chicken Tikka Masala, Belgian beer, specialty cupcakes, deli sandwiches, pizza, grilled meat and more.
If you really want to see how the sausage is made, you can sign up for one of the many cooking classes at The Public Market as well. Classes are offered in The Madame Kuony Demonstration Kitchen, hosted by The Public Market vendors and local chefs to nationally known cookbook authors.
Pro Tip: While the market is a short walk from downtown Milwaukee, you can also use the city's streetcar, the Hop, which stops right next to the market.
4. Casablanca
For a true taste of the Middle East, head to Milwaukee's Casablanca on Brady. The dream of Chef Jesse Musa, a native of Jerusalem, the warm hospitality, and delicious Middle Eastern food is based on authentic Middle Eastern recipes passed down by Musa's father and grandfather.
Authentic dishes like the beef kibbeh and falafel platter are great appetizers to start with. Continue your culinary tour of the Middle East with dishes like Steak Tahini Pasta and Chicken Shawarma or the Lamb Kifta.
If those choices are too exotic for everyone in your family, don't worry. The restaurant also has selections of burgers, kabobs, and grilled salmon.
This two-story restaurant is open for lunch and dinner, but also has two full bars, a terrace and patio, and a hookah bar.
5. Irie Zulu
Serving up authentic African and Jamaican dishes, Irie Zulu is a Milwaukee favorite and a bit of a hidden gem. A fusion between African and Jamaican cuisines, Irie Zulu is the creation of Yollande Tchouapi Deacon, a native of Bantu from the Bamileke tribe of Cameroon in West Africa. After Yollande completed her master's in business at Milwaukee's Marquette University, she married into a Jamaican family, and the tasty fusion was born.
Popular dishes at this truly authentic restaurant include Ghana's Watchee, a thick tomato herb sauce filled with tender beef; traditional West African Style Okra Stew and Fufu; Irie Zulu Style Oxtail Stew; and Maffe, a savory West African peanut butter stew with seasoned farm-raised chicken.
The Jamaican dishes that wow include the Ultimate Jerk Chicken; Jamaican Goat Soup; and Fish Tea Soup.
Pro Tip: Chef and owner Yollande Deacon hosts cooking classes on her favorite family recipes every third Saturday. Make a reservation in advance, because these classes sell out quickly.
6. Taste Of Lindsay Heights
I'm a big fan of places that help budding entrepreneurs, and Taste of Lindsay Heights is a new Milwaukee concept that features food created by local food entrepreneurs. Owned and operated by Walnut Way and its Community Wealth Building Campaign, this resident-driven nonprofit organization offers a place for budding food chefs to grow their businesses in the Lindsay Heights District.
This cafe is for carryout only, but it's perfect if you want to grab lunch for a picnic near the Milwaukee RiverWalk. It opened in October 2021, and the menu includes entrepreneurs who create such delights as Jamaican-inspired ginger beers, homemade specialty juices, cookies, smoothies, Buddha bowls, rum cakes, and more.
If you are lucky, you may get there on one of the day's Taste of Lindsay Heights does pop-ups for new entrepreneurs to test and promote their products.
7. Rock Bottom Restaurant And Brewery
A classic favorite gathering place along the Milwaukee RiverWalk District is the Rock Bottom Restaurant and Brewery. Although this is a chain restaurant, it's one of the most visible along the popular RiverWalk with a massive outdoor patio that overlooks the river.
For a small bite, go for the bison sliders on Hawaiian dinner rolls or the duck wings with their sweet smoky glaze.
You can also choose between flatbreads, hand-held sandwiches, vegetarian bowls (I liked the Tiger Cry with edamame, braised shiitakes, carrots, cucumber, brussels sprouts, sweet smoky glaze, and toasted sesame seeds), or classic entrees ranging from grilled salmon to chicken parmesan.
This chain also fits in well with Milwaukee's brewing history! All the beers are brewed and poured in-house and only available at Rock Bottom.
There are some other interesting things to check out in Milwaukee and Wisconsin: