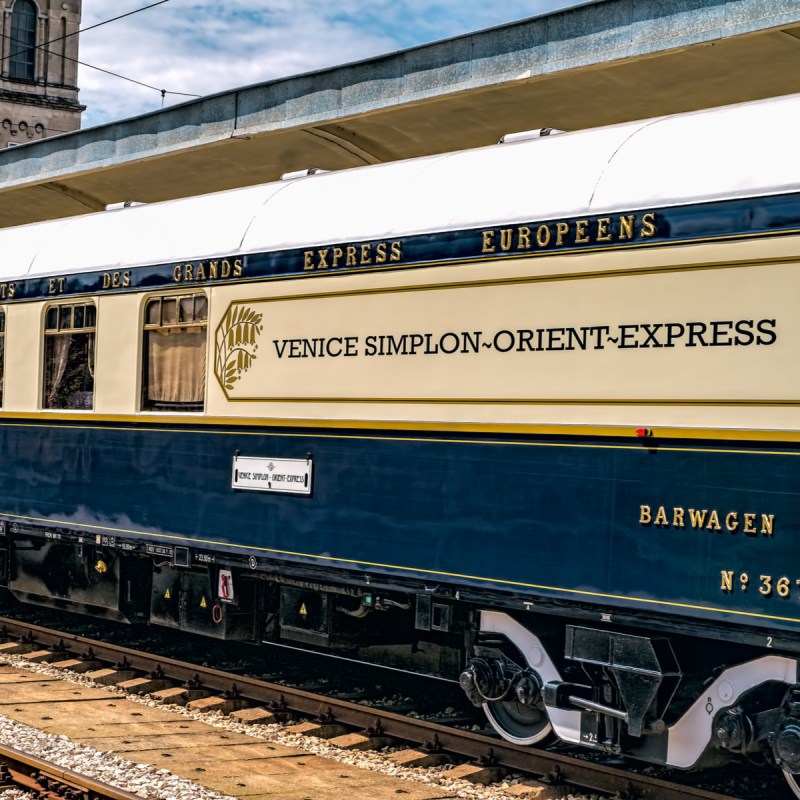 Train travel was once as common place as commercial flight is today. While preferred modes of transportation have adapted over the years, many still prefer the experience afforded by coasting along the tracks, accepting the occasional jostle as part of the charm, and taking in the scenery around them. Our writers have shared their favorite rail experiences and we encourage you to add one of these great trips to your 2022 bucket list. Whether you prefer a short hour-long excursion, or a transcontinental journey, here are some of our favorite train trips to experience in the coming year.
Rockies To The Red Rocks (United States)
Traverse the rugged Rockies from the Mile High City to the natural beauty of Moab, the gateway to Arches National Park in Utah. Rocky Mountaineer, a Canadian rail company known for showcasing the Canadian Rockies to its passengers, just opened their first U.S. line in 2021. This unique train experience ensures that you don't miss a single second of stunning scenery as the train only travels during the day. This allows passengers to enjoy the sites on foot and to stretch out in a hotel room each night. This is the perfect trip for those that might be leery of the tight quarters so often associated with rail travel. Enjoy a luxury train ride through one of the most beautiful routes in the U.S.!
Royal Gorge Route Railroad (United States)
While in Colorado, don't miss the chance to travel along another stunning route along the Royal Gorge Route Railroad. This trip will carry you along the meandering Arkansas River as it winds through the gorge formed by the Rocky Mountains. Enjoy the journey while savoring a delicious meal, but make time to breath in the fresh air from the open-air car as well. This short day trip through the mountains may be just what you need. Read more about this trip as well as 10 other vintage train rides in the U.S. that might be just the excursion you are looking for.
Classic Canada Coast To Coast (Canada)
North America is ripe with railway adventures, and we have shared 10 scenic train trips across the continent for you to add to your bucket list. Amtrak's Classic Canada Coast To Coast journey is at the top of my personal bucket list and I look forward to one day make this long journey with my family. Traverse the great nation of Canada from Halifax to Vancouver, experiencing stunning scenery and enlightening history along the way. The full trip — including stops — lasts 16 days so start planning your trip soon!
Royal Scotsman (Scotland)
Experience the Scottish countryside from the comfort of your own wood-paneled suite, sip and savor your way through their dining car, or pamper yourself in the onboard spa. With multiple itineraries to choose from, including Scotland's Classic Splendours and Taste Of The Highlands, there are options for everyone. Start your planning soon as they are already booked through the middle of June 2022! Learn more about this luxury Scottish train offering whisky tastings, castle tours, and more.
Venice Simplon-Orient-Express (Europe)
The Orient Express has been immortalized on screen and in print over the years — a name that personifies European travel from the early 20th century. The original line steadily reduced in length over the years until finally ceasing operations in 2009, after over 125 years in service. However, thanks to Belmond a luxury rail brand, your dreams of following in this aged tradition are still alive and well! The Venice Simplon-Orient-Express began operations in the 80's, breathing life back into this historic journey. Take a step back in time and experience the elegance of the elite as you journey through Europe in expertly restored and styled coaches. Learn what it's really like riding the iconic Orient Express today.
Orient Silk Road Express (Central Asia)
Follow in the footsteps of Marco Polo as you traverse central Asia by rail. Routes vary depending on the company and package you choose, but you won't want to miss the rich history and culture that is to be found along this ancient route. Journey through the heart of the region where goods were traded and eastern and western philosophies mingled. Here are 8 fantastic stops along a luxurious Silk Road rail trip.
Trans-Siberian Railway (Russia)
Similar to the Orient Express, the Trans-Siberian Railway has adapted and changed over the years, adding and updating routes as needed. Spanning more than 4000 miles and stretching from Europe to the Pacific Ocean, this historic route will carry you over rugged mountains, across vast deserts, and through major cities from one end of Russia to the other. Your journey can even take you into Mongolia, China, and even North Korea using various connections along the way, linking Beijing with Moscow. Consider these 7 excellent experiences during your Trans-Siberian Railway journey.
Rovos Rail (South Africa)
Exemplifying the "class" of first class travel, Rovos Rail transports its riders around southern Africa in the very lap of luxury. Spend your time enjoying the beautiful landscapes as they roll by. Enjoy a revolving menu during your time on the train, sampling local dishes, and make time to embark on the various adventures with a guided tour. Read more about how to enjoy a fantastic experience on Rovos Rail: the Orient Express of South Africa.
TranzAlpine (New Zealand)
When you next find yourself on New Zealand's southern island, you won't want to miss the serene beauty of the Southern Alps/Kā Tiritiri o te Moana. And what better way to experience their grandeur than via a train from Christchurch to Greymouth. One of three major train lines connecting the country, you can traverse the island in approximately four hours, leaving your eyes free to embrace the natural beauty that abounds. Here's why this is one stunning train trip you have to experience in New Zealand.
Aurora Australis (Australia)
The Aurora Australis line takes riders out from Sydney's Central Station and then returns them to the same place. The circular route ensures riders don't have to find additional transportation to get back to where they started. Once again, their are numerous trips to choose from depending on the sites you are looking for. Read more about the Aurora Australis and other vintage trains rides throughout Australia.
Andean Explorer (Peru)
The Andean Explorer takes riders to new heights, literally. The train takes riders from the capital of Cusco to Lake Titicaca and beyond: Both locations sit at over 11,000 feet above sea level. Even the Arequipa, the other end of the line, is over a mile high. Come prepared for the change in altitude and potential sickness that comes with it, but you may find that a train ride through the peaks is just what you need on your next exciting journey. Consider the Andean Explorer or one of the world's other most luxurious train rides.
Whether you have never set foot on a train, or have an honorary engineer hat from frequent trips, 2022 is the year to move one of these bucket list trips to your to-do list and start planning. Travel by train can provide more social distancing opportunities than air travel, especially on a smaller, high-end train. As travel continues to adapt and change, we hope you will consider riding the rails in your future. Inspired? You can view all of our train travel content here.