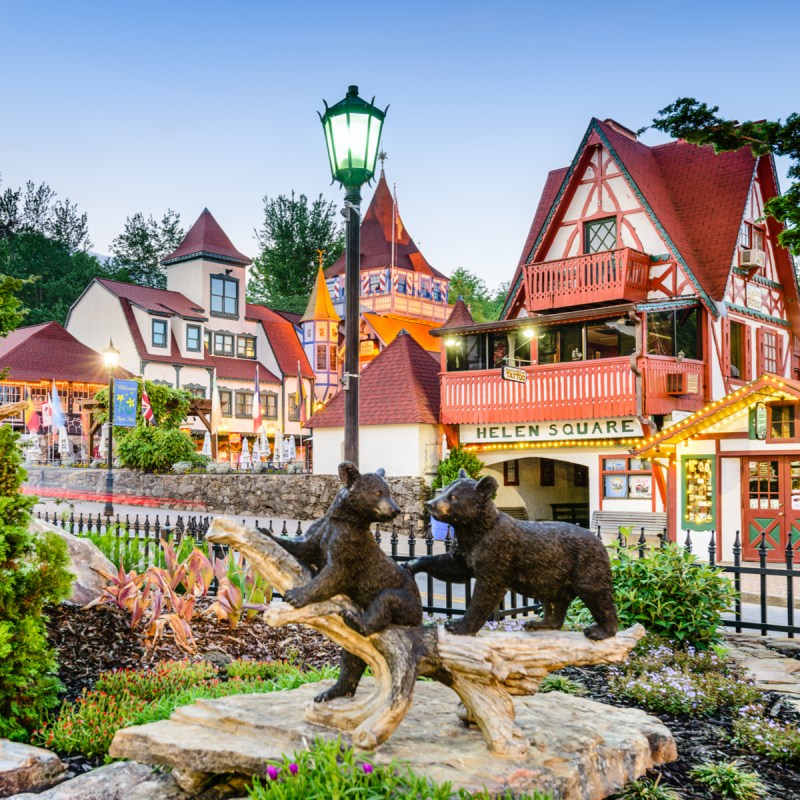 When I saw a picture of Helen, Georgia, a Bavarian village town, I knew I had to visit. Helen is in the North Georgia Mountains 90 minutes from Atlanta, though you may for a slight moment feel like you are seeing the country of Germany instead of the northeast part of the Peach State. Helen is a road trip destination, perfect for romantic getaways, girlfriend trips, multi-generational vacations, and is fun any time of the year. You'll experience a multi-sensory overload with these hints on how to spend an amazing weekend in Helen, Georgia, an adorable town you'll quickly fall in love with.
Things To Do In Helen
You shouldn't run out of fun things to do in charming Helen since the town has a walkable downtown area with eating, drinking, and shopping everywhere you look.
Stroll The Picturesque Downtown
There is something magical just walking the streets and soaking up the scenery in the fairytale-like setting of Helen. Photo-ops are everywhere, and your photos are guaranteed to not be like every other destination you visit in the United States.
Ride the Mountain Coaster
The Georgia Mountain Coaster, an alpine coaster, is a thrill ride with twists and turns through the scenic mountains and beautiful landscape. You sit in an individual cart instead of the typical roller coasters that you've done in the past. The coaster is open 7 days a week, weather permitting. Rides are $15 for the first ride and half price for each one after.
Gem Mining
We discovered a new hobby while in the North Georgia Mountains and stopped at Outpost Gold & Gem Mining Co. to give it a repeat try. If you are new to gem mining, you pay for a bucket in which you scoop into a tray and dip into the water to remove the sediment, dirt, and sand, to reveal your treasures, if any. Outpost Gold & Gem Mining has different prices for different minerals and gemstones, unlike the ones we previously did. Still, I appreciated that it had benches to sit on so the experience could be more comfortable.
Someone can help you with the process if you have questions and can explain what you've found and what you can do with your find should you want to have a piece of jewelry made out of it. The staff was super helpful, and gem mining is something adults participate in, which we did not know before trying it.
Hike to Anna Ruby Falls
Anna Ruby Falls, a National Recreation Trail in Georgia (maintained by the Forestry Dept.), is a wondrous twin-waterfall that can be accessed by a .4 mile boardwalk and paved trail. It costs $5 per person to enter the area for the waterfall, and the hike is a bit strenuous going uphill, but it is well worth the effort. You will come face to face with the roaring and powerful beauty that offers two platforms for sitting, photographs, or resting. Anna Ruby Falls is one of the prettiest waterfalls I've seen in my 52 years and pretty easy to get to.
Go Shopping
Helen, Georgia, is chock full of cute little shops. Some are German-inspired, while others have home decor, honey, Christmas items, ladies' apparel, outdoor gear, and many more. My recommendation is to pick a parking lot off Main Street (it should be $5 on weekdays and around $10 on weekends) and just work your way through town on one side of the street and come back on the other. Helen is a very walkable town, though it can get crazy busy with pedestrians and traffic during June through October's peak months.
A few of my favorite shops were Village Peddler Women's Boutique (great for gloves, hats, shoes, and clothing), Windmill Dutch Imports, the year-round Christmas Shoppe, and Betty's Country Store (gourmet foods, baked goods, huge wine selection).
Wineries
There are a few wineries and tasting rooms in Helen and nearby towns. Still, I enjoyed visiting Habersham Winery & Vineyards, right on the edge of town and in a shared parking lot with a fantastic three-level antique store. Habersham, a family-owned business, has primarily sweet wines and a pretty tasting room with lavish gifts, food products, and seasonal merchandise. Scarlett, its best-seller, a red blend, is a great wine that pairs well with almost anything. Habersham's hours are 11 a.m. to 6 p.m. every day but Sunday, when it opens at 12:30.
Go Tubing
One of Helen's highlights is getting out on the water and floating in tubes on the Chattahoochee River. While I couldn't do it in November, I know the thrill of riding the river (I'm from West Virginia!) like this and know how popular it is from hearing friends talk about it. You can rent tubes from Cool River Tubing during the season for $12 Monday through Friday and $16 Saturday and Sunday. One or two-hour trips are available, and your fee includes the use of a life jacket, shuttle ride, tie straps, and key-saver service.
Fun Fact: Tubing is a rain or shine business; Cool River Tubing never closes due to weather.
Best Restaurants In Helen
Helen has a host of locally-owned restaurants to choose from, but I want German food when I come to town, so that's where my emphasis lies. You will also find a pizza place, steakhouse, sushi, and Thai restaurants, amongst many others.
Muller's Famous Fried Cheese Cafe
The best meal I had in Helen was from Muller's Famous Fried Cheese Cafe, serving authentic Czech and German food. Muller's has breakfast, lunch, and dinner menus and is typically a packed house, but well worth the wait. There is indoor and outdoor patio seating, and the menu not only contains the Eastern Europe dishes you know and love but also four jaw-dropping fried cheese specialty dishes that will knock your socks off. I wanted to try something with bread dumplings, so I had the Creamy Sauerbraten, marinated chunks of beef sirloin with a cream sauce, served over bread dumplings and cranberries. Goodness, this was one tasty dish!
The Heidelberg
When you see the most picturesque building in town, a three-story beauty that sits back from the main road in a square, that's The Heidelberg. Come here for all the German dishes you know and love, plus great beer and wine choices and both a patio and beer garden. The Heidelberg doesn't accept reservations, so come knowing that you may have to wait for a table and that the food is cooked to order and does take a while to prepare.
I chose Jägerschnitzel for lunch, which was an excellent, yet filling choice. My pork loin was breaded, fried, and topped with a mushroom cream sauce, and paired with two sides of my choice. As a true German food lover, I picked spätzle (buttered egg noodles) and red cabbage, both of which were full of flavor and tasted good.
Pro Tip: If you've never been to an authentic German restaurant and eat pork, Jägerschnitzel is a good dish to try.
Hofbrauhaus Restaurant
Since 1972, Hofbrauhaus has been a landmark in downtown Helen. The restaurant has the prettiest setting in town, and creekside seats on the outside patio are prime locations for the house's best seats. Hofbrauhaus has live music Friday through Sunday and a menu full of tasty choices to pick from, plus the patio is pet-friendly. My husband and I thought it was the best setting of all that we tried.
Smith Creek Tavern
In the Unicoi State Park & Lodge, Smith Creek Tavern is a great place to escape the hectic downtown Helen area and see some new scenery. The restaurant is attractive and has friendly servers, too. Start your meal with the Bavarian pretzel, with stone-ground mustard and cheese sauce. The pulled pork with fries and coleslaw is really good for your main dish, but so are the burgers. And the pizzas, 7 and 16 inches, with quality ingredients, are darned tasty, too.
La Cabana Mexican Restaurant
One day we had to take a break from German menus and switch it up to Mexican. La Cabana is like the Helen version of Cheers, where they know everyone, and everyone knows them. We had a great time and excellent Fajitas for two at this attentive and tasty restaurant. The margaritas got a thumbs up, too.
Cabins And Hotels In Helen
There are some amazing properties to stay at on your Helen, Georgia, visit. Many of the charming properties along the creek bank are Airbnbs, or you can choose a budget-friendly motel all over town (The Heidi Motel, The Alpine Village Inn, Country Inn & Suites). Black Forest Bed and Breakfast has romantic rooms with heart-shaped jacuzzis. It also has vacation rentals and primo cabins in the mountains.
We stayed at the 1,050-acre adventure lodge, Unicoi State Park & Lodge, which offered an abundance of outdoor activities in the foothills of the Appalachian Mountains. The property is home to one of the largest waterfalls in the area, Anna Ruby Falls. Even if you're not an avid outdoorsman, the lodge offers plenty of family-friendly things to do, excellent dining, and beautiful scenery.
Pro Tip: There is one main street through downtown Helen. There are crosswalks throughout town, and visitors can cross whenever they like, as there are no street signals. Practice patience because driving through the congested thoroughfare requires it.
Helen is just one of many Georgia cities you might want to visit: