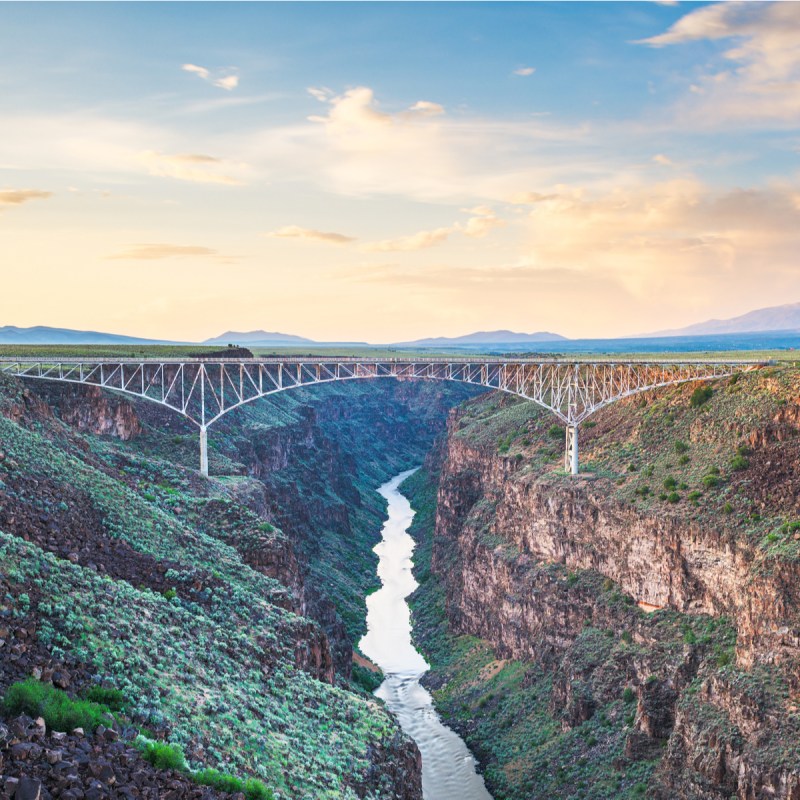 For 9 days each October, millions of people gather in Albuquerque to celebrate everything balloons during the annual International Balloon Fiesta. However, New Mexico is truly the Land of Enchantment and home to outstanding attractions and places to explore. Whether you love the outdoors or enjoy taking in history and culture, New Mexico is ripe for travel. From ghost towns to giant telescopes gazing through space for discoveries, you'll have a great time traversing the state.
New Mexico is one of my favorite states to visit. I've often said if I were to move from Nebraska, New Mexico would be in my top three states to consider (Minnesota and Washington are the others). Here's a look at some of my favorite spots to visit in the Enchantment State, as well as a few more attractions.
1. Roswell
Alien fanatics enjoy exploring Ground Zero of space travel. Whether you believe in little green aliens, Roswell has been linked to outer space visitors since a spaceship was believed to have crashed in the New Mexico desert during the 1940s. Since then, the city has embraced its status, including an annual alien festival. Learn about the "Roswell Incident" through a series of exhibits at the International UFO Museum and Research Center.
If UFOs and aliens aren't for you, beam over to the Roswell Museum and Art Center. With more than 11,000 pieces in its collection, the museum focuses on southwestern art. Founded in 1935 as part of a Works Progress Administration, the museum is one of a few remaining created as a Federal Art Center. Nature enthusiasts embrace hiking trails at Bitter Lake National Wildlife Refuge. As the Chihuahuan Desert and southern plains meet near the Pecos River, a unique and beautiful landscape features sand dunes, grasslands, and sinkholes. The wetlands invite hundreds of species of waterfowl and birds. Look for creatures native to the area, such as long-eared rabbits. You may swear you've seen a jackalope.
2. Acoma Pueblo
Dating back to the 1200s, Sky City is believed to be the oldest inhabited community in the country. Residents originally used ladders to gain access because of the mesa's sheer build. With up to 50 people living at the Sky City Acoma Pueblo year round, visitors get an up-close look into the history of the southwestern Native American tribe. Tours are hosted by locals, beginning at the Sky City Cultural Center and Haak'u Museum. With beautiful pottery and other artifacts, the museum offers a look into the early lives of Sky City residents. Surrounded by beautiful scenery, the Acoma Pueblo is a memorable visit for anyone taking the 60-minute drive from Albuquerque.
3. Wild Spirit Wolf Sanctuary, Cibola County
With about 50 Wolves, foxes, dingoes, and other canines, the Wild Spirit Wolf Sanctuary offers a home to abandoned or rescued animals. Located about 90 miles south of Grants, animal lovers will enjoy a guided tour of the rugged terrain. Visitors learn fun facts about wolves and other canines at the facility. Animals calling the sanctuary home are often rescued from people who thought they could raise wolves in a domestic setting or thought the animals were a wolf/dog mix. Some wolves come to the sanctuary after sustaining injuries that prevent them from surviving in the wild. While visitors get up close to the wolves, physical interaction is prohibited. However, sanctuary caregivers do perform public shows where they share access to young, domesticated wolves.
Pro Tip: Call Wild Spirit Wolf Sanctuary 48 hours in advance to reserve your tour.
4. Truth Or Consequences
Imagine renaming your town after a television game show. That's exactly what residents of Truth or Consequences did in 1950 when the show's host challenged communities to do so. Hot Springs won. The rest is history. Whether or not you tour the town, a photo with the city's name is a must. But, come prepared for a different kind of experience. With actual hot springs, Truth or Consequences is the perfect spot for relaxing in a natural hot tub. La Paloma Too has the city's oldest hot springs tubs, which you can rent by the hour. Enjoy the great outdoors by traversing the trails at Elephant Butte Lake State Park. You can also spend time on the beach, relaxing or swimming in the clear lake.
5. Very Large Array, Socorro
Thanks to the giant telescope at the Very Large Array, scientists discovered ice on Mercury. The enormous radio telescopes, about two hours south of Albuquerque, search space for all kinds of scientific wonders, including material from other galaxies. Made famous in movies such as Contact and Independence Day, the VLA role actually doesn't include hunting for alien life in the cosmos. The facility offers self-guided tours of the 27 radio telescopes. You'll feel like an ant when standing next to one, as they're 82 feet in diameter.
6. Four Corners Monument, San Juan County
Stand in four states at one time. It's a challenge that must be accepted. Located on the Navajo (Dine) Nation, the Four Corners Monument includes Colorado, Arizona, Utah, and New Mexico. The monument includes observation decks overlooking each state marker for excellent views and photo opportunities. You'll find Native American vendors, selling pottery, clothing, and beadwork. If you've yet to try fry bread (aka Navajo bread), this is a great spot to order some.
Pro Tip: Bring a paper map, as cell service is spotty at best.
7. White Sands National Park, Alamogordo
Located in the Tularosa Basin, between New Mexico's mountains, dunes of white sand roll like waves in an ocean. Reminding them of snow, people often bring cardboard boxes to flatten and sled down the dunes at White Sands National Park. As you traverse the white dunes, you'll find several types of cactus and other vegetation. Be on the lookout for wildlife and small invertebrates, including lizards.
Pro Tip: The park is occasionally closed for military missile testing. You can confirm the information here.
8. Madrid Ghost Town, Madrid
Located about an hour northeast of Albuquerque, Madrid (MAD-rid) is not your typical ghost town. It's actually a thriving artists community. Once a major coal-mining town, Madrid heated homes and provided coal for steam locomotives. Following World War II, the need for coal in the region waned. However, because mining companies had to recruit employees, they provided prefabricated houses. Instead of withering away like other buildings of the 1800s and early 1900s, these buildings were rescued in the early 2000s and repurposed by artists and others into galleries, studios, and shops. Today, visitors can spend a day touring Madrid's 40 galleries and shops. Head to Casa Grande Trading Post, home to a mining museum and petting zoo. Enjoy a guided horseback ride at Cerrillos Hills State Park, about 10 minutes north of Madrid.
9. Taos
With Taos Pueblo standing tall among the area's mesas, Taos combines history with art. At least 1,000 years old, Taos Pueblo is a designated UNESCO World Heritage Site. Western fans may recall the story of Kit Carson, a mid-1800s gunslinger. His story is told at the Kit Carson Museum. A visit to Taos must include the Historic Taos Plaza. Part of the early settlement of the city, the plaza became the center of the city. Today, shops, galleries, and boutiques hug the area. For a unique experience, visit the Taos Drum Company. Located about five miles south of the city, the Taos Drum Company has been making authentic Native American drums since 1951. Handmade by residents from the Taos Pueblo, the company uses natural and renewable resources to create its instruments.
Pro Tip: Taos Drum Company celebrates its Native American ancestry with teepees outside the factory store.
10. Bosque Del Apache National Wildlife Refuge, San Antonio
Home to Sandhill cranes from October until January, when they start making their way north, Bosque del Apache National Wildlife Refuge is home to coyotes, rabbits, geese, ducks, and javelinas. The wildlife refuge was once the gathering site of animals and humans, alike. As the Rio Grande was once a powerful river, with raging currents and overflowing the plains during flooding. The Piro tribe lived along the shoreline. As the climate changed, the Rio Grande was reduced to a slower, calmer river. During the 1930s, as part of the Depression recovery, the Civilian Conservation Corps reestablished the area's wetlands, creating the Bosque del Apache National Wildlife Refuge. The refuge is about a 90-minute drive south of Albuquerque.
11. Las Cruces
Walk along the same streets as Billy the Kid and Pancho Villa. Located less than an hour's drive from the Mexican border, Las Cruces is full of western history, including the ballads of bandits Billy the Kid and Pancho Villa. Visit Billy the Kid Gift Shop, where you'll find tons of souvenirs, but also history, as the store is located in Las Cruces' old courthouse. Used to try and jail Billy the Kid, his ghost is said to haunt the building. Hike the trails along Organ Mountain, where you'll find waterfalls and wildlife, such as mule deer, songbirds, and even mountain lions (always keep a safe distance from animals). Art Obscura features an eclectic collection of art exhibitions, ranging from fine art to antiques. With rotating exhibits, the gallery offers fresh paintings, photos, and sculptures.
New Mexico attractions are varied and numerous: