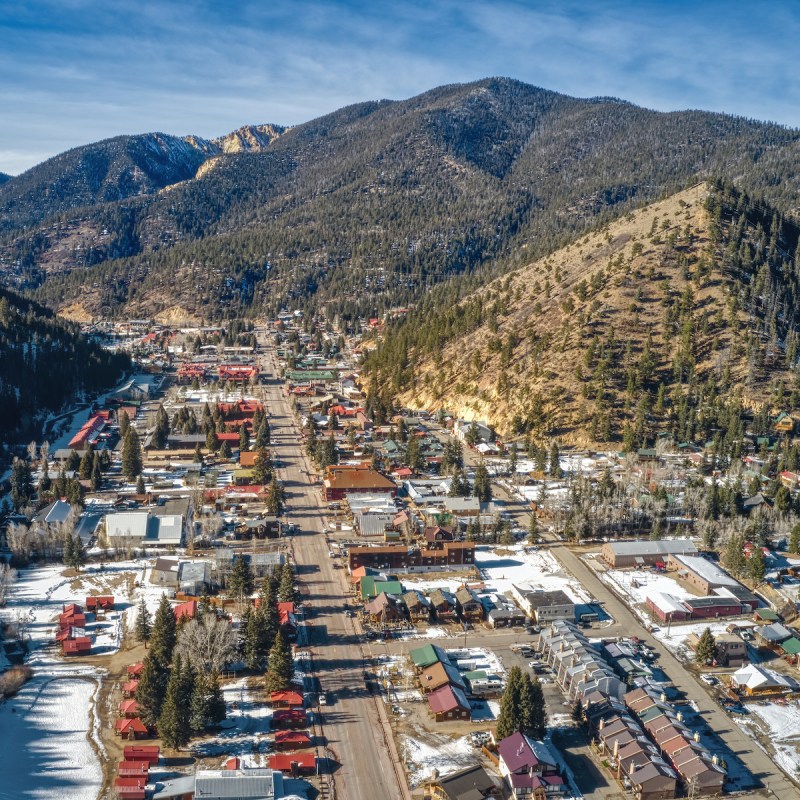 Red River feels like family, whether you're exploring the picturesque mountains or the quaint town. It's so convenient. You can walk everywhere or hop on a free trolley to get around.
Mining in the Red River goes back for more than a century. First, there were European explorers, then fur trappers, and prospectors put the town on the map. Hundreds of gold, silver, and copper mines dotted the mountainside. Red River was a boom town with a mercantile, sawmill, blacksmith shop, hospital, newspapers, and livery stable. There were several hotels, boarding houses, more than a dozen saloons, and a dance hall. Plenty of soiled doves housed the red-light district where barroom brawls and high-stakes gambling were grand entertainment.
When the mining played out, homesteaders settled the area, and the population dwindled from 3,000 to under 500. Later, Louisianians flocked to Red River during Mardi Gras week and created their own celebration, a Mardi Gras "coon-ass" (person of Cajun ethnicity) party with nightly balls, costumes, beads, parades down the slopes, and Main Street with great Cajun cooking. They celebrate every year during the second week of February. There are lots of fun things to do in Red River.
Things To Do In Red River
1. Red River Ski & Summer Area
Red River Ski Area
Red River Ski Area is an authentic ski town built by miners, not developers, a family-owned business for over 60 years. Come ski or snowboard the wide-open groomers, steep powder-filled trees, and park laps with minimal lift lines and fresh powder stashes lasting for days: no crowds here, just small-town charm and big family adventure. Enjoy powerful snowmaking equipment and an upgraded ticketing system, opening the day before Thanksgiving, with skiing through late March.
Summer Mountain Tubing
Summer Mountain Tubing sends you sliding down the most extended tracks on Gold Rush Hill or the kids' Lil' Blue, with all the fun of mountain tubing without the cold.
Hidden Treasure Aerial Park
The Hidden Treasure Aerial Park offers three adventure levels of difficulty, the first and second level, and the more demanding third level. At the end of the third level, take the grand finale, the ultimate descent, using an assisted belay from the tower to the ground. The 1 hour and 45-minute session includes welcome training, harnessing, and time on the course.
Pioneer Flyer Seated Zip Line
The Pioneer Flyer Seated ZipLine starts at ground level, pulling you backward 600 feet over the Pioneer Corridor. With a brief pause, gravity takes you down the mountain at 35 miles per hour over the top deck and fishing ponds.
Scenic Summer Chairlift
The 30-minute Scenic Summer Chairlift takes you up 1,600 feet to high altitude views, where you can listen to music, enjoy a memorable lunch at Tip Restaurant, and hike to Moonstar Mining Camp. Play 21-hole disc golf, hike, and mountain bike the steep nature trails — not for sissies.
Pro Tips: Get your season ski passes now. When you're trekking the mountain trails, bring a poncho or rain jacket for pop-up showers and a small cooler for water and snacks.
2. Weezie's Wild Rides
Weezie's Wild Rides offers Polaris Adventure rides with four-seater RZRs and two-to-six-seater Rangers. Rent a two-seater Slingshot to access the glorious high altitude mountain trails of the Carson National Forest Scenic Byway circling Wheeler Peak. Get a helmet as part of the rental.
3. Red River Stables
Red River Stables has offered horseback rides for over 30 years through the Sangre de Cristo Mountains. Ride to a historic mining town, the summit of Wheeler Peak, or tamer paths. Call for reservations.
4. Fly Fishing
Fagan's Guided Fly Fishing is customized for the novice or experienced angler, providing fly rods, tackle, and waders. Operating under a particular use permit in the Carson National Forest, Fagan or one of his experienced guides can take you to some of the best fishing holes in New Mexico. Bringing smiles to the faces of clients is what it's all about.
5. Old West Gun Fight
In the summer, the Old West Gun Fight happens three Thursdays in July with real guns shooting blanks, so it's safe. A tradition since 1959, the town puts on a show with good and bad guys like Silly, Doc, saloon girls, Corabelle, and Annabelle with great comedy fun.
6. Festivals And Events
Art And Wine Festival
Each June, the Art and Wine Festival is held and you can celebrate with excellent wine tastings and small bites. Shop for art, photography, jewelry, and pottery from over 50 vendors. Enjoy live music and entertainment, and purchase a wine-tasting glass.
Oktoberfest
From October 8–10, 2021, Oktoberfest is dishing authentic German food and music, craft beer, New Mexico wines, entertaining games and contests, arts and crafts vendors, family-friendly activities, and the changing fall colors. Participate in the Beard/Mustache growing competition, children's pumpkin painting, and live polka music by Eurofest. There's a Miss and Mr. Oktoberfest contest. Get your tasting ceramic stein for a keepsake.
Breakfast With Santa
Enjoy Breakfast with Santa, December 24, at the Red River Conference Center, with free kids' crafts, a visit with Santa, and an all-you-can-eat pancake breakfast provided by the Old Tymers Café.
Old Fashioned New Year's Eve Party
Help ring in the New Year at the Old Fashioned New Year's Eve Party, enjoying food, games, activities, and the countdown welcoming 2022 at the Red River Historic Community House.
7. Shopping In Red River
All Seasons Sports has offered ski and snowboard equipment for sale or rent since 1970. Certified technicians will outfit you for skis, snowblades, and snowboards.
Big Horn Sports sells and rents ski equipment, snowboards, and accessories, plus you can rent four-wheelers and ATVs in two, four, or six-seat styles for mountain roading. Schedule white-water rafting, horseback riding, Jeep tours, fly fishing, or rent a stroller or wheelchair.
Choose an iconic chainsaw-carved bear, moose, or woodland creature at Bear X-ing, plus a customized sign for your animal to hold. They have great gift items here.
Red River Trading Company, where every day is a holiday, is a one-of-a-kind Christmas headquarters for all your souvenir and gift needs.
Der Markt Food Store provides groceries, produce, meat, dairy, frozen foods, non-food items, plus a package liquor store.
8. Enchanted Forest Yurts
Enchanted Forest Yurts come complete with bunk beds, double futon sofa beds, a wood-burning stove for heat with firewood, a three-burner propane camp stove, kitchen utensils, and lanterns, plus a large dining room table with chairs. You can make s'mores around the firepit. Provide your sleeping bag rated to 0 degrees and bring a gallon of bottled water, one per person, per day. You can ski or snowshoe in the winter, or hike or mountain bike in the summer to your yurt. Transport your gear via sled, or assistance is extra.
9. Camping Near Red River
Cimarron Campground
Cimarron Campground in the Valle Vidal at 9,300 feet elevation has 36 overnight campsites with vault toilets and drinking water. Sites have picnic tables, and campfire rings with grills. Have fun fishing for Rio Grande cutthroat trout in Comanche Creek and the Rio Pueblo or nearby Shuree Pond, a fishing hole for kids under 13.
Columbine Campground
Columbine Campground, between Questa and Red River at 7,900 feet elevation, is located near the Red River, with the Columbine-Hondo Wilderness trailhead nearby. Twenty-six single campsites have a fire ring, picnic table, tent pad, vault toilets, and potable water.
Fawn Lakes Campground
Fawn Lakes Campground contains 18 overnight family campsites, and three are tent-only sites. The Red River flows near the campground, with two small fishing lakes a short hike away.
Elephant Rock Campground
Elephant Rock Campground, 3 miles west of Red River at 8,500 feet elevation, has 12 campsites for tents or trailers and vault toilets with stream fishing nearby.
Best Restaurants In Red River
Shotgun Willie's
Shotgun Willie's offers the best breakfast in town, chicken-fried steak and eggs, breakfast burritos, breakfast on a bun, plus barbecue, burgers, fries, loaded baked potatoes, catfish, soups, and salads.
The Grill At The Lift House
The Grill at the Lift House, at the base of The Face next to the Platinum Lift, offers a full menu with burgers, sandwiches, wraps, salads, and appetizers, plus a full bar with margaritas, local tap beers, and seating on the best deck in town.
Texas Reds Steakhouse
Texas Reds Steakhouse boasts 53 years of family dining. Select from charbroiled beef steaks, a large plate-sized 16-ounce ribeye, t-bone, porterhouse, or prime rib served with a crisp green salad or soup, choice of French fries, baked potato, wild rice, or fried okra and hot pretzel bread. Prefer a burger? Choose a steak, elk, buffalo burger, or chicken sandwich. For seafood, try the lobster tail, grilled trout, salmon steak, or shrimp skewers.
Motherlode Saloon
Check out the Motherlode Saloon featuring live music, pool tables, full bar, and Motherlode package liquor store.
Red River Cabins And Lodges
Three Bears Lodge
Three Bears Lodge has one, two, or three-bedroom cabins with wood-burning fireplaces, where you can ski in or out to Copper Chairlift. Only a few feet away from the Red River, enjoy free wifi, satellite television, and flat-screen TVs. It's close in town, and you can walk anywhere.
Sitzmark Sports and Lodging
Find winter lodging, suites, cabins, vacation rentals, and premier ski and snowboard rentals at Sitzmark Sports and Lodging.
Best Western River's Edge
Best Western River's Edge provides air-conditioning, complimentary hot breakfast every morning, free TV access, and the best location in town. The Red River wraps around the park-like property, sometimes just 20 feet away. The Platinum chair lift is steps away, and the town's only grocery store and most restaurants are a short walk.
Getting Around Red River,
The Red River Miner's Transit provides free year-round transportation, 7 days a week, plus a wheelchair-accessible service from hotels to slope-side. This transportation can get you to June Bug Campground, Fawn Lakes Campground, Elephant Rock Campgrounds, Upper Red River Valley, and Bobcat Pass. Call for a pickup at some locations.
As Red River Ski & Summer Area's site puts it, "There's something about this place. Authentically warm with a hint of wild, the way the west used to be. That's Red River."
If you enjoyed reading about Red River, check out these charming New Mexico towns: