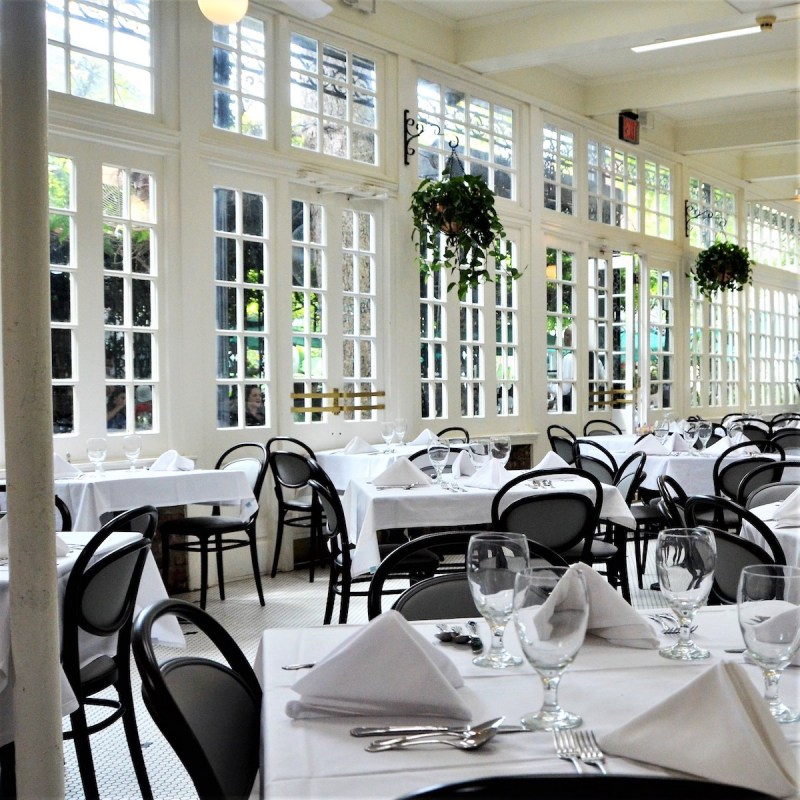 New Orleans is a foodies' paradise, with many unique regional dishes that focus on the bounty of the gulf. You'll find shrimp, oysters, crab, and fish served in a variety of ways. Then there are the other specialties, like muffulettas, beignets, and gumbo. Here is a sampling of nine classic New Orleans restaurants and their famous dishes, listed in no particular order.
1. Dickie Brennan's Bourbon House
Located in the French Quarter, Dickie Brennan's Bourbon House is all about local in-season seafood. Its menu features shrimp and oysters of every variety, such as shrimp creole, shrimp po'boys, shrimp and grits, and shrimp-stuffed mirliton. Its oyster offerings are equally tempting, with chargrilled oysters, Rockefeller, fried, and on the half shell.
I found myself eating the bourbon shrimp and grits more than once during my stay. It sautés gulf shrimp and andouille sausage, along with mushrooms, scallions, and mix in its New Orleans-style barbecue sauce that will have you coming back for more.
Get the best of both worlds and select a dish made with bourbon, like its bourbon yaki baby back ribs. The cafe features more than 250 American Whiskeys and has the most extensive bourbon list in New Orleans. If you'd rather not drink it straight up, try the bourbon milk punch for a tasty treat.
Pro Tip: If you enjoy fishing, plan and participate in the Dickie Brennan's restaurant family and the company's Catch and Cook program. You catch it and they cook it.
2. Commander's Palace
Located in the Garden District, Commander's Palace Restaurant with cyan-blue-and-white-striped awnings opened in 1893. Since its opening, Commander's Palace has won six James Beard Foundation Awards. Chefs Emeril Lagasse and Paul Prudhomme got their start at Commander's Palace. The restaurant-style served, known as Haute Cuisine, is a mix of Cajun and Creole-style dishes.
We delighted in the jazz trio at our Sunday jazz brunch, including a guitar, trumpet, and bass. The band moved from balloon-decorated table-to-table, taking requests.
Brunch was a three-course prix fixe menu served at the table. I chose the Commander's salad with shrimp and grits, and for dessert, a Creole bread pudding soufflé served with a warm whiskey sauce poured by the server. If you're an adventurous diner, try the classic turtle soup spiked with sherry.
The signature Creole bread pudding soufflé served with a warm whiskey sauce is light and airy. I expected this to be more reminiscent of a bread pudding; however, it was more soufflé. The server pokes a hole in the center of the soufflé and adds the sauce at the table. Plan for this treat, as it takes 20 minutes to prepare.
Pro Tip: The jazz style was second-line jazz with songs like "You Are My Sunshine." Be ready to join in!
3. Shaya
Sitting amidst a foodie scene emphasizing regional seafood dishes with French, Cajun, and Creole influences, Shaya stands out when you want something different. Shaya offers innovative Middle Eastern, Mediterranean cuisine with a Southern twist. The light and airy décor provide an upscale yet casual atmosphere. It also has a patio for outdoor dining.
Located in the back corner of its blue and white room, you'll find the star of the show, the blue-tiled wood-fired oven. I love the puffy pita bread that the staff bakes to order. It arrives at your table warm. Paired with the hummus, the pita was challenging to stop eating, but you'll want to save room for your entrée. While Shaya offers a variety of hummus, everything from cauliflower with caramelized onions and cilantro to delicata squash with sage brown butter and pecans, I enjoyed the traditional variety with tahini, extra virgin olive oil, and Aleppo peppers.
Pro Tip: I suggest making online reservations.
4. Café Du Monde
Located in the French Market on Decatur Street, Café du Monde has been around since 1862. Today, Café du Monde is iconic in New Orleans. Its green-and-white-striped awning protects from the elements as its dining is only outdoors. Open 24 hours a day, whenever you have an appetite for those light and airy pillows of sweetness, you won't need to curb that craving. Its signature items are beignets and café au lait. Beignets are holeless square donuts heavily sprinkled with powdered sugar. They mix half chicory-style coffee and half hot milk to create the café au lait.
Pro Tip: If the line for a table is long, you can go around to the takeout window and get your café au lait and beignets to go. You'll find benches at Jackson Square or climb the stairs next door and take a bench along the levy to enjoy the view.
5. Oceana Grill
Oceana Grill, located on the corner of Bourbon and Conti in the French Quarter, serves Cajun and Creole cuisines highlighting fresh seafood, as the name suggests. But don't despair vegetarians and landlubbers. Vegetarians will appreciate the spinach ravioli, vegetarian pasta, or a Cajun vegetarian stew. Landlubbers will enjoy the fall-off-the-bone barbecue ribs or the 20-ounce Angus-certified beef porterhouse steak.
Oceana Grill serves a contemporary Louisiana menu highlighting gulf seafood, oysters — fresh, chargrilled, or Rockefeller. You'll find shrimp and crab, too. The Taste of New Orleans combination plate offers a variety of local favorites. The dish features Creole jambalaya, crawfish etouffee, red beans, and rice served with smoked sausage. The crawfish etouffee is simmered in a brown roux, and plumb shrimp fills the Creole jambalaya.
Even though the restaurant is in a 200-year-old house, this family-friendly, casual dining spot has a colorful and bright atmosphere.
Pro Tip: If you're not acquainted with Cajun and Creole fare, the staff is happy to demonstrate how to manage that crab claw or those peel-and-eat shrimp.
6. Red Fish Grill
Red Fish Grill, located on Bourbon Street, offers fresh seafood in a casual atmosphere. The exposed-brick bar features an oyster bar along with its cocktails. In addition, you find brightly colored redfish décor, adding a bit of whimsy to the interior.
The chef counts on local fishers and farmers to supply fresh seasonal gulf bounty for the raw bar. It is famous for its barbecue oysters that are flash-fried and tossed with Crystal BBQ sauce. Another signature dish is the grilled redfish and crabmeat with a lemon butter sauce. For dessert, be sure to try its double chocolate bread pudding.
Pro Tip: Ask your server about gluten-free and vegetarian options. Its produce is fresh, so you'll have options.
7. The Court Of Two Sisters
The Court of Two Sisters features a pretty wisteria-covered courtyard complete with a fountain that provides a pleasant atmosphere to your outdoor dining. Whether you prefer to eat in the courtyard or inside, the Court of Two Sisters offers a daily jazz brunch buffet 7 days a week, from 9 a.m.–3 p.m.
On the buffet, you'll find New Orleans favorites like turtle soup flavored with sherry, red beans and rice, and chicken and sausage gumbo. Other favorites are the shrimp etouffee and corn maque choux. In addition, I like the fact that the buffet provides the opportunity to sample the traditional Mardi Gras specialty King Cake year-round.
The property has been around in various forms since 1726. The indoor dining room is light and elegant, with white tablecloths and stemware. For dinner, order off the menu. One standout dish is the blackened gulf fish with Creole shrimp fried rice and a pineapple beurre blanc.
Pro Tip: The jazz brunch is popular, so be sure to make reservations in advance.
8. Arnaud's
Opened in 1918 in the French Quarter, Arnaud's is classic New Orleans upscale Creole dining. You'll find escargot en casserole on the menu, Burgundy snails baked in individual ceramic pots, with a splash of Pernod and garlic-herb butter. We had the filet mignon au Poivre with a classic French brandy cream sauce and the soufflé potatoes. The filet is tender enough to cut with a fork. The soufflé potatoes were created accidentally when French King Louis Phillipe's chef put fried potatoes into very hot oil to reheat them. As a result, the potatoes inflated like tiny balloons. Arnaud's serves the potatoes with Béarnaise Sauce.
Pro Tip: After dinner, go upstairs and investigate the Mardi Gras Museum. Admission is free.
9. Pat O'Brien's
Pat O'Brien's is just plain fun. It's been around since 1933 and has three bars — the main bar, the piano lounge, and the patio. At the center of the 4,000-square-foot patio features a flaming fountain. The copper fountain looks like a champagne glass, and it sprouts a flame amid flowing water. The piano lounge features dueling pianos that vie for your attention.
It's famous for its hurricane cocktails, and you can even order the mix online. It offers a variety of other specialty drinks — the cyclone, the mint julep, and bloody Mary. Pat O'Brien's offers bar food like wings and alligator bites. A burger and fries are an excellent accompaniment to a draft beer.
Pro Tip: You can pick up a wide variety of Pat O'Brien's glassware in the gift shop if you want to try mixing its hurricane at home. If you're looking for more New Orleans restaurants to try, check out New Orleans's Best Hidden Gem Restaurants.
While in New Orleans, you can also check out these other attractions: