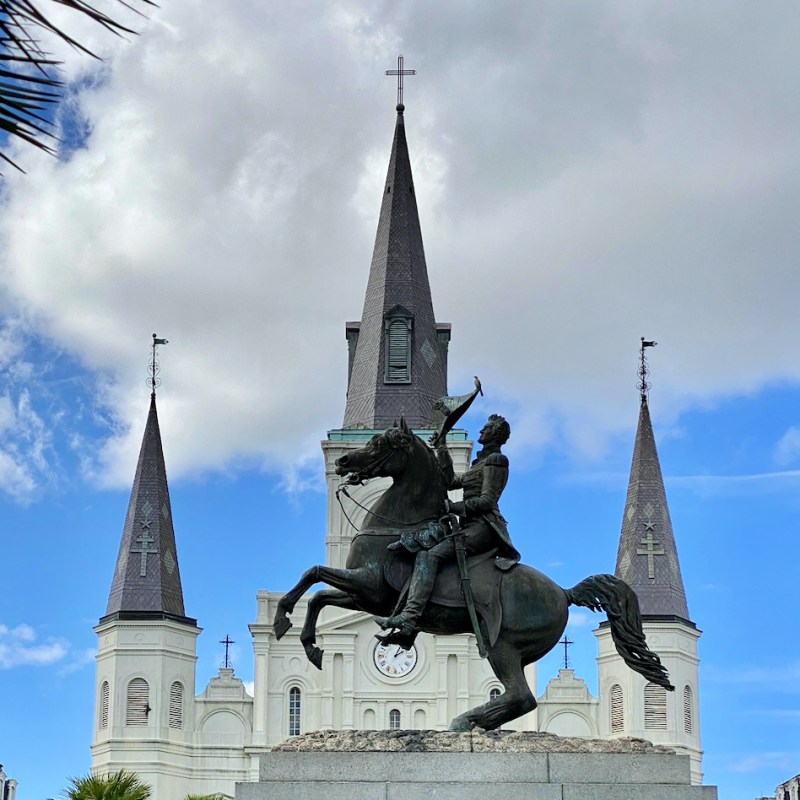 New Orleans is the best-known address in the great state of Louisiana. Most people drive to the city, but you can also fly into the Louis Armstrong New Orleans International Airport and Uber or Lyft to your hotel. I love visiting New Orleans for the cultural opportunities and lip-smacking good food. Now that I am over 50, I don't enjoy the crowds and stress of Bourbon Street anymore, but I love visiting this historic and iconic city to enjoy things more well-suited to my older desires. Here are 16 things to do in New Orleans if you are not interested in Bourbon Street.
1. Eat A Muffuletta
A must while in New Orleans is eating the local cuisine, and what could be more famous than the sandwich king, a Muffuletta? Central Grocery is the creator of this tasty NOLA staple (circa 1906) which has layers of provolone, mortadella, ham, salami, and Swiss between handmade Sicilian sesame bread. A briny spread of the family's Italian Olive Salad veggies (think green and Kalamata olives plus veggies) are layered on the bread and make this sandwich a real stand-out.
Pro Tip: Central Grocery is open 7 days a week, 9 a.m. to 5 p.m.
2. Gamble
Just because you aren't partaking in Bourbon Street's typical antics doesn't mean gambling is off the table. Harrah's Casino New Orleans offers 15,000 square feet of space to get your fill of slot machines, poker, blackjack, and all your favorite games of chance. The casino is gorgeous and offers several places to shop and eat, including Ruth's Chris Steakhouse and Manning's. And get this … Harrah's is smoke-free!
3. Visit The City Park
If you haven't been off the typical streets of New Orleans, chances are you didn't even know the New Orleans City Park existed; that would be me, after 15 visits. I discovered New Orleans City Park, one of the oldest in the country, on my last visit. There are 1,300 acres of urban space adorned with live oaks that offer locals and visitors a place to ride bikes, rent kayaks and standup paddleboards, ride a train, enjoy swan boats, picnic, play frisbee, and participate in the arsenal of events and programming.
New Orleans City Park is also home to the Botanical Garden, ball fields, 26 tennis courts, Carousel Gardens Amusement Park, City Putt (18-hole mini-golf), and the Louisiana Children's Museum. This area is also an important birding hotspot.
4. Explore The Pharmacy Museum
Downtown New Orleans has a small museum that is informative, educational, and just plain fun to visit. The Pharmacy Museum is a circa-1823 apothecary with fantastic displays of early tinctures, medicines, and bottles from the 18th and 19th centuries, plus a vintage soda fountain. Try to take the tour so you can learn the haunted stories of this historic shop.
5. Feast On Beignets
The chances are that when you mention visiting New Orleans, someone starts talking about beignets and the famous chicory coffee from the iconic Cafe Du Monde. The beloved restaurant has branched out to several locations now, so you won't have the wait times that were part of the visitation process just years ago. Sink your teeth into the billowy fried dough treats (served in threes) that are coated with powdered sugar. The sweet treats pair perfectly with the slightly bitter yet delicious coffee. Cafe Du Monde has been operating since 1862.
6. Splurge On Dessert
The Court of Two Sisters is one of the most popular eateries in New Orleans. It has a romantic courtyard setting with healthy ferns and twinkling white lights that is perfect for enjoying table-side Bananas Foster. You can probably share a single order with your special someone, but the rich vanilla ice cream against the brandy and banana liqueur-riddled flambeed banana creation is pure heaven.
7. See Parade Floats
Blaine Kern has designed more Mardi Gras floats than anyone in the world, and you can see some of his magical masterpieces at the Mardi Gras World museum. For $22 ($17 for seniors), you can stroll through the 300,000-square-foot working warehouse at your own leisure, admiring and photographing the colorful and clever floats and props.
Pro Tip: Mardi Gras World offers a complimentary shuttle for those taking the tour to save you the hassle of parking. Just call them to schedule a pick-up.
8. Learn About Art
Nestled in the New Orleans City Park is the wondrous New Orleans Museum of Art, a fine arts space with over 40,000 pieces in the collections that range from photography, textiles, and Asian art to American and French paintings (think Miro, Cassatt, Warhol, and Renoir) and decorative arts. Come hungry and enjoy the upscale soups, salads, paninis, and flatbreads at Cafe NOMA. Tickets are $15 for adults and $10 for seniors and the military.
Pro Tip: Louisiana residents get in free on Wednesdays.
9. Cool Off With A SnoBall
Louisiana's sno-ball confections are made with shaved ice and flavored cane sugar syrups, making them a desirable cold treat that is a mix of childhood and current trends. You can find snoballs all around New Orleans, including Imperial Woodpecker Sno-Balls and Hansen's Sno-Bliz. You'll find traditional flavors like blue raspberry, pineapple, and watermelon, but also specialty flavors. I like the creamy ones with condensed milk, like cream of coconut or bananas foster, perfectly fitting.
Note: Unlike a snow cone with crunchy ice, this easy-to-eat treat is super fine and light and fluffy.
10. Admire Sculptures
Another treasure at the New Orleans City Park is the Sydney and Walda Besthoff Sculpture Garden, which will set you back a mere $5 ($3 for seniors) to enter the gates of this artsy garden facility. There are around 90 sculptures in total, with some more classical and some very contemporary. A few of my favorites were the Runner (stainless steel), Corridor Pin, Karma (brushed stainless steel), and Mother and Child (bronze).
Pro Tip: Drop a pin or write down where you parked your car. There are thousands of people in this area, and the streets have no rhyme or reason.
11. Browse Galleries
While not giving in to the Bourbon Street madness and thick crowds, one can wander Chartres and Royal Streets for excellent shopping and art offerings. Galleries include world-renowned artists and local fine art, ranging from paintings, pottery, and glass to t-shirts, souvenirs, and housewares. There are also dozens of grandiose antique stores filled with treasures and trinkets.
Pro Tip: You may hear some of the best musicians of your life strolling Royal Street.
12. Visit A Mall
Riverwalk New Orleans is not only the premier place for outlet shopping but also for having a rainy day activity or enjoying a meal on the fantastic riverfront patio that won't cost an arm or leg. My friend and I explored New Orleans on foot for over 8 miles and found ourselves without a reservation for dinner on a Friday night and blocks away from the places we were interested in. We ended up with Raising Cane's chicken fingers and fries, plus the obligatory iced tea, with food in hand and under $10, the entire outdoor patio all to ourselves. That was a great call! There are around 75 shops and restaurants at Riverwalk, including Tommy Bahama Outlet, Nordstrom Rack, and Coach, to name a few.
13. Explore Jackson Square
The landmark St. Louis Cathedral is right smack dab in the heart of Jackson Square. With a statue of Andrew Jackson, for whom the park is named for, sitting atop of his steed in the front, this lively New Orleans hotspot welcomes all who enter. However, what surrounds the gated park is the most interesting. Hoards of people-watchers, entertainers, psychics, photographers, and locals sit, walk, wander, and make the lively space the exciting destination it is. I visit Jackson Square for psychic readings, to buy local artwork for my walls, and watch talented performers (often acrobats, dancers, mimes, and musicians) do their thing in the Big Easy.
14. Drink At Carousel Bar
The famous Carousel Bar is inside the historic Hotel Monteleone on Royal Street. Ernest Hemingway and William Faulkner were guests of the beloved hotel. Carousel Bar is the place to be seen and serves intriguing and classic cocktails and nibbles. The main circus-clad bar offers 25 seats that rotate, making it a huge attraction and must-see in New Orleans. If you aren't sure what to order, the hand-shaken Pina Colada, more icy than frozen, is excellent.
15. Ride Streetcars
Hop aboard the burgundy New Orleans Street Car that runs along St. Charles Avenue for a ride through the Garden District and back to Uptown. There is no better (or more affordable) way to explore the different neighborhoods and not have to fight traffic or crowds. A ride will cost you $1.25, and you must have exact change.
16. Tour The Jazz Museum
People tend to miss or forget a big attraction when they visit New Orleans — the Jazz Museum. To me, this place has the wow factor, plus you'll be dancing all the while learning about the music New Orleans birthed. Among the highlights are Louis Armstrong's first cornet, Tipitina's house piano, and the dance floor. The New Orleans Jazz Museum's grounds are highly photogenic, and the building was previously home to the US Mint.
Related Reading: