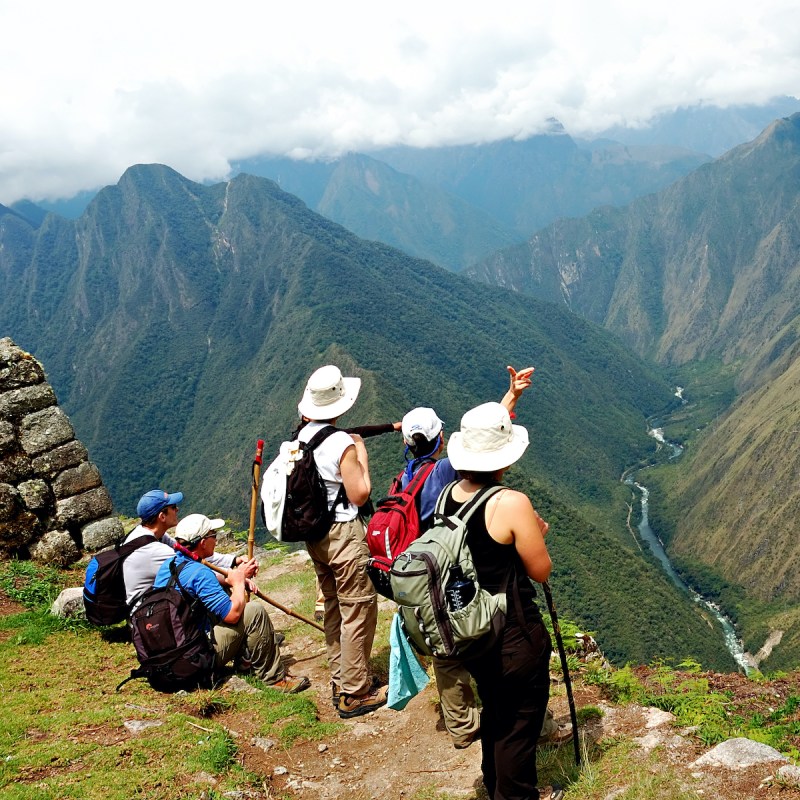 Social media is how travelers connect. And according to a Pew Research study, some 62 percent of internet users ages 65 and older use Facebook — and 72 percent of 50–64-year-olds report using it.
A few months before COVID isolated millions in their homes, Ann Marie McCarthy launched a meetup for people who participated on her Facebook site, the Over 60 Woman Travel and Meetup Group. It was a first for her — she had arranged for speakers, food, and lots of socializing at a hotel in Asbury Park, New Jersey. And she knew right away that the direction she was taking hit a nerve in the over 60 women's travel cohort because her site expanded rapidly, with online discussion and Zoom meetings offering speakers and presentations. There are now more than 5,000 members in her group on Facebook, and a sister site recently posted on Instagram.
I was a speaker at that first meeting. I had only just begun to write articles about my travels, and this Facebook group made me feel like I was part of a community that has provided me with travel information, great advice, and life-enhancing friendships. 
Facebook And Social Media
Although travelers also use other social media platforms — like Instagram, YouTube, Pinterest, Twitter, and WhatsApp — Facebook outnumbers them all (and most of the large Facebook groups also have sites on other platforms). With some 2.85 billion users in 2021, Facebook is now the largest social media platform in the world.
There has been much negative criticism of Facebook, but studies have shown that baby boomers seem to have more positive emotions associated with it than do millennials. Perhaps that's because the 50+ cohort largely uses it for reconnecting with old friends and finding new ones, as well as for family updates.
One of the most powerful aspects of Facebook is that it can offer travel groups very specific audiences: by gender, age, interests, and activity levels. Most of the groups below thrive on diversity — of race, religion, sexual preference, ethnicity, and country origin. There are groups for solo trips, small groups, bus tours, hiking trips, and cruises. Other travel-related groups include home exchange, international pet sitting, finding a travel partner, and meetups in cities around the world.
My Favorite Groups (Mostly) For Women
Over 60 Solo Women Travelers Group (17.9k members)
With members ranging in age "from 55 to 95," some members of this group are experienced solo travelers, some are newbies seeking advice and encouragement, and some are in between. Because there is much discussion online about what solo travel means, this group demonstrates its inclusivity by noting that it "can mean taking a backpack and hitting the road with no plan, or joining day trips in cities that you visit, or joining a tour of other single travelers." The group is administered by One Woman Traveler, which also administers the website One Woman Traveler, the Global Community for Older Independent Women Travelers, a presence on the Mighty Networks platform.
Over 60 Women Travel And Meetup (5.5K Members)
I joined this group at its inception and have enjoyed meeting some wonderful women over the past 2 years. The Over 60 Women Travel and Meetup group shares travel plans, travel photos, and information about everything from the best medical insurance to getting refunds on airline cancellations to emerging new bucket list destinations. Under the aegis of Anne Marie McCarthy, the group's individual members have created in-person meetups everywhere from New York City to Birmingham to Annapolis to Philadelphia to Phoenix to Orange County, California, and even abroad. A large meetup scheduled for Savannah in November of 2021 sold out in days.
Solo Travel Groups For All Ages
The Solo Female Travel Network (466K Members)
Claiming to be the largest solo female travel group online, SoFe Travel also offers sister groups that focus on some of the most popular conversation topics, such as LBTQ+ Travel, Over 40, Free Accommodation, and others. They also offer meetups in countries around the world.
Solo Travel Society (264K Members)
The Solo Travel Society is a community where people who share a passion for traveling alone exchange tips, suggestions, and encouragement. They offer discussion of the how and why of solo travel and feature weekly posts on solo travel destinations. Dramatic photos are contributed by readers. 
Girls Love Travel (1.1 Million Members)
Girls Love Travel calls itself "a global community of aspiring women travelers providing resources and empowerment to one another to explore the world fearlessly through safety, socializing, and support." The site reports that its members range from age 13 to 91, with different backgrounds and from all walks of life. 
Groups Connected To Travel Companies And Magazines
Some travel companies and magazines have specific Facebook pages for women. All have active discussions, photograph posting, and shared advice about the joys and challenges of travel. The following are some of my favorites:
Groups Offering Practical Help For Travelers
Host A Sister (156K Members)
Host A Sister is a global community in which women around the world find accommodations or share their homes for free as part of a worldwide cultural exchange.
Home Exchange (65K Members)
Members may exchange their homes in 187 countries around the world. Home exchange stories and photos are posted on Facebook. The site's slogan is: "Travel anywhere. Live like a local. Stay for free."
Couchsurfing (895K Members)
Couchsurfing provides a way to inexpensively travel the world by staying with locals. Folks in various countries offer their homes and share their lives and cultures with travelers. Couchsurfers organize regular events in cities around the world.
Trusted Housesitters (242K Members)
This is a British-based group that enables its members to find house and pet sitting opportunities in countries around the world. It also provides vetted and trustworthy folks to care for pets and/or homes for travelers, for a fee.
Some Caveats And Rules
A major criticism of Facebook and other social media is that they do not oversee hostile conversations. That's why most groups listed have established rules for their members, including banning hate speech and bullying, rejecting promotions or spam, and respecting the user's privacy and cultural traditions. Many sites have caveats to "be nice." I've noted bickering over everything from the politics of COVID shots to arguments over what countries people should avoid. Sometimes these arguments include name-calling, but happily, sometimes participants establish a truce.
Privacy And Membership
A number of these groups are open only to members. Those who want to join must offer basic facts about themselves and their interests and perhaps give an email address. They must assure the group that they are not a business or marketing company trolling for sales.
What I Love About Facebook And Other Social Media
I know that I have made some lifelong connections and have found funny and smart friends on several of these travel groups. I have also found that users largely trust others like them for advice — especially people in their own cohort — more than they do organizations or marketers. And even if one is not a fan of Facebook, it is difficult to deny that digital technology and social media have and will affect the travel behavior of our cohort.
For those who have the ability to weigh opinions, recognize valid information, and take an enthusiastic leap when opportunities present themselves, social media can certainly inform and inspire our connections to each other and to the world. A growing number of women are watching, reading, waiting, and then changing their life paths by taking that leap.
Other sound travel advice: